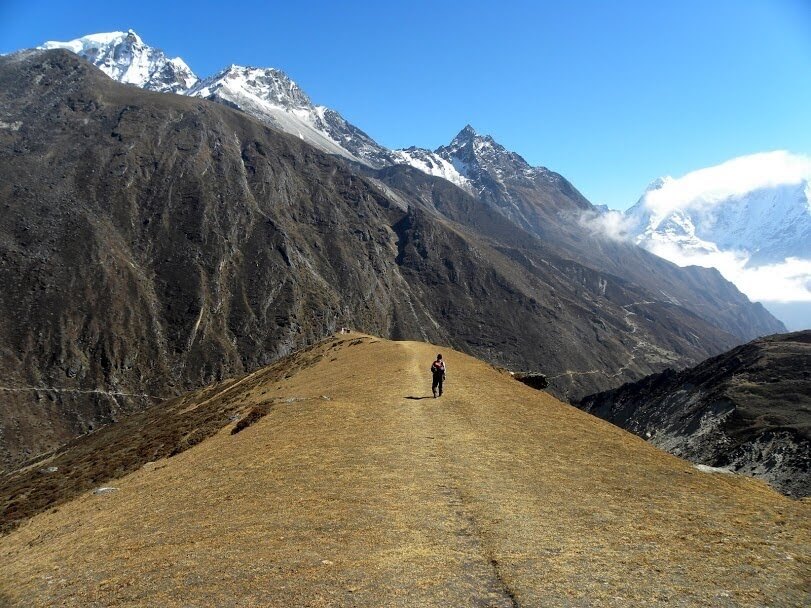 Khaptad Trek
Khaptad Trek Overview
Khaptad lies in far western region of Nepal which offers wonderful trekking with its unspoiled natural vegetation and biodiversity. Trail to khaptad takes us through Khaptad National park which spreads over four districts Bajhang, Bajura, Accham, and Doti covering the area of 225 km sq. Khaptad National park lies at the altitude between 1262m and 3276m. It is believed that the name "khaptad "was kept after "khaptad Baba" who meditated for 50 years in this place. Khaptad national Park was established in 1984, and it is a home to 567 species of flora like Rhododendron, pines, oak, hemlock etc., 23 types of mammals like leopard, wild dog, wild boar, barking deer, yellow throated marten etc., and 287 species of birds also including Danphe, vulture, bulbuls etc. On your way to Khaptad trek you can also see astonishing views of Mt Api and Mt Saipal. Khaptad trek or Khaptad National park is very less explored and off beaten path or destination yet very beautiful, un-spoilt and peaceful place.
Best season to go
The best season to trek Khaptad Area is spring (March- May) summer (June- august) and autumn (September- November) With its bearable temperature of 10-20 degree Celsius, clear sky, greenery , the trails are in best condition, views of mountain ranges, Rhododendron forest and beautiful birds, which collectively make this time the most ideal to trek.
Monsoon season is rainy season and trails can be muddy and slippery. In winter season this place is cold and experiences snowfall.
Safety/ fitness
Khaptad National Park trek is considered to be one of the easy trek which doesn't requires past experiences. However, you have to walk for 5-6 hours per day. You need to practice light exercise, running, jogging and build your muscle strength before your journey starts. In this trek the highest altitude is 3276m, with low risk of altitude sickness still you have to stay hydrated throughout your journey, eat nutritional food, and check your oxygen level time to time and walk slowly so that you can adjust with increasing heights. If you ever feel any symptoms of altitude sickness like nausea, increased heart rates, breathing difficulties etc. you need to talk to your guide, your friends or anyone near
Other requirements
Insurance policy-. Travel insurance has become the part of trekking requirements. If you ever have some medical emergencies your travel insurance will have to bear it and that is why you need to mention the details about the places you are going and altitudes you will be reaching.
Valid visas/passports – all foreigners except Indians are required to have valid visa and passports to enter Nepal. The visa application will need the passport having minimum 6 months of validation along with your passport size photo. You will receive your visa upon your arrival at tribhuwan international airport
Packing List
Clothing and equipment
| | |
| --- | --- |
| Trekking trousers  | Money/cash |
| Trekking shocks  | Torch lights |
| Trekking boots  | Medicines |
| Water proof pants  | Sunglasses |
| Water proof jackets  | Beanies and gloves |
| Warm shirts and t shirts  | Medicines |
| Thermal tops and bottoms  | Toiletries |
| Underwear  | Wash kit |
| Fleece jacket  | Safety kit |
| Down jacket  | Hand sanitizers |
| Trekking pole  | Water bottles and water purifier |
| Raincoats  | Trash bag and tissue papers |
| Sleeping bags  | Charger/adapters |
| Duffel bags  | Power banks |
| Backpack  | Camera |
Group Discount Prices
No. of Persons
Price per Person
Frequently Asked Questions
Temperature and weather
The average temperature during summer (June- September) can be around 20 degree Celsius which is warmer. In spring the average temperature is 10 – 20 degree Celsius. In winter season higher altitudes can be quite cold with the temperature of -6 degree Celsius which is also not appropriate for animals.
Food and accommodation
You can get enough choices for accommodation in cities like Kathmandu. However on the way to khaptad National Park you have to stay on small yet very comfortable tea houses. They are very welcoming and very happy to serve you. They provide small rooms with single beds. Clean blankets, bed sheets and pillow is available. Toilets or washroom has to be shared with others. They also have facilities of internet, hot shower etc. Foods- enough options for food is available here being Dal, Bhat and vegetables the most common food served. Beside this you will also get noodles, breads, eggs, cookies, butter, tea and coffee. Boiled water is also available for you to drink as mineral water bottle is not recommended during such treks. As you move towards higher altitude the price of food might increase.
Transportation
Bus- although you can enter khaptad National Park from 4 different places, the easiest way to go is from Doti and Bhajang district. You can take a bus from Kathmandu but there is no direct connection, you have to change the bus on your way. It will take around 20 hours from Kathmandu to reach Doti. Once you reach Doti you can get a bus or jeep to Jhigrana, at the foothills of Khaptad. From here, you can get to Khaptad by foot or by bus. If you wish to go from Bhajang you will get a bus to Meltadi of Khaptad Channa Rural Municipality. Airplane- there are flights available from Kathmandu to Doti, and Kathmandu to Bhajang. The direct flight from Kathmandu to Dhangadi takes around 1 hour and 10 minutes. The easiest way is to fly from Nepalgunj to Dipayal and from there you can catch a bus to Silgadi Doti.
Permits and fee
Khaptad National Permit- this permit cost 1500 NRS to all the foreigners beside SAARC countries. It cost only 500 NRS (5$) to SAARC countries. TIMs- TIMs is a card which includes all the details about trekker which can be used during emergency cases. This card cost you 1000 NRS (10$) except for SAARC countries which cost 600 NRS (6$).
Communication and electronics
Even though Khaptad national park is one of the remote area of Nepal, facilities like electricity, internet, and telephones are provided at least in few areas. You can charge your electronics and phones in teahouses. Also use their telephone to contact your family. However for all this facilities you have to pay extra money to the owner.