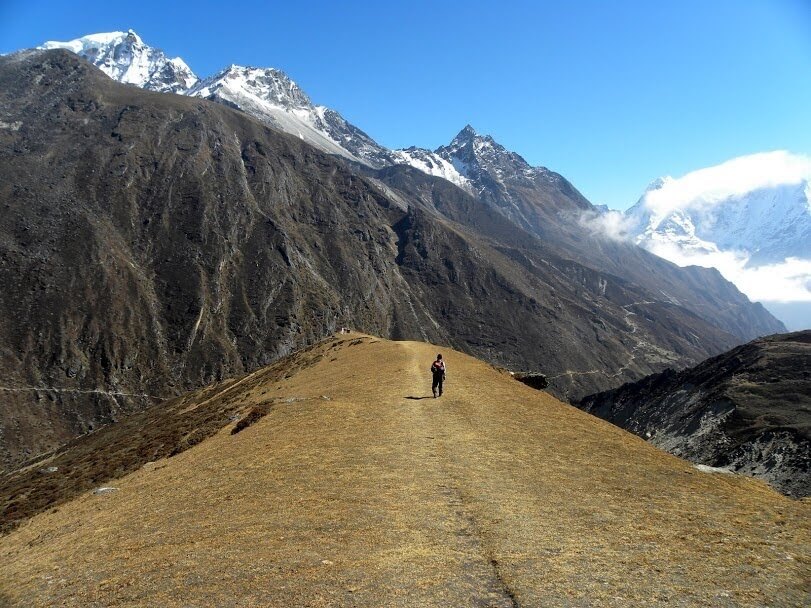 Pumori Expedition
Accommodation
Teahouse/Lodge, Tented Camp
Best Season
Autumn, Spring
Pumori Expedition Overview
Pumori stands tall at 7,161m (7.161km) and lies between Nepal and the China region. Located at the eastern side of Mt.Everest, this mountain lies within the Mahalangur Himal. Pumori, also called Pumo Ri, came from the Sherpa language. When translated into the Sherpa language, 'Pumo' signifies daughter, and 'Ri' signifies mountain. Hence, Pumori means the 'daughter of the mountain'. Many climbers also call Pumori the daughter of Mt. Everest. The experience along the trails of the Pumori Expedition is thrilling and spell-binding.
Pumori is well known for its unique pyramid shape and is famous among climbers. This mountain welcomes its climbers with magnificent views of the breathtaking landscapes and rich green forest with colourful flowers in full bloom. The climbers get to witness the mesmerizing view of Mt.  Everest and Mt.Lhotse once they reach the summit. Pumori Expedition provides a heartwarming experience to its climbers and a great escape from their day-to-day hustle.
Marvel Trek is an established licensed expedition company. It has been providing the best facilities and services to its climbers since 1998 along with some great experiences. We not only keep your safety as the priority. But also guide you to fulfill your wish of experiencing the thrill of climbing a mountain. The entire team of Marvel Trek is full of professionals who will be there to support and guide you throughout your mountaineering adventures.
Difficulty to climb.
The climb to Pumori is one of the tough ones even though its height is below 8000. The climbers have to be perfectly fit as well as previous experiences in mountaineering. This climb isn't for inexperienced climbers. There are many sections throughout the mountain where skilled technical climbing is required. Besides this, even the weather in this mountain is unpredictable. One has to be both mentally and physically prepared to attempt to reach its summit. They also have to be prepared for the avalanches that might occur during their trip to this mountain.
Pumori with the best Expedition company
The climb to Pumori is once in a lifetime experience, but it is equally difficult. However, with proper guidance and preparation, one can reach the summit and fulfil their wish of experiencing the adventure.
It is where Marvel Trek comes into the picture. The entire team of Marvel Trek works deliberately to provide the best services and facilities to you and makes sure that you will have a once in a lifetime experience.
Taking care of the basic needs, safety measures and legal formalities to provide satisfactory and convenient services in the best interest of the clients are the main goals of Marvel Trek.
If you want to live your dream of adding adventure to your life with safety and if you wish to take a break from your day-to-day hustle in the most exciting way with trustworthy help, Marvel Trek is there in your service.
Contact us and book a trip with us and let's get going in fulfilling your dream of adventure.
Clients requirements
The clients should be healthy enough to make the expedition.
They should have some prior experiences in mountaineering.
They should be fit and should be trained a bit before the actual departure.
Why should Marvel trek be chosen for climbing?
Marvel trek has been providing its clients with excellent and satisfactory services since 1998 at a reasonable price.
Also the team of Marvel trek has skilled professional climbers who have years of experiences in mountaineering and are familiar with the geography and weather conditions of the mountains.
You can trust them to guide you with proper instructions and full safety without compromising your wish to enjoy the trip.
Marvel trek keeps its client's satisfaction,safety and comfort as its priorities.
When is Pumori usually climbed?
Climbers can climb Pumori in both spring and autumn. However, like for every other mountain, the best season to climb Pumori would be the spring. During spring, the climate is comparatively warmer as well as there are fewer chances of snowfalls. Meanwhile, in winter, the temperature drops are extreme. Also, there is constant heavy snowfall which makes the climbing more dangerous than it already is.
How hard is it to climb Pumori?
Climbing Pumori is as tough as climbing any other high mountains and maybe even harder. Like every other mountain climbing, there are chances of altitude sickness. But there are also many more difficulties that one has to face while climbing Pumori. The climbers have to have perfect fitness and previous experiences for signing up for this trip. This mountain also has various sections where skilled technical climbing is required. This trip is only for those who are both physically and mentally ready with previous experience. All these make the expedition to Pumori more thrilling as well as more dangerous.
How long does it take to climb Pumori?
Climbing Pumori might be an adventurous, thrilling and self-refreshing activity, yet it is dangerous too. So, making a rush might not be the best thing to do considering your safety. The overall adventure of climbing Pumori takes around 34 days. During these 34 days, it takes about ten days to reach the base camp.
Equipment list
Summit Shoe
Climbing helmet
Normal Socks
Harness
Summit Socks
Ice axe
Trekking Shoes
Snow goggles
Camp Boots
Ascender
Fleece Jacket
Headlights
Gore-Tex Jacket
Rechargeable batteries
Down Jacket
Thermos
Windproof Jacket –
Walking stick
Water Proof Pant
Long Under Pants
Gore-Tex Pant
Thin Fleece Gloves
Heavy Gloves
Summit Gloves
Wind Stopper Fleece Gloves
Fleece Hat
Fleece Gloves
Requirement
The climbers should get themselves tested to make sure they are healthy enough to climb the mountains.
A visit to the dentist is also recommended as there is a chance of acute dental problems at high altitudes.
It is also highly recommended that the climbers should have some previous experiences with mountaineering and with high altitudes.
It is also requested that the climbers should workout a bit months before ascending the mountain.
Payment and cancellation
The clients are requested to pay 20% of the tour cost as deposit while booking the expedition.
The remaining amount should be paid 20 days before the actual departure.
In case of cancellation, the clients are requested to pay a certain cancellation charge based on the general terms and condition of the company.
The cancellation charge up to 3 months before the expedition is 50%. Anytime after these 3 months will cost 100%.
Group Discount Prices
No. of Persons
Price per Person
Frequently Asked Questions
Expedition documentation
- Passports - Visa for foreigners - Expedition permit
Choosing a provider
Marvel Trek is one of the best companies to choose for turning your dream adventures into reality.
Food, Accommodation & Facilities
Quality food will be served 3 times a day along with a warm and comfortable accommodation throughout the 34 days long trip. Additional tea and coffee will also be served for you to enjoy the trip even more. Other facilities will also be provided up to your comfort and satisfaction. What sort of hotels do we stay at in the city? Ans :- While in Kathmandu, a well facilitated accommodation will be provided in the famous 3-star hotel. Will I be sharing a tent or room with other climbers?Is there a single room option on this trip? Ans:- Yes,you have to share a room as well as a tent with one more climber but there will be two beds in both the room and in the tent, so that both of you will be able to sleep comfortably. What showers and laundry facilities will be available? Ans:- Shower facility will be arranged however,in case of a hot bath additional fee has to be paid.Also,you have to wash your laundry yourself.In case you want someone else to wash your laundry ,you have to pay extra. What food will be available? Ans :-You will have options to choose between the local foods or the western foods or any other MREs(meals-ready-to-eat).Occasional teas and coffees will be served with the food.Also,the base camp will have a bar and a bakery too.
Travel
The trip will be 34 days long with occasional flights, driving, trekking, camping and few rest days in between. All the travelling cost during the trip from and to Kathmandu will be included in the trip's cost. Do I need to arrive the day before the trip starts?When should I need to book my flight to leave? Ans :-It's recommended that you arrive two days prior to the trip and for the return flight,you can book tickets depending on the days you will be spending with us which will be a minimum of 34 days or we can book one for you. What is the best way to get to Nepal? Ans:-The best way to arrive in Nepal would be through Kathmandu International Airport.You can fly to Kathmandu international airport or can have transits from Doha,Bangkok,Seoul,Hong Kong,Tokyo,Singapore,Delhi and Istanbul When should I book my tickets? Ans :-You can book your tickets as early as 3 months before the trip starts.In case trip gets cancelled,you will be compensated with full refund. Can I get a cheap ticket online? Ans:- Usually the online tickets cost as much as the ones that are arranged by any travel agencies.However, sometimes the airlines provide less expensive tickets,maybe you can search for those. Where do we meet?Will I be picked up? Ans :- We will be meeting you at Kathmandu International Airport and yes,we will be picking you up directly from the airport.We will also be dropping you off to the airport during your return. Can I arrive early and return late? Ans:-Yes,we are more than happy to welcome you early and bid farewell to you a bit late.You can explore Kathmandu if you wish. However, you have to do that at your own expense. Do I need a VISA? Ans:- Yes,if you are a foreigner in Nepa, you need to have a VISA before arriving in Nepal. You can have a 30 days stay VISA at $50 and in case you want to explore Nepal more, then you can apply for a 90 days VISA which will cost you $125.
Clothing & Equipment
The company won't be providing personal items, so you have to carry your own warm clothes and other necessary items. Clients should also bear their own trekking or climbing gear. Do you have a recommendation list of clothing that we should bring? Ans:-Yes,we have a recommendation list of the clothing that you should bring for the trip which you can find on the website. Do I need to bring all the equipment in the list? Ans :-Yes,it's highly recommended that you equip yourself with the equipment that we have included in the list. Can I bring food and other gears that's not in the list? Ans:-Sure.In case you need some other foods or gears or any other stuff,you can bring it with yourself. How heavy will my pack be? Ans :-You are allowed to have up to 25 kgs of your luggage.From Islamabad to basecamp,your luggage will be transported through helicopters and from one base to another,the Sherpas and the porters will carry it for you. How warm do you need our sleeping bags to be?Will there be extra blankets available if required? Ans:-Normally a sleeping bag upto -50 degree would work.And yes,in case you want more blankets,it will be provided.
Acclimatization and oxygen
Rest day will be managed to acclimatize ourselves. Also, the clients will be provided with oxygen bottles and masks during the trip. Additional masks, cylinders and regulators will also be carried for emergencies. What altitude medicine will be available?Do we need to take tablets before\during the expedition? Ans:-Our guide uses diamox for the trip.We can also provide it to you if you will need it.In case you are in any regular medication,you should carry them and take them on time. What sort of Oxygen mask do we use? Ans:- We use high quality topout oxygen masks along with oxygen regulators and cylinders. What is the oxygen bottle size? Ans:- Oxygen bottles will be given to every client which will measure 4liters each. Oxygen will be given in Poisk bottles.
Guide, Sherpas & Team members
The entire team of Marvel Trek comprises experts and professional mountaineers who have been climbing mountains for ages and know the mountains well. Every client will be facilitated with one experienced and licensed Sherpa to guide them. They will also fix the rope in the trails without any extra charges. Also, there are experienced and skilled cooks who will be making sure that you get a healthy warm meal every day. Who goes on your trips? Ans :-We mainly get clients from America and Japan but we have also planned trips with people of other nationality who were fit to carry on with the expedition. Can we contact other climbers or guides for this expedition? Ans :-You can leave the trouble of finding climbers or guides to us.We have our own team of skilled and experienced Sherpas and guides who won't give you any chance to complain. How many guys\Sherpas will be assigned to our group? Ans :- We will make sure that every client gets one guide\Sherpa each to guide them through the expedition. How much should I tip my guide staff? Ans:-Since,climbing mountains is hard as well as dangerous and your guide staff are the ones who will help you throughout the expedition, so it is requested to pay them some tips after the completion of the expedition for their hardship. What about the Sherpa staff tips? Ans :- You can tip them as much as you want but do consider their hard work that they have done for you. Can my friends and family join me in the trek into the base camp? Ans:-Yes, we will be happy to include your friends and family in the trek but we will have to do extra preparation. You can contact us to know more about it. I would like to arrange a private trip,is this possible? Ans:- Yes, we will be happy to arrange private trips for you.
Health and fitness
The journey to Pumori is itself a dangerous one, so the company will make sure that all of its clients are in good health. So, their health will be checked twice before attempting to climb the summit. Also, the clients will be taught some of the basics that will be required for a smooth and safe climb. What kind of physical condition should I be in for a climb at high altitude? Ans :-You should be fit enough to make an ascent of 1000m for several hours in a day.This might be difficult at first so,in order to make you able to do this,our company will be giving some basic training prior to the actual climb in Nepal. How do I know this is the right trip for me? Ans :-You can go through our website and look into the information that we have provided and decide for yourself if this trip is for you or not.And even after going through these materials, you still can't decide then maybe you can consult us so, that we might assist you in some way to come to a decision.
Communication & electronics
Walkie-Talkie and satellite phones will be given to every member to communicate to and fro between base camp and mountain. the members will also be facilitated with internet services. Will there be any power source for charging batteries and electronic equipment throughout the expedition? What are the voltage requirements? Ans:- Arrangement for power will be done in every camps.The base camp will have power through generators while the other camps will be powered through solar panels. Will there be any access to a satellite phone? If so, what are the charges for usage? Ans:-Yes,in case of emergency we will be providing you with a satellite phone without any cost.However, if you want to use it other times too then you have to pay additional fees of $4-$5 per minute.
Weather forecasts
Direct forecasts will be received and followed by the reliable Meteotest that is located in Bern, Switzerland. What weather report service do you use? Ans:-Weather condition is extremely essential for trekking as well as for mountaineering, so we make sure we have accurate weather forecast.For this,we follow the reports that are broadcasted by Meteotest which is located in Bern,switzerland.
Insurance
Insurance will be provided to all the team members and will be covered by the prepaid cost of the trip. What insurance do we need to get? Ans:-As much as the climbing is thrilling,it's equally dangerous too so, it's always better to have insurance.For this trip,you need to have a high altitude insurance along with a travel insurance.You also need to insure yourself for emergency helicopter evacuation.
Fees & payment
The fees and daily wages of the team members will be paid from the prepaid fees.
Photography
Additional fees have to be paid for taking photographs or filming as permit charges.
Safety
Safety is one of the major priorities of our team so everything will be checked and instructed by the group of professionals. In case of emergency, helicopters ride as well as other needed measures will be taken. However, it won't be covered by the costs that you had paid at the beginning of the trip.
Employment
Many experienced and licensed guides and Sherpas will be hired along with a government liaison officer to make the trip easy. Many skilled cooks and kitchen helpers will also be hired. We will also hire high porters who will help to carry the luggage on the trip.
Booking Details
Price W/O Addons: US$ 1100 /pax
Marvel Treks and Expedition certificate (Certified after completion the trek)
Duffle Bag during the trekking period.( Complimentary )
Provision of Down jackets during the trek ( Complimentary )
Provision of sleeping bags during the trek ( Complimentary )
Provision of sun hat (As a souvenir)
Provision of Company Tshirt(As a souvenir)
Provision of raincoat during the trek ( Complimentary )
Welcome dinner or farewell dinner at one of the typical Nepalese restaurant with traditional ethnic music and dance( Complimentary )
First Aid Service (Complimentary )
Trekking Region map (As a souvenir)
Services regarding airport transfer to and from the hotel via a private tourist vehicle ($20)
TIMS (Trekkers' Information Management Systems )($10)
National park / ACAP / Conservation entry fees.( $30)
All required local tax and Gov tax ($130 )
Office service charge.($200)
Pumori Expedition
$1,100.00,