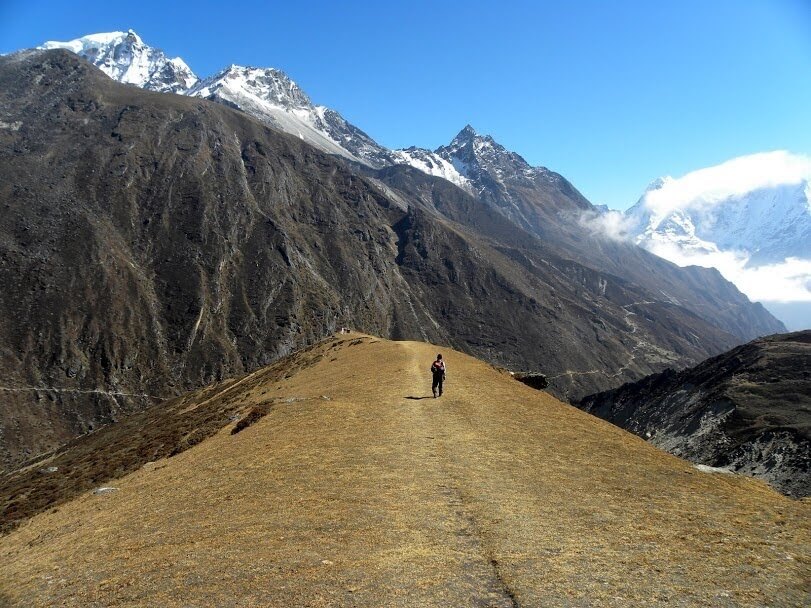 Tsum Valley
Tsum Valley Overview
Tsum valley which lies in Trans Himalayan region of Northern Gorkha bordering with Tibet against Ganesh Himal and Sringi Himal and Boudha ranges, is a kind of a very unique valley where you will find all the unique cultures like polyandry (having more than one husband), local Tibetan people speaking unique Dialect, unique festivals, mask dances, saka dawa and many more. People in Tsum valley are called Tsumbas and they originally belong to Tibet who have their own ancient form of art, culture and tradition and language. Tsum valley lies at the altitude of 4060m and is highly protected by Manaslu Conservation area. Tsum valley was opened publicly to all trekkers in 2008 and since then the place has been gradually developing for tourism. Tsum valley holds a great traditional and historical values especially to Buddhist and Tibetan people. Tsum valley is divided into two parts Upper Tsum and Lower Tsum. Tsum valley is one of the Nepal's remotest Himalayan valleys.
Best season to go
The best season to trek Tsum valley is no other than Spring (March- May) and autumn (September- November). In these season there is low chance of raining and trails are in best condition. This season offers you beautiful views of mountains, Rhododendron forest, greenery and clear blue sky. Monsoon season receives heavy rainfall which makes trails slippery and muddy. Winter season is extremely cold and covered with snow.
Safety and fitness
Tsum valley is moderately difficult trek especially for some beginners. You need to be physically and mentally stable and fit to do this trek. It is better if you have past experiences and have very good muscle strength. This trek is all about walking for 6-7 hours per day which can be very hard. It is better to prepare yourself by normal exercise, running, jogging to build your muscle strength. Since it lies at very high altitude it is very likely to suffer from mountain sickness. It is Important to stay hydrated and have nutritional food throughout the journey. If you experience any kind of difficulties in your health you need to talk to your friend or travel guide immediately.
Other requirements
Insurance- travel insurance is more of a mandatory thing to do before traveling anywhere. Do not forget to mention the maximum altitude you will be reaching because insurance varies and depends upon the height or elevation. You can always get more idea about travel insurance from travel agencies or insurance company itself. You can also get one in any travel agencies.
Visa and passports- for all the foreigners beside Indian, you will be needing a valid visa and valid passport to visit anywhere in Nepal. You can have your Nepalese visa at Tribhuwan international airport in Kathmandu. You will also need two passport sized photographs for trekking permits.
Packing List
Clothing and equipment
| | |
| --- | --- |
| Woolen t shirts/shirts  | Backpack |
| Thermal top/bottoms  | Passport |
| Fleece jacket  | Passport size photographs |
| Down jacket  | Permit and travel insurance |
| Raincoat  | Suns cream and lip balm |
| Underwear  | Travel towel |
| Trekking trousers  | Wash kit |
| Sleeping trousers  | Safety kit |
| Hiking shorts  | Power bank |
| Water proof pants  | Summer/winter hat |
| Daypack  | Buff/bandana |
| Sleeping bag  | Water bottles and water purifier |
| Hiking boots  | Trekking poles |
| Hiking shocks  | Charger/adapter |
| Flip flops  | Money/cash |
| Gloves and beanies  | Camera |
Group Discount Prices
No. of Persons
Price per Person
Frequently Asked Questions
Temperature and weather
The months of January and February are extremely cold due to snowfalls. Even though the day temperature is average the nights and mornings are very cold. March to May have very favorable temperature while July and August are not ideal for this trek due to heavy rainfall. The roads are slippery and muddy.
Food and accommodation
Tsum valley trek is both teahouse trek and camping trek. In lower altitudes you can get enough teahouses to spend the night and take rest. They provide small rooms with clean blankets and bedsheets. You can carry your sleeping bag to be warmer at night. You need to share toilets and bathroom with other trekkers. Also the dining room is common for everyone. Once you reach higher altitudes you may have to camp at night. You need to carry all the stuff for camping along with foods and water. Foods- you can get limited options for food like traditional Dal, Bhat and vegetables, porridge, breads, eggs and meat. However meat is not recommended during the trek. If you are camping then you have to prepare your food by yourself or if you belong to any travel agencies they can manage it for you. You will be spending approx. 10$ per day including food and accommodation.
Transportation
Bus – we can go to Sotikhola through Aarughat from Kathmandu which at least takes 6-7 hours. We can also take private jeep from Kathmandu. Also while returning you can do the same and take a bus from aarughat after arriving from soti khola. There is no direct bus from Kathmandu to Sotikhola. Road transportation is only way to reach Tsum valley.
Permits and fees
Manaslu permit- this permit cost 70$ per person for first week and 10$ day after that. Tsum valley permit- this permit cost you 35$ during the peak season and 25$ during offseason.
Communication and electronics
In most of the areas satellite or cellular based phones are available. You can use their phones by paying extra money (1-2$). Electricity is available and you can charge your phones or other electronics. There might not be proper facility of internet except in few places. You have to pay extra money to use all these facilities.
Guides and porters
Hiring guides are most in this trek. It is better if you travel through travel agencies. They have more educated guides than local one. However if you hire a guide they may charge you around 30-35$ per day. Porters are needed to carry your belongings. They may charge you around 15-20 $ per day.