langtang-valley-trek
langtang-valley-trek Overview
Langtang Valley Trek is one of the most beautiful treks in Nepal through stunning scenery and authentic culture along with the great hospitality in homestay guest house. This is the best hike route for those who are looking for an easy trekking route in lower altitude with a shorter walk.
The course is grand through thick bamboo and the rose tree backwoods that will take you passed cascades and snow-topped mountain crests. We know the trek for having a standout amongst the finest perspectives on the Annapurna Range.
The trek goes through Langtang National Park, guaranteeing perfect field and varied vegetation, just as yak pastures and even situated cheddar manufacturing plants! Himalayan birds, Himalayan deer, Himalayan bears, monkeys, and the subtle red panda, are resident to this district.
Langtang Village was obliterated amid the April 2015 quake. The strong local people have been caught up with revamping and a few teahouses and hotels have been changed and are open. The most ideal path for individuals to help us to proceed with a visit to this zone. There are many possible trek routes in Langtang region such as Ganja La pass, Tamang heritage Trekking, Langtang Gosaikunda Trek a Langtang Valley Trek 11 Days and Langtang Helambu trek.
Langtang Valley Trek 11 Days begins at the residential community of Syabru Besi. You will trek through radiant woodlands to the high elevated glades and yak pastures around Kyangjin Gompa (a Buddhist religious community). Following a (discretionary) day climb up to the highest point of Kyangjin Ri (crest), where the 360-degree perspectives on the Himalayan mountains are genuinely tremendous, you backtrack your course down the valley and drive back to Kathmandu.
For the individuals who need to trek off the beaten track and see something extraordinary to a significant number of the more touristy zones in the nation, this is an ideal trek. So also, for the people who are finding Nepal out of the blue, this is the ideal presentation.
Highlights of langtang-valley-trek
Trek to Langtang village and Kyangiin Monastery
Majestic view of the Himalaya from KyangjinRi
Panoramic views of Lirung and Kimshung glaciers
Explore Old and significant Buddhist monasteries, stupas and monuments
A chance to Visiting the cheese factory and hike to TserkoRi
Thick and green forests and meadows
Majestic viewpoint ofYansaTsenji (6,575m),Naya Kanga
(5,846m),LangtangLirung(7,345m),Gang Chhenpo (6,388m), DorjeLakpa
(6,966m)and Kimsung (6,781m).
Wildlife animal red panda, snow leopard, musk deer, bear, langur, etc.
Trip Map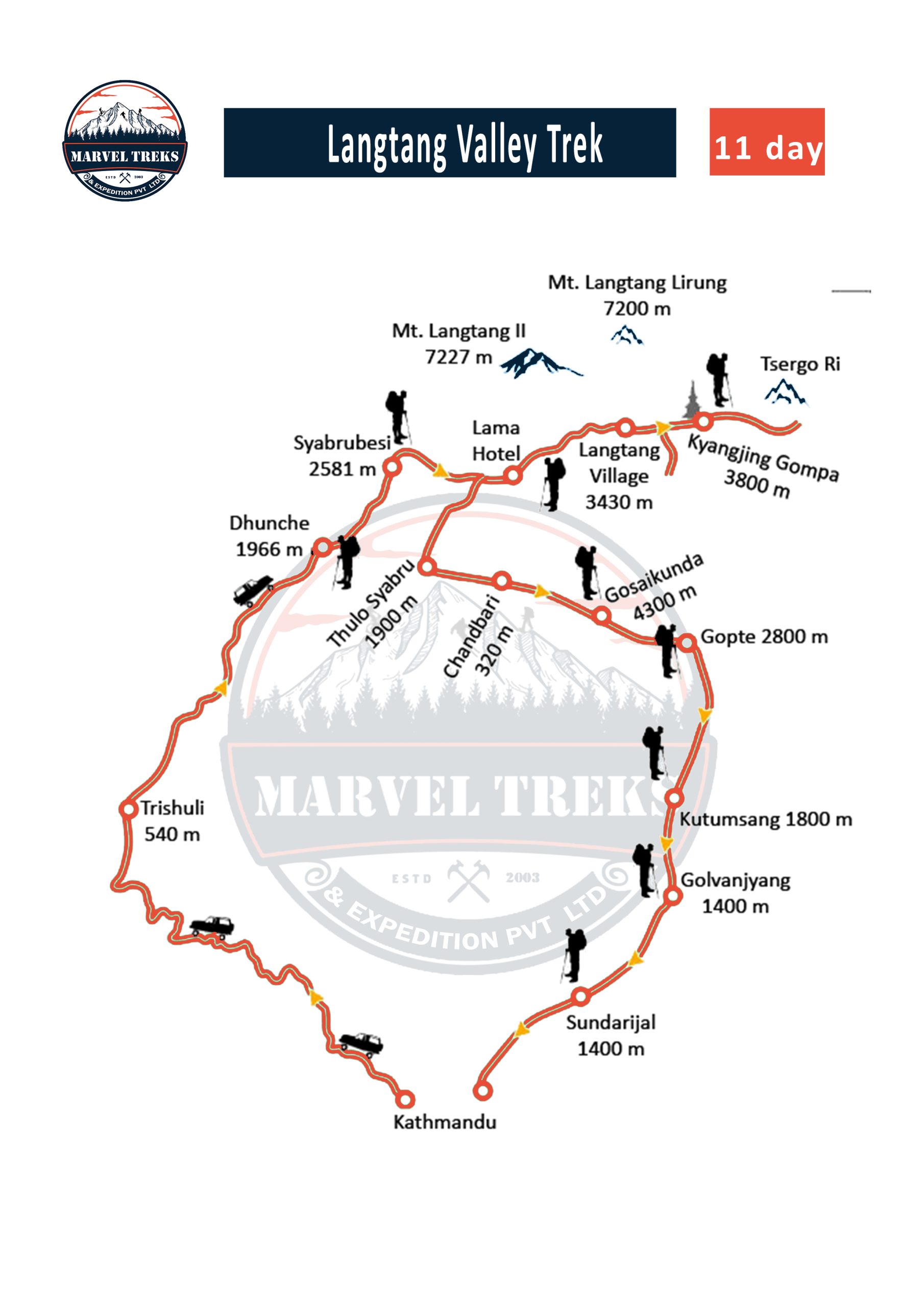 Group Discount Prices
No. of Persons
Price per Person
Booking Details
Price W/O Addons: US$ 410 per person
A detailed certificate from Marvel Treks and Expedition (after accomplishment)

A complimentary raincoat to shed you during the rainy season. (returnable)

A Complimentary Duffel Bag throughout the trek from our company. (returnable)

A warm complimentary Down Jacket during the entire trek on behalf of Marvel Treks. (returnable)

A complimentary sleeping bag for your icy trek. (returnable)

Breakfast, Lunch, and Dinner throughout the trek.

The essential climbing gear like mountain axe, trekking sticks, etc, for your need throughout the trek. (returnable)

Delightful complimentary Authentic Nepali cuisine as dinner to embark on your arrival and departure

Critical complimentary First Aid Service (in times of need)

An informative trekking map for you to cherish on behalf of our company

Trendy Sunhat and t-shirt as souvenirs on behalf of Marvel Treks and Expedition.

All the crucial services about airport transfer to and from the hotel via a private tourist vehicle ($40)

TIMS (Trekkers' Information Management Systems )($10)

National park entry fees / ACAP permits / Conservation entry fees. ( $30)

All essential local tax and, office service charges Gov tax ($100 )

2 nights accommodation in a Kathmandu (Kathmandu hotel or similar) ($40)
Porter Guide ($250)
Marvel Treks and Expedition won't be responsible for all the Lunch and dinner in Kathmandu.

Extra nights in any city that's not accommodated in the itinerary of Marvel Treks and Expedition.

All the International flight checks and airfares.

Marvel Treks and Expedition won't be responsible for alcoholic/ non-alcoholic liquors.

Additional porter fees along with tips of guides and porters.

Electronic gadgets like chargers, headphones.

Individual costs like a hot shower, phone calls, laundry, souvenirs.

Travel coverage and emergency evacuations.

Tips for our staff's drivers.
langtang-valley-trek
$410.00,