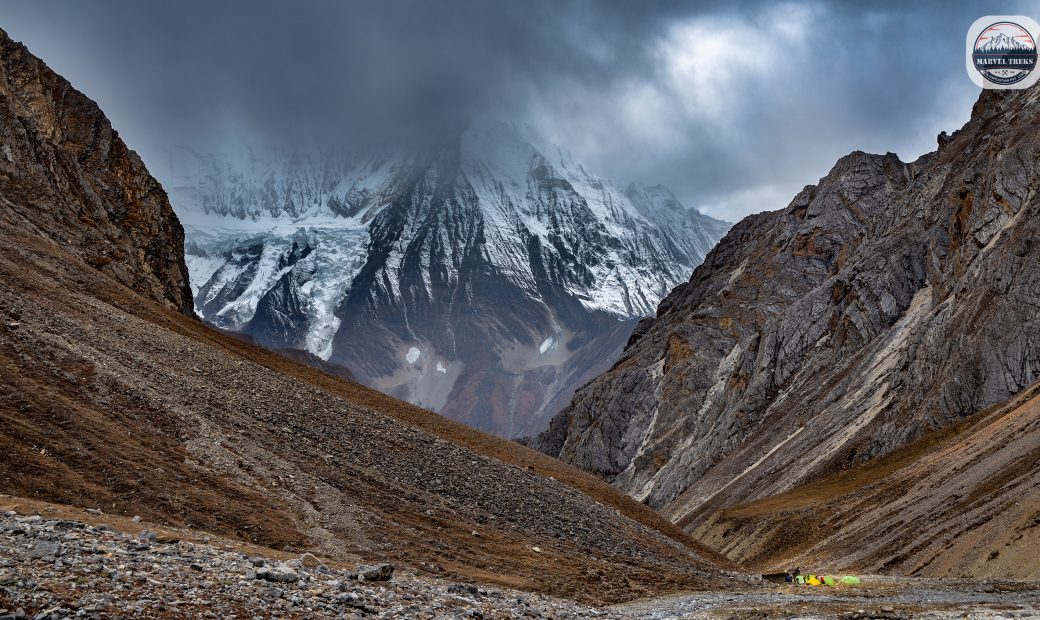 Kanjiroba Expedition
Accommodation
Teahouse/Lodge, Tented Camp
Best Season
Autumn, Spring
Kanjiroba Expedition Overview
Mountain Kanjiroba is a distinctive peak situated in the Dolpo region. It is an adventurous climb due to its undiscovered trails. The experience through the high level of alpine adventure and extreme wilderness are enthralling. Climbers and trekkers can scale the height of 6883m during the Kanjiroba Expedition. Overcoming the summit has become a popular trend. This is due to its unexplored and challenging route for trekkers/climbers.
The route starts in Juphal, and after passing via Jopala Khola, it ends in Kanjiroba Base Camp after summiting the peak. The course comprises interesting passes, waterfalls, villages, wildlife, flora, and fauna. The trekkers experience the genuine customs of the surrounding inhabitants. The trails during the trek are religiously diverse, thanks to the trail's abundance of settlements. The Kanjiroba Expedition voyage is a once-in-a-lifetime adventure to a place where few people have ever set foot.
Marvel Trek is a licensed expedition company. It has been providing the best facilities and services to its climbers since 1998 along with some great experiences. We not only keep your safety as the priority. But also guide you to fulfill your wish of experiencing the thrill of climbing a mountain. The entire team of Marvel Trek is full of professionals who will be there to support and guide you throughout your mountaineering adventures.
Highlights of Kanjiroba Expedition
Kanjiroba is a mountain in the western part of Nepal, and climbing it can be a challenging but rewarding experience. Some highlights of a Kanjiroba expedition might include:
High-altitude climbing:
Kanjiroba stands at an elevation of 6,850 meters (22,510 feet), making it a challenging and technical climb that requires a high level of physical fitness and mountaineering skills.
Scenic views:
The summit of Kanjiroba offers stunning panoramic views of the surrounding landscape, including the Rara Lake, the largest lake in Nepal.
Cultural experiences:
The expedition will take you through various villages and communities in the Kanjiroba region, giving you the opportunity to learn about the local culture and way of life.
Sense of accomplishment:
Successfully climbing Kanjiroba is a major achievement and a once-in-a-lifetime experience that will stay with you forever.
Teamwork and camaraderie:
A Kanjiroba expedition requires teamwork and cooperation, and you will have the opportunity to build strong bonds with your fellow climbers and sherpas
Trip Map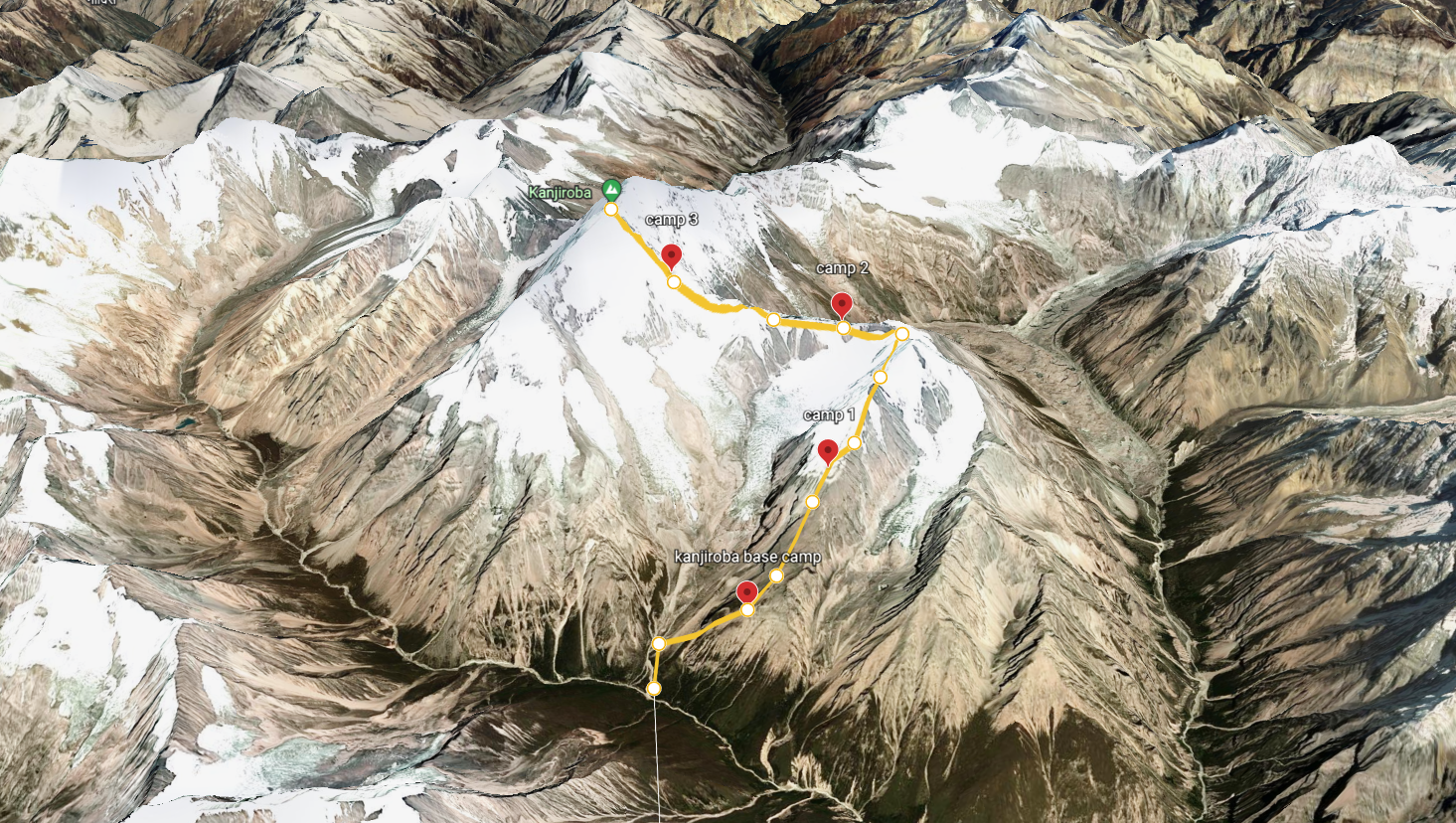 Peak climbing Equipment List
| | |
| --- | --- |
| Travel Documents  | Hands |
| Valid Passport | Thin Fleece Gloves (2 Pairs) |
| Credit/Debit Card | Wind Stopper / Screen Tap Gloves (2 Pairs) |
| pP Size Photo (4 Pieces) | Heavy Gloves (Guide Gloves) |
| Insurance Paper And Contact Address | Summit Gloves – 8000m. |
| Foot Wear | Sleeping Bags |
| Summit Boot – 8000m. (Kailas / Lasportiva / Millet ) | Sleeping Bag -20OC to -30OC |
| Climbing Boot – 6000m. (Kailas / Lasportiva / Millet) | Down Sleeping Bag -40OC (Extreme Comfort) |
| Normal Socks (5-8 Pairs) | Thermarest Mattress (Cell Foam) |
| Summit Socks/6000 m. Socks (2 Pairs) | Down Mattress (Inflatable) |
| Trekking Shoes (Gore Tex) | Sleeping Bag Liner |
| Light Trekking/Sports Shoes | Inflatable Pillow |
| Camp Booties (1 Pair) | Climbing Equipment |
| Slipper (1 Pair) | Climbing Helmet |
| Upper Body | Summit Down Suit – 8000m. |
| Thermal Top Base Layer (2-3 Pcs) | Ice Axe with Spike & Axe Protector Harness |
| Fleece Jacket (1-2 Pcs) | Belay Devices/ Figure of 8/ ATC Guide Jumar / Ascender |
| Gore Tex Jacket (1 Pcs) | Lock Carabiner (3 Pcs) Unlock Carabiner (2 Pcs) Tape Slings/240 cm |
| Wind Proof Jacket (1-2 Pcs) | Snow Goggle (Summit Purpose, Antifog, Polarized, UV Protection) |
| Down Jacket (1-2 Pcs) | Head Light 500-700 Lumens Spare |
| Cotton T-Shirt (3-5 Pcs) | Battery (Energizer Ultimate Lithium) |
| Lower Body | Satellite Phone With Credit (Optional) |
| Thermal Bottom Base Layer (2-3 Pcs) | Walking Stick/ Trekking Pole |
| Fleece Trouser (1-2 pcs) | Pocket Knife (Swiss) |
| Gore Tex Pant (1 pcs) | Altimeter Watch |
| Light Weight Quick Dry Trekking Pants (2-3 Pairs) | Pee Bottle |
| Gaiters for trekking boots | Power Bank |
| Down Pants (1pcs) | Crampons (Fit with Boot)/Packing Cover |
| Under Wear (4-6 Pcs) | Bag Packs |
| Sun Stuffs | Rucksacks 35 L – 50 L |
| Banana Boat/ Nivea Sun Cream (up to -50 Spf) | Duffle Bag 120 L-150 L (2 Pcs) |
| Lip Guard -30 to -50 (Spf) | Lundry/Garbage Bag (Large) |
| Sun Glasses (Uv Protection) | Water Proof Stuff Sacks/Dry Bag- Small/ Medium/ Large (3-4 Pcs) |
| Glaciers Glasses (Uv Protection) | Medical/First Aid  |
| Moisturiser / Lotion | Brufen / Ibuprofens |
| Eating & Drinking | Antibiotic |
| 1 Ltr. Water Bottle | Diamox |
| 1/ 1.5 Ltr. Thermos | Paracetamol |
| Mug (Opt.) | Handy Plaster |
| Spoon/ Fork (Opt.) | Crack Bandage |
| Bowl (Opt.) | Tincture Iodine |
| Miscellaneous | Ondem |
| Nail Cutter | Cetirizine |
| Umbrella / Rain Coat | Electrolyte |
| Hot Water Bag | Minil 10mg (Palpitation, anxiety) |
| Camera | Codopar (Headache & chest pain) |
| GPS Tracker (Recommended) | Salbetol 4mg (Breathless) |
| Hand & Toe Warmer | Azithromycin 500mg (chronic tonsillitis, fever, nose, throat infection-must take 5 days) |
| Toiletries (Personal)  | Flupen 250mg (prevent wound infection) |
| Toilet Paper / Wet Tissue | Allegra 120/180mg (Allergic tonsil) |
| Toothpaste | Menstrual Products |
| Toothbrush | Head |
| Soap | Sun Cap |
| Shampoo | Balaclava |
| Towel | Fleece Hat/ Warm Hat (1-2 Pcs) |
| Garbage Bag | Neck Gaiter (2-3 Pcs) |
Payment and cancellation
Policy regarding Payment and Cancellation Payment:
Payment:
1) To confirm a reservation, a deposit equal to 30% of the total price is required.
2) If the payment is made online, the remaining balance is due 10 days before the Tour, Trekking, Peak Climbing, or Expedition begins. If the payment is made in cash, it can be made after arrival. 3) If the booking is made within 30 days of the expedition beginning, full payment must be made at the time of booking.
Cancellation:
1)A full refund of the deposit will be given if a Tour, Trek, Peak Climbing, or Expedition is canceled more than 60 days before the start date.
2)The deposit will not be refunded if a Tour, Trek, Peak Climbing, or Expedition is canceled within 30 days of its start date.
3)A tour, trek, peak climbing, or expedition will not be refunded if it is canceled prior to or on the start date.
4)All participants should strongly consider purchasing travel insurance to cover any unforeseen cancellations or other occurrences.
Note: We reserve the right to modify or cancel any trek in the event of a natural disaster, political unrest, or any other unforeseen circumstances beyond our control. In such cases, a full refund or an alternative option will be provided.
Group Discount Prices
No. of Persons
Price per Person
Frequently Asked Questions
Temperature/weather forecast/Altitude
The weather is unpredictable and highly fluctuates in the Kanjiroba area. During summer, the maximum temperature is only around 15 degrees. Meanwhile, the temperature drops and reaches even below -5 degrees during winters. The trips are planned from June to September when the temperature fluctuates between 15 to 10 degrees. Weather forecast is obtained from the Meteotest located in Bern, Switzerland. The actual climb is above 6,000m.
Best season to climb
The peak can be climbed from April to September. The weather is chill, warm and dry during this time of the year, and climbers can win the summit with less difficulty. However, during winter, the weather becomes extreme, and the temperature drops even below -5 degrees.
Duration
The duration of the expedition is 40-43 days, which is a longer duration.
Food, oxygen and accommodation facilities
Quality food will be served three times a day, along with warm and comfortable accommodation throughout the 40-43 days long trip. Comfortable hotels will be arranged while staying in the city. While in the mountains separate tents will be set up. However, while staying in Kathmandu, only dinner will be provided by the company. You have to pay for your breakfast and lunch by yourself. But once the trip starts from there, the company will arrange for all the meals. Also, tea and coffee will be served for you to enjoy the trip even more. Required oxygen masks will be provided, and regulators and extra cylinders will be carried in case of emergencies.
Clothing & equipment
The company will not provide any personal pieces of equipment. So, you have to carry your warm clothes and other necessary items. Clients should also bear their trekking or climbing gear based on the equipment list provided.
Guide/Sherpas/porter/team members
The entire team of Marvel Trek comprises experts and professional mountaineers who have been climbing mountains for ages and know them well. Every client will be facilitated with one experienced and licensed Sherpa to guide them. Also, there are experienced and skilled cooks who will be making sure that you get a warm meal every day.
Communication and electronics (phone/ internet)
The climbers will get satellite phones to communicate.
Transportation
Besides the international flights to reach Nepal, the travelling package will include all the travelling expenses.
Safety/security
Medical equipment and safety tools will always be on standby in case of emergencies.
Permits and fees
Climbers should carry their passports and should have mountaineering insurance. Besides this, the company will pay for the air cargo charges. We will take care of all the taxes to the Nepali government on your behalf. The company will also take care of different Royalties and permits from the Nepali government. We will also arrange for the permits to enter the National Park entry and to carry satellite phones.