Lower Dolpo Trek
Accommodation
Teahouse/Lodge
Best Season
Autumn, Spring
Lower Dolpo Trek Overview
Lower Dolpo is a remote place that lies in the western part of the Dolpo district. Tibetan people dominate populate the place. Lower Dolpo started publicly in 1982. But it still falls under restricted areas and requires a special government permit to trek. The maximum elevation in this lower Dolpo trek is 5309m (Numa La pass) with most of the route of over 4000m. The trek to Lower Dolpo is a very challenging trek. Moreover, the trek involves crossing 3 high passes, Kagmara la, Baga La, and Numa La. This area falls under the protection of Shey Phoksundo National Park. It is the largest national park in Nepal and covers an area of 3,555 km2.
You can see rare flora and fauna throughout your journey like juniper, white Himalayan Birch, Rhododendrons, hemlock, spruce, snow leopard, grey wolf, musk deer, etc. This place is one of the few remaining places where the pre-Buddhist religion, Bon Po is practiced. Bon PO religion is quite similar to Buddhism, the only difference is this religion walk anti-clockwise around stupas and shrines. Shey Phoksundo Lake, Panoramic Himalayan mountains, Thrilling Terrain, and hidden traditional villages are some main attractions of this trek.
Besides, this route might take you around 18-19 days and may cost you. The cost for your trek totally depends on your number of days, accommodation, food, and mode of transportation. However, the average cost is around 2500$ per person which includes transportation, insurance, permits, clothing, etc.
Highlights of Lower Dolpo Trek
Trek through one of the remote parts of Nepal. 

Explore the Natural, beautiful landscapes.

Witness the diverse flora and fauna of Shey Phoksundo National Park.

Explore the traditional villages and ancient monasteries. 

Experience Bon Po cultures.

See the deepest Shey Phoksundo Lake.
Trip Map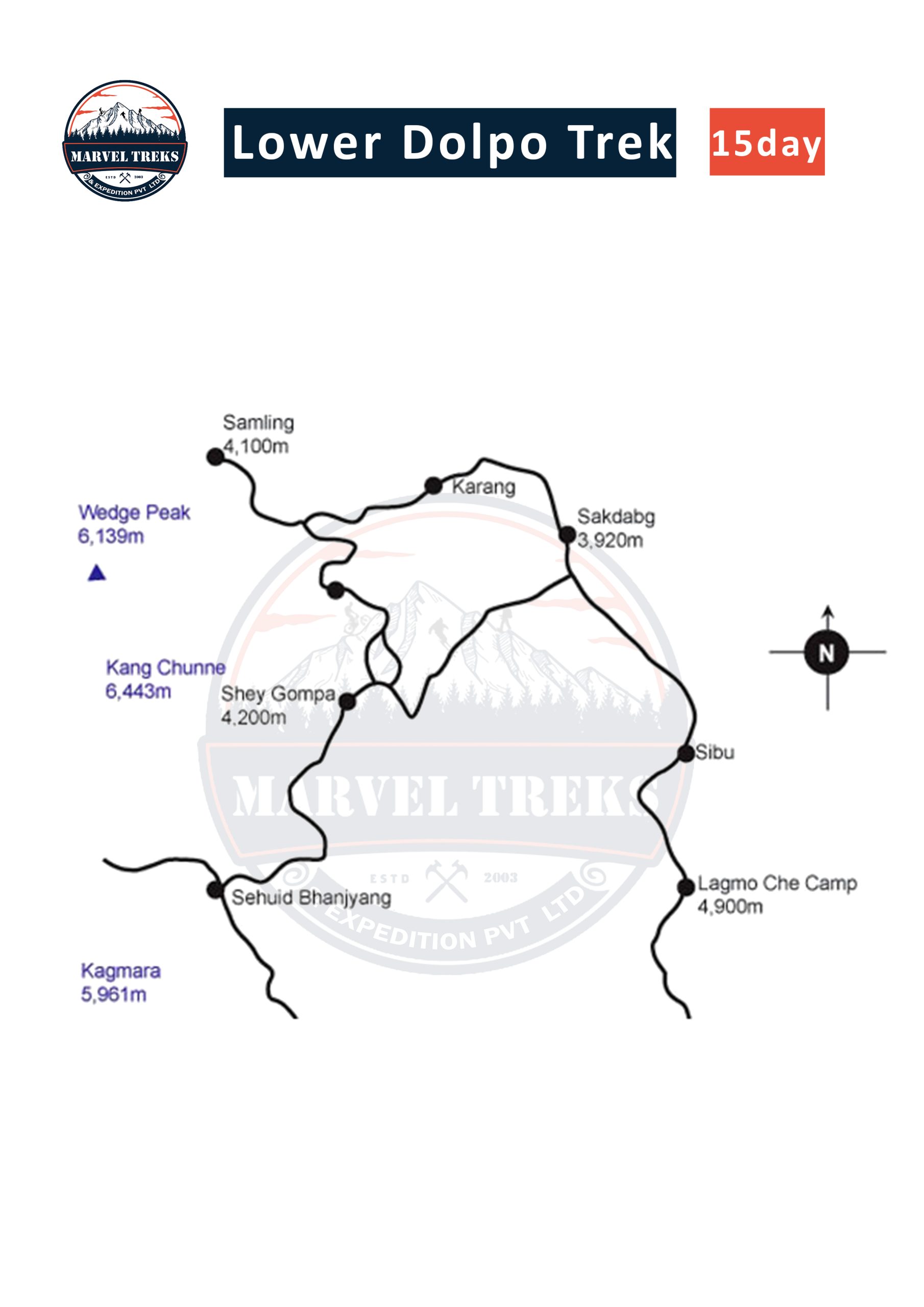 Difficulties and safety
Dolpo being a remote area, trekking to this place can be slightly challenging. This is a moderately difficult trek. However, the level of difficulty entirely depends on your physical and mental fitness. But you can build your muscle strength, make your body flexible by practicing some light exercise, running, and jogging. The trek to lower Dolpo is all about walking 5-6 hours per day for at least 18-20 days. This reason solely is enough to make this trek challenging. The trails are rugged, steep, may be snowy in off-seasons. The maximum height in this trek is 5309m, with other high passes over 4000m on the way. There is a high risk of mountain sickness.
Symptoms of Mountain sickness
Headache
Dizziness
Loss of appetite
Shortness of breath
Fast heartbeats
Preventing mountain sickness
Walk slow
Stay hydrated
Have nutritional food
Have enough rest
Avoid smoking and alcohol
Medicines for mountain sickness
Acetazolamide
Ibuprofen, paracetamol (for headache)
Promethazine (for nausea)
Trekking Equipment List
| | |
| --- | --- |
| Woolen t shirts/shirts/thick sweaters. | Backpack/Duffle bag |
| Thermal top/bottoms | Passport |
| Jackets (Fiber or down) | Passport size photographs |
| Raincoat | Permit and travel insurance |
| Pair of sandals | Suns cream and lip balm |
| Underwear | Travel towel |
| Trekking trousers | Wash kit |
| Sleeping trousers | First aid kit |
| Hiking shorts | Power bank |
| Water proof pants | Summer/winter hat |
| Daypack | Buff/bandana |
| Sleeping bag/Sleeping bag liner | Water bottles and water purifier |
| Hiking boots | Trekking poles |
| Hiking shocks | Charger/adapter |
| Camp shoes | Money/cash |
| Gloves and beanies | Camera |
| Snow glasses and sunglasses | trekking map |
| Down jacket/Gore-Tex | Toiletries |
| Neck gaiter | Water purification |
| Sun hat/woolen hat | Water bottles |
Other requirements
Travel insurance- Trekking to high altitudes can always be risky. Travel Insurance is something you might want to do before trekking anywhere. Sometimes in emergency cases, people need to be evacuated through a helicopter and get medical service. So, in such cases, your travel insurance will be bearing the cost for you. Seeing all these benefits,
the government of Nepal has made travel insurance mandatory thing before trekking. However, it is very important to mention the heights and all the places you will be reaching during your trek. Your insurance entirely depends on the details you have provided earlier. Travel insurance costs you around 150$ which is good for 1 month. 
Visas/passports- If you are not a Nepalese or Indian citizen, then a visa and a passport are mandatory. You can get your Nepalese Visa at Tribhuvan airport in Kathmandu. The passport must hold a visa of a minimum of 6 months.   
Payment and Cancellation
Policy regarding Payment and Cancellation Payment:
Payment:
1) To confirm a reservation, a deposit equal to 30% of the total price is required.
2) If the payment is made online, the remaining balance is due 10 days before the Tour, Trekking, Peak Climbing, or Expedition begins. If the payment is made in cash, it can be made after arrival. 3) If the booking is made within 30 days of the expedition beginning, full payment must be made at the time of booking.
Cancellation:
1)A full refund of the deposit will be given if a Tour, Trek, Peak Climbing, or Expedition is canceled more than 60 days before the start date.
2)The deposit will not be refunded if a Tour, Trek, Peak Climbing, or Expedition is canceled within 30 days of its start date.
3)A tour, trek, peak climbing, or expedition will not be refunded if it is canceled prior to or on the start date.
4)All participants should strongly consider purchasing travel insurance to cover any unforeseen cancellations or other occurrences.
Note: We reserve the right to modify or cancel any trek in the event of a natural disaster, political unrest, or any other unforeseen circumstances beyond our control. In such cases, a full refund or an alternative option will be provided.
Group Discount Prices
No. of Persons
Price per Person
Frequently Asked Questions
Temperature and weather
The average temperature in the spring season (March-May) in lower Dolpo ranges from -10 to -13⁰C at night and morning but is quite warm during the daytime. During the autumn season (September-November), the minimum temperature can be around -3 to -11⁰C at night and around 3 during the day. During the summer/monsoon season (June-August), the daytime temperature can be around 17⁰C and the nighttime can be around -4⁰C. The winter season is the coldest of all with an average temperature of -14 to -17⁰C. The best season to trek lower Dolpo is in spring and autumn due to its bearable and favorable temperature. The days are warmer and sunny during these seasons. Autumn has a clear atmosphere and blue skies while spring offers the view of green vegetation and snow-capped mountains. A plus point about the Dolpo district is, it falls under the rain shadow area and receives very less or no rainfall at all. Therefore, the monsoon season can also be best for this trek.
Food and accommodation
Here, teahouses are barely available up to Shey Phoksundo. Due to the fewer number of teahouses, they are mostly packed and you need to be ready for camping. Being a remote area, there are no proper facilities for transportation. The goods and accessories need to be transported by airplane or helicopter from Jhupal. That is why everything is relatively expensive in Dolpo including food and accommodation. Since the place is highly influenced by Tibet, very basic food like Dal, Bhat, Vegetables, and Tibetan food is available here. The available teahouses provide very minimal facilities like small rooms, beds, and blankets. Toilets and bathrooms have to be shared along with the dining hall. Generally, the price for a meal is 8-10$ (800-1000 NRS). The price of a one-night stay in teahouses is 6-9$ (600-900 NRS). Once you cross, Shey Phoksundo this trek is entirely a camping trek. You need to bring all the necessary equipment like tents, sleeping bags, mats, cooking gas, and utensils. Or, your travel agencies will manage this for you.
Electronics and communication
There is no doubt, Dolpo is one of the remotest areas of Nepal, all the facilities including electricity and internet are very limited. Only a few areas in lower Dolpo have mobile coverage or signals. Some villages have emergency telephones and satellite phones. You can use them by paying extra money to the owner. Internet service is available in Dunai only.
Guides and porters
If you choose to trek in Dolpo you need to know Dolpo is an entirely restricted area. You need a special government permit to enter the Dolpo district for which you need a professional and a licensed guide. They have enough knowledge about the directions and places. Porters are more than important in this trek. Since the place is really far and remote with rugged trails, carrying all your stuff and walking around is difficult.
Transportation
There are two options available for the lower Dolpo trek. Either you take a bus from Kathmandu to Jumla via Surkhet, and trek from Jumla to Dolpo. You can also take a private jeep to Jumla. Or, you can take a flight from Kathmandu to Nepalgunj which only takes 50 minutes. From Nepalgunj, you can take another flight to Dolpo airport, or to Jumla airport and again trek to Dolpo.
Permits and fees
Shey Phoksundo National Park Entry Permit SAARC countries – 1500 NRS (15$), (excluding VAT) NON-SAARC countries – 3000 NRS (30$), (Excluding VAT) Upper Dolpo restricted area permit- 40$ Dolpo district special permit- 500$
Booking Details
Price W/O Addons: US$ 2990 per person
A detailed certificate from Marvel Treks and Expedition (after accomplishment)

A complimentary raincoat to shed you during the rainy season.(returnable)

A Complimentary Duffel Bag throughout the trek from our company. (returnable)

A warm complimentary Down Jacket during the entire trek on behalf of Marvel Treks. (returnable)

A complimentary sleeping bag for your icy trek. (returnable)

Breakfast, Lunch, and Dinner throughout the trek.

The essential climbing gear like mountain axe, trekking sticks, etc, for your need throughout the trek. (returnable)

Delightful complimentary Authentic Nepali cuisine as dinner to embark on your arrival and departure

Critical complimentary First Aid Service (in times of need)

An informative trekking map for you to cherish on behalf of our company

Trendy Sunhat and t-shirt as souvenirs on behalf of Marvel Treks and Expedition.

All the crucial services about airport transfer to and from the hotel via a private tourist vehicle ($40)

TIMS (Trekkers' Information Management Systems )($10)

National park entry fees / ACAP permits / Conservation entry fees. ( $30)

All essential local tax and office service charges, Gov tax ($100 )

 Lower Dolpo Special Permit ($20)
Miscellaneous ($40)
2 nights accommodation in a Kathmandu (Kathmandu hotel or similar) ($40)
Porter Guide ($520)
Marvel Treks and Expedition won't be responsible for all the Lunch and dinner in Kathmandu.

Extra nights in any city that's not accommodated in the itinerary of Marvel Treks and Expedition.

All the International flight checks and airfares.

Marvel Treks and Expedition won't be responsible for alcoholic/ non-alcoholic liquors.

Additional porter fees along with tips of guides and porters.

Electronic gadgets like chargers, headphones.

Individual costs like a hot shower, phone calls, laundry, souvenirs.

Travel coverage and emergency evacuations.

Tips for our staff's drivers.
Lower Dolpo Trek
$2,990.00,