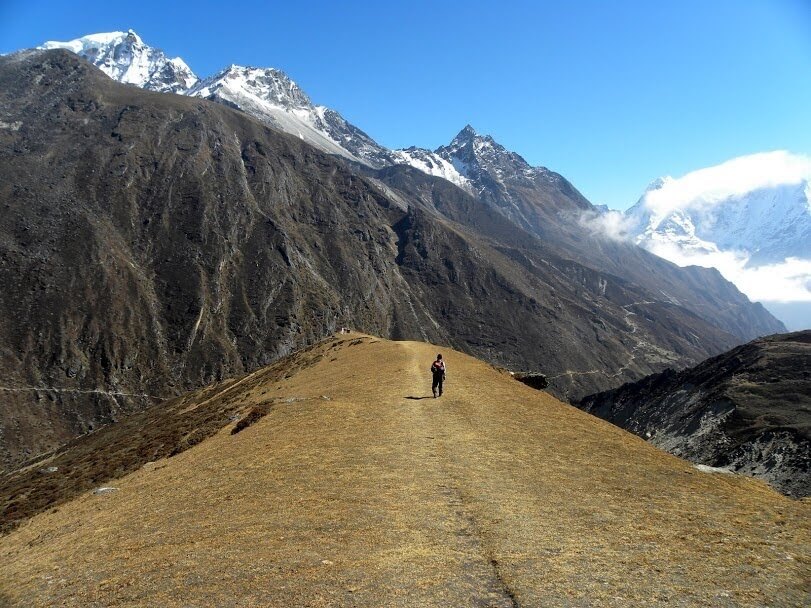 Ganja La Pass Trek
Ganja La Pass Trek Overview
Ganja La pass is located northwest of Kathmandu valley in Langtang region, Central development Area of Nepal. This pass lies at the altitude of 5130m and is considered one of the dangerous passes which remain frozen throughout the year. Ganja La pass trekking route is yet to be spoiled. With off-beaten trails, the place also offers the best and natural trekking experience to people. The trail passes through dense colorful Rhododendron forest, snow-capped mountains, and waterfalls. Besides this, the route is highly rich in the culture and tradition of Tibetan-influenced villages and people. Since the Ganja La pass is highly protected by Langtang National Park, the route is filled with diverse flora and faunas. Many endangered animals like red panda, musk deer, Himalayan Tahr, langur, etc are found here. The main attraction of this trek still remains Tserko Ri, offering you the gigantic perspective of Himalayan ranges and Tibetan fringe. Astonishing views of Ganesh Himal, Gaurishankar, Dorje Lakpa, Langtang Lirung, Naya Kanga peak, etc. are other contributing factors to the beauty of Ganja La pass trek. Even though the trek to Langtang valley is considered an easy trek, Ganja La pass is undoubtedly one of the challenging ones. Due to its difficult high passes which necessarily involve camping, this place is not so well known among people.
This route takes around 14/15 days with proper rest and dew days off. It costs around 1300$ including travel insurance, permits, food, accommodation, camping equipment, clothing etc.
Highlights of Ganja La Pass Trek
Explore Langtang valley and Kyanjin Gompa monastery
Ancient and historical monasteries, prayer flags, and monuments
Explore and climb Kyanjin Ri and Tserko Ri
Camping in the mountain area.
Amazing hospitality of Tamang and Sherpa people.
Best season to visit
The best season to go is spring, (March to May) and autumn (September to November). These season have very favorable temperatures and a clear atmosphere. There might be light snowfall in early spring but that should not be problematic. December- February is extremely cold and receives heavy snowfall sometimes blocking the entire trail. Monsoon season (July and August) also known as summer receives a lot of rainfall and the trails are slippery and muddy also with a high risk of floods and landslides.
Other requirements
Insurance- travel insurance is kind of a mandatory thing before traveling anywhere. You can always purchase your own travel insurance from your travel agencies. It usually costs around 150$(15000 NRS) good for 30 days. You need to give them complete details about the places and altitudes you will be reaching because your insurance depends on details you have given earlier.
Nepal visas/passports – foreigners other than Indians need to have valid visas and passports prior to visiting Nepal. The passport must hold a minimum of 6 months of visa validity from their date of arrival. They can have a Nepalese visa at Kathmandu Tribhuvan International airport.
Packing List
Clothing and equipment
| | |
| --- | --- |
| Woolen t shirts/shirts | Backpack |
| Thermal top/bottoms | Passport |
| Fleece jacket | Passport size photographs |
| Down jacket | Permit and travel insurance |
| Raincoat | Suns cream and lip balm |
| Underwear | Travel towel |
| Trekking trousers | Wash kit |
| Sleeping trousers | Safety kit |
| Hiking shorts | Power bank |
| Water proof pants | Summer/winter hat |
| Daypack | Buff/bandana |
| Sleeping bag | Water bottles and water purifier |
| Hiking boots | Trekking poles |
| Hiking shocks | Charger/adapter |
| Flip flops | Money/cash |
| Altitude sickness medicines | Zip lock bag |
| Gloves and beanies | Camera |
| Bowl, cups, spoons | Sleeping mattresses  |
| Cooking gas | Camping food |
Group Discount Prices
No. of Persons
Price per Person
Frequently Asked Questions
Temperature and weather
The average temperature in the spring (March, April, and May) is around 4-9 degrees Celsius. The autumn (September, October, November) being the best season to trek has a temperature of 10 degrees Celsius during the daytime and around 3 degrees Celsius at night. The winter season (December, January, and February) has a temperature of …. The summer season (June, July, and August) being the hottest months have a temperature of 10-12 degrees Celsius.
Food and accommodation
There are teahouses available in the valley or up to Langtang Khola. They are simple and meet your basic necessities. They have a single room with twin sharing beds, blankets, and pillows. Toilets and bathrooms have to be shared. Once you cross the valley, there are steep mountains and broken trails with no teahouses available. You need to be prepared for at least 3 days of camping with proper equipment like sleeping bags, tents, mattresses, cooking utensils, food, etc. Food- when you are in teahouses, you can get home-cooked meals like Dal, Bhat, vegetables, noodles, pasta, eggs, etc but during your camping days you need to prepare food by yourself. It is better to carry some packed foods and hot drinks. Or, you can also hire a cook.
Transportation
Bus- there is a bus available from Kathmandu to Shyabru Besi which takes around 8-11 hours and costs you around 600-800 NRS. You can also go by jeep or car which is more comforting and expensive. If you wish to go by jeep it cost you around 1500 per person. Once you reach Shyabrubesi you need to start a tour trek.
Electronics and communication
There is internet available only in a few places like Shyabrubesi, Dhunche, and Langtang valley itself. Mobile coverages of NTC and NCELL are available so you can be connected to your friends and families. Electricity is available in every teahouse so you can charge your phones and other electronics. You might have to pay extra money for this. However, in your camping days, these facilities might not be available. Batteries and power banks are highly recommended.
Permits and fees
Langtang National Park Permit- This permit is mandatory for everyone coming to trek Langtang Ganja La pass. This permit costs you 30$ (3000 NRS) for every foreigner besides SAARC countries. It cost only 15$ (1500) to SAARC countries Trekker's Information Management System Card (TIMS) this permit is too necessary for every trekker in Nepal. This cost 10$ (1000 NRS) for every foreigner besides SAARC countries. It cost only 5$ (500NRS) to them.
Guides and porters
Having an experienced guide with you is mandatory. There is no doubt, Ganja La pass is a very difficult trekking route. It is believed that many people get lost on the way to this pass. A guide with enough knowledge, experience, patience, and friendly nature is a must in this trek. It is better to trek through a travel agency. Local guides are not so experienced and professional. Similarly, porters are the next important part of this trek. Since you will be carrying all the stuff for camping, you cannot possibly carry all those by yourself and walk around. Porters are more than happy to help you with your belongings. They usually charge 25-30$ per day.
Safety and fitness
While the Langtang valley trek is one of the easy treks, the Ganja La pass can be very challenging and difficult. Camping in high altitudes, crossing high passes, and walking for 5-6 hours per day is certainly something serious to think about. You need experience, patience, focus, and concentration for this trek. Knee and muscle strength are important factors to be considered. You need to prepare yourself by running, jogging, light exercises, etc. since you will be crossing some high passes, there is also a risk of altitude sickness. You need to stay hydrated, eat nutritional food throughout the way. If you ever feel breathing difficulties, nausea, weakness, fast heartbeats, which are symptoms of altitude sickness, you need to talk to your guide immediately.