Limi Valley Trek
Accommodation
Teahouse/Lodge
Best Season
Autumn, Spring
Limi Valley Trek Overview
Limi valley (4000m), is a small village in the far western, north of Humla district of Nepal. Humla itself being a remote part of Nepal, Limi valley is one of the less explored areas with off-beaten trails. Limi valley trek passes through Karnali River, the longest river in Nepal. The route to Limi valley passes through many traditional villages, where people follow a very old lifestyle. In fact, people there have an authentic Tibetan lifestyle, and typical Tibetan language, traditions, and culture.
In Some villages like Halji and Gombayok, you can see ancient Tibet at its best. The main attraction of this place is Gyuo Kharka (5150m), from where you can see beautiful mountain views of Mt Saipal, Byas Rishi, Api, Kanjirowa, Kanti etc. The trail also passes through hundreds and thousands of flora and Faunas. Many medicinal herbs and many rare animals like red panda, blue sheep, snow leopard, etc. Limi valley is also very famous for the Matrimonial relation between the people of Tibet and Nepal. This is actually a reason behind the existing Tibetan culture in this place.
This is the basic route to travel to Limi valley. Limi Valley Trek takes around 20-21 days and cost you up to 2850-3500$ depending on individual expenses.
Note- you can always take rest and camp in every 3-4 days for your safety and health.
Highlights of Limi Valley Trek
Explore the monasteries and Gompas including Halji monastery.
Witness wild rare animals like musk deer, snow leopard, blue sheep, etc.
Walkthrough several traditional villages, and see their lifestyle and culture.
Pass through waterfalls, and rivers including Karnali River, which is Nepal's longest river.
Trip Map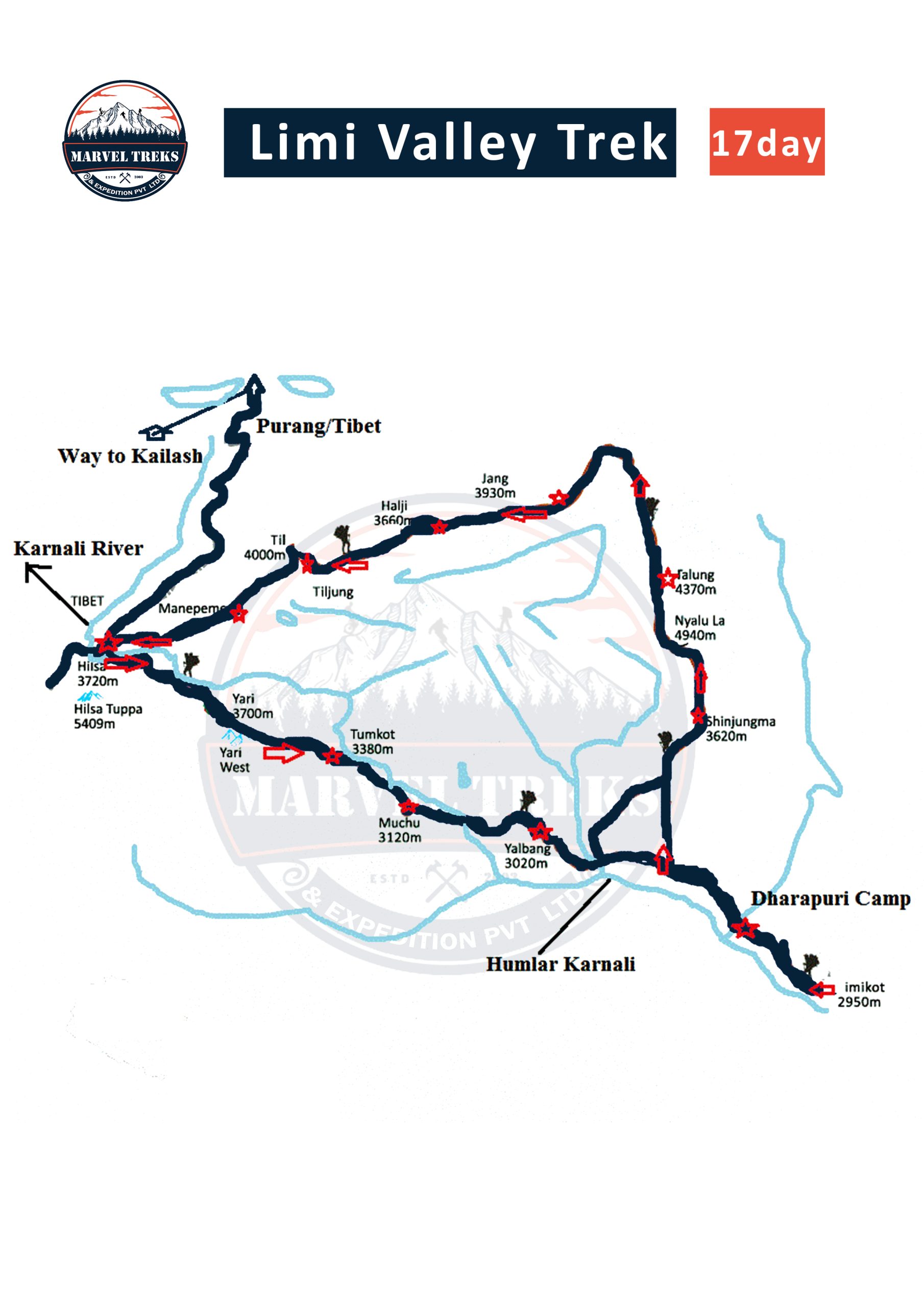 Difficulties of Limi valley
The Limi valley trek is very remote with rugged trails and steep roads. Also, it is very long and tiring. Thus, the trek to Limi valley is considered challenging. You will be trekking for 6-7 miles per day which requires an excellent level of fitness. Physical, as well as mental fitness, is a very important part of this trek. It is important to build muscle, ankle, and knee strength so that you do not have any problems during the journey. Is better to exercise, run, jog, and have healthy food before your journey starts. The highest altitude here is Nyalu La (5000m), the village itself lies at the height of 4000m. There is also a risk of altitude sickness in this trek. Even though you will have opportunities for good acclimatization, there is still a low risk of altitude sickness.
Symptoms of Mountain sickness
Headache
Dizziness
Loss of appetite
Shortness of breath
Fast heartbeats
Preventing mountain sickness
Walk slow
Stay hydrated
Have nutritional food
Have enough rest
Avoid smoking and alcohol
Medicines for mountain sickness
Acetazolamide
Ibuprofen, paracetamol (for headache)
Promethazine (for nausea)
Trekking Equipment List
| | |
| --- | --- |
| Woolen t shirts/shirts/thick sweaters. | Backpack/Duffle bag |
| Thermal top/bottoms | Passport |
| Jackets (Fiber or down) | Passport size photographs |
| Raincoat | Permit and travel insurance |
| Pair of sandals | Suns cream and lip balm |
| Underwear | Travel towel |
| Trekking trousers | Wash kit |
| Sleeping trousers | First aid kit |
| Hiking shorts | Power bank |
| Water proof pants | Summer/winter hat |
| Daypack | Buff/bandana |
| Sleeping bag/Sleeping bag liner | Water bottles and water purifier |
| Hiking boots | Trekking poles |
| Hiking shocks | Charger/adapter |
| Camp shoes | Money/cash |
| Gloves and beanies | Camera |
| Snow glasses and sunglasses | trekking map |
| Down jacket/Gore-Tex | Toiletries |
| Neck gaiter | Water purification |
| Sun hat/woolen hat | Water bottles |
Other requirements
Travel insurance- trekking to high altitudes can always be risky. Travel Insurance is something you might want to do before trekking anywhere. Sometimes in emergency cases, people need to be evacuated through a helicopter and get medical service. So, in such cases, your travel insurance will be bearing the cost for you. Seeing all these benefits, the government of Nepal has made travel insurance mandatory thing before trekking. However, it is very important to mention the heights and all the places you will be reaching during your trek. Your insurance entirely depends on the details you have provided earlier. Travel insurance costs you around 150$ which is good for 1 month.
Visas/passports- if you are not a Nepalese or Indian citizen, then a visa and a passport are mandatory. You can get your Nepalese Visa at Tribhuvan airport in Kathmandu. The passport must hold a visa of a minimum of 6 months.
Payment and Cancellation
Policy regarding Payment and Cancellation Payment:
Payment:
1) To confirm a reservation, a deposit equal to 30% of the total price is required.
2) If the payment is made online, the remaining balance is due 10 days before the Tour, Trekking, Peak Climbing, or Expedition begins. If the payment is made in cash, it can be made after arrival. 3) If the booking is made within 30 days of the expedition beginning, full payment must be made at the time of booking.
Cancellation:
1)A full refund of the deposit will be given if a Tour, Trek, Peak Climbing, or Expedition is canceled more than 60 days before the start date.
2)The deposit will not be refunded if a Tour, Trek, Peak Climbing, or Expedition is canceled within 30 days of its start date.
3)A tour, trek, peak climbing, or expedition will not be refunded if it is canceled prior to or on the start date.
4)All participants should strongly consider purchasing travel insurance to cover any unforeseen cancellations or other occurrences.
Note: We reserve the right to modify or cancel any trek in the event of a natural disaster, political unrest, or any other unforeseen circumstances beyond our control. In such cases, a full refund or an alternative option will be provided.
Group Discount Prices
No. of Persons
Price per Person
Frequently Asked Questions
Best season to trek
Situated at a very high altitude, Limi valley is extremely cold even in the summer. The lowest temperature in Limi valley is -20 degrees Celsius. The best season to trek Limi valley is no other than Spring and autumn. Limi valley is located in the Rainshadow area, therefore, it is possible to trek Limi valley in the monsoon season too. Besides, March-September, it is impossible to trek Limi valley due to heavy snowfall and extreme cold.
Food and accommodation
Humla is one of the remotest areas of Nepal. If you are interested in this trek, you need to know this has to be a total camping trek. In the Humla district, there is great difficulty with transportation. So, other facilities are also very minimum. There are no teahouses available, or varieties of food. Only a few teahouses are available in Simikot where you can get the necessary supplies. You need to carry all the necessary camping stuff like tents, mats, sleeping bags, cooking utensils, cooking gas, packed foods, etc. since no teahouses are available you need to prepare food by yourself. Or, if you are traveling through any agencies they will manage a cook for you. It is easy to make food like bread, rice, porridge, eggs, etc.
Getting to Limi valley
There is no easy way to reach Limi valley since there is no direct connection between the two places. The best way is to take a flight from Kathmandu to Nepalgunj which takes 45-50 minutes and costs you 3500-4000 NRS. And from Nepalgunj, you need to take another flight to Simikot which takes around 45 minutes and cost 2000 NRS. From Simikot, you need to start your hike. Or, if you want to save money and travel by bus, there are also buses available from Kathmandu to Nepalgunj which takes around 10-12 hours. The price is around 1200-1400 NRS. However, from Nepalgunj, no road transportation is available so you have to take a flight to Simikot.
Guides and porters
Limi valley is a very less explored area with very few numbers of people trekking. It is not likely to meet many people on the way. Without a travel guide to give you the right directions, and information about the places, your trek would be quite difficult. They usually charge 30-35$ per day. Since you will be carrying all the camping stuff, it is quite impossible not to hire a porter. They usually charge 20-25$ per day.
Permits and fees
Limi valley restricted area permit- 50$ per person for 1st one week 7$ per person for each additional day. TIMS- this permit costs 1000NRS to all foreigners.
Booking Details
Price W/O Addons: US$ 3200 per person
A detailed certificate from Marvel Treks and Expedition (after accomplishment)

Trendy Sunhat and t-shirt as souvenirs on behalf of Marvel Treks and Expedition.

A complimentary raincoat to shed you during the rainy season.

A Complimentary Duffel Bag throughout the trek from our company. (returnable)

A warm complimentary Down Jacket during the entire trek on behalf of Marvel Treks. (returnable)

A complimentary sleeping bag for your icy trek. (returnable)

The essential climbing gears like mountain axe, trekking sticks etc, for your need throughout the trek. (returnable)

Delightful complimentary Authentic Nepali cuisine as dinner to embark on your arrival and departure

Critical complimentary First Aid Service (in times of need)

An informative trekking map for you to cherish on behalf of our company

All the crucial services about airport transfer to and from the hotel via a private tourist vehicle ($40)

TIMS (Trekkers' Information Management Systems )($10)

National park entry fees / ACAP permits / Conservation entry fees. ( $30)

All essential local tax and Gov tax ($130 )

All the required office service charges. ($200)

Essential Medical supplies and first aid equipment will be provided.

Miscellaneous ($50)
Porter Guide ($640)
Marvel Treks and Expedition won't be responsible for all the Lunch and dinner in Kathmandu.

Extra nights in any city that's not accommodated in the itinerary of Marvel Treks and Expedition.

All the International flight checks and airfares.

Marvel Treks and Expedition won't be responsible for alcoholic/ non-alcoholic liquors.

Additional porter fees along with tips of guides and porters.

Electronic gadgets like chargers, headphones.

Individual costs like a hot shower, phone calls, laundry, souvenirs.

Travel coverage and emergency evacuations.

Tips for our staff's drivers.
Limi Valley Trek
$3,200.00,