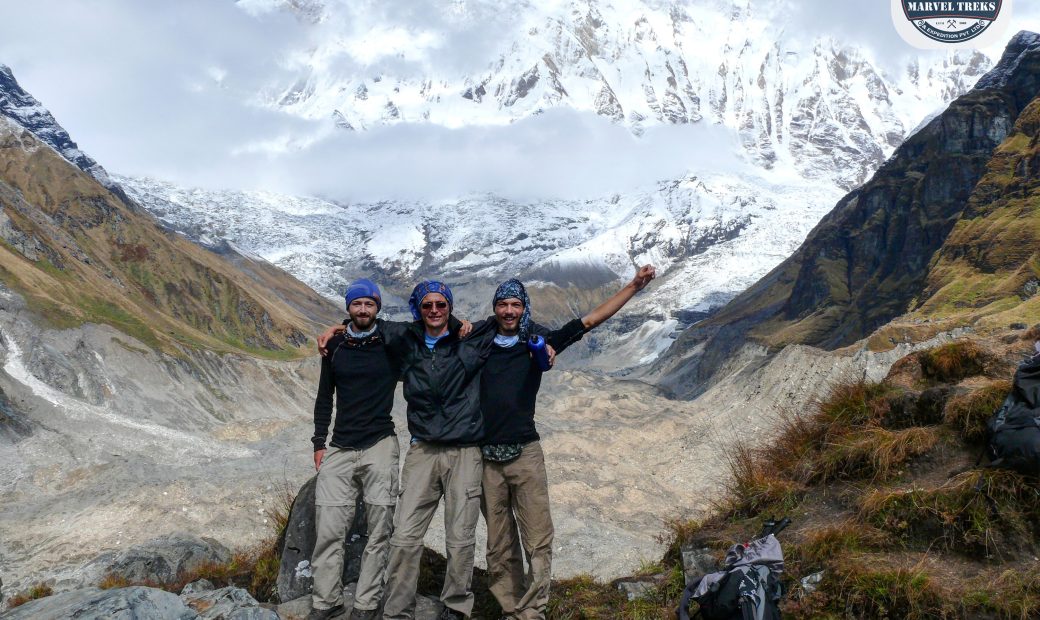 mount-annapurna-expedition
Accommodation
Teahouse/Lodge, Tented Camp
Best Season
Autumn, Spring
mount-annapurna-expedition Overview
Annapurna Expedition is a venture to the summit of Mt. Annapurna I, often referred to as Mt.Annapurna. It is the tallest peak within the great Annapurna massif with height 8,091m(8.091km). The Annapurna massif is huge and bears 16 peaks which stand at a height more than 6,000m, 13 peaks that stand at a height more than 7,000m and one peak which stands at a height more than 8,000m. Mt.Annapurna I of the Annapurna massif stands tall as the 10th tallest mountain of the world. According to myths, this mountain is considered the home to a Hindu goddess, Annapurna, who looks after providing food and nourishment. This mountain also acts as a source of irrigation water for the lower lands. Hence, the name 'Annapurna'. The name came from the Sanskrit words ' Anna' and 'Purna' meaning 'filled with food'.
Mt. Annapurna lies in the Gandaki zone of Nepal within the largest Nepalese conservation area called the Annapurna Conservation Area. This conservation area is home to many exotic plants, animals and even seasonal migratory birds, which add more excitement to the expedition. This area also is famous for many well-managed trekking routes. Also, one can experience great contrast in terms of the landscapes in Annapurna Expedition. The climb offers you the mesmerizing and refreshing views of greenery in the lower parts. While as you move forward, it offers you with excellent and breathtaking views of the massive peaks.
Highlights of mount-annapurna-expedition
Annapurna is a mountain in the Himalayas of north-central Nepal, and climbing it is a challenging and technical endeavor that requires a high level of physical fitness and mountaineering skills. Some highlights of an Annapurna expedition might include:
High-altitude climbing:
Annapurna stands at an elevation of 8,091 meters (26,545 feet), making it one of the highest peaks in the world.
Scenic views:
The summit of Annapurna offers breathtaking panoramic views of the surrounding landscape, including the other peaks in the Annapurna range.
Cultural experiences:
The expedition will take you through various villages and communities in the Annapurna region, giving you the opportunity to learn about the local culture and way of life.
Sense of accomplishment:
Successfully climbing Annapurna is a major achievement and a once-in-a-lifetime experience that will stay with you forever.
Teamwork and camaraderie:
An Annapurna expedition requires teamwork and cooperation, and you will have the opportunity to build strong bonds with your fellow climbers and sherpas
Trip Map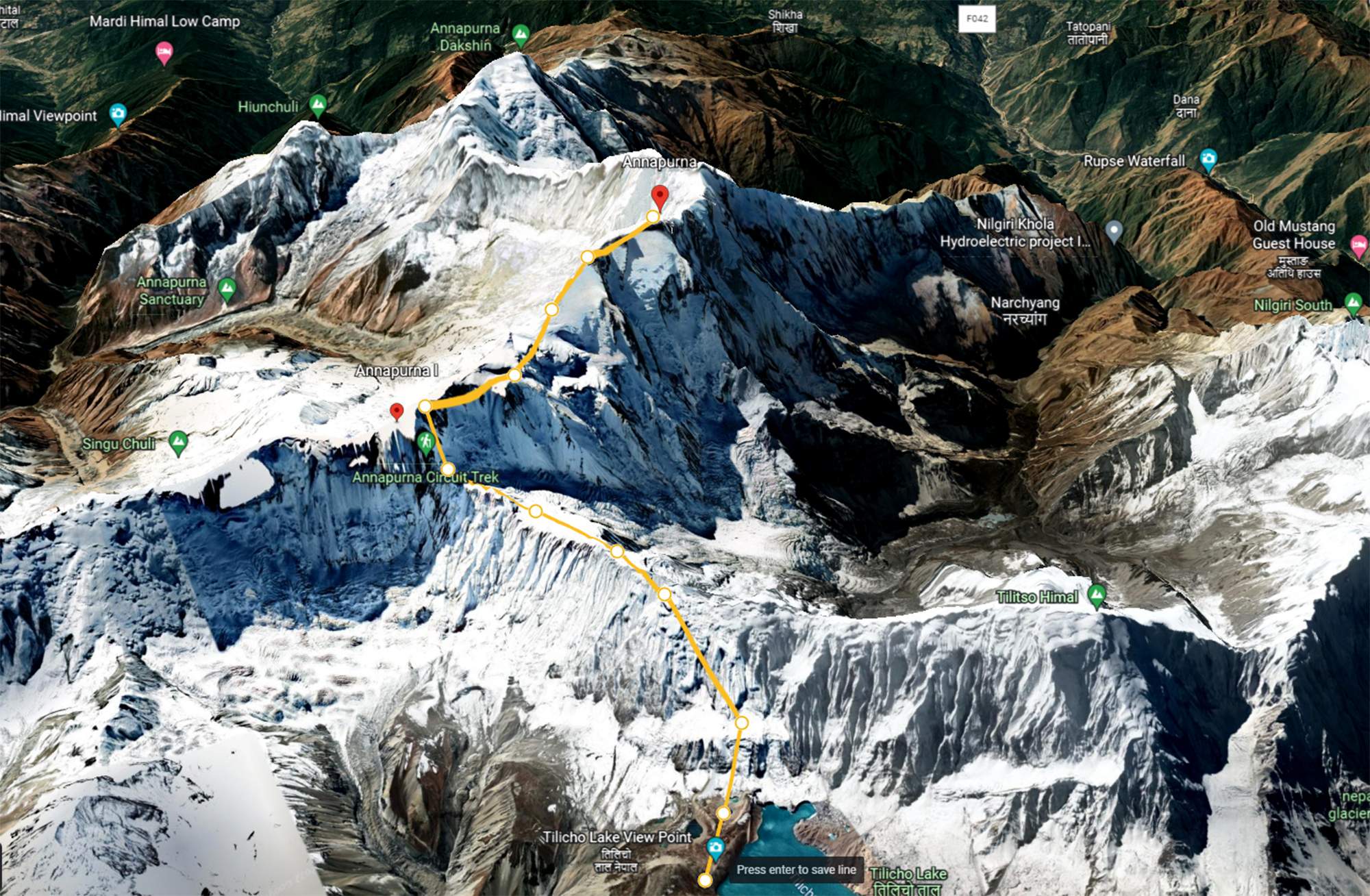 Difficulty to climb
Mt.Annapurna is considered as the most difficult and dangerous mountain to climb in the entire world. The fatality rate of Mt.Annapurna is even more than that of Mt.K2 or Nanga Parbat. The climbers do face the usual problem of altitude sickness but along with that, they also have to face the unforeseeable weather of this mountain. This mountain receives heavy snowfall and strong wind not only in winter but at any time of the year. This makes the mountain remain covered by snow throughout the year and eventually makes the climate cold throughout the year. This also causes a high risk of fatal avalanches and snowstorms. Besides this, even the topography of Mt.Annapurna is hard to climb. This mountain has extreme steeply sides in its southern face. The southern face lies 3,000m high and is dangerously steep which makes the climb much more dangerous and difficult.
Mount Annapurna with the best Expedition company
Mt.Annapurna expedition has a lot to offer to its climbers. It embraces the climbers with its breathtaking landscapes and a great escape from their day-to-day life. The climbers can see the diversity in the landscapes that cover from the lower green region to the dry yet massive upper peaks. However, the climbers have to face many challenges before reaching the summit and getting mesmerized by the surrounding peaks and landscapes. This mountain receives heavy snowfall and strong winds throughout the year. This increases the chances of avalanches and snowstorms that can be fatal to its climbers. Also, the steep south face of the mountain which lies at a height of 3,000m is another challenge that the climbers have to overcome. And without proper aid and guidance, the climb won't be possible.
This is where Marvel Treks comes in the picture.
The entire team of Marvel Treks works deliberately to provide the best services and facilities to you and makes sure that you will have a once in a lifetime experience. Taking care of the basic needs, safety measures and legal formalities to provide satisfactory and convenient services in the best interest of the clients are the main goals of Marvel Trek.
If you want to live your dream of adding adventure to your life with full safety and if you want to take a break from your day-to-day hustle in the most exciting way with trustworthy help, Marvel Trek is there in your service.
We take care of all the arrangements that are needed for your trip at a reasonable cost. Contact us and book a trip with us and let's get going in fulfilling your dream of adventure.
Clients requirements
The clients should be healthy enough to make the expedition.
They should have some prior experiences in mountaineering.
They should be fit and should be trained a bit before the actual departure.
Why should Marvel Treks be chosen for climbing?
Marvel treks has been providing its clients with excellent and satisfactory services since 1998 at a reasonable price.
Also, the team of Marvel Treks has skilled professional climbers who have years of experiences in mountaineering and are familiar with the geography and weather conditions of the mountains.
You can trust them to guide you with proper instructions and full safety without compromising your wish to enjoy the trip.
Marvel trek keeps its client's satisfaction, safety and comfort as its priorities.
When is Mt.Annapurna usually climbed?
The climb to Mt.Annapurna expedition is much easier during spring and autumn when the weather is comparatively less cold as well as the chances of heavy snowfall and avalanches are less. Winter expeditions are rarely done as the temperature is harsher than other times. Also, there will be heavy snowfalls and chances of avalanches high during winter.
How hard is it to climb Mt.Annapurna?
Climbing Mt.Annapurna is considered even harder than climbing Mt.K2 And Nanga
Parbat as it has the highest fatality rate among the mountains measuring more than 8,000m. The unforeseeable climate is the biggest challenge that one has to face while climbing this mountain. Mt.Annapurna receives heavy snowfall and strong winds throughout the year. This increases the chances of heavy avalanches and snowstorms that can be fatal for its climbers. Also, the climbing route requires its climbers to cross the southern face of the mountain which is extremely sleepy and also lies at a high altitude of 3,000m. All these make the climbing much more difficult compared to any other mountains.
How long does it take to climb Mt.Annapurna?
Climbing Mt.Annapurna might be an adventurous, thrilling and self-refreshing activity yet its massive height makes it dangerous too so making a rush might not be the best thing to do considering your safety. The overall adventure of climbing Mt.Annapurna takes around 41 days. During these 41 days, about a month is needed to reach the summit and return to the base camp.
Expedition Equipment List
| | |
| --- | --- |
| Travel Documents  | Hands |
| Valid Passport | Thin Fleece Gloves (2 Pairs) |
| Credit/Debit Card | Wind Stopper / Screen Tap Gloves (2 Pairs) |
| pP Size Photo (4 Pieces) | Heavy Gloves (Guide Gloves) |
| Insurance Paper And Contact Address | Summit Gloves – 8000m. |
| Foot Wear | Sleeping Bags |
| Summit Boot – 8000m. (Kailas / Lasportiva / Millet ) | Sleeping Bag -20OC to -30OC |
| Climbing Boot – 6000m. (Kailas / Lasportiva / Millet) | Down Sleeping Bag -40OC (Extreme Comfort) |
| Normal Socks (5-8 Pairs) | Thermarest Mattress (Cell Foam) |
| Summit Socks/6000 m. Socks (2 Pairs) | Down Mattress (Inflatable) |
| Trekking Shoes (Gore Tex) | Sleeping Bag Liner |
| Light Trekking/Sports Shoes | Inflatable Pillow |
| Camp Booties (1 Pair) | Climbing Equipment |
| Slipper (1 Pair) | Climbing Helmet |
| Upper Body | Summit Down Suit – 8000m. |
| Thermal Top Base Layer (2-3 Pcs) | Ice Axe with Spike & Axe Protector Harness |
| Fleece Jacket (1-2 Pcs) | Belay Devices/ Figure of 8/ ATC Guide Jumar / Ascender |
| Gore Tex Jacket (1 Pcs) | Lock Carabiner (3 Pcs) Unlock Carabiner (2 Pcs) Tape Slings/240 cm |
| Wind Proof Jacket (1-2 Pcs) | Snow Goggle (Summit Purpose, Antifog, Polarized, UV Protection) |
| Down Jacket (1-2 Pcs) | Head Light 500-700 Lumens Spare |
| Cotton T-Shirt (3-5 Pcs) | Battery (Energizer Ultimate Lithium) |
| Lower Body | Satellite Phone With Credit (Optional) |
| Thermal Bottom Base Layer (2-3 Pcs) | Walking Stick/ Trekking Pole |
| Fleece Trouser (1-2 pcs) | Pocket Knife (Swiss) |
| Gore Tex Pant (1 pcs) | Altimeter Watch |
| Light Weight Quick Dry Trekking Pants (2-3 Pairs) | Pee Bottle |
| Gaiters for trekking boots | Power Bank |
| Down Pants (1pcs) | Crampons (Fit with Boot)/Packing Cover |
| Under Wear (4-6 Pcs) | Bag Packs |
| Sun Stuffs | Rucksacks 35 L – 50 L |
| Banana Boat/ Nivea Sun Cream (up to -50 Spf) | Duffle Bag 120 L-150 L (2 Pcs) |
| Lip Guard -30 to -50 (Spf) | Lundry/Garbage Bag (Large) |
| Sun Glasses (Uv Protection) | Water Proof Stuff Sacks/Dry Bag- Small/ Medium/ Large (3-4 Pcs) |
| Glaciers Glasses (Uv Protection) | Medical/First Aid  |
| Moisturiser / Lotion | Brufen / Ibuprofens |
| Eating & Drinking | Antibiotic |
| 1 Ltr. Water Bottle | Diamox |
| 1/ 1.5 Ltr. Thermos | Paracetamol |
| Mug (Opt.) | Handy Plaster |
| Spoon/ Fork (Opt.) | Crack Bandage |
| Bowl (Opt.) | Tincture Iodine |
| Miscellaneous | Ondem |
| Nail Cutter | Cetirizine |
| Umbrella / Rain Coat | Electrolyte |
| Hot Water Bag | Minil 10mg (Palpitation, anxiety) |
| Camera | Codopar (Headache & chest pain) |
| GPS Tracker (Recommended) | Salbetol 4mg (Breathless) |
| Hand & Toe Warmer | Azithromycin 500mg (chronic tonsillitis, fever, nose, throat infection-must take 5 days) |
| Toiletries (Personal)  | Flupen 250mg (prevent wound infection) |
| Toilet Paper / Wet Tissue | Allegra 120/180mg (Allergic tonsil) |
| Toothpaste | Menstrual Products |
| Toothbrush | Head |
| Soap | Sun Cap |
| Shampoo | Balaclava |
| Towel | Fleece Hat/ Warm Hat (1-2 Pcs) |
| Garbage Bag | Neck Gaiter (2-3 Pcs) |
Requirement
The climbers should get themselves tested to make sure they are healthy enough to climb the mountains.
A visit to the dentist is also recommended as there is a chance of acute dental problems at high altitudes.
It is also highly recommended that the climbers should have some previous experiences with mountaineering and with high altitudes.
It is also requested that the climbers should workout a bit months before ascending the mountain.
Payment and cancellation
Policy regarding Payment and Cancellation Payment:
Payment:
1) To confirm a reservation, a deposit equal to 30% of the total price is required.
2) If the payment is made online, the remaining balance is due 10 days before the Tour, Trekking, Peak Climbing, or Expedition begins. If the payment is made in cash, it can be made after arrival. 3) If the booking is made within 30 days of the expedition beginning, full payment must be made at the time of booking.
Cancellation:
1)A full refund of the deposit will be given if a Tour, Trek, Peak Climbing, or Expedition is canceled more than 60 days before the start date.
2)The deposit will not be refunded if a Tour, Trek, Peak Climbing, or Expedition is canceled within 30 days of its start date.
3)A tour, trek, peak climbing, or expedition will not be refunded if it is canceled prior to or on the start date.
4)All participants should strongly consider purchasing travel insurance to cover any unforeseen cancellations or other occurrences.
Note: We reserve the right to modify or cancel any trek in the event of a natural disaster, political unrest, or any other unforeseen circumstances beyond our control. In such cases, a full refund or an alternative option will be provided.
Dates of Trip
41 Days
March 11, 2023 - April 20, 2023
41 Days
April 4, 2023 - May 14, 2023
41 Days
September 3, 2023 - October 13, 2023
41 Days
September 20, 2023 - October 30, 2023
41 Days
March 11, 2024 - April 20, 2024
41 Days
April 4, 2024 - May 14, 2024
41 Days
September 3, 2024 - October 13, 2024
41 Days
September 20, 2024 - October 30, 2024
41 Days
March 11, 2025 - April 20, 2025
41 Days
April 4, 2025 - May 14, 2025
41 Days
September 3, 2025 - October 13, 2025
41 Days
September 20, 2025 - October 30, 2025
Group Discount Prices
No. of Persons
Price per Person
Frequently Asked Questions
Expedition documentation
- Passports - Nepalese Visa for foreigners - Expedition permits
Choosing a provider
Marvel Trek is one of the best companies to choose for fulfilling your dream of having adventures.
Food, Accommodation & Facilities
Quality food will be served 3 times a day along with a warm and comfortable accommodation throughout the 41 days long trip. Additional tea and coffee will also be served for you to enjoy the trip even more. Other facilities will also be provided up to your comfort and satisfaction. What sort of hotels do we stay at in the city? Ans :- While in Kathmandu, a well facilitated accommodation will be provided in the famous 3-star hotel. Will I be sharing a tent or room with other climbers?Is there a single room option on this trip? Ans:- Yes,you have to share a room as well as a tent with one more climber but there will be two beds in both the room and in the tent, so that both of you will be able to sleep comfortably. What showers and laundry facilities will be available? Ans:- Shower facility will be arranged however,in case of a hot bath additional fee has to be paid.Also,you have to wash your laundry yourself.In case you want someone else to wash your laundry ,you have to pay extra. What food will be available? Ans :-You will have options to choose between the local foods or the western foods or any other MREs(meals-ready-to-eat).Occasional teas and coffees will be served with the food.Also,the base camp will have a bar and a bakery too.
Travel
The travel will be 41 days long with occasional flights, driving, trekking, camping and few rest days in between. All the travelling cost during the trip from and to Kathmandu will be included in the trip's cost. Do I need to arrive the day before the trip starts?When should I need to book my flight to leave? Ans :-It's recommended that you arrive two days prior to the trip and for the return flight,you can book tickets depending on the days you will be spending with us which will be a minimum of 41 days or we can book one for you. What is the best way to get to Nepal? Ans:-The best way to arrive in Nepal would be through Kathmandu International Airport.You can fly to Kathmandu international airport or can have transits from Doha,Bangkok,Seoul,Hong Kong,Tokyo,Singapore,Delhi and Istanbul. When should I book my tickets? Ans :-You can book your tickets as early as 3 months before the trip starts.In case trip gets cancelled,you will be compensated with full refund. Can I get a cheap ticket online? Ans:- Usually the online tickets cost as much as the ones that are arranged by any travel agencies.However, sometimes the airlines provide less expensive tickets,maybe you can search for those. Where do we meet?Will I be picked up? Ans :- We will be meeting you at Kathmandu International Airport and yes,we will be picking you up directly from the airport.We will also be dropping you off to the airport during your return. Can I arrive early and return late? Ans:-Yes,we are more than happy to welcome you early and bid farewell to you a bit late.You can explore Kathmandu if you wish. However, you have to do that at your own expenses. Do I need a VISA? Ans:- Yes,if you are a foreigner in Nepal, you need to have a VISA before arriving in Nepal. You can have a 30 days stay VISA at $50 and in case you want to explore Nepal more, then you can apply for a 90 days VISA which will cost you $125.
Clothing & Equipment
The company won't be providing personal items, so you have to carry your own warm clothes and other necessary items. Clients should also bear their own trekking or climbing gear. Do you have a recommendation list of clothing that we should bring? Ans:-Yes,we have a recommendation list of the clothing that you should bring for the trip which you can find on the website. Do I need to bring all the equipment in the list? Ans :-Yes,it's highly recommended that you equip yourself with the equipment that we have included in the list. Can I bring food and other gears that's not in the list? Ans:-Sure.In case you need some other foods or gears or any other stuff,you can bring it with yourself. How heavy will my pack be? Ans :-You are allowed to have up to 25 kgs of your luggage.From Kathmandu to basecamp,your luggage will be transported through helicopters and from one base to another,the Sherpas and the porters will carry it for you. How warm do you need our sleeping bags to be?Will there be extra blankets available if required? Ans:-Normally a sleeping bag upto -50 degree would work.And yes,in case you want more blankets,it will be provided.
Acclimatization and oxygen
Rest days will be managed to acclimatize ourselves. Also, the clients will be provided with oxygen bottles and masks during the trip. Additional masks, cylinders and regulators will also be carried for emergencies. What altitude medicine will be available?Do we need to take tablets before\during the expedition? Ans:-Our guide uses diamox for the trip.We can also provide it to you if you will need it.In case you are in any regular medication,you should carry them and take them on time. What sort of Oxygen mask do we use? Ans:- We use high quality topout oxygen masks.We also carry oxygen regulators and cylinders with us. What is the oxygen bottle size? Ans:- 2 bottles of oxygen bottles will be given to every client which will measure 4liters each. Oxygen will be given in Poisk bottles.
Guide, Sherpas & Team members
The entire team of Marvel Trek comprises experts and professional mountaineers who have been climbing mountains for ages and know the mountains like the back of their hands. Every client will be facilitated with one experienced and licensed Sherpa to guide them. They will also fix the rope in the trails without any extra charges. Also, there are experienced and skilled cooks who will be making sure that you get a healthy warm meal every day. Who goes on your trips? Ans :-We mainly get clients from America and Japan but we have also planned trips with people of other nationality who were fit to carry on with the expedition. Can we contact other climbers or guides for this expedition? Ans :-You can leave the trouble of finding climbers or guides to us.We have our own team of skilled and experienced Sherpas and guides who won't give you any chance to complain. How many guys\Sherpas will be assigned to our group? Ans :- We will make sure that every client gets one guide\Sherpa each to guide them through the expedition. How much should I tip my guide staff? Ans:-Since,climbing mountains is hard as well as dangerous and your guide staff are the ones who will help you throughout the expedition, so it is requested to pay them some tips after the completion of the expedition for their hardship. What about the Sherpa staff tips? Ans :- You can tip them as much as you want but do consider their hard work that they have done for you and tip them no less than $1300. Can my friends and family join me in the trek into the base camp? Ans:-Yes,we will be happy to include your friends and family in the trek but we will have to do extra preparation.You can contact us to know more about it. I would like to arrange a private trip,is this possible? Ans:- Yes,we will be happy to arrange private trips for you.
Health and fitness
The journey to Mt.Annapurna is dangerous because of its height, so the company will make sure that all of its clients are in good health. So, their health will be checked twice before attempting to climb the summit. Also, the clients will be taught some of the basics that will be required for a smooth and safe climb. What kind of physical condition should I be in for a climb at high altitude? Ans :-You should be fit enough to make an ascent of 1000m for several hours in a day.This might be difficult at first so,in order to make you able to do this,our company will be giving some basic training prior to the actual climb in Nepal. How do I know this is the right trip for me? Ans :-You can go through our website and look into the information that we have provided and decide for yourself if this trip is for you or not.And even after going through these materials, you still can't decide then maybe you can consult us so, that we might assist you in some way to come to a decision.
Communication & electronics
Walkie-Talkie and satellite phones will be given to every member to communicate to and fro between base camp and mountain. The members will also be facilitated with internet services. Will there be any power source for charging batteries and electronic equipment throughout the expedition? What are the voltage requirements? Ans:- Arrangement for power will be done in every camps.The base camp will have power through generators while the other camps will be powered through solar panels. Will there be any access to a satellite phone? If so, what are the charges for usage? Ans:-Yes,in case of emergency we will be providing you with a satellite phone without any cost.However, if you want to use it other times too then you have to pay certain charges.
Weather forecasts
Direct forecasts will be received and followed by the reliable Meteotest that is located in Bern, Switzerland. What weather report service do you use? Ans:-Weather condition is extremely essential for trekking as well as for mountaineering, so we make sure we have accurate weather forecast.For this,we follow the reports that are broadcasted by Meteotest which is located in Bern, Switzerland.
Insurance
Insurance will be provided to all the team members and will be covered by the prepaid cost of the trip. What insurance do we need to get? Ans:-As much as the climbing is thrilling,it's equally dangerous too so, it's always better to have insurance.For this trip,you need to have a high altitude insurance along with a travel insurance.You also need to insure yourself for emergency helicopter evacuation.
Fees & payment
The fees and daily wages of the team members will be paid from the prepaid fees.
Photography
Additional fees have to be paid for taking photographs or filming as permit charges.
Safety
Safety is one of the major priorities of our team so everything will be checked and instructed by the group of professionals. Our team will also arrange for rope fixing to pave the way.In case of emergency, helicopter ride as well as other needed measures will be taken. However, it won't be covered by the costs that you had paid at the beginning of the trip.
Employment
Many experienced and licensed guides and Sherpas will be hired along with a government liaison officer to make the trip easy. Many skilled cooks and kitchen helpers will also be hired. We will also hire high porters who will help to carry the luggage on the trip.
Booking Details
Price W/O Addons: US$ 10500 per person
Base Camp Service – $4400

Arrival and Departure: Marvel Treks and Expedition will assist you with Airport (pick up and drop), hotel transfer and sightseeing in and around Kathmandu.
Hotel Accommodation In Kathmandu: Marvel Treks and Expedition will provide you with a standard hotel (3-star or five-star) in Kathmandu Valley for your stay here.
Welcome Dinner:  We will provide you with a welcome dinner consisting of Authentic Nepali foods which will melt your soul.
Cargo Clearance: Marvel Treks and Expedition will do International Cargo clearance and deliver the government taxes before the commencement of the expedition.
Permit: Marvel Treks and Expedition will provide Expedition Royalty and permit of Nepal Government to climb Mt. Annapurna, National Park entry fee, TIMS CARD & other essential local taxes.
Khumbu Pollution and Garbage Management System: Our company will provide your permit from Annapurna Pollution Control Committee (APCC) and empty all the charges and clear the garbage on the last day of the expedition. We will also be providing you with the Stool (faeces) management system, shipment system, and garbage disposal system.
Liaison Officer: Marvel Treks and Expedition will deliver you a Government Liaison officer with full equipment ($2,500), compensation and accommodation.
Insurance: All the essential Medical & Emergency rescue Insurance for all engaged Nepalese staff throughout the trekking and expedition.
Map: Marvel Treks and Expedition will offer you all the vital trekking maps and climbing route tracks.
Member transportation: Marvel Treks and Expedition will provide you with an early flight from Kathmandu – Pokhara or while going back Pokhara – Kathmandu, as instructed by the itinerary. Then, trek from Pokhara to Base Camp and then climb Everest. But if you are a regular trekker who wishes to climb Mt. Everest from Base Camp, we will provide you with a Helicopter ride. You will have a heli tour from Kathmandu to Base Camp directly.
Expedition Items Transportation: Marvel Treks and Expedition will take you along with all your essential gears in the vehicle with all staff from Kathmandu to Pokhara or Pokhara to Kathmandu (by air cargo) and Base camp (via Porters/ Pony/ Yak). According to your preference for the itinerary expedition, our staff will take you by a scenic flight from Kathmandu to Pokhara or vice versa.
Member Luggage: The maximum load of 35 kg is the limit for all the personal items of baggage you will carry. More load than that couldn't be handled by porters or Yak.
Food and Lodging: Our Company will provide you with three meals a day (Breakfast, Lunch, and Dinner; including tea and coffee) along with available accommodation at Hotel/Guest House/Tea house throughout the trek and at the Basecamp. Along with a well-managed system of tents or outdoor living with the help of our staff.
Porter: Marvel Treks and Expedition will provide you with Porters per individual up to Base camp from Pokhara and also vice versa.
Base Camp Staff:  Marvel Treks and Expedition will provide you with professional and expert Base Camp Cooks & kitchen Helpers as per your necessity.
Staff Salary and allowance: Marvel Treks and Expedition will deliver all the daily wages, salary, equipment, food & clothing for our Nepalese staff and porters.
Base Camp Tent: Our agency will provide the individual member with a personal North Face tent in Base Camp.
Base Camp equipment: Marvel Treks and Expedition will provide you with foam mattresses and pillows per member, one dining Tent, one Kitchen Tent, one Communication tent, one Toilet and one Shower Tent, one Staffs Tent, one Tent for Nepalese base camp staff, Store tent, Tables, chairs and all the essential cooking gears.
Solar/Generator/Inverter: Marvel Treks and Expedition will offer you one Solar panel and Generator for lights at base camp, and a battery charger for your electronic devices.
Marvel Treks and Expedition will provide an Extensive Medical kit for members, Sherpas and staff.
Certificate:  Marvel Travels and Treks will provide you with an accomplishment certificate issued by MoCTCA and Marvel Treks and Expedition itself (after climbing Mt. Annapurna successfully).
**Note: All expedition trekking gears and equipment borrowed from Marvel Treks and Expedition should be returned after the expedition.
Air Fare:

Marvel Treks and Expedition won't be providing International flight airfare (from and to Kathmandu).

Nepal entry Visa fee:

Marvel Treks won't be providing Nepali Visa fees.

Lunch & Dinner:

Marvel Treks and Expedition won't be providing Lunch & dinner throughout your stay in Kathmandu (also in the issue of early return from Trekking /Expedition that is not scheduled in the itinerary)

Extra night in Kathmandu:

Our company won't provide

all the extra night accommodation in Kathmandu. 

Insurance:

Marvel Treks and Expedition won't be responsible for Expedition and high-altitude insurance, calamity, medical & emergency evacuation.

Rescue Evacuation:

Marvel Treks and Expedition won't be responsible for Medical Insurance and emergency rescue evacuation cost (if required). (Rescue, Medication, Medical Tests and Hospitalization expenditures.)

Personal Expenses: 

All Personal Expenses like Telephone Calls, Internet, Toiletries, battery recharge, hot shower, laundry, soft beverages, beers and any Alcoholic drinks etc won't be under Marvel Treks and Expedition.

Toiletries:

All Personal hygiene products like

Soaps, shampoos, toilet and tissue papers, toothpaste, etc won't be provided by Marvel Treks and Expedition

Filming:

Marvel Treks and Expedition doesn't include all the Special Filming, Camera and Drone permit/entry fees.

Internet Service:

Marvel Treks and Travels won't be including any Internet Facilities during the trek.

High Altitude Climbing Sherpa:

We won't provide you the Government licensed trekking expert, experienced and once-climbed Sherpas to assist you while climbing. 

Climbing Sherpa Salary & Allowance:

Marvel Treks and Travels will not be responsible for the trekking Sherpa Salary, trekking gear, Food and Clothing.

Oxygen Bottle (O2):

Marvel Treks and Expedition won't be supplying an Oxygen cylinder: 3 oxygen bottles (2.5 litres.) per trekker and 2 oxygen bottles for individual high-summit Sherpa. 

Oxygen Mask & Regulator: 

Marvel Treks and Expedition won't provide you with a set of High Altitude Oxygen masks for each member and high-altitude Sherpa. 

High camp service:

Marvel Treks and Expedition won't be providing you with a high altitude tent, Necessary cooking EPI gas, a cooking pot for a member.

A Satellite Phone:

Marvel Treks and Expedition won't provide you with a Satellite Phone

for emergency contact held by Sherpa. 

Walkie-Talkie

: Marvel Treks and Expedition won't provide you with a Walkie–Talkie for intercommunicating from Base Camp to Mountain and vice versa.

Permit: 

Marvel Treks and Expedition won't provide you with a satellite Phone/walkie-talkie permit for all associates and staff.

Rope Fixing:

Marvel Treks and Travels won't be including all the essential costs of using fixed rope during the expedition

Summit Bonus:

Marvel Treks and Expedition won't be responsible for bonus for climbing experienced Sherpa- Minimum

2500 USD

.

Tips:

Marvel Treks and Expedition won't be conversing with any

tips for Basecamp staff. Please be generous to our staff who helped you.

Extra:

Marvel Treks and Expedition won't be responsible for any other services or actions, which are not noted in the itinerary.

We won't be taking responsibility for any other activities or items that are not listed in the

"Cost Includes" 

Section.
mount-annapurna-expedition
$10,500.00,