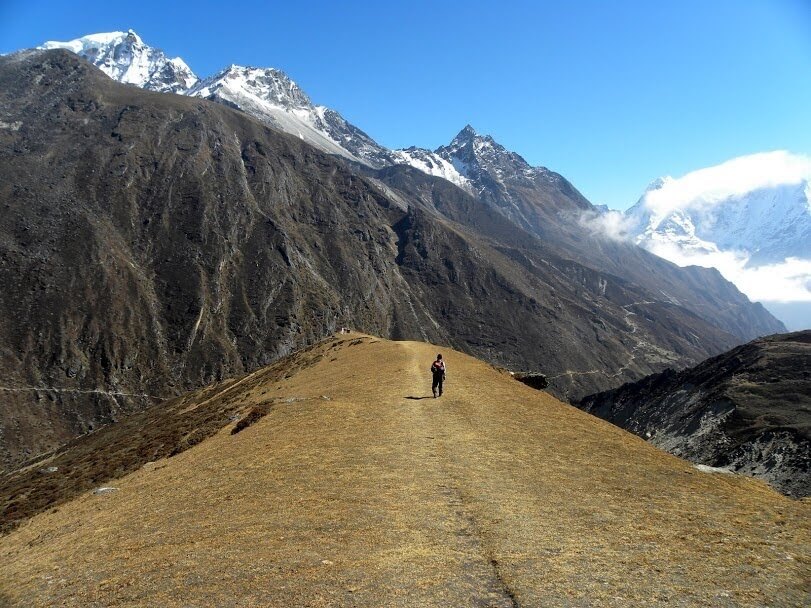 Kyanjin Valley Trek
Accommodation
Teahouse/Lodge
Best Season
Autumn, Spring
Kyanjin Valley Trek Overview
Kyanjin Valley Trek takes you through the exotic mountain trails while enjoying the pristine beauty of nature. Kyanjin valley is a beautiful Himalayan valley, surrounded by snow-capped mountains. It is located in the Langtang region, Rasuwa district, in the border region with Tibet. Langtang is an amazing gift of nature, with the unique combination of huge rocky mountains on its head and Lekali kharka on its lap. The name 'Kyanjin valley' comes from a 700 years old monastery Kyanjin Gompa located here. Besides, Kyanjin Gompa has the highest human settlement in Langtang valley. The Gompa lies at the height of 3850m, in Kyanjin valley. From Kyanjin Gompa, we can see Langtang Mountain along with Dorje Lakpa, Lirung, Jul, etc.
Kyanjin valley and Kyanjin Gompa are the major trekking destinations in Nepal. Kyanjin Valley is highly protected by Langtang National Park. The trail passes through green vegetation and rare animals. In addition to crystal clear rivers, mountain views, flat gazing lands, Tibetan cultures, and lifestyle make the trek to Kyanjin valley very adventurous. Along with the scenic beauty, Kyanjin valley is also a rich place in arts, culture, and unique tradition. The trail passes through several monasteries, stupas, prayer walls, and small Tibetan Buddhist villages. Kyanjin valley trek is one of the short and easy treks from Kathmandu.
This trek takes around 8/9 days with proper rest and days off. It might cost you around 700-850$ including transportation, food, accommodation, permits, etc.
Highlights of Kyanjin Valley Trek
amazing view of Langtang Himal, Dorje Lakpa, etc.
explore one of the oldest monasteries of Kyanjin valley.
get to know the Tibetan Buddhists, their culture, and lifestyle
explore several monasteries, stupas, and prayer walls.
Difficulties of Limi valley
Kyanjin valley trek is relatively short and an easy trek. You will be walking for 4-5 hours per day which requires a good level of fitness. Physical, as well as mental fitness, is a very important part of this trek. It is important to build muscle, ankle, and knee strength so that you do not have any problems during the journey. It is better to exercise, run, jog, and have healthy food before your journey starts. The highest altitude here is 3850m, the valley itself. There is also a slight risk of altitude sickness in this trek. Even though you will have opportunities for good acclimatization, there is still a low risk of altitude sickness. 
Symptoms of Mountain sickness
Headache

Dizziness

Loss of appetite

Shortness of breath

Fast heartbeats
Preventing mountain sickness 
Walk slow

Stay hydrated

Have nutritional food 

Have enough rest

Avoid smoking and alcohol 
Medicines for mountain sickness 
Acetazolamide 

Ibuprofen, paracetamol (for headache)

Promethazine (for nausea) 
Packing List
Clothing and equipment
| | |
| --- | --- |
| Trekking trousers | Money/cash |
| Trekking shocks | Torch lights |
| Trekking boots | Medicines |
| Water proof pants | Sunglasses |
| Water proof jackets | Beanies and gloves |
| Warm shirts and t shirts | Medicines |
| Thermal tops and bottoms | Toiletries |
| Underwear | Wash kit |
| Fleece jacket | Safety kit |
| Down jacket | Hand sanitizers |
| Trekking pole | Water bottles and water purifier |
| Raincoats | Trashbag and tissue papers |
| Sleeping bags | Charger/adapters |
| Duffel bags | Power banks |
| Backpack | Camera |
Travel insurance– Trekking to high altitudes can always be risky. Travel Insurance is something you might want to do before trekking anywhere. Sometimes in emergency cases, people need to be evacuated through a helicopter and get medical service. So, in such cases, your travel insurance will be bearing the cost for you. Seeing all these benefits, the government of Nepal has made travel insurance mandatory thing before trekking. However, it is very important to mention the heights and all the places you will be reaching during your trek. Your insurance entirely depends on the details you have provided earlier. Travel insurance costs you around 150$ which is good for 1 month. 
Visas/passports– if you are not a Nepalese or Indian citizen, then a visa and a passport are mandatory. You can get your Nepalese Visa at Tribhuvan airport in Kathmandu. The passport must hold a visa of a minimum of 6 months.      
Group Discount Prices
No. of Persons
Price per Person
Frequently Asked Questions
Temperature and weather
The average temperature in the spring season (March-May) can be around 10-20⁰C which is quite warm. Similarly, the temperature in autumn (September-November) can be around 10-20⁰C but might fall to 5⁰C at night. Summer being the hottest season the temperature rises over 30⁰C in the daytime. It slightly drops when there is rainfall. The temperature in the winter season ranges from 6-9⁰C in the daytime while it can fall to zero or below zero at night. The lowest temperature in the winter season is -3⁰C, especially in January. Kyanjin valley trek can be done in any month throughout the year. However, the best season to go is spring, (March to May) and September to November. December- February is also possible and offers you beautiful views of Rhododendrons forest and views of mountains. Monsoon season (July and August) also known as summer receives lot of rainfall and the trails are slippery and muddy also with low chances of floods and landslides. With necessary precaution, you can still trek Langtang valley.
Food and accommodation
Kyanjin valley trek is entirely a teahouse trek. There are enough teahouses available on the way and on the valley itself. However, the teahouses are very basic. They have a single room with twin sharing beds. The toilets and bathroom have to be shared as well. You can also get a private room sometimes. The price for tea houses is normally 6-7$ (600-700 NRS) per night. There are enough options for food. Several home-cooked meals like Dal, Bhat, vegetables, noodles, pasta, eggs, bread, etc. are found here. Besides this, you will also get tea, coffee, juice, pancakes, potatoes, momos, fried rice, hot soup, and many more. The basic price for lunch and dinner is 4-5$ (400-500NRS). Water, tea, and coffee might cost you 1-3$ (100-300 NRS).
Electronics and communication
Mobile coverages of NTC and NCELL are available in all villages, so you can be connected to your friends and families. Electricity is available in every teahouse so you can charge your phones and other electronics. Internet is available only in a few places like Shyabrubesi, Dhunche, and Langtang valley itself. You might have to pay extra money for these facilities.
Permits and fees
Langtang National Park SAARC countries- 1500 NRS (15$), excluding VAT NON-SAARC countries- 3000 NRS (30$), excluding VAT TIMS- 1000 NRS (10$)
Guides and porters
Kyanjin valley is one of the short treks from Kathmandu. If you are an experienced trekker and have basic ideas, there is no need for a guide. Nevertheless, a guide makes your journey more interesting and informative. They usually charge 25-30$ per day. If you are physically able to carry your own belongings, there is no need for a porter as well. However, they usually charge 20$ per day.
Transportation
The gateway to Kyanjin valley is Shyabrubesi. There are many buses available from Kathmandu to Shyabrubesi which takes around 8-9 hours and cost 1200-1400 NRS. A helicopter tour is available to Kyanjin valley and Kyanjin Gompa as well. It is best suited to people who are under limited time or want to have a luxurious journey, or for someone who is physically disabled. It takes around 45 minutes to reach Kyanjin valley from Tribhuvan International Airport, Kathmandu.