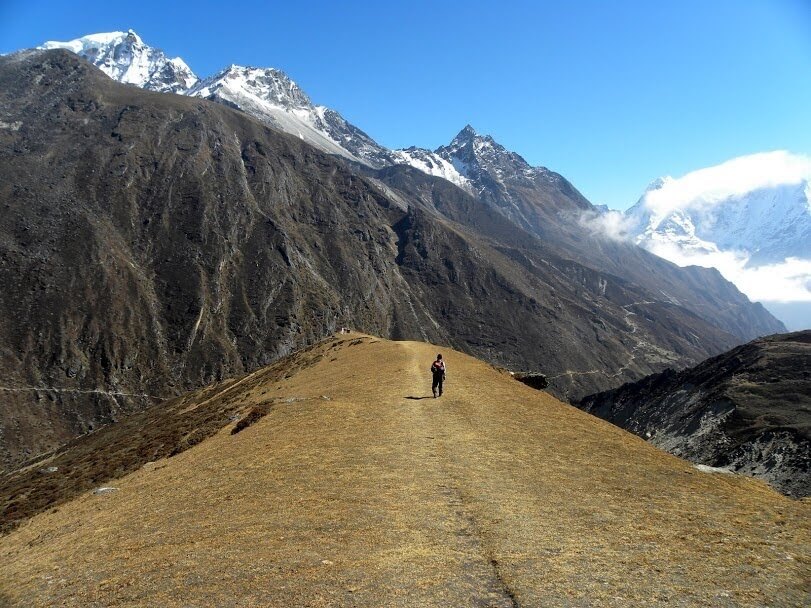 Tsho Rolpa Glacier Lake Trek
Tsho Rolpa Glacier Lake Trek Overview
Tsho Rolpa also known as Cho Rolpa, with an altitude of 4580m, is one of the biggest glacial lake in Nepal. This lake is situated in Rolwaling valley in Dolakha district and is highly protected by Gaurishankar Conservation Area. Due to the massive glacial melting in Himalayas This Lake has grown considerably over 5 decades now. Even though being a neighbor to the most visited destination Everest base camp, Tsho Rolpa remains remote and serene in all its glory. Beside this pristine lake itself, you can witness beautiful continuous panorama of Gaurishankar Himal, lots of waterfalls, rivers, forest, and other two great glacial lakes, on your way. The trail of Tsho Rolpa is considered as finest and well managed route. The trail also passes through villages of Brahmins, Chetri, Tamang, and Sherpa along with Bigu Gompa. Bigu Gompa is a home to over 300 Nuns. The Swiss project (3 years project) is one of the biggest success by making the trails well marked and managed with proper information. Tsho Rolpa is quite risky and challenging but definitely a deserving and adventurous trek.
Best season to visit
The best season to trek Tsho Rolpa is spring (March- May) and autumn (September- November). During this season the temperature is very favorable and you can see clear view of mountains, green forest and colorful Rhododendrons. Monsoon and winter season is risky because of heavy rainfall and snowfall. During winter many people leave their homes and come to Kathmandu or lower altitudes due to extreme cold. Many teahouses are closed in off seasons.
Safety and fitness
Tsho Rolpa trek is certainly among the difficult one. You have to walk for 6-7 hours per day. It is mandatory to have high level of fitness so that you can enjoy your journey without any difficulties. You need to practice light exercise, running, jogging and build your muscle strength before your journey starts. The rugged trails to Tsho Rolpa often goes up and down and also filled with stone steps. You have to walk in narrow landscapes and around the cliffs which makes this trek comparatively risky than others. Tsho Rolpa lies at the altitude of4580m, which increases the risk of altitude sickness. You have to stay hydrated throughout your journey, eat nutritional food, and check your oxygen level time to time and walk slowly so that you can adjust with increasing heights. If you ever feel any symptoms of altitude sickness like nausea, increased heart rates, breathing difficulties etc. you need to talk to your guide, your friends or anyone near
Other requirements
Travel insurance– you can always purchase your own travel insurance. It usually cost around 150$(15000 NRS) good for 30 days. It is important to mention or cover high altitudes since trekkers sometime really needs to be evacuated from helicopter. Travel Insurance depends on the details you have provided that's why it's important to notify them earlier about the altitudes you will be reaching.
Visas/ passports – foreigners other than Indians need to have valid visas and passports prior to visiting Nepal. The passport must hold minimum 6 months of visa validity from their date of arrival. They can have the Nepalese visa at Kathmandu airport.
Packing List
 Clothing and equipment
| | |
| --- | --- |
| Woolen t shirts/shirts | Backpack |
| Thermal top/bottoms | Passport |
| Fleece jacket | Passport size photographs |
| Down jacket | Permit and travel insurance |
| Raincoat | Suns cream and lip balm |
| Underwear | Travel towel |
| Trekking trousers | Wash kit |
| Sleeping trousers | Safety kit |
| Hiking shorts | Power bank |
| Water proof pants | Summer/winter hat |
| Daypack | Buff/bandana |
| Sleeping bag | Water bottles and water purifier |
| Hiking boots | Trekking poles |
| Hiking shocks | Charger/adapter |
| Flip flops | Money/cash |
| Altitude sickness medicines | Zip lock bag |
| Gloves and beanies | Camera |
Group Discount Prices
No. of Persons
Price per Person
Frequently Asked Questions
Food and accommodation
Accommodation- there are many teahouses, small lodges available in this trek. They are not much fancy but meets your basic necessities. They provide a single room with two singles beds, clean blankets, pillows and bedsheets. You have to share your room and toilets with other trekkers. They also have shared dining room. The price for one room can be around 5-7$ per night. Food- you can get enough options for food in your way to Tsho Rolpa. Along with traditional food Dal, Bhat and vegetables, lentils, Gundruk and meat. Beside this you can also get Pizza, momo, burger, pasta, hot chocolate, tea, coffee and others in some tea houses. A proper lunch or dinner might cost you 3-5$. Tea, coffee or other soft drinks might cost you 1-4$ depending on the drink.
Transportation
Bus- trek to Tsho Rolpa is only possible by road transportation. Bus facility is available form Kathmandu to Charikot which takes around 7 hours and charikot to Chettchett which take around 3 hours. So you have to spend total 10-11 hours in a bus. From Chettchett you need to start your trekking.
Permit and fess
Gaurishankar Conservation Area permit- this permit is required to everyone passing through Gaurishankar. It cost you 3000 NRS (30$) TIMs are currently not required for this trek.
Communication and electronics
Being a remote part of Nepal, trek to Tsho Rolpa doesn't offer much of the facilities. There is no electricity, internet or mobile coverages in most of the places. Only few places like Shingati Bazar, Beding and simi gaon have electricity or solar panel, limited internet and mobile coverage
Guides/porters
Tsho Rolpa is also considered one of the risky place to trek alone. You will definitely need a guide and porter with you especially if you are a beginner. Guides can help you with the directions, villages, food and accommodation along with additional information about the places. They charge you around 30-35$ per day. If you want to travel without any burden you will need a porter. They are more than happy to serve you. They may charge around 20-25$ per day.