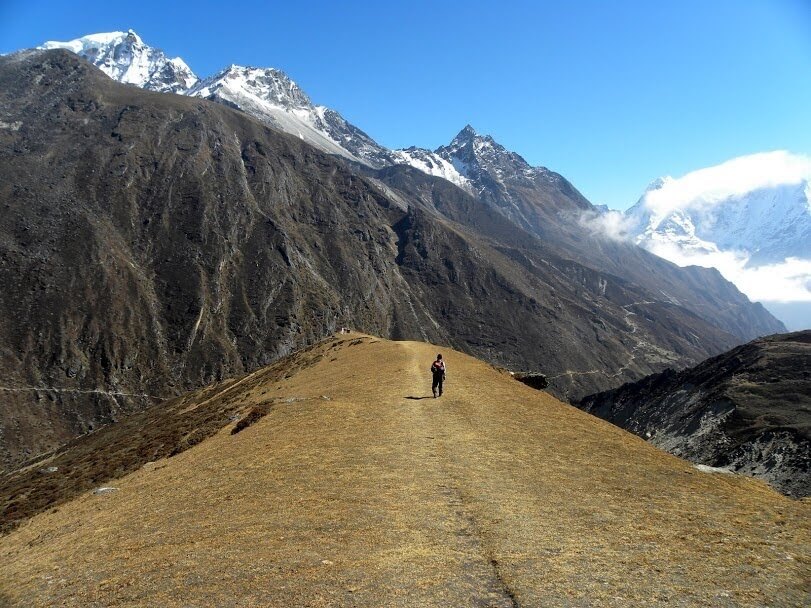 Upper Dolpo Trek
Accommodation
Teahouse/Lodge
Best Season
Autumn, Spring
Upper Dolpo Trek Overview
Upper Dolpo is a remote place, yet a very rewarding trek that lies in the mid-western region, between Tibet and Mount Dhaulagiri of Nepal. Upper Dolpo Trek comprises a vast arid region of rolling semi-desert highlands, a continuation of the topography of the Tibetan Plateau Upper Dolpo basically is a restricted area but we can get a special permit from the government which costs 500$. This place opened in 1989 publicly.
The route to Upper Dolpo is usually over 4000m offering all the views of landscapes and green forests. The area is beautifully decorated with local Villages, Monasteries, prayer walls, and Gompas. This area falls under the protection of Shey Phoksundo National Park. The Park is the largest national park in Nepal and covers an area of 3,555 km2. In addition, you can see several floras and fauna throughout your journey. Dolpo is one of the few remaining places where the people of pre-Buddhist religion practice Bon Po. Bon PO religion is quite similar to Buddhis. However, the only difference is this religion walk anti-clockwise around stupas and shrines. Besides, Shey Phoksundo Lake, Panoramic Himalayan mountains, Thrilling Terrain, and hidden traditional villages are some main attractions of this trek.
This route will take you around 25-26 days if you take proper rest and take some days off. The price of Upper Dolpo Trek entirely depends on the mode of transportation, food and accommodation, and the number of days you take.   However, the average cost is around 2500$ per person which includes transportation, insurance, permits, clothing etc.
Highlights of Upper Dolpo Trek
Amazing Shey Gompa and the lifestyle around it.
Explore the remoteness of the Dolpo region.
Visit the deepest Shey Phoksundo lake.
Diverse flora and fauna of Shey Phoksundo National Park.
Bon Po and highly Influenced Tibetan cultures.
Difficulties and safety
Dolpo is a remote area, trekking to this place can be slightly challenging. This is a moderately difficult trek. However, the level of difficulty entirely depends on your physical and mental fitness. But you can build your muscle strength, make your body flexible by practicing some light exercise, running, and jogging. The trek to Upper Dolpo is all about walking 5-6 hours per day for at least 20 days. This reason solely is enough to make this trek challenging. The trails are rugged, steep, maybe snowy in off-seasons. The maximum height in this trek is the base camp (5ooom) with other high passes over 4000m on the way. There is a high risk of mountain sickness. 
Symptoms of Mountain sickness
Headache

Dizziness

Loss of appetite

Shortness of breath

Fast heartbeats
Preventing mountain sickness 
Walk slow

Stay hydrated

Have nutritional food 

Have enough rest

Avoid smoking and alcohol 
Medicines for mountain sickness 
Acetazolamide 

Ibuprofen, paracetamol (for headache)

Promethazine (for nausea) 
Packing List
Clothing and equipment
| | |
| --- | --- |
| Trekking trousers | Money/cash |
| Trekking shocks | Torch lights |
| Trekking boots | Medicines |
| Water proof pants | Sunglasses |
| Water proof jackets | Beanies and gloves |
| Warm shirts and t shirts | Medicines |
| Thermal tops and bottoms | Toiletries |
| Underwear | Wash kit |
| Fleece jacket | Safety kit |
| Down jacket | Hand sanitizers |
| Trekking pole | Water bottles and water purifier |
| Raincoats | Trash bag and tissue papers |
| Sleeping bags | Charger/adapters |
| Duffel bags | Power banks |
| Backpack | Camera |
| Raincoats | Cooking gas |
| Cooking utensils | Passport |
| Passport size photographs | Permits |
Other requirements
Travel insurance- Trekking to high altitudes can always be risky. Travel Insurance is something you might want to do before trekking anywhere. Sometimes in emergency cases, people need to be evacuated through a helicopter and get medical service. So, in such cases, your travel insurance will be bearing the cost for you.
Seeing all these benefits, the government of Nepal has made travel insurance mandatory thing before trekking. However, it is very important to mention the heights and all the places you will be reaching during your trek. Your insurance entirely depends on the details you have provided earlier. Travel insurance costs you around 150$ which is good for 1 month. 
Visas/passports- If you are not a Nepalese or Indian citizen, then a visa and a passport are mandatory. You can get your Nepalese Visa at Tribhuvan airport in Kathmandu. The passport must hold a visa of a minimum of 6 months.      
Group Discount Prices
No. of Persons
Price per Person
Frequently Asked Questions
Temperature and weather
The route to Upper Dolpo is usually over 4000m. It is better to expect a very cold temperature. During the spring season, the average temperature can be around 13⁰C in the daytime and falls to -10⁰C during morning and night. The autumn season has a similar temperature. The nighttime temperature in the autumn season can be around -11⁰C. Summer/monsoon is relatively warmer with an average temperature of 17⁰C in the daytime and -4⁰C in the night. The winter season is the coldest of all with an average temperature of -14⁰C. Considering all the temperature, weather, and warmth the best or peak season to trek Upper Dolpo is in spring and autumn. The bearable temperature, the clear skies, and atmosphere, stunning views of Rhododendrons and mountains, the best condition of the trails, all features make these seasons best for trekking.
Food and accommodation
Here, teahouses are barely available up to Shey Phoksundo. Due to the fewer teahouses, they are mostly packed and you need to be ready for camping. Being a remote area, there are no proper facilities for transportation. The goods and accessories need to be transported by airplane or helicopter from Jhupal. That is why everything is relatively expensive in Dolpo including food and accommodation. Since the place is highly influenced by Tibet, very basic food like Dal, Bhat, Vegetables, and Tibetan food is available here. The available teahouses provide very minimal facilities like small rooms, beds, and blankets. Toilets and bathrooms have to be shared along with the dining hall. Generally, the price for a meal is 8-10$ (800-1000 NRS). The price of a one-night stay in teahouses is 6-9$ (600-900 NRS). Once you cross, Shey Phoksundo this trek is entirely a camping trek. You need to bring all the necessary equipment like tents, sleeping bags, mats, cooking gas, and utensils. Or, your travel agencies will manage this for you.
Electronics and communication
There is no doubt, Dolpo is one of the remotest areas of Nepal, all the facilities including electricity and the internets are very limited. Only a few areas in upper Dolpo have mobile coverages or signals. Some villages have emergency telephones and satellite phones. You can use them by paying extra money to the owner. Internet service is available in Dunai only.
Guides and porters
If you choose to trek in Dolpo you need to know Dolpo is an entirely restricted area. You need a special government permit to enter the Dolpo district for which you need a professional and a licensed guide. They have enough knowledge about the directions and places. Porters are more than important in this trek. Since the place is really far and remote with rugged trails, carrying all your stuff and walking around is difficult.
Transportation
There are two options available for the upper Dolpo trek. Either you can take a bus from Kathmandu to Jumla via Surkhet, and trek from Jumla to Dolpo. You can also take a private jeep to Jumla. Or, you can take a flight from Kathmandu to Nepalgunj which only takes 50 minutes. From Nepalgunj, you can take another flight to Dolpo airport, or to Jumla airport and again trek to Dolpo.
Permits and fees
1) Shey Phoksundo National Park Entry Permit SAARC countries – 1500 NRS (15$), (excluding VAT) NON-SAARC countries – 3000 NRS (30$), (Excluding VAT) 2) Upper Dolpo restricted area permit- 40$ 3) Dolpo district special permit- 500$