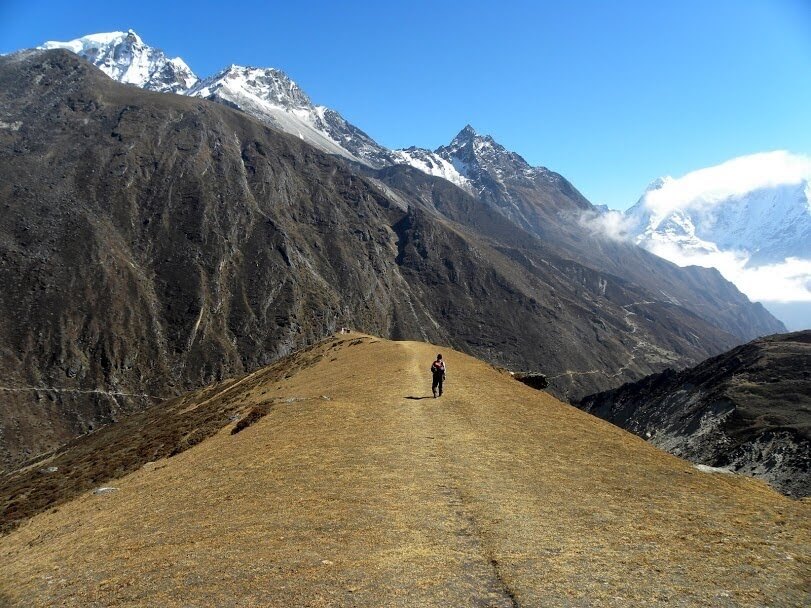 Kanchenjunga North Base camp
Kanchenjunga North Base camp Overview
Kanchenjunga, world's 3rd highest mountain peak withanelevation of 8586m, lies in Taplejung District, Nepal. The North Basecampitself lies at the elevation of 5100m in Pangpema. The route to thisplaceisfilled with beauty of snowcapped mountains, subtropical lowlands, alpineforest, Rhododendrons and spectacular glaciers. Kanchenjunga isoneof the restricted area in Nepal, you need at least 2 people and one guidewithyou in order to gain a permit. Kanchenjunga is highly protected byKanchenjunga conservation area where you can find lots of rareplantsand animals. Red pandas, musk deer, Himalayan Tahr, snowleopardetcare found here. The route to North Base camp also takes us throughsomehigh passes like Sinon La, Lapsang La, and Mirgin La which is mainlyinhabited by Rai, Limbu, Bhotiya, and caste groups. You can see theirunique culture, art and tradition as well. Kanchenjunga is less exploredplace and therefore a less crowded and peaceful destination too.
Best season to visit
The best time to trek Kanchenjunga north base camp is autumn. Thisseason have bearable temperature, clear atmosphere and roadsarein best condition. The next best time to visit is spring. You can see greengrasslands, Rhododendrons and forest. Monsoon season is not really ideal to trek since the trails are veryslippery and muddy. During winter season there is extreme coldandthetrails are covered with snow which makes this season very risky totravel
Safety/fitness
Kanchenjunga north base camp trek is certainly among the difficult one, however it depends on which route you take and how long it is. Youhaveto walk for 6-7 hours per day. It is necessary to have high level of fitnessso that you can enjoy your journey without any difficulties. You needtopractice light exercise, running, jogging and build your muscle strengthbefore your journey starts. The Kanchenjunga north base campliesat highaltitude of 5190m which increases the risk of altitude sickness. Youhavetostay hydrated throughout your journey, eat nutritional food, andcheck your oxygen level time to time and walk slowly so that you canadjust withincreasing heights. If you ever feel any symptoms of altitude sicknesslikenausea, increased heart rates, breathing difficulties etc. you needtotalkto your guide, your friends or anyone near
Packing List
Clothing and Equipment
| | |
| --- | --- |
| Woolen t shirts/shirts | Backpack |
| Thermal top/bottoms | Passport |
| Fleece jacket  | Passport size photographs |
| Down jacket  | Permit and travel insurance |
| Raincoat  | Suns cream and lip balm |
| Underwear  | Travel towel |
| Trekking trousers | Wash kit |
| Sleeping trousers | Safety kit |
| Hiking shorts  | Power bank |
| Water proof pants | Summer/winter hat |
| Daypack  | Buff/bandana |
| Sleeping bag | Water bottles and water purifier |
| Hiking boots  | Trekking poles |
| Hiking shocks | Charger/adapter |
| Flip flops  | Money/cash |
| Altitude sickness medicines | Zip lock bag |
| Gloves and beanies | Camera |
Group Discount Prices
No. of Persons
Price per Person
Frequently Asked Questions
Temperature and weather
Early spring is still covered with snow and therefore it is still cold. Duringmonsoon season the clouds are heavy and often receives rainfall. Duetocontinuous rainfall the weather is humid but not hot. Autumn seasonbeingone of the best suitable time to trek North base camp has very clearatmosphere. Due to the monsoon rain, all the pollution is washedawayand autumn provides you clear, astonishing view of Himalayans andnature. Winter season is very cold, January being the coldest. Thetemperature drops down below freezing point during this season. DuringMid November the temperature can be around -12 degree Celsius
Food and transportation
Kanchenjunga is not so developed like Everest and Annapurna basecamp. So you will get very basic facility of lodges. There are small teahouseswhich provides small room with two beds. They also provide cleanblankets, bed sheets, and pillow. You have to share your toilets, bathroomand dining hall with other trekkers. Foods- you can have few or limited options of food like Traditional Nepali Dal, Bhat and vegetables, Tibetan foods, Indian foods and continental foods. If you are planning on camping then your travel agencies have tomanageit all for you.
Communication and electronics
There is electricity available in few areas on the teahouses. Youcancharge your phone and electronics by paying extra money. Thereisnointernet facility in Kanchenjunga trek. In some areas, teahouses havetelephone so you can use it by paying extra money to owner. It isbettertocarry extra batteries and power banks.
Permit/fees
Kanchenjunga conservation area entry permit- this permit cost you2000NRS (20 $) Restricted area permit- Kanchenjunga falls under restricted areaandthatis why you will need this permit to your further journey. This permit cost you 10-50$ per week depending on time of the year you are visiting. TIMs- this permit is mandatory for every trekkers coming to Kanchenjunga and cost you 1000 NRS (10$)
Transportation Bus-
there are many bus available from Kathmandu to reach Taplejung. However there is no direct connection. You can take a bus fromKathmandu to Bhadrapur and Bhadrapur to Birtamod which only takes40minutes by jeep. From Birtamod you can again take a bus to Taplejung. Ittakes 8-10 hours from birtamod to reach taplejung. FromTaplejungyouneed to start your trek. Airplane- flight is available from Kathmandu to Bhadrapur whichonlytakes 40 minutes and you can take bus or jeep frombhadrapur toBirtamod and again a bus to Taplejung.
Guide/porters
If you are a beginner trekker, guides are very helpful since they haveproper knowledge about the directions, villages, foods and accommodation. Guides make your journey very memorable. Guidesusually charge you around 30-35$. If you are physically able tocarry10-15 kilos of your belongings than you will probably don't have to hireaporter. However the porters cost you 22-25$. And they are really neededifyou are planning a camping trek to carry all your gears and equipment.
Other requirements
Travel insurance- you can always purchase your own travel insurance. Itusually cost around 150$(15000 NRS) good for 30 days. It is important tomention or cover high altitudes since trekkers sometime really needstobe evacuated from helicopter. Travel Insurance depends on the detailsyouhave provided that's why it's important to notify themearlier about thealtitudes you will be reaching. Visas/ passports - foreigners other than Indians need to have validvisasand passports prior to visiting Nepal. The passport must hold minimum6months of visa validity from their date of arrival. They can have theNepalese visa at Kathmandu airport