Tilman Pass & Panch Pokhari Trek
Highest Altitude
5,416 meters
Accommodation
Lodge/Tea House
Transportation
Private vehicle
Best Season
Spring/Autumn
Tilman Pass & Panch Pokhari Trek Overview
Lantang is also one of the famous trek routes of Nepal which shows the different side of Nepal. Lantang region is especially famous for red panda and Nepal first's Himalayan national park: langtang national park. During 10days of trek you'll have memorable time with eyecatching view of khemjung glacier, langtang valley, culture and tradition of local people, dorje lakpa range, tropical forest to alpine scrub to perennial ice. Panch pokhari is a set of 5 sacred lakes which is the 9th highest wetlands in thw world which carry its own religious values. This trek is one of the finest treks for nature lovers.
Highlights of Tilman Pass & Panch Pokhari Trek
Tilman Pass is a high mountain pass in the Himalayas of Nepal, located at an altitude of 5,416 meters (17,769 feet) above sea level. It is located in the Rolwaling region of Nepal and is known for its stunning views of the surrounding mountains and valleys. Panch Pokhari is a group of five high-altitude lakes located in the same region, at an altitude of 4,100 meters (13,451 feet).
Treks to Tilman Pass and Panch Pokhari offer the opportunity to experience the stunning beauty and diversity of the Rolwaling region of Nepal, with the chance to visit and explore remote and little-visited areas of the country. The journey typically begins with a drive to the starting point of the trek and a hike to the Panch Pokhari lakes, with the option to visit the Tilman Pass as well.
Some highlights of treks to Tilman Pass and Panch Pokhari include:
The opportunity to experience the unique culture and traditions of the local Tamang and Sherpa communities.
The chance to visit and explore the surrounding region, which is home to a variety of stunning landscapes and natural beauty, including glacial lakes and rivers, forests, and alpine meadows.
The opportunity to see a variety of wildlife and flora, including the chance to spot rare and endangered species such as the red panda and snow leopard.
The chance to challenge oneself physically and mentally by undertaking a long and demanding trek through remote and challenging terrain.
Treks to Tilman Pass and Panch Pokhari typically last for around two weeks and involve a combination of hiking and camping. They are suitable for physically fit individuals with some previous trekking experience and a good level of fitness. It is important to be properly acclimatized and trained before attempting this challenging and demanding journey
Trip Map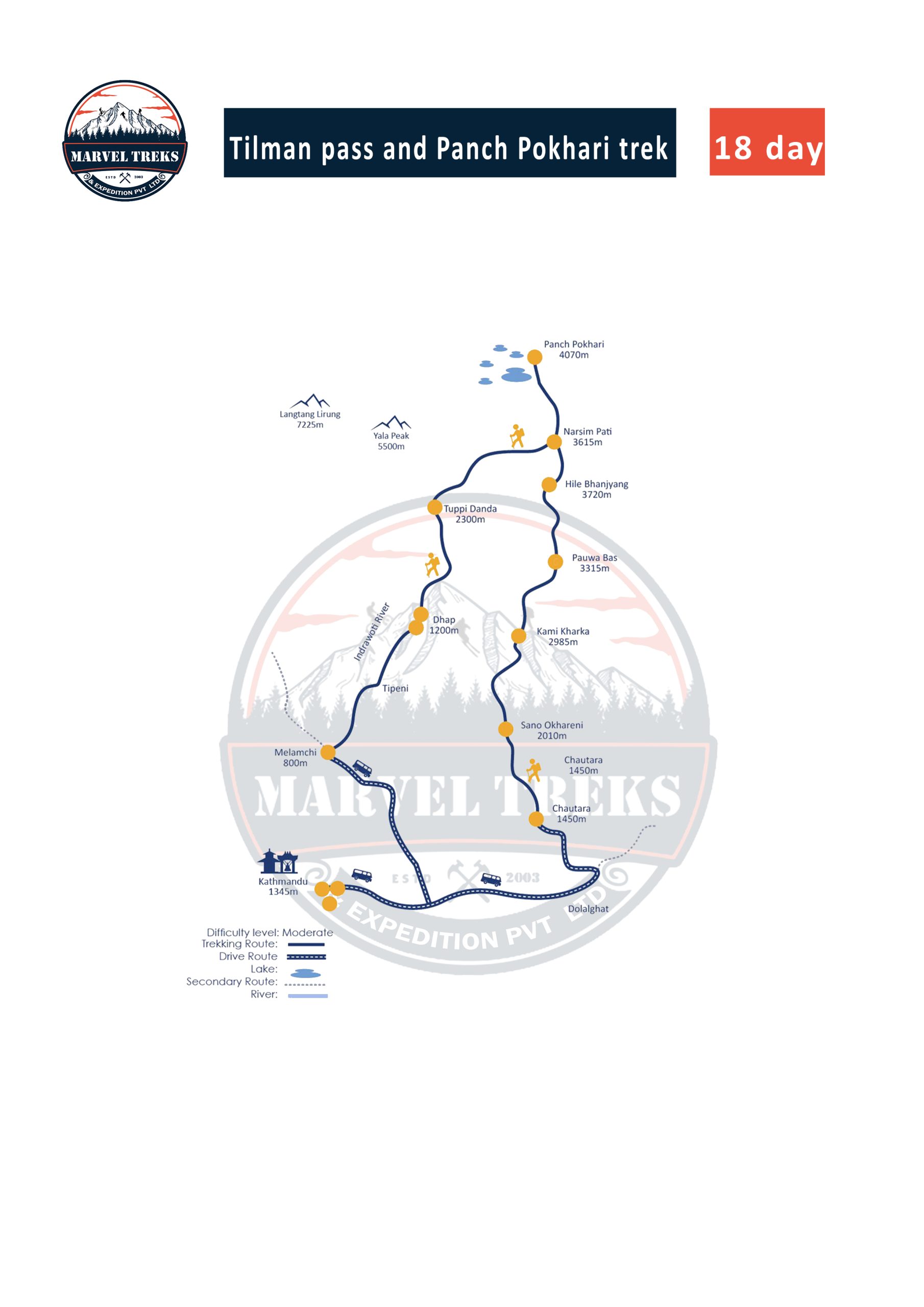 Group Discount Prices
No. of Persons
Price per Person