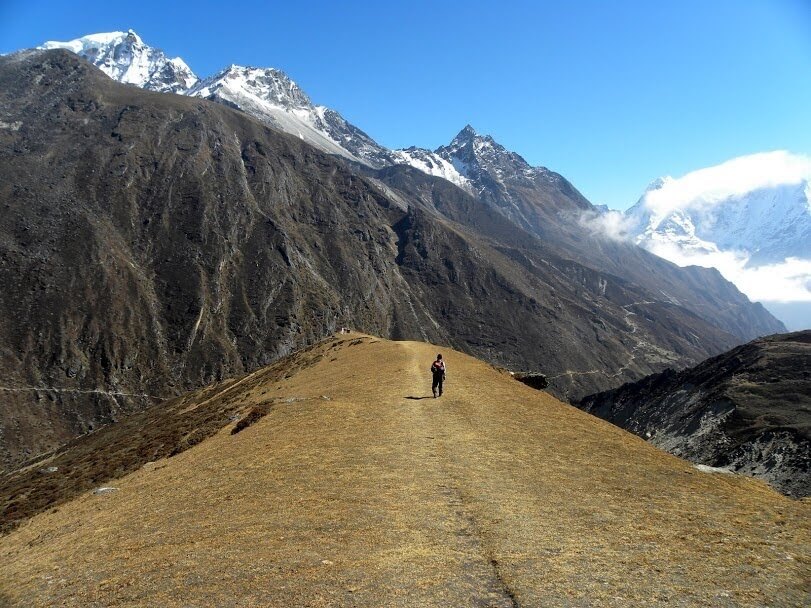 Upper Dolpo Circuit Trek
Upper Dolpo Circuit Trek Overview
Dolpo lies in remote north west part of Nepal, in betweenTibetan Plateau and Dhaulagiri mountain range. The maximumheight youcan reach in upper Dolpo circuit trek is 5000m . upper Dolpo is nortehrnPart of Dolpo and has an aura of mysticism. Upper Dolpo area waspublicly opened to visitors in 1989,but it is still considered as oneof therestricted area and requires special permit of 500$ to enter upper Dolpo. Belonging to Shey Phoksundo National park, the trail to Upper Dolpoisfilled with diverse floras and faunas. This place is one of the fewremaining place where pre Buddhist religion, Bon Po is practiced. BonPOreligion is quite similar to Buddhism, the only difference is this religionwalk anti clockwise around stupas and shrines. Upper Dolpo Circuit trekisone of the most longest yet adventurous journey which takes us throughbright Shey Phoksundo Lake, Panoramic Himalayan mountains, ThrillingTerrain, and hidden traditional villages.
Best time to go
Like many parts of Nepal, the best time to visit upper Dolpo is spring(March – May) and autumn (September- November). being a rainshadowregion, Dolpo receives very less or no rain at all which makes monsoon season also one of the best time to visit. Winter is very cold andfilledwithsnow however, if you have proper equipment and experience intrekkingatwinter you can still trek to upper Dolpo region.
Safety/ security and fitness
Upper Dolpo Circuit trek is certainly among the difficult one, howeverit depends on which route you take and how long it is. You have towalkfor6-7 hours per day at least for 25-27 days. It is mandatory to havehighlevel of fitness so that you can enjoy your journey without any difficulties. You need to practice light exercise, running, jogging and build your musclestrength before your journey starts. Most of the areas in Upper Dolpoliesat the elevation of over 5000m, which increases the risk of altitudesickness. You have to more careful than ever, stay hydrated throughout your journey, eat nutritional food, and check your oxygen level timetotimeand walk slowly so that you can adjust with increasing heights. If youeverfeel any symptoms of altitude sickness like nausea, increased heart rates, breathing difficulties etc. you need to talk to your guide, your friendsoranyone near
Other requirements
Insurance policy- high altitudes places are not the kind of placesyouwantto travel without insurance policy. Travel insurance has becomethepartof trekking requirements. If you ever have some medical emergenciesyour travel insurance will have to bear it and that is why you needtomention the details about the places you are going and altitudes youwill be reaching.
Valid visas/passports – all foreigners except Indians are requiredtohavevalid visa and passports to enter Nepal. The visa application will needthepassport having minimum 6 months of validation along with your passportsize photo. You will receive your visa upon your arrival at Tribhuwaninternational airports
Packing List
Clothing and equipment- 
| | |
| --- | --- |
| Woolen t shirts/shirts | Backpack |
| Thermal top/bottoms | Passport |
| Fleece jacket  | Passport size photographs |
| Down jacket  | Permit and travel insurance |
| Raincoat  | Suns cream and lip balm |
| Underwear  | Travel towel |
| Trekking trousers | Wash kit |
| Sleeping trousers | Safety kit |
| Hiking shorts  | Power bank |
| Water proof pants | Summer/winter hat |
| Daypack  | Buff/bandana |
| Sleeping bag | Water bottles and water purifier |
| Hiking boots  | Trekking poles |
| Hiking shocks | Charger/adapter |
| Camp shoes  | Money/cash |
| Gloves and beanies | Camera |
Group Discount Prices
No. of Persons
Price per Person
Frequently Asked Questions
Temperature and weather
Average temperature in Spring season is 13 to -10 which makes springcold but not very cold. Monsoon / Summer season is quite warmer andtheaverage temperature in this season is 17 to -4 degree Celsius. Inautumnthe average temperature ranges from -3 to -11 degree Celsius. Winteristhe coldest one obviously and the temperature in winter seasoncanbearound -14 degree Celsius and below it.
Food and accommodation
Since Dolpo is one of Nepal's remote area there is no proper facilitiesof transportation and that is why price for everything there is comparativelyexpensive. Supplies are usually distributed through helicopter fromNepalgunj to Jhupal. Here you can get Traditional Nepali food Dal, Bhat and vegetables . Being highly influenced by Tibet you can also get Tibetanfood here. Generally the price for meal is 8-10$ (800-1000 NRS). soyouneed to pay around 30-35 $ for food per day. Accommodation - tea houses are available up to Shey PhoksundoLake. But due to less number of tea houses you may have to be ready for camping also. The teahouses are small and meets your very basicnecessities. They give you room with two single beds, blankets andpillows. You have to share toilets with others and have to dine in a commonroom. The price of one night stay in teahouses is 6-9$ (600-900 NRS)
Transportation
Bus- you can take a bus from Kathmandu to jumla via Surkhet andyouneed to trek from jumla to Dolpo. Or you can also take a privatejeepfromKathmandu to jumla. If you want the long journey then you can takeabusfrom kathmandu to jajarkot and jeep from jajarkot to Jhupal. Or youcango from Kathmandu to Nepalgunj and again take flight fromNepalgunj. Airplane- airway transportation is available from Kathmandu- Nepalgunj which takes 55 minutes. From Nepalgunj you can take another flight toDolpo airport Jhupal) which takes 35 minutes. Or you can also takeaflightfrom Nepalgunj to Jumla which takes 35 minutes and trek fromjumlatoenter Dolpo.
Permit/fee
Every trekkers entering Dolpo district needs a special permit of 500$ since the entire Dolpo is a regulated zone. Shey Phoksundo National Park entry Permit- this permit will cost you27-30 $ (3000NRS). Lower Dolpo Restricted area permit- it is required to everyone travellingto Dolpo district. It cost you 20$ (2000 NRS) Upper Dolpo restricted area permit- this permit takes 40$ to thosewhoneeds lower Dolpo permit.
Communication and electronic-
Only few places in upper Dolpo have mobile coverage or signals. Andsome villages have emergency satellite telephone which you canusebypaying extra money. Some lodges in Dolpo provides wireless internet facility which is mainly provided in Dunai area.