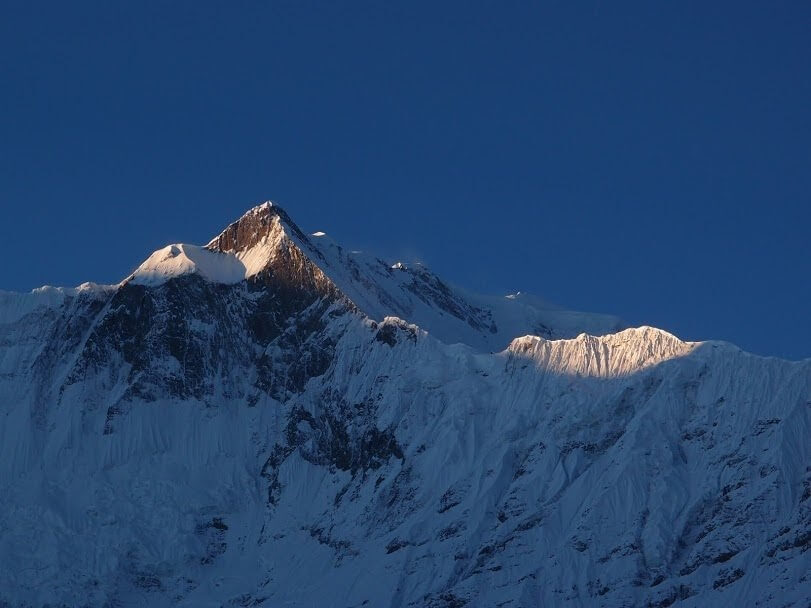 Ganesh Himal base camp Trek
Ganesh Himal base camp Trek Overview
The Ganesh Himal Base Camp Trek is a perfect combination of adventure, luxury and fun. It is highly believed that Ganesh Himal has got its name from Hindu deity "Ganesha". The peak of the Ganesh Himal resembles Lord Ganesh's head itself which is head of elephant. Ganesh Himal lies in North central Nepal, located in between langtang National park and Manaslu conservation area. This trekking also gives a spectacular view of Langtang Valley Trek and Manaslu Circuit Trekking.
It lies in Dhading, Gorkha Rasuwa and Nuwakot district. The area of Ganesh Himal have major population of  with tamang, gurung and ghale people. Ganesh Himal lies at the altitude of 7,422 m,(24,350ft). It is home to 4 other peaks over 7000m and 14 other peaks over 6000m. On the way to Ganesh Himal you can see amazing views of terraced hills, huge forest, and tamang culture. You will also witness diverse vegetation that ranges from sub-tropical to alpine vegetation region.
There are 526 species of plants and 300 species of birds and animals including Gaur, musk deer, monkeys and many unique or rare birds. Ganesh Himal is also a home to 40 different types of orchids. The sights of rhododendron, lakes and waterfalls adds more beauty to the journey. There is a vibrant settlements of tamang people, you can see their culture, lifestyle and unique traditions. Even though Ganesh Himal itself is a very beautiful place as a whole, some reward able places are Ganga Jamuna, twin waterfalls, kalo, seto and Ganesh Kunda, hot springs and Tripurasundari temple.
If you are looking for the best trekking in Himalaya, Ganesh Himal Base Camp Trek is one of the best options that you can choose from.
Highlights of Ganesh Himal base camp Trek
Stunning view of Ganesh Himal, Langtang Himal, and Manaslu range.
Diverse flora and fauna of Langtang National Park and Manaslu Conservation Area.
Trek through Rhododendron and oak forest.
Experience the hospitality and traditional villages of Tamang, Gurung, Gatlang, Somang, and Sethun villages.
Packing List for Ganesh Himal Base Camp Trek
Clothing and equipment-
You might want to know what kind of things are necessary to you during your trip. Even though people can have their own choices here are some basic things you will be needing.
Down jacket
underwear
Fleece jacket
trekking trousers and shorts
Hiking shirts, t shirts, hiking boots
Long sleeve shirts and t shirts
thick wool shocks
Light weight cotton pants
back pack/ day pack
Water proof jackets
cosmetics (suns cream, lip balm,)
Water proof pants travel towels
Raincoat tissues
papers and trash bags
First aid kit
torch light/flash light
Hand sanitizer
wash kit
Baby wipes
perfumes/deodorants
Money/cash
camera
Charger/adapter
power bank
Trekking pole sleeping bags
Reusable bottle
water purification
Beanies gloves
Buffs flip-flops
Other Requirements
Insurance policy– high mountains are not the kind of places you want to travel without insurance policy. Travel insurance has become the part of trekking requirements. If you ever have some medical emergencies your travel insurance will have to bear it and that is why you need to mention the details about the places you are going and altitudes you will be reaching.
Valid visas/passports – all foreigners except Indians are required to have valid visa and passports to enter Nepal. The visa application will need the passport having minimum 6 months of validation along with your passport size photo. You will receive your visa upon your arrival at tribhuwan international airport
Group Discount Prices
No. of Persons
Price per Person
Frequently Asked Questions
Temperature and climate of Ganesh Himal base camp
The highest point in Ganesh Himal is the base camp with altitude of 4200m. It can be quite cold in there. In rainy seasons it's slippery and muddy so it's better not to trek Himalayas in rainy seasons. December- February offers mild cold and clear days with very cold nights. Temperature in winter at low altitude can be around 20 degree Celsius and may drop to 0 or even -10 degree Celsius. Whereas in March the daytime temperature can be around 30 degree Celsius and can fall to 10 - 0 degree Celsius at night. May are generally hot or warm month of the year.
Best season/months to trek
Mid-September – May, marks and began the most popular time to trek Ganesh Himal. The temperature in October can reach 10 degree Celsius and can fall down to -3 degree Celsius. With clear and blue skies and moderate temperature this is definitely the best month to trek.
Accommodation
In Ganesh Himal Base camp they have simple lodges which meets our basic necessity. They are easily found and have good facilities. They have a room with two single bed mattress with clean bed sheets, pillow and blankets. Hot showers are available at extra costs. They have very friendly environment and it's easy to socialize. Which will cost you 300-400 (3$-4$) per night
Foods
Foods are pretty good and healthy there. We can find Nepali traditional, local and western foods. The total price for foods per day can range from 600- 10000.
Permits and fees
This is one of the permit you will be needing during travel. You need to pass through Langtang national park so this will require you a permit however this is free for Nepalese while may cost 1500-2000 for others. You can get this in Kathmandu or entry point itself.
Guides/Sherpa/ porters
It is always safe to have a travel guide with you for the help with directions, and in emergencies cases. Guide may charge you up to 25-30$ per day. For porters you can easily find them. They carry around 9-10 kilos of your belongings. You can also share your porter if you have less stuff. They charge you up to 20-25$ per day.
Communications and electronics
Mobile network is mostly available in all the way but sometimes depends on which network you are using. In fact, separate local sim card is available for you to make calls. As you move up to high altitudes, there might occur some problem in networks. Electricity is available all the time to charge your phone, cameras or other electronics. Most of the lodges there uses hydroelectricity whereas some use solar panel
Transportation to reach Ganesh Himal Base camp
Bus/jeep- they are best, easy and cheap means to travel. You can arrive Kathmandu and take a bus to aarughat which will take you 4-5 hours. The cost will be around 400-500 NRS (4-5$). From aarughat you can start walking. However,local rides are still available in some places.you can take a flight from Kathmandu to Pokhara which will take you 30-35 minutes with 3000-4000 price. There are no other internal flights available to reach Ganesh Himal base camp. So the only solution is to walk. Helicopter- helicopter tour is available in Himalayas providing beautiful views of mountains.
Safety security/ fitness
Trek to Ganesh Himal base camps is all about walking 6-7 hours per day. You need to be fit enough to do that for 10-12 days (Depends on the journey) Even though it is slightly challenging trek you must not worry about small, mild or moderate sickness. You can still travel with your physician's permission. However, you must not travel if you have any severe health condition like heart or lung disease. You must prepare yourself for the journey by exercising, running, climbing before one month.
Booking Details
Price W/O Addons: US$ 800 /pax
First Aid Service (Complimentary  Basic)

Marvel Treks and Expedition certificate (Complimentary after completion the trek)

Duffle Bag using for Trekking.( Complimentary )

Down jackets and sleeping bags ( Complimentary )

Welcome dinner or farewell dinner at one of the typical Nepalese restaurant with traditional ethnic music and dance

( Complimentary )

Trekking Region map. (As a souvenir)

Arrival and Departure Transport.(Complimentary )

TIMS (

Trekkers' Information Management Systems )($10)

National park / ACAP / Conservation entry fees.( $30)

All required local tax and Gov tax ($130 )

Office service charge.($200)
Ganesh Himal base camp Trek
$800.00,