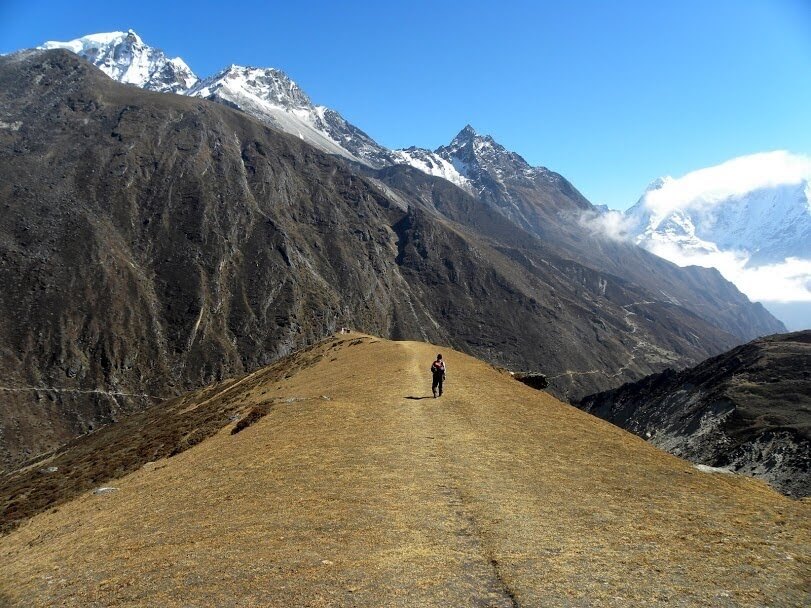 Api Base camp Trek
Accommodation
Hotel, Tea House
Transportation
Plane, Bus
Api Base camp Trek Overview
Mount Api is the highest mountain peak in the Far western region of Nepal which stands at an elevation of 7132m. Api Base Camp Trek is located in the northwest corner of Nepal in the Humla district. It is a quite long and highly protected area. Api Nampa Conservation Area itself is a home to many endangered animals like red panda, musk deer, snow leopard, blue sheep, and Himalayan Tahr along with lots of other flora and fauna. The Conservation Area is protecting the Api mountain.
Api Base camp Trek is much more than just mountain view. The trek also offers steep gorges, Mahakali valley, subtropical to alpine forest and vegetation, grasslands, waterfalls, lakes, Streams and so much more. This part of the trek also contributes to the beauty of this trekking. Here, you can also see different ethnic groups like Jhakari, Lohar, Thekare, Brahmins, and Chhetri.  They are still very traditional and proudly follow a traditional lifestyle. This is an isolated area and very few travelers have discovered this amazing piece of travel destination as of now. Api base camp is not much explored by people but is definitely a deserving place.
This route might take you around 17-18 days and cost you around 300- 350$.
Packing List
Clothing and equipment
Sleeping bag
Summer/winter hats
Safety kit
Torchlights
Duffel bag
Suns cream and lip balm
Backpack
Travel towel
Woolen shirts and sweaters
Wash kit
Down jacket
Tissue papers and trash bags
Fleece jackets
Water bottles and purifier
Long sleeves
shirt and T shirts Camera
Water proof pants
Charger/adapter
Water proof jackets
Money/cash
Thermal tops and bottoms
Passport/photocopy of passport
Trekking trousers
Few passport size photograph
Trekking shorts Medicines
Raincoat Trekking pole
Hiking boots Scarfs/buff
Hiking long and short
shocks Pads/tampons
Normal thin shocks
Slippers or normal track shoes
Gloves and beanies
Underwear
Sunglasses
Other requirements
Travel insurance– travel insurance is really very important part of trekking. You always need a travel insurance especially when you are traveling to this kind of risky, high places. If ever you need any medical emergencies your travel insurance will be bearing it for you. It is important to mention all the places and altitudes you will be reaching, to your insurance company so that you do not have any problem later.
Visa/ passport- it is mandatory for every foreigners to have visa and valid passport to enter Nepal. Only Indian citizen are not required to have visa
for visiting Nepal. You can get your Nepalese visa at Tribhuwan International airport, Kathmandu
Group Discount Prices
No. of Persons
Price per Person
Frequently Asked Questions
Temperature and weather
The average temperature in Api base camp during Mid October to December is around 25-30 degree Celsius at day time but can fall to zero or below zero degree Celsius at night time. In winter, the day time temperature is around 20 degree Celsius and can fall to -10 degree Celsius at night time or in higher altitudes. In post monsoon period the day time temperature can be around 25-30 degree Celsius, in lower altitudes. As you go above 3000m, the day time temperature can be around 10 -20 degree Celsius.
Best time to visit
Like in many parts of Nepal the best season to trek Api base camp is no other than Spring (March-May) and autumn September- November). This months have very fair temperature and doesn't often experience rainfall. The trails are in best condition which provides clear and stunning views of mountains and reen forest. In monsoon the trails are slippery and muddy which increase the risk. In winter there is extreme cold and heavy snowfall which makes it very dfficult to travel. However it is still possible to trek in these seasons but you have to be very much careful throughout the way.
Accommodation and food
Accommodation - being one of the remote part of Nepal, the api base camp trail sadly doesn't have much facilities to provide. You have to stay on small teahouses run by local people there. Sometimes when teahouses are not available and when you reach at very high altitudes you also have to do camping for overnight. Food- you will get very basic food in this route like traditional Nepali food Dal Bhat, vegetables and Dhido. However if you are planning a camping trek you need to carry all the stuff along with your food. Or if you belong to a travel agency they can hire a cook for you. The basic meal in teahouses cost you 200-250 NRS (2-3$). The tea, coffee, and boiled water can cost you around 100-150 NRS. (1-1.5$
Transportation
Bus- road transportation facility is nicely available to some point of Api base camp. You can take a bus from Kathmandu to Mahendranagar which will take 18-20 hours then again from Mahendranagar to Gokuleshwor which takes 14-15 hours' drive. And this is your starting point for trekking. Airplane- the only flight available is from Kathmandu to Dhangadi. You need to again drive from Dhangadi to Gokuleshwor for around 8 hours.
Communication and electronics
Communication is not much of a problem in Api Himal base camp. People there use satellite phone through which you can communicate to your friends and families. Moreover, internet facility is provided in most of the teahouses. It might cost you some extra money for it and also free in some places. Mobile coverage is not really available but having internet facility even above 5000m will do the best. Electricity is available to charge your electronics again have to pay extra for it.
Guides/porter
Yes it is definitely very important to have a guide in this trek. Humla district being a very remote area of Nepal, they lack proper infrastructures, transportation and many other facilities. It might be quite difficult for trekkers to find their own way, accommodation and foods and information about the place. This is why having a guide with you is really important. They can charge you around 25-30$ (2500-3000 NRS). Porters are available to carry your stuff. But they must not exceed 25 kilos. They might charge you around 15- 25$ (1500-2000) per day. You can also share your porter if you don't have much belonging
Safety/fitness
TIMS (Trekkers Information Management System) this permit cost you NRS 1000 (USD 9) per person if they are in a group and NRS 2000 (USD 18) per person if they are solo traveler. Api Nampa conservation area entry Permit- this permit is mandatory to everyone entering Api Nampa base camp. It cost 3000 NRS (30$) to everyone and have discount for SAARC countries that is 15 $. (1500 NRS). All the permits are provided in Nepal Tourism Board.