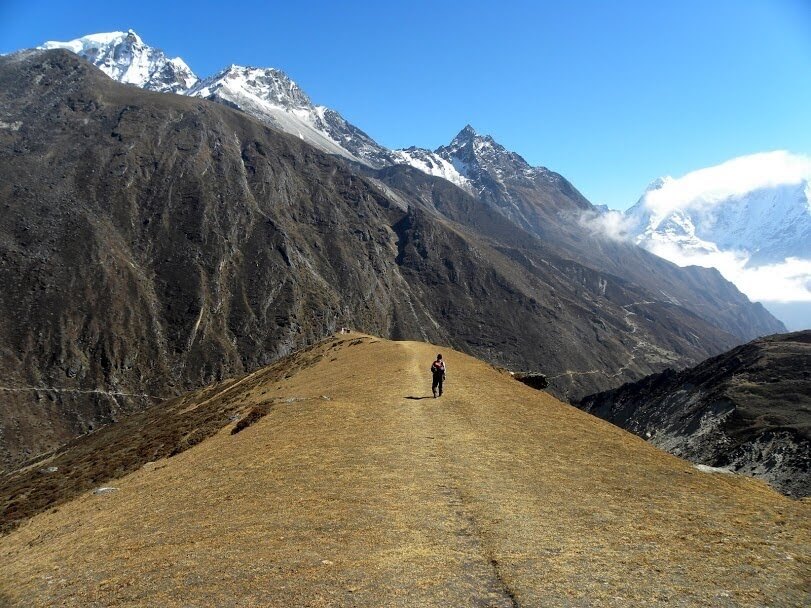 Saipal Base Camp Trek
Accommodation
Teahouse/Lodge
Best Season
Autumn, Spring
Saipal Base Camp Trek Overview
Mount Saipal being the 2nd highest peak in far west Nepal lies at the height of 7031m  and is situated in Humla district in Nepal. This trio of Api, Nampa, and Saipal form a small range of sharp, icy peaks. It rises from a long, steep, snowy crest. Saipal base camp itself lies at an elevation of 4700m. Mount Saipal was first climbed in 1960. In the early 2000s, there was a restriction in this palce due to long-lasting conflict between Maoist and Nepal governments until they came to an agreement achieving peace and a chance to visit this place again in 2006. Apart from this, Chetri, Brahmins, and some Thakurs and Bhotias populate this region. The Saipal Base Camp Trek introduces you to adventurous trails on unique terrain.
Saipal Base Camp Trek is a kind of off-the-beaten-track and very remote part of Nepal yet very beautiful and fascinating.  The untouched trail with a very less crowded area makes the trek amazing. On the way to Saipal base camp, you can definitely get a view of beautiful landscape, cultural diversity, rapid rivers, pristine forests, and so forth. Moreover, it also offers you a panoramic view of Mount Saipal, Thado Dhunga Tuppa, Kapchuli, Mount Nandadevi, etc. Some of them lie in Uttar Pradesh of India. To sum up, the trek to Saipal base camp definitely requires you to step out of your comfort zone and explore the remote, cultural beauty of Nepal.
Safety/security/fitness
Trekking to any place can be physically and mentally demanding. You need to prepare yourself for the journey since trek to Saipal base camp is all about walking 6-7 hours per day.  It is obvious that you need to be in a good health and proper physical state in order to make this journey. You can always practice some running, jogging and light exercise to keep you prepare. However past experiences of trekking or climbing is not really required.  It is also likely to suffer from altitude sickness when you are trekking to high and risky places like Saipal base camp. Throughout the journey you need to be hydrated and have nutritional foods. It is better to have an oximetry with you so that you can check your oxygen level time to time. If you ever feel like having difficulties in breathe than you can immediately contact your guide or friends.
Symptoms of Mountain sickness
Headache

Dizziness

Loss of appetite

Shortness of breath

Fast heartbeats
Preventing mountain sickness 
Walk slow

Stay hydrated

Have nutritional food 

Have enough rest

Avoid smoking and alcohol 
Medicines for mountain sickness 
Acetazolamide 

Ibuprofen, paracetamol (for headache)

Promethazine (for nausea) 
Packing List
Clothing and equipment
| | |
| --- | --- |
| Trekking trousers | Money/cash |
| Trekking shocks | Torch lights |
| Trekking boots | Medicines |
| Water proof pants | Sunglasses |
| Water proof jackets | Beanies and gloves |
| Warm shirts and t shirts | Medicines |
| Thermal tops and bottoms | Toiletries |
| Underwear | Wash kit |
| Fleece jacket | Safety kit |
| Down jacket | Hand sanitizers |
| Trekking pole | Water bottles and water purifier |
| Raincoats | Trash bag and tissue papers |
| Sleeping bags (optional) | Charger/adapters |
| Duffel bags | Power banks |
| Backpack | Camera |
| Raincoats | Cooking gas (optional) |
| Cooking utensils (optional) | Passport |
| Passport size photographs | Permits |
Other requirements
Travel Insurance– Travel insurance has become the part of trekking requirements.
If you ever have some medical emergencies your travel insurance will have to bear it and that is why you need to mention the details about the places you are going and altitudes you will be reaching. Insurance depends on the details you have mentioned earlier.
Visa/passports – all foreigners except Indians are required to have valid visa and passports to enter Nepal. The visa application will need the passport having minimum 6 months of validation along with your passport size photo. You will receive your visa upon your arrival at tribhuwan international airports
Group Discount Prices
No. of Persons
Price per Person
Frequently Asked Questions
Best season to visit
Like many parts of Nepal the best season for trekking to Saipal base camp is certainly March to May in spring and October to December in autumn.
Food and accommodations
Since Humla district is remote part of our country you cannot expect some expensive lodges with best facilities. There are some of the hotels in Simikot but when you start reaching high altitudes you have to prepare yourself for camping or small home stays. The teahouses usually cost you 4-6$ per night. They are very simple and basic. You will have a shared room with shared washrooms. Foods- if you are doing a camping trek you need to bring all the stuff you need for cooking. You can also contact your travel agencies for having a cook. However if you are staying in teahouses you will have options of Traditional Nepali food, Indian foods and continental foods. Foods usually cost 2-4$.
Transportation
Bus- bus is one of the best way to travel to anywhere. Here, you can take a ride from Kathmandu to Nepalgunj which will take you 11-12 hours and cost you around 1200-1300 NRS. From Nepalgunj only flight is available to Simikot. Airplane- the only facility of airplane provided is from Kathmandu to Nepalgunj and Nepalgunj to Simikot which takes 45 minutes. You need to walk from there to reach your destination.
Communication and electronic
Electricity is provided all along the way. You can charge your phone or electronics by paying the owner extra money. It might cost you 2-3$ for charging. The telephone service is provided by the teahouses itself however you have to pay extra for it as well. The mobile coverage might be slight problem in the way.
Booking Details
Price W/O Addons: US$ 35064.04 /pax
A detailed certificate from Marvel Treks and Expedition (after accomplishment)

Trendy Sunhat and t-shirt as souvenirs on behalf of Marvel Treks and Expedition.

A complimentary raincoat to shed you during the rainy season.

A Complimentary Duffel Bag throughout the trek from our company. (returnable)

A warm complimentary Down Jacket during the entire trek on behalf of Marvel Treks. (returnable)

A complimentary sleeping bag for your icy trek. (returnable)

The essential climbing gears like mountain axe, trekking sticks etc, for your need throughout the trek. (returnable)

Delightful complimentary Authentic Nepali cuisine as dinner to embark on your arrival and departure

Critical complimentary First Aid Service (in times of need)

An informative trekking map for you to cherish on behalf of our company

All the crucial services about airport transfer to and from the hotel via a private tourist vehicle ($40)

TIMS (Trekkers' Information Management Systems )($10)

National park entry fees / ACAP permits / Conservation entry fees. ( $30)

All essential local tax and Gov tax ($130 )

All the required office service charges. ($200)

Essential Medical supplies and first aid equipment will be provided.

Miscellaneous ($30)
Marvel Treks and Expedition won't be responsible for all the Lunch and dinner in Kathmandu.

Extra nights in any city that's not accommodated in the itinerary of Marvel Treks and Expedition.

All the International flight checks and airfares.

Marvel Treks and Expedition won't be responsible for alcoholic/ non-alcoholic liquors.

Additional porter fees along with tips of guides and porters.

Electronic gadgets like chargers, headphones.

Individual costs like a hot shower, phone calls, laundry, souvenirs.

Travel coverage and emergency evacuations.

Tips for our staff's drivers.
Saipal Base Camp Trek
₹35,064.04,