mardi-himal-trek
Accommodation
Teahouse/Lodge
Best Season
Autumn, Spring
mardi-himal-trek Overview
The Mardi Himal Base Camp Trek offers a perfect opportunity for exploring the beautiful Himalayan region of Nepal. It is a short and lesser-known trekking destination in Nepal. Mardi Himal a 5,587-meter peak, lies in the Gandaki zone, east of the Annapurna region beneath the prominent Macchapuchre. The base camp itself lies at an altitude of 4500m. It was first submitted in 1961 by Basil Goodfellow. After then, peak climbing opened officially in 2012. In fact, the launch started with the establishment of many teahouses or lodges.
Mardi Himal Base Camp Trek offers an amazing view of snow-capped mountains like Annapurna, Dhaulagiri, Macchapuchre, and Manaslu ranges. The trail to Mardi Himal passes through Australian camp, Pothana, Mardi Himal base camp, siding village, and Lwang. This area is highly protected by Annapurna Conservation Area. Here, you can witness several Flora and Fauna. Moreover, you also get to see the beautiful Rhododendron and oak forests, beautiful lakes, and waterfalls. The trek basically gives us an amazing experience with many Magar and Gurung people.
This trek is the dream of many mountaineers who wanted to see different sides of the world. No doubt, it is one of the most thrilling and rewarding experiences you can ever have. You will explore a variety of sceneries and cultures on this tour. Apart from these, the adventure will take you to snowy forests and valleys, high Himalayas, and beautiful lakes filled with crystal clear water.
Highlights of mardi-himal-trek
Stunning views of Annapurna South, Hiunchuli, and other mountains
Pass through colorful Rhododendron forest
Experience the perfect teahouse trek.
Enjoy the hospitality of the Gurung and Magar people.
Detailed Itinerary
Day 01: Arrival, hotel transfer & welcome dinner O/N hotel (D)
Arrive Kathmandu airport (1345m.), receive and welcome with flower garlands and transfer to hotel. Their after generally we discuss about the things need to do and late afternoon we settle the remaining preparation of the trekking and shopping. Then if there is little time left we may go for a short walk around, if not we go for dinner.
Day 02: After breakfast fly to Pokhara (915m.) and drive to Kande & trek to Pothana (1890m.) 4 hours. O/N lodge
Early breakfast and transfer to Kathmandu airport domestic terminal and fly to Pokhara. Then private drive to Kande and start to trekking. The trails goes gradually ascent to Pothana. Pothana offer very beautiful views of many mountains.
Day 03: Trek to forest Camp (2600m.) 5 hrs. O/N lodge
After breakfast trek to Deurali and way turn to right and gradually walk to forest Camp. The trail is through jungle and it is ascend on the top of a ridge, there is a section just over half way where the trail drops steeply and then slowly gains height and then back onto the ridge and in to Forest Camp
Day 04: Trek to High Camp (3900m.) via low Camp (3050m.) 5 hrs. O/N lodge
The trail lead still through the jungle, but the trees soon start to get smaller we felt that we are already in high elevation. After about one hour walk we will reach in an open space with spectacular views of Machhapuchhre ahead and Annapurna South to my left.
Day 05: Hike to Base Camp (4500m.) explore, and back to high camp. 6 hrs. O/N lodge
It is possible to continue trekking along the ridge for another 4 to 5 hours to Mardi Himal Base Camp (4500m) and return to High Camp in around 4 hours – This makes a long day but there is also a viewpoint about half way. And then overnight at Lodge.
Day 06: Trek back to Siding (1700m.) 5 hrs. O/N lodge
After breakfast trek down to Siding.
Day 07: Drive back to Pokhara. 4 hrs. O/N hotel
After breakfast drive back to Pokhara and free and easy.
Day 08: Fly or drive to Kathmandu O/N hotel (B D)
Once arrive to Kathmandu it is free and easy for shopping and any personal matters. Evening farewell dinner.
Day 09: Final Departure
After breakfast officially conclude the trip and transfer to airport for final departure (B)
Trip Map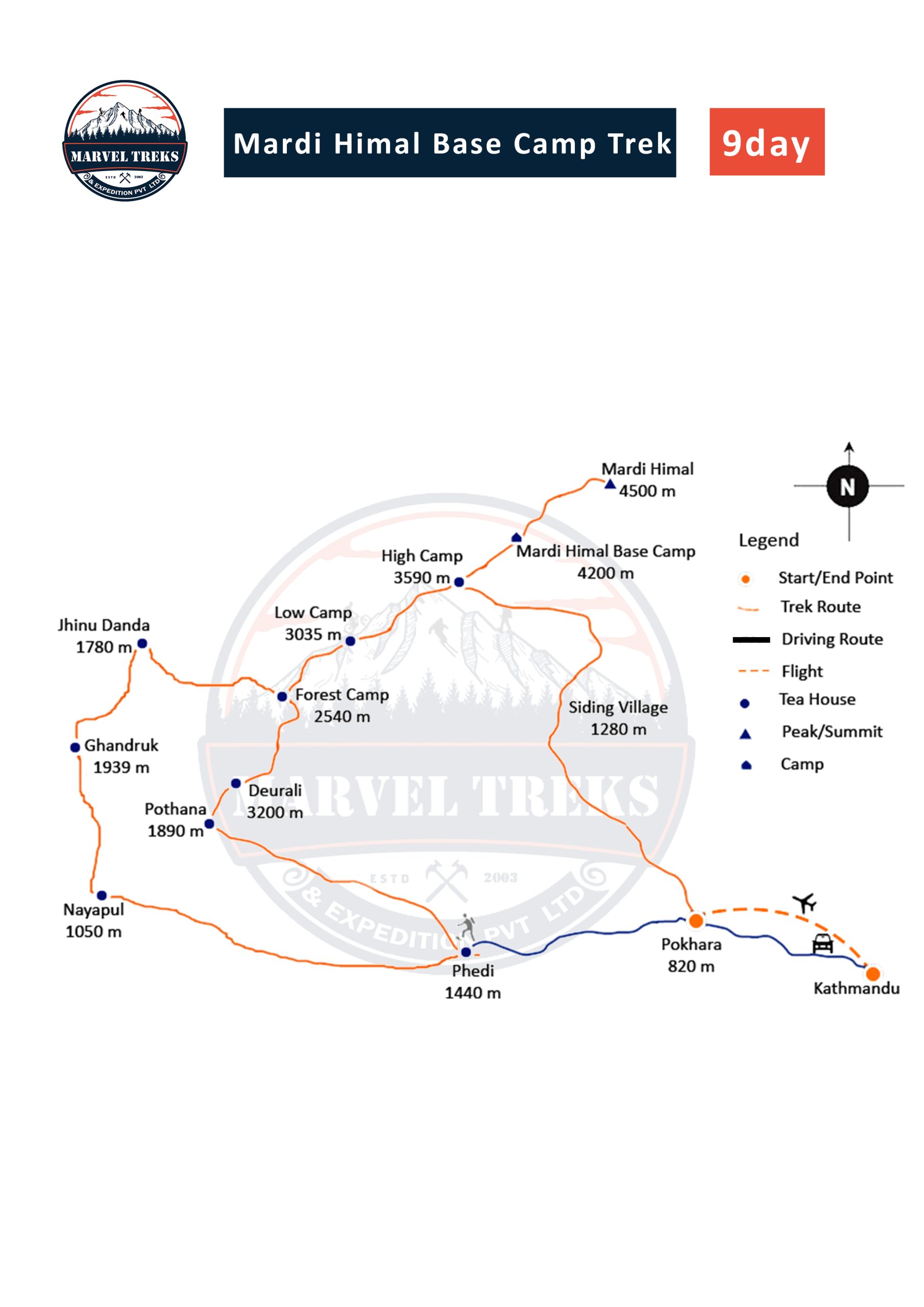 Safety and difficulties of EBC
Mardi Himal trek is a short and relatively easy trek. However, it does come with a few challenges. The road from the Australian base camp is steep and rugged. The level of difficulty entirely depends on your physical and mental fitness. But you can build your muscle strength, make your body flexible by practicing some light exercise, running, and jogging. The trek to Mardi Himal is all about walking 5-6 hours per day for at least 1 week which can make this trek slightly challenging. The trails are rugged, steep, maybe snowy in off-seasons. The maximum height in this trek is the base camp 4500m with other high passes on the way. There is a high risk of mountain sickness. The primary cause of altitude sickness is a decrease in the amount of oxygen in the atmosphere. It's important to carry handheld oximetry. Oxygen saturation below 75% may be a risk.
Symptoms of Mountain sickness
Headache
Dizziness
Loss of appetite
Shortness of breath
Fast heartbeats
Preventing mountain sickness
Walk slow
Stay hydrated
Have nutritional food
Have enough rest
Avoid smoking and alcohol
Medicines for mountain sickness
Acetazolamide
Ibuprofen, paracetamol (for headache)
Promethazine (for nausea)
Trekking Equipment List
| | |
| --- | --- |
| Woolen t shirts/shirts/thick sweaters. | Backpack/Duffle bag |
| Thermal top/bottoms | Passport |
| Jackets (Fiber or down) | Passport size photographs |
| Raincoat | Permit and travel insurance |
| Pair of sandals | Suns cream and lip balm |
| Underwear | Travel towel |
| Trekking trousers | Wash kit |
| Sleeping trousers | First aid kit |
| Hiking shorts | Power bank |
| Water proof pants | Summer/winter hat |
| Daypack | Buff/bandana |
| Sleeping bag/Sleeping bag liner | Water bottles and water purifier |
| Hiking boots | Trekking poles |
| Hiking shocks | Charger/adapter |
| Camp shoes | Money/cash |
| Gloves and beanies | Camera |
| Snow glasses and sunglasses | trekking map |
| Down jacket/Gore-Tex | Toiletries |
| Neck gaiter | Water purification |
| Sun hat/woolen hat | Water bottles |
Other requirements
Travel insurance- Trekking to high altitudes can always be risky. Travel Insurance is something you might want to do before trekking anywhere. Sometimes in emergency cases, people need to be evacuated through a helicopter and get medical service. So, in such cases, your travel insurance will be bearing the cost for you.
Seeing all these benefits, the government of Nepal has made travel insurance mandatory thing before trekking. However, it is very important to mention the heights and all the places you will be reaching during your trek. Your insurance entirely depends on the details you have provided earlier. Travel insurance costs you around 150$ which is good for 1 month.
Visas/passports- If you are not a Nepalese or Indian citizen, then a visa and a passport are mandatory. You can get your Nepalese Visa at Tribhuvan airport in Kathmandu. The passport must hold a visa of a minimum of 6 months.
Payment and Cancellation
Policy regarding Payment and Cancellation Payment:
Payment:
1) To confirm a reservation, a deposit equal to 30% of the total price is required.
2) If the payment is made online, the remaining balance is due 10 days before the Tour, Trekking, Peak Climbing, or Expedition begins. If the payment is made in cash, it can be made after arrival. 3) If the booking is made within 30 days of the expedition beginning, full payment must be made at the time of booking.
Cancellation:
1)A full refund of the deposit will be given if a Tour, Trek, Peak Climbing, or Expedition is canceled more than 60 days before the start date.
2)The deposit will not be refunded if a Tour, Trek, Peak Climbing, or Expedition is canceled within 30 days of its start date.
3)A tour, trek, peak climbing, or expedition will not be refunded if it is canceled prior to or on the start date.
4)All participants should strongly consider purchasing travel insurance to cover any unforeseen cancellations or other occurrences.
Note: We reserve the right to modify or cancel any trek in the event of a natural disaster, political unrest, or any other unforeseen circumstances beyond our control. In such cases, a full refund or an alternative option will be provided.
Group Discount Prices
No. of Persons
Price per Person
Frequently Asked Questions
Temperature and weather
Talking about the temperature of the Mardi Himal base camp, you need to know there are two destinations, Mardi Himal lower base camp and Mardi Himal high base camp. Mardi Himal Lower base camp- it lies at an altitude of 2990m, and the maximum temperature here is around 21 while the lowest can be -2. The weather is comparatively warmer in the lower base camp. The spring season in Mardi Himal lower base camp is mesmerizing. Having different Flora and Fauna including Lichens, orchids, Oaks, and ferns, the spring season also offers botanical educational values. Mardi Himal high base camp- it lies at an altitude of 3,580. The maximum temperature here can be 17⁰C while the lowest can be -2⁰C. Passing through the high Alpine forest the trails to the high base camp looks amazingly beautiful. Considering all the favorable temperature and climatic conditions of the Annapurna region, autumn (September, October) and November) and spring (March-May) would be best for the trekkers. These seasons particularly provide you with clear and blue skies. December - January would be suitable for those who like fewer people or don't want the crowd. But one has to be aware that it might be very difficult to find accommodation and food at this time since the places might be closed or off-season.
Food and accommodation
Mardi Himal trek is entirely a teahouse trek. No camping is necessary unless you want to experience it. There are enough teahouses throughout the way to Mardi Himal. The teahouses are basically run by local people. They have basic facilities like a warm room, blankets, and pillows. But they have to be shared with other trekkers as well. Also, the washroom and toilets have to be shared. Sometimes, you can get a single room with attached bathrooms. They also provide home-cooked meals like Dal, Bhat, vegetables, noodles, pasta, soup, and western food. Tea, coffee, soft drinks, hot chocolates, etc are also available on the teahouses. Staying in teahouses or lodges may cost up to 5- 10$ (500 -1000 NRS) per night. Teahouses have proper facilities of bathroom, hot shower, and internet access.
Electronics and communication
The facilities here are quite minimum or limited in comparison to other places on Annapurna. However, they have electricity to charge your electronics or phones. Wi-Fi may not be available in all lodgings or you may have to pay extra for those. However, a telephone tower has been set up at high camp. Furthermore, the 2G and 3G networks are available. So you can now call anytime and also have access to the internet through data.
Getting to Mardi Himal
The gateway to the Mardi Himal trek is Pokhara. You can take a bus from Kathmandu to Pokhara which only takes 4-5 hours. From Pokhara, again take a bus to Kande through the Baglung highway. From Kande, you need to hike to the Australian Base camp and further.
Permits and fees
Annapurna Conservation Area SAARC countries- 1500 NRS (15$), excluding VAT NON-SAARC countries- 3000 NRS (30$), excluding VAT TIMS- 1000 NRS (10$) You can easily get these permits from any travel agency or Nepal Tourism Board
Guides and porters
Guides and porters are not really mandatory since it is an easy and short trek but they can make your journey informative and interesting. They have more than enough knowledge about the directions, villages, places, accommodations, etc. Guides usually charge 25-30 $ per day. If you are physically able to carry your belonging then there is no need for a porter. If you want to walk freely without any burden you can hire a guide. They usually charge 15-20$ per day.
Booking Details
Price W/O Addons: US$ 570 per person
A detailed certificate from Marvel Treks and Expedition (after accomplishment)

A complimentary raincoat to shed you during the rainy season. (returnable)

A Complimentary Duffel Bag throughout the trek from our company. (returnable)

A warm complimentary Down Jacket during the entire trek on behalf of Marvel Treks. (returnable)

A complimentary sleeping bag for your icy trek. (returnable)

The essential climbing gear like mountain axe, trekking sticks, etc, for your need throughout the trek. (returnable)

Delightful complimentary Authentic Nepali cuisine as dinner to embark on your arrival and departure

Critical complimentary First Aid Service (in times of need)

An informative trekking map for you to cherish on behalf of our company

Trendy Sunhat and t-shirt as souvenirs on behalf of Marvel Treks and Expedition.

All the crucial services about airport transfer to and from the hotel via a private tourist vehicle ($40)

TIMS (Trekkers' Information Management Systems )($10)

National park entry fees / ACAP permits / Conservation entry fees. ( $30)

All essential local tax and office service charges Gov tax ($100 )

Miscellaneous ($10)
2 nights accommodation in a Kathmandu (Kathmandu hotel or similar) ($40)
Porter Guide ($175)
Marvel Treks and Expedition won't be responsible for all the Lunch and dinner in Kathmandu.

Extra nights in any city that's not accommodated in the itinerary of Marvel Treks and Expedition.

All the International flight checks and airfares.

Marvel Treks and Expedition won't be responsible for alcoholic/ non-alcoholic liquors.

Additional porter fees along with tips of guides and porters.

Electronic gadgets like chargers, headphones.

Individual costs like a hot shower, phone calls, laundry, souvenirs.

Travel coverage and emergency evacuations.

Tips for our staff's drivers.
mardi-himal-trek
$570.00,