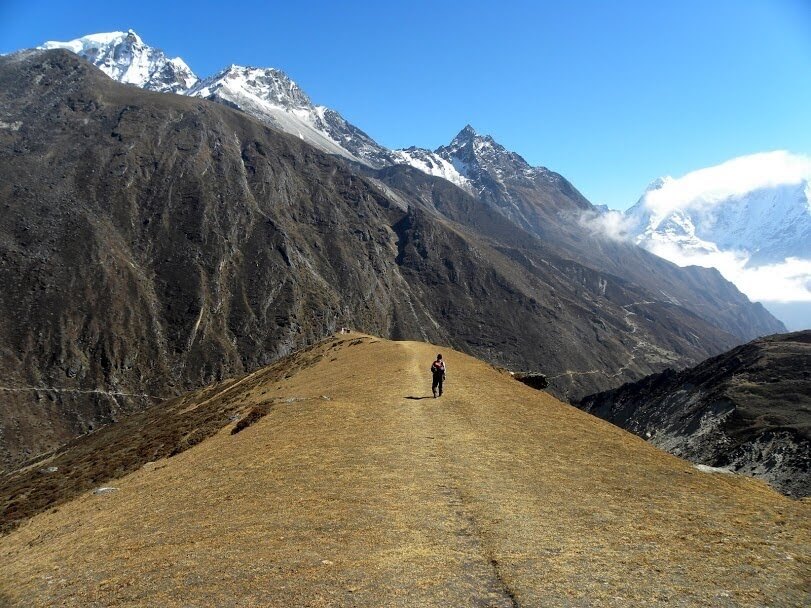 Lauribina Pass Trek
Lauribina Pass Trek Overview
Lauribina Pass (4681m) lies over Gosaikunda, the border over Helambu which basically combines Langtang, Gosaikunda, and Helambu trekking and has been included in Langtang National Park. Langtang National Park is home to many endangered animals like red panda, Himalayan Tahr, musk deer, snow leopard, black bear, wild goats, many birds, and wildflowers. The trail passes through many Sherpa and Tamang villages along with ancient Buddhist Monasteries and prayer flags. Moreover, the main attraction of this trek is Langtang's hidden valley, numerous lakes, or kundas like Saraswoti Kunda, Bhairav Kunda, and Gosaikunda, close-up view of Langtang and Manaslu Himalayan ranges, culturally rich settlements, forested lands, and many more. Lauribina pass trek is one of the short treks and graded as a moderately difficult trek. Anyone with good physical fitness, who wants to enjoy a peaceful journey can do this trek. No experience or extra skills are required. Hence, this trek is best for beginners too.
This route takes around 18-19 days with proper rest and few days off. It cost you around 600-800$ including travel insurance, accommodation, foods, permit, transportation, clothing etc.
Highlights of Lauribina Pass Trek
Visit the holy Gosaikunda Lake.
Close-up Mountain views of Langtang and Manaslu Himalayan ranges.
Experience the hospitality of Sherpa, Tamang, and Gurung people.
Many endangered flora and faunas of Langtang National park.
Best season to go
Autumn (September-November) and spring (March-May) mark the best season for you to trek Lauribina La pass. With all the blossoms and greenery you will definitely enjoy your journey. There is stable weather and moderate temperature and the trails are in their best condition. However, you can find some mosquitoes and leeches in this season. Monsoon season being the rainy one, the trails are muddy and slippery.
Other requirements
Insurance- travel insurance is a mandatory thing before traveling anywhere. Don't forget to mention the maximum altitude you will be reaching since the insurance depends on it. You can contact your travel agencies or the insurance company itself for the insurance. If you in any case will be needing medical emergencies your travel insurance will be bearing for it. You need to say the details clearly before traveling. Travel insurance generally costs you 150$ and lasts for 30 days.
Visa/ passports– if you are a foreigner you all might already know that valid visas and passports are compulsory in Nepal. Only Indians are not required to have visas. You can have your Nepalese visa at Tribhuvan international airport, Kathmandu. You need to also bring a few passport size photographs in case you need them.
Packing List
Clothing and equipment
| | |
| --- | --- |
| Sleeping bag | Summer/winter hats |
| Safety kit | Torchlights |
| Duffel bag | Suns cream and lip balm |
| Backpack | Travel towel |
| Woolen shirts and sweaters | Wash kit |
| Down jacket | Tissue papers and trash bags |
| Fleece jackets | Water bottles and purifier  |
| Long sleeves shirt and T shirts | Camera |
| Water proof pants | Charger/adapter |
| Water proof jackets | Money/cash |
| Thermal tops and bottoms | Passport/photocopy of passport |
| Trekking trousers | Few passport size photograph |
| Trekking shorts | Medicines |
| Raincoat | Trekking pole |
| Hiking boots | Scarfs/buff |
| Hiking long and short shocks | Pads/tampons |
| Normal thin shocks  | Slippers or normal track shoes |
| Gloves and beanies | Sanitizers  |
| Underwear | Adapters, power banks |
| Sunglasses | |
Group Discount Prices
No. of Persons
Price per Person
Frequently Asked Questions
Food and accommodation
This trek is completely a teahouse trek. Even though not fancy as in Kathmandu or city areas, comfortable teahouses are available throughout the way. They provide rooms with twin sharing beds, blankets, and pillows. However, toilets and washrooms have to be shared. Some lodges also have attached bathrooms. They also offer a hot shower with extra charges. Generally the accommodation cost 12-15$ (1200-1500 NRS. Per night. However, Sleeping bags are recommended. Food- Traditional food Dal, Bhat, Lentils, and vegetables are served most commonly. Besides, you can enjoy varieties of Indian, Italian, continental food. At a lower altitude, it will cost you 2-3$(200-300 NRS) but as you go up the price of food might increase and cost you 5-6$. (500-600 NRS). The water bottles may cost 1-3$ (100-300 NRS). It's better to carry some snacks, fruits and water bottles with you to save some money.
Transportation
Bus- Shyabrubesi is the main starting point of this trek. The bus is available from Kathmandu to Shyabrubesi which takes 8-9 hours and costs you 1200-1300 NRS. You can also hire a jeep from Kathmandu to Shyabrubesi. From Shyabrubesi you need to trek to Lama Hotel and further to reach Lauribina Pass.
Electronics and communication
Lauribina la Pass is a combining pass of 3 popular destinations. Therefore, you might not have big issues with electricity or other facilities in this trek. There is electricity available in every teahouse in Gosaikunda, Langtang, and Helambu regions. You can charge your phones and electronics at teahouses or lodges. You also have complete mobile coverage and can talk to anyone, anytime. The teahouses also have proper internet access. However, you would have to pay extra money to the owner to use all these facilities. Only a few teahouses provide it for free.
Permits and fees
TIM's card- all foreigner trekkers are required to have this card to trek Lauribina La pass. It includes all the details of the trekker. If you are traveling solo you need to pay 20$(2000 NRS) and if you belong to SAARC countries you will have a discount and need to pay only 6$, (600 NRS) you can get your TIMS card from the Nepal tourism board. Or if you have booked travel agencies they can manage it for you. Langtang National Park entry –it also falls under Langtang National Park and it is mandatory to take an entry permit. This permit is available at the Nepal tourism board or at the entry point itself. If you are a foreigner then it will cost you 30$ excluding VAT. And if you are from SAARC countries you have to pay 15$. Shivapuri National Park- This permit is available at the Nepal tourism board or at the entry point itself. If you are a foreigner then it will cost you 30$ excluding VAT. And if you are from SAARC countries you have to pay 15$.
Guides and porters
Guides definitely help you with your directions, communications with local people, and the best place for meals. Especially if it is your first time, you should definitely have a guide with you. Usually, a guide charges 20-25$ per day. (2000-25000). you will find friendly porters to carry your belongings to your destination and back. You need to pay around 15-20$ per day (1500-2000). However, if you feel like you can carry your belongings and walk for 5-6 hours per day, there is no need for a porter.
Safety and fitness
Trekking in Lauribina La requires 5-6 hours of walking every day which is completely a serious thing. That is why it is important to be in good health and strong enough for the journey. You don't really need much practice for this trek and no previous experience is required to travel. Knee and ankle Strength is however important factor to consider. Since the altitude of Lauribina pass itself is 4681m, it's likely to have altitude sickness. It's better to be prepared. You need to stay hydrated throughout the journey and check your oxygen level once in a while. It's better to carry handheld oximetry. If ever you experience difficulty in breathing, shortness of breath, fast heartbeat, nausea, you need to immediately speak to your guide and take necessary medications.