Kanchenjunga Circuit Trek
Accommodation
Teahouse/Lodge
Best Season
Autumn, Spring
Kanchenjunga Circuit Trek Overview
Kanchenjunga is the 3rd highest mountain peak in the world which proudly lies at the height of 8585m. It is beautifully located in the far eastern region, Taplejung District, Nepal. Kanchenjunga has got its name from the Tibetan word which refers to five great "treasures in the snow". This basically symbolizes its five peaks as gold, silver, precious stones, grain, and holy scripture. Kanchenjunga was a forbidden area and was publicly opened in 1988. However, it is still in a restricted area and requires a special permit to enter. Also, there is a restriction for trekking solo and without a licensed guide in Kanchenjunga. Kanchenjunga Circuit Trek is a great way to experience the beauty of Kanchenjungha.
The Kanchenjunga circuit trek is one of the most explored and popular trekking destinations. The place is highly protected by Kanchenjunga Conservation Area. The trail passes through hundreds of rare flora and fauna. Rhododendrons, green meadows, birch and pines, snow leopard, red panda, musk deer, etc are the major vegetation here. There is basically two base camp in the Kanchenjunga circuit. One being the south base camp (4610m) and the other North base camp (5190m). Kanchenjunga is one of the best yet less crowded areas which makes the journey more peaceful.
The Kanchenjunga trek takes around 23-24 days if you take proper rest and take some days off. This trek will cost you around 2000-2500$ with all the cost of flights, food and accommodation. However you need to know that the cost usually depends on mode of transportation, foods and accommodation and the number of days you take.
Highlights of Kanchenjunga Circuit Trek
Exploring the diverse flora and fauna of Kanchenjunga Conservation Area which includes Rhododendrons, oaks, snow leopard, red panda, blue sheep, etc.
Charming view of Mt Makalu and the east face of Mt. Everest
Adventurous walk through glaciers
Stunning view of the world's 3rd highest Mountain peak, Mt Kanchenjunga
Trip Map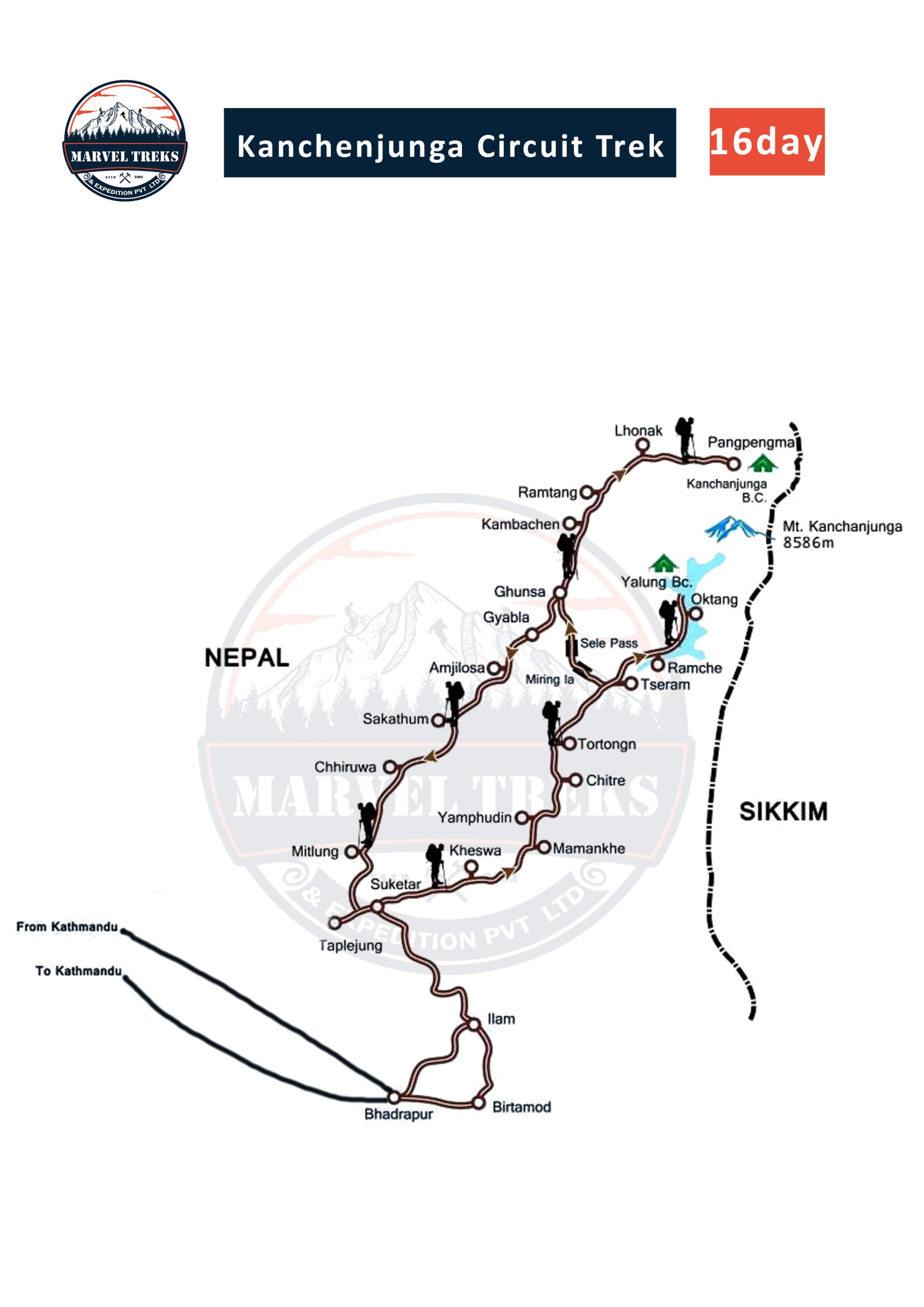 Safety and difficulties of EBC
Kanchenjunga circuit trek can be quite challenging and difficult. This is a moderately difficult trek. However, the level of difficulty entirely depends on your physical and mental fitness. But you can build your muscle strength, make your body flexible by practicing some light exercise, running, and jogging. The trek to Kanchenjunga is all about walking 5-6 hours per day for at least 20 days. This solo reason is enough to make this trek challenging. The trails are rugged, steep, maybe snowy in off-seasons. The maximum height in this trek is 4610m and 5190m both being south and north base camp of Kanchenjunga with other high passes on the way. There is a high risk of mountain sickness. The primary cause of altitude sickness is a decrease in the amount of oxygen in the atmosphere. It's important to carry handheld oximetry. Oxygen saturation below 75% may be a risk.
Symptoms of Mountain sickness
Headache
Dizziness
Loss of appetite
Shortness of breath
Fast heartbeats
Preventing mountain sickness
Walk slow
Stay hydrated
Have nutritional food
Have enough rest
Avoid smoking and alcohol
Medicines for mountain sickness
Acetazolamide
Ibuprofen, paracetamol (for headache)
Promethazine (for nausea)
Trekking Equipment List
| | |
| --- | --- |
| Woolen t shirts/shirts/thick sweaters. | Backpack/Duffle bag |
| Thermal top/bottoms | Passport |
| Jackets (Fiber or down) | Passport size photographs |
| Raincoat | Permit and travel insurance |
| Pair of sandals | Suns cream and lip balm |
| Underwear | Travel towel |
| Trekking trousers | Wash kit |
| Sleeping trousers | First aid kit |
| Hiking shorts | Power bank |
| Water proof pants | Summer/winter hat |
| Daypack | Buff/bandana |
| Sleeping bag/Sleeping bag liner | Water bottles and water purifier |
| Hiking boots | Trekking poles |
| Hiking shocks | Charger/adapter |
| Camp shoes | Money/cash |
| Gloves and beanies | Camera |
| Snow glasses and sunglasses | trekking map |
| Down jacket/Gore-Tex | Toiletries |
| Neck gaiter | Water purification |
| Sun hat/woolen hat | Water bottles |
Other requirements
Travel insurance– Trekking to high altitudes can always be risky. Travel Insurance is something you might want to do before trekking anywhere. Sometimes in emergency cases, people need to be evacuated through a helicopter and get medical service. So, in such cases, your travel insurance will be bearing the cost for you. Seeing all these benefits,
The government of Nepal has made travel insurance mandatory thing before trekking. However, it is very important to mention the heights and all the places you will be reaching during your trek. Your insurance entirely depends on the details you have provided earlier. Travel insurance costs you around 150$ which is good for 1 month.
Visas/passports– If you are not a Nepalese or Indian citizen, then a visa and a passport are mandatory. You can get your Nepalese Visa at Tribhuvan airport in Kathmandu. The passport must hold a visa of a minimum of 6 months.
Payment and Cancellation
Policy regarding Payment and Cancellation Payment:
Payment:
1) To confirm a reservation, a deposit equal to 30% of the total price is required.
2) If the payment is made online, the remaining balance is due 10 days before the Tour, Trekking, Peak Climbing, or Expedition begins. If the payment is made in cash, it can be made after arrival. 3) If the booking is made within 30 days of the expedition beginning, full payment must be made at the time of booking.
Cancellation:
1)A full refund of the deposit will be given if a Tour, Trek, Peak Climbing, or Expedition is canceled more than 60 days before the start date.
2)The deposit will not be refunded if a Tour, Trek, Peak Climbing, or Expedition is canceled within 30 days of its start date.
3)A tour, trek, peak climbing, or expedition will not be refunded if it is canceled prior to or on the start date.
4)All participants should strongly consider purchasing travel insurance to cover any unforeseen cancellations or other occurrences.
Note: We reserve the right to modify or cancel any trek in the event of a natural disaster, political unrest, or any other unforeseen circumstances beyond our control. In such cases, a full refund or an alternative option will be provided.
Group Discount Prices
No. of Persons
Price per Person
Frequently Asked Questions
Temperature and weather
The temperature in the mountain area is quite unpredictable. In spring the temperature at high altitudes is still cold but not unbearable cold. The snows of winter start to melt, nature starts to bloom again making the spring season very beautiful. In summer, it is super-hot in lower altitudes. However, in June being a pre-monsoon month the temperature is decreased. In autumn, the monsoon season is just over but the chance of rainfall is still there. But the temperature is quite favorable. In winter the temperature of the base camp might drop to -30 degrees Celsius making it extremely cold. The average temperature in the north base camp is -25 degrees Celsius. Considering all the temperature, weather, and warmth the best or peak season to trek the Kanchenjunga circuit is in spring and autumn. The bearable temperature, the clear skies, and atmosphere, stunning views of Rhododendrons and mountains, the best condition of the trails, all features make these seasons best for climbing.
Food and accommodation
It is important to understand that Kanchenjunga is not highly developed like EBC and ABC. The teahouses are available but they have basic facilities like a warm room, blankets, and pillows. They have to be shared with other trekkers as well. Also, the washroom and toilets have to be shared. They also provide home-cooked meals like Dal, Bhat, vegetables, noodles, pasta, soup, and western food. Tea, coffee, soft drinks, hot chocolates, etc are also available on the teahouses. No camping is necessary unless you want to experience the camping trek. Staying in teahouses or lodges may cost up to 5- 10$ (500 -1000 NRS) per night.
Transportation
The gateway to Kanchenjunga is Taplejung. There are few options available to reach Taplejung. One is to take a bus from Kathmandu to Taplejung directly or you can also take a bus from Kathmandu to Birtamod and to Taplejung. Once you reach Taplejung, you need to start trekking. The other option which is easy and fast is to take a flight from Kathmandu to Taplejung which basically takes 35 minutes. The last option is a helicopter tour. It is available to the Kanchenjunga base camp by many agencies or companies. It is best suited for those who are under limited time or want to have a more luxurious journey, or for someone who is physically disabled. The helicopter tour to KBC starts from Tribhuvan International Airport, Kathmandu, and passes Suketar, Taplejung, Pangpema, and finally to KBC. If you are traveling solo then the price is 12000 NRS. If you are in a group of 4-5 persons it will cost you around 4000 NRS. Note- Helicopter tour is for the base camp tour only.
Electronics and communication
There are facilities for electricity and telephones in the teahouses. However, they are very limited and have to pay extra money to use. Internet facility is not available in the Kanchenjunga trek. It is highly recommended to carry extra batteries and power banks.
Permits and Fees
1) Kanchenjunga Conservation Area- 2000NRS 1. Trekkers Information Management System card (TIMS)- 1000NRS 2. Restricted area permit- 1000-5000 (10-50$) per week depending on the time of the year you are visiting.
Guides and porters
Kanchenjunga is a restricted area and requires a professional and licensed guide in order for us to trek. They have more than enough knowledge about the directions, villages, places, accommodations, etc. it is always better to have a guide with you. Guides usually charge 25-30 $ per day. If you are physically able to carry your belonging then there is no need for a porter. If you want to walk freely without any burden you can hire a guide. They usually charge 15-20$ per day.
Booking Details
Price W/O Addons: US$ 2495 per person
A detailed certificate from Marvel Treks and Expedition (after accomplishment)

A complimentary raincoat to shed you during the rainy season.(returnable)

A Complimentary Duffel Bag throughout the trek from our company. (returnable)

A warm complimentary Down Jacket during the entire trek on behalf of Marvel Treks. (returnable)

A complimentary sleeping bag for your icy trek. (returnable)

Breakfast, Lunch and Dinner throughout the trek.

The essential climbing gears like mountain axe, trekking sticks etc, for your need throughout the trek. (returnable)

Delightful complimentary Authentic Nepali cuisine as dinner to embark on your arrival and departure

Critical complimentary First Aid Service (in times of need)

An informative trekking map for you to cherish on behalf of our company

Trendy Sunhat and t-shirt as souvenirs on behalf of Marvel Treks and Expedition.

All the crucial services about airport transfer to and from the hotel via a private tourist vehicle ($40)

TIMS (Trekkers' Information Management Systems )($10)

National park entry fees / ACAP permits / Conservation entry fees. ( $30)

All essential local tax and office service charges, Gov tax ($100 )

 Special Permit ($35)
Miscellaneous ($20)
2 nights accommodation in a Kathmandu (Kathmandu hotel or similar) ($40)
Porter Guide ($525)
Marvel Treks and Expedition won't be responsible for all the Lunch and dinner in Kathmandu.

Extra nights in any city that's not accommodated in the itinerary of Marvel Treks and Expedition.

All the International flight checks and airfares.

Marvel Treks and Expedition won't be responsible for alcoholic/ non-alcoholic liquors.

Additional porter fees along with tips of guides and porters.

Electronic gadgets like chargers, headphones.

Individual costs like a hot shower, phone calls, laundry, souvenirs.

Travel coverage and emergency evacuations.

Tips for our staff's drivers.
Kanchenjunga Circuit Trek
$2,495.00,