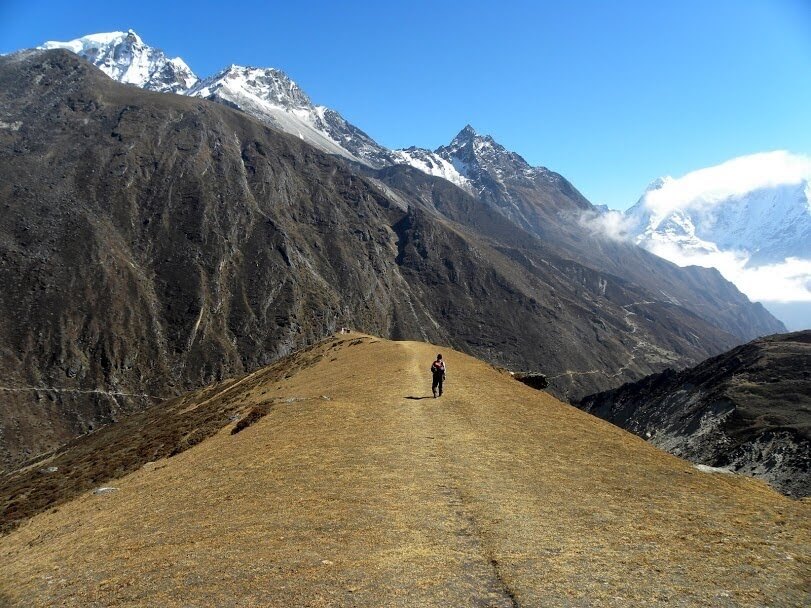 Dorje Lakpa Expedition
Dorje Lakpa Expedition Overview
Dorje Lakpa lies at the elevation of 6988m and is east of Langtang valley and south of Shishapangma (Tibet). Dorje Lakpa is one of the challenging yet very popular destinations in the Langtang region which was off-limits to the climbers until 1981. Mount Dorje is visible from Kathmandu and also from Nagarkot when the weather is very clear and it is very well known for its elegant pyramid shape. The trail passes through Nepalese villages, Rhododendron forests, pines, bamboo, and other floras. The first successful climb was made by a Japanese expedition in the late 1960s through the west ridge. Again in 1992, Carlos Buhler made a solo climb of Dorje Lakpa. Having known for its high avalanche risk, this mountain receives challenges in seeking the climber's attention. The route to Dorje Lakpa begins from Kyanjin Gompa, heading towards Dorje Lakpa base camp. This peak climbing is definitely for experienced and skilled mountaineers. Gears like ice ax, harness, ropes, and crampons are used to do this climb.
This trek/climb takes 30 days including climbing days and with proper rest. It cost around 6000-6,500$Including permits, travel insurance, transportation, food and accommodation, gears, clothing etc.
Highlights of Dorje Lakpa Expedition
Explore the elegant pyramid-shaped mountain peak
Wonderful views of Langtang Himalayan ranges, jugal Himal, Nayakang peak, and many more.
Experience the ancient Tibetan and Bon Po culture.
Explore cultural and traditional Langtang valley and hospitality of Tamang people.
Best season to visit
The season and weather are very important parts of this climb. Dorje Lakpa is very well known for its unpredictable avalanche. The best season to climb Dorje Lakpa is spring, (March to May) and autumn (September to December) which offers you beautiful views of Rhododendrons forest and views of mountains. The roads are in the best condition and the days are warmer. These 2 season comes with fewer challenges. Monsoon season (July and August) also known as summer receives a lot of rainfall and the trails are slippery and muddy also with low chances of landslides. It is extremely cold and windy in the winter season but with necessary precaution, you can still climb Dorje Lakpa.
Other requirements
Travel insurance- you can always purchase your travel insurance. It usually costs around 150$(15000 NRS) good for 30 days. It is important to mention or cover high altitudes since trekkers sometimes really need to be evacuated from a helicopter. You need to know travel Insurance depends on the details you have provided that's why it's important to notify them earlier about the altitudes you will be reaching.
Visas/ passports – foreigners other than Indians need to have valid visas and passports before visiting Nepal. The passport must hold a minimum of 6 months of visa validity from their date of arrival. They can have the Nepalese visa at Kathmandu airport.
Packing List
Clothing and equipment
| | |
| --- | --- |
| Travel wallet | Climbing shocks |
| Backpack | Thermals tops/bottoms |
| Duffel bag | Synthetic underwear |
| Trekking boots | Synthetic climbing/trekking pants |
| Trekking shocks | Insulated pants |
| Light weight sneakers | Shell pants(water proof) |
| Medium weight Gaiters(water proof) | Medium weight long john tops |
| Foot powder | Synthetic pile jacket |
| Down booties | Down jacket |
| Double insulated climbing boots | Shell jacket (light weight waterproof) |
| Heavy gaiters  | Down parka |
| Buff neck gaiters | Face mask |
| Fleece gloves | Winter/summer hat |
| Climbing gloves | Glacier glasses  |
| Chemical hand warmers and foot warmers | Dark goggles |
| Climbing pack | Double length and single length sling |
| Lightweight harness | Climbing ascender  |
| Locking/non-locking carabiners | Prusik cord |
| Helmet | Alpine ice axe |
| Point crampons | Figure 8 and Rappel device |
| Trekking poles | Backpack cover |
| Down sleeping bag | Sleeping pads |
| Batteries | Headlamps |
| Water bottles | Camera |
| Thermos | Charger/adapter  |
| Water purification tablets  | Power banks |
| Travel towel | Safety kit  |
| Hand sanitizer | Suns cream and lip balm |
| Altitude sickness medicine  | Wash kit |
| Cup, bowl, spoon  | Trash bags and tissue papers |
Group Discount Prices
No. of Persons
Price per Person
Frequently Asked Questions
Temperature and weather
The weather when you are in Langtang village itself or lower altitudes is quite warmer. The average temperature in the spring season can be around 10-20 degrees Celsius. Similarly, the temperature in autumn can be around 10-20 degrees Celsius but fall to 5 degrees Celsius at night. Summer being the hottest season the temperature rises over 30 degrees Celsius in the daytime. It slightly drops when there is rainfall. The temperature in the winter season ranges from 6-9 degrees Celsius in the daytime while it can fall to zero or below zero at night. The lowest temperature in the winter season is -3 degrees Celsius, especially in January. You can expect very cold weather in higher altitudes and Dorje Lakpa base camp. The spring season can still receive light snowfall in higher areas. Even though colder, the autumn season has a very clear atmosphere and has the best views of mountain ranges from higher altitudes. Winter is the coldest of all but we can still climb Dorje Lakpa with necessary precautions.
Food and accommodation
There are some nice teahouses available in Langtang village which offer you warm comfortable rooms to spend your night in. They have fireplaces, comfortable beds, a hot shower (optional), and warm blankets. Some teahouses also have attached bathrooms. You can also get a private room easily. The price for tea houses is cheap and normally costs 2-3$ (200-300 NRS) per night. Once you cross Kyanjin Gompa, you have to do camping for the rest of your journey. Camping stuff like tents, sleeping bags, mats, liners is recommended. If you are traveling through any travel agency they will manage it for you. Foods- you will have more than enough options for food in this place especially up to Kyanjin Gompa. The most common food served is definitely our traditional food Dal, Bhat, Lentils, and fresh vegetables. Besides this, you will also get tea, coffee, juice, pancakes, eggs, potatoes, bread, momos, fried rice, hot soup, and many more. The basic price for lunch and dinner is 4-5$ (400-500NRS). Water, tea, and coffee might cost you 1-3$ (100-300 NRS). Again, once you cross Langtang village, it gets difficult to get food since you will be doing camping. You have to prepare food by yourself or if you belong to any travel agency they will hire a cook for you.
Transportation
Bus- the starting point of this trek is Shyabrubesi. There is a bus available from Kathmandu to Shyabrubesi which takes around 7-8 hours and costs you around 1200 NRS (12$). Once you reach Shyabru, you need to walk along the Langtang Khola to Kyanjin Gompa and further to reach the Dorje Lakpa base camp and summit. The roadway is the only option to reach Dorje Lakpa.
Guide and porters
Guides and porters are a very important part of this trek because they have proper knowledge about the directions, camping sites, accommodations, and many more. Guides usually charge you around 30-35$ per day. You need porters to carry all your belongings. Especially when you are carrying all the gears and camping stuff. They charge you around 20-25$ per day. Travel agencies also manage well-educated, English-speaking guides for you.
Permits and fees
TIMS- this permit costs 1000 NRS (10$) per person and is mandatory for everyone Langtang National Park Permit- this permit costs 3000 NRS to every trekker besides SAARC countries. It only cost 1500 NRS (15$) to SAARC countries. Dorje Lakpa climbing permit- the cost of this permit depends on the season. Spring (March-May)- 400$ Autumn (September-November)- 200$ Winter (December-February)- 100$ Summer (June-August)- 100$
Electricity and communication
All the facilities like internet, electricity, and telephones are available in the teahouses up to Kyanjin Gompa. However, once you cross Kyanjin Gompa, mostly satellite phones are used in higher altitudes for communication. Since you will be camping in those days electricity and internet become difficult. Extra batteries and power banks are highly recommended.
Safety and fitness
Mt Dorje Lakpa is certainly among the most technical and difficult peaks. You need to be well experienced and have mountaineering skills to climb this peak. Anyone with no previous experience is not recommended to do this climb. A big deal of fitness, physical and mental stability, concentration, and focus is a really important part of this trek. You need to start running, jogging, light exercise to build your muscle strength. The maximum altitude here is 6988m, there is a high chance of altitude sickness from base camp. if you feel any difficulties in breathing, tiredness, fast heartbeat, weakness, etc which are all symptoms of mountain sickness you need to immediately talk to your guide or your friends. You need to be very careful throughout the way, hydrated, have nutritional food, and avoid meat and alcoholic items.