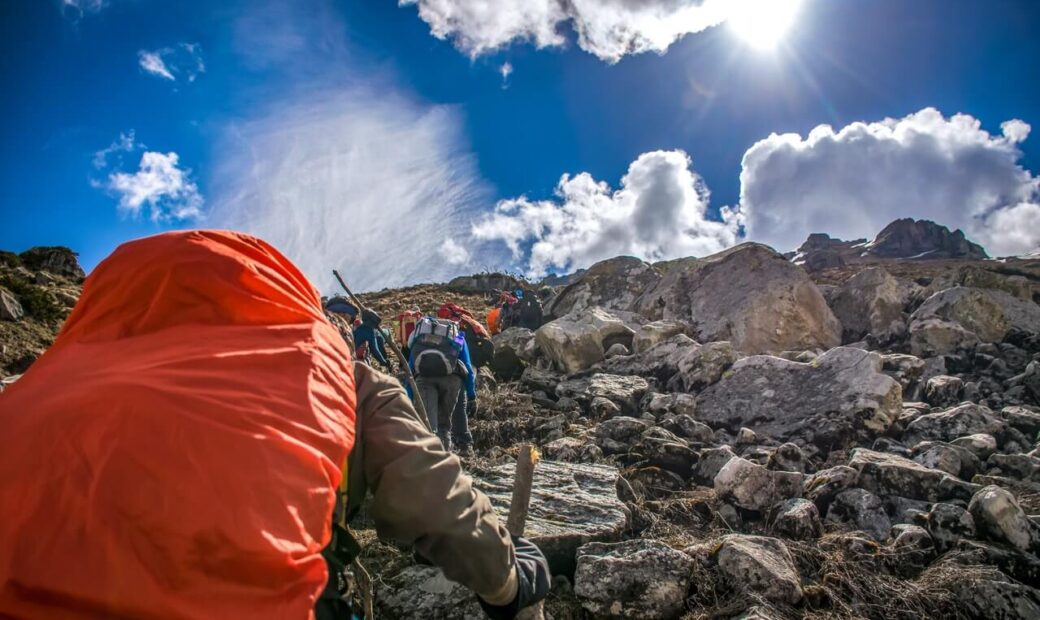 Chulu West Peak climbing
Accommodation
Tea House/Tent
Chulu West Peak climbing Overview
Chulu West Peak Climbing is one of the most exciting adventure sports sport in Nepal. It is also one kind of most popular activity while you are trekking. The mountain offers stunning and impressive view to the tourists which makes this activity even more attractive and adventurous.
Chulu west peak is one of the most beautiful peaks in part of the bigger Damodar Himal range, Annapurna region, and is a popular trekking peak. Chulu west stands at the height of 6419m from sea level. In 1952, a Japanese expedition made the first ascend to Chulu west. Since the peak is a trekking peak, Chulu west doesn't come with many technical difficulties and challenges.
Experienced, as well as beginner trekkers with basic mountaineering ideas, can climb this peak. There is great confusion among climbers about this peak, whether the climb is in the east or in the west of the Chulu. There are basically 4 summits on Chulu, from which 2 are from the east side and 2 from the west side. The west side route is slightly less technical and safe as compared to the route of the east side. The Chulu west has a grade of PD/3. Chulu West trek can be combined with the Annapurna circuit trek by just adding a few days to your journey.
The main reason behind Chulu west being so beautiful and popular is the top view the peak provides. To the south is the beautiful Tilicho peak and Annapurna Himalayan range and to the north is the view of Tibet and China. Even though an easier peak climbing Chulu West requires excellent physical and mental fitness.
This route takes around 17-18 days with proper rest and days off for acclimatization. It might cost you around 1800-2300$. The cost entirely depends on the mode of transportation, food, accommodation, clothing, number of days and the size of group.
Highlights of Chulu West Peak climbing
Climb Chulu west peak
Diverse flora and fauna of Annapurna Conservation Area
Close-up view of Annapurna Range and Tilicho peak
Chulu West Climbing Difficulties
Chulu west peak is comparatively an easier peak. However, it doesn't mean it comes without challenges. The road to Chulu west peak base camp is rough, steep, and can be snowy. The trail above the base camp is more challenging. The extreme temperature and altitude can be a serious problem if you don't apply the necessary precaution.
Any peak climbing requires concentration, focus, patience, and knowledge. Physical and mental stability is the most important factor. Physical fitness can be built by running, jogging, and doing some light exercise before starting your trek. It is relieving to know that Chulu west peak is an easy one and good for beginners or someone without experience. The average walking hour of 4-5 per day, and overnight camping, risk of altitude sickness, combining all these facts, the trek and climb to Chulu west peak can be moderately difficult.
Symptoms of Mountain sickness
Headache
Dizziness
Loss of appetite
Shortness of breath
Fast heartbeats
Preventing mountain sickness
Walk slow
Stay hydrated
Have nutritional food
Have enough rest
Avoid smoking and alcohol
Medicines for mountain sickness
Acetazolamide
Ibuprofen, paracetamol (for headache)
Promethazine (for nausea)
Packing List for Chulu West
Clothing and equipment
| | |
| --- | --- |
| Travel wallet | Climbing shocks |
| Backpack | Thermals tops/bottoms |
| Duffel bag | Synthetic underwear |
| Trekking boots | Synthetic climbing/trekking pants |
| Trekking shocks | Insulated pants |
| Light weight sneakers | Shell pants(water proof) |
| Medium weight Gaiters(water proof) | Medium weight long john tops |
| Foot powder | Synthetic pile jacket |
| Down booties | Down jacket |
| Double insulated climbing boots | Shell jacket (light weight waterproof) |
| Heavy gaiters | Down parka |
| Buff neck gaiters | Face mask |
| Fleece gloves | Winter/summer hat |
| Climbing gloves | Glacier glasses |
| Chemical hand warmers and foot warmers | Dark goggles |
| Climbing pack | Double length and single length sling |
| Lightweight harness | Climbing ascender |
| Locking/non-locking carabiners | Prusik cord |
| Helmet | Alpine ice axe |
| Point crampons | Figure 8 and Rappel device |
| Trekking poles | Backpack cover |
Other requirements
Travel insurance: trekking to high altitudes can always be risky. Travel Insurance is something you might want to do before trekking anywhere. Sometimes in emergency cases, people need to be evacuated through a helicopter and get medical service. So, in such cases, your travel insurance will be bearing the cost for you. Seeing all these benefits,
the government of Nepal has made travel insurance mandatory thing before trekking. However, it is very important to mention the heights and all the places you will be reaching during your trek. Your insurance entirely depends on the details you have provided earlier. Travel insurance costs you around 150$ which is good for 1 month.
Visas/passports: if you are not a Nepalese or Indian citizen, then a visa and a passport are mandatory. You can get your Nepalese Visa at Tribhuvan airport in Kathmandu. The passport must hold a visa of a minimum of 6 months.
Group Discount Prices
No. of Persons
Price per Person
Frequently Asked Questions
Temperature and weather
The average temperature of Chulu in the spring season (March-May) is around 25-26⁰C during the daytime and can be around 13-16⁰C during the nighttime. The average temperature in the autumn season (September-November) is 28-33⁰C during the daytime and may fall to 16-17⁰C in the night. Similarly, in winter (December-February), the average daytime temperature is 24-25⁰C and can fall to 16⁰C at the night. In the summer (June-August), the average daytime temperature is 26-30⁰C in the day and 11-14⁰C in the night. Considering all the seasons, spring (March-May) and autumn (September-March) are two of the best season for trekking and climbing Chulu west peak. Autumn and the spring season have very favorable temperatures and weather with crystal blue skies. The atmosphere is very clean offering a beautiful view of mountains and green vegetation throughout the way. Monsoon season receives a lot of rainfall which makes the trail slippery and muddy. The winter season can be extremely cold with unbearable temperatures.
Food and accommodation
Chulu west peak has to be both camping and a teahouse trek. Teahouses are small lodges run by local people of the area. There are teahouses available in most of the areas, especially below the base camp. They have a single room with twin sharing beds. They provide a blanket, mattress, and clean bedsheets. The toilets and bathroom however have to be shared. Once you reach the base camp, it is almost impossible to find any teahouses or stores. You need to camp overnight for several days. That is why all the necessary stuff like camping tents, sleeping bags, mats, cooking stoves, utensils has to be carried. You also need to prepare food by yourself. If you are trekking through a travel agency, they will manage a cook for you. Cook is hired to make some easy food like bread, fried rice, noodles, etc. however, on your stay on Teahouses, you get some options for food like Dal, Bhat and vegetables, bread, eggs, etc.
Guides and porters
Guides and porters are a very important part of this trek. Without a professional, licensed, and well-experienced travel guide to give you the right directions, and information about the places, your trek would be quite difficult. They usually charge 30-35$ per day. Since you will be carrying all the camping stuff, it is quite impossible not to hire a porter. They usually charge 20-25$ per day.
Electronics and communication
Facilities like electricity, internet connections, and communication are available in all the teahouses. There are solar panels that provide enough electricity to charge your electronics. There are satellite phones available for communication. However, to use all these facilities you have to pay extra money to the owner. Once you are in the base camp, these facilities are not available at all. Power banks and extra batteries are highly recommended.
Transportation
The easiest option to reach Chulu is to take a bus from Kathmandu to Besishahar which takes almost 8-9 hours. From Besishahar, you need to trek to Chame and further to reach the destination.
Permits and fees
Annapurna Conservation Area Entry permit SAARC countries- 1500NRS (15$) excluding VAT NON-SAARC countries- 3000NRS (30$) excluding VAT Trekkers Information Management System card (TIMS)- 1000NRS (10$) Chulu West Peak climbing permit - Spring (March-May)- 250 $ per person - Autumn (September-November)- 125$ per person - Winter (December-February)- 70$ per person - Summer (June-August)- 70$ per person