annapurna-base-camp-trek
Accommodation
Hotel/Lodge/Teahouse
Transportation
Private Vehicle/Tourist Bus/Flight
Best Season
Autumn & Spring
annapurna-base-camp-trek Overview
The classic Annapurna Base Camp Trek leads hikers to Mount Annapurna's base camp, which is located at an elevation of 4130 meters (13,550 ft). The walk is famous for its breathtaking mountain views, varied topography, and opportunity to encounter traditional Nepalese culture.
The journey begins in Pokhara, a well-liked tourist destination famous for its lakes and breathtaking mountain views. From Pokhara, the trailhead in Nayapul, where the adventure starts, is accessible by bus or car.
Depending on the route and the pace of the hike, the trek lasts 7 to 12 days. The trail passes through traditional villages, terraced rice fields, and beautiful subtropical forests. So, the trekkers can enjoy the native way of life and hospitality. Along with that, they will also travel past gushing waterfalls and multiple suspension bridges along the route.
The terrain transforms into a more alpine atmosphere with rocky pathways and glaciers as trekkers advance further down the trail. The Annapurna Base Camp, which is the final stop, provides an amazing panoramic picture of the nearby peaks, including the Annapurna South (7219m), Annapurna I (8091m), Hiunchuli (6441m), Gangapurna (7455m), and Machhapuchhre (6993m).
The trek is rated as moderate to difficult. Therefore those in the good physical condition and with some prior hiking experience should try it. Although not essential, hiring a guide or porter is helpful. Given the favorable weather, The trek is best during the months of March and May and September to November.
The Annapurna Base Camp trip is, all in all, a demanding yet rewarding adventure that gives trekkers a chance to take in Nepal's natural beauty and culture. For any trekker seeking adventure in the Himalayas, it is a must-do.
Marvel Treks offers guided Annapurna Base Camp Trek packages with accommodation, travel, permits, and experienced guides. With comfort and expertise, take in the stunning Himalayan scenery and Gurung culture.
Highlights of annapurna-base-camp-trek
The picturesque drive between Pokhara and Kathmandu.
Panoramas of the Machhapuchre, Dhaulagiri, and Annapurna mountain ranges.
Overview of the Gurung community's various cultures and traditions.
Travel past rice paddies and lovely rhododendron trees.
Take a trip to Jhinu Danda's hot springs.
Observe the Himalayas from all angles on ABC.
Discover traditional settlements like Ghandruk and Chomrong.
Chance to engage in cultural activities and discover regional customs.
The Himalayan journey was a memorable experience.
Detailed Itinerary
Day 01: Arrival in Kathmandu
When you will land at Tribhuwan International Airport Kathmandu, check your handbag, go to the immigration office, make visa for your trip and get your suitcase, where outside our represented member shows you the board of our Company and your Name, transfer to the hotel. Our director meets you in the hotel and discusses about your whole trip. In the evening you will participate to experience typical Nepali food with cultural dance show.
Day 02: Kathmandu Cultural Tour & Permit Arrangement
Kathmandu is the historical and cultural heart of Nepal and has been a popular destination for tourists ever since Nepal opened its doors to visitors. The city presents a wonderful mix of Hinduism, Tibetan Buddhism and Western influence in the Valley. Patan and Bhaktapur, its two major neighboring cities bear immense historical, cultural and religious significance. There will be a full day guided tour to the famous and biggest Hindu shrine of Pashupatinath, the largest Buddhist stupa in Nepal Bouddhanath, Old Kathmanu city as well as Swyambhunath
Day 03: Kathmandu - Pokhara, (Drive-6 hrs, 30 minute flight)
After having breakfast you will drive to natural city Pokhara by leaving historical Kathamndu. It takes six hour to reach in pokhara by private car. After check in the hotel, Phewa Lake is waiting you for boating. Your first glance goes to spectacular view of Machhapuchhre (6993m) that makes you awesome and overwhelming. In the evening, fresh walk to Lakeside to get good dinner in the typical restaurants
Day 04: Pokhara - Birethanti – Ulleri (2070m 5 hrs walk)
Walk through the lush, green Modi river valley; pass waterfalls with plunge pools that invite you to swim. You will ascend steep staircase to Magar village of Ulleri, Where you will be rewarded with breathtaking views of the valley below and the peaks of Annapurna South and Hiunchuli.
Day 05: Ulleri - Ghorepani 2850m
Trek Duration :
5 hrs walk
This is quite hard day for you. As the trail climbs higher, you walk up beside the local small waterfalls through refreshing cool oak and rhododendron forest to Ghorepani. All the way you should ascend where you will hide in the forest of rhododendron.
Day 06: Ghorepani – Tadapani
Trek Duration :
6hrs walk
This trail descends steeply through dense moss-covered forest rich with bird life. A short early-morning climb to the Deurali pass for a spectacular panorama over Dhaulagiri and the Annapurna, and to Tadapani for beautiful sunset views of Annapurna South and Machhapuchhare.
Day 07: Tadapani – Chhomrong.
Trek Duration :
5 hrs walk
The trail drops down from Tadapani, through dense rhododendron forest. From Ghandruk there are good views of the upper Modi valley. The route starts the long ascent high above the west bank of the ModiKhola, and continues up to the village of Chhumrung. Towering above the village is the mighty peak of Annapurna South, with the Fishtail facing it across the valley.
Day 08: Chhomrong - Dovan
Trek Duration :
7 hrs walk
We walk through the forest to KuldiGhar, before the route goes steeply down a bank of rock and then levels out, running through riverside bamboo thickets along the base of the gorge. Then the track winds steeply up through deep bamboo and rhododendron forest to the village of Doban.
Day 09: Dovan – Machhapuchhre Base Camp
Trek Duration :
5 hrs walk
The track remains on the west bank of the Modi, now flowing through a more open valley, and eventually emerges into the Sanctuary. Straight ahead is the high lateral moraine of the South Annapurna glacier and the Modi follows a deep cliff to the right. This is the site of Machhapuchhre base camp from which can be seen a spectacular panorama of mountains. We either camp here or continue northwest, staying above the glacial moraine.
Day 10: Machhapuchhre Base Camp - Annapurna Base Camp
Trek Duration :
3 hrs walk
The route begins on a broad grassy path, before climbing over lateral moraine and down to the beautiful ablation valley. We soon reach the British Expedition Annapurna South Face Base Camp (4234m.) The best views are probably obtained from the crest of the moraine, which we follow until it is cut through by the glacier flowing down from HimalChuli to the north.
Day 11: Annapurna Base Camp - Bamboo
Trek Duration :
7 hrs walk
Descend down after beautiful view of Annapurnas during the Sunrise and back down with good memories of trip along the Modi river path, which climbed going up.
Day 12: Bamboo – Jhinu Danda (Hot spring)
Trek Duration :
6 hrs walk
The trail passes the small village of KhuldiGahr, before continuing through rhododendron and bamboo fields to the Alpine-style village of Chhomrung. Stony steps climb steeply to Kabre Chautara and soon after we turn off for Landrung, leaving the Ghandrung path dropping away towards the Jhinuwa.
Day 13: Jhinu Danda - Pokhara
Trek Duration :
3hrs walk, 3 hrs drive
You will hike 3 hours to Siwi and catch car or bus to Pokhara.
Day 14: Pokhara - Kathmandu
Trek Duration :
6hrs drive or 30 minute flight
You will drive from Pokhara to Kathmandu and overnight in the Hotel
Day 15: Fly to respective destination
Our represented member from Marvel Treks and Expedition helps you for your departure to respective destination at Tribhuvan International Airport Kathmandu Nepal
Trip Map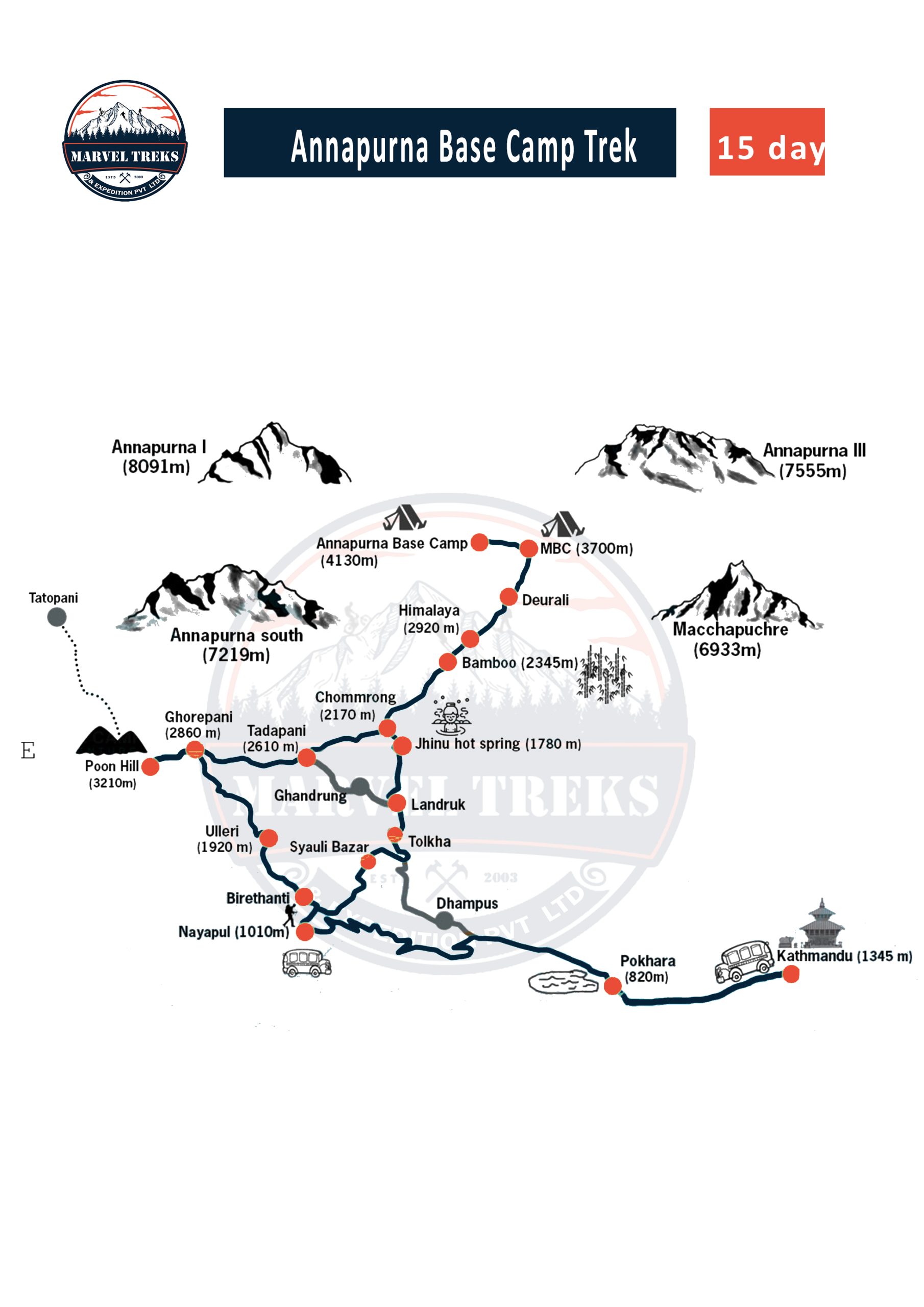 Equipment List
Clothing and equipment 
| | |
| --- | --- |
| Trekking trousers | Money/cash |
| Trekking shocks | Torch lights |
| Trekking boots | Medicines |
| Waterproof pants | Sunglasses |
| Waterproof jackets | Beanies and gloves |
| Warm shirts and t shirts | Medicines |
| Thermal tops and bottoms | Toiletries |
| Underwear | Wash kit |
| Fleece jacket | Safety kit |
| Down jacket | Hand sanitizers |
| Trekking pole | Water bottles and water purifier |
| Raincoats | Trash bag and tissue papers |
| Sleeping bags | Charger/adapters |
| Duffel bags | Power banks |
| Backpack | Camera |
| raincoats | Cooking gas |
| Cooking utensils  | Passport  |
| Passport size photographs  | Permits  |
Group Discount Prices
No. of Persons
Price per Person
Booking Details
Price W/O Addons: US$ 495 per person
A detailed certificate from Marvel Treks and Expedition (after accomplishment)

A complimentary raincoat to shed you during the rainy season. (returnable)

A Complimentary Duffel Bag throughout the trek from our company. (returnable)

A warm complimentary Down Jacket during the entire trek on behalf of Marvel Treks. (returnable)

A complimentary sleeping bag for your icy trek. (returnable)

The essential climbing gear like mountain axe, trekking sticks, etc, for your need throughout the trek. (returnable)

Delightful complimentary Authentic Nepali cuisine as dinner to embark on your arrival and departure

Critical complimentary First Aid Service (in times of need)

An informative trekking map for you to cherish on behalf of our company

All the crucial services about airport transfer to and from the hotel via a private tourist vehicle ($40)

2 nights accommodation in a Kathmandu (Kathmandu hotel or similar) ($40)
2 nights accommodation in a Kathmandu (Center lake  hotel or similar) ($40)

TIMS (Trekkers' Information Management Systems )($10)

National park entry fees / ACAP permits / Conservation entry fees. ( $30)

All essential local tax, office service charges, and Gov tax ($100 )

Porter guide (325)
Marvel Treks and Expedition won't be responsible for all the Lunch and dinner in Kathmandu.

Extra nights in any city that's not accommodated in the itinerary of Marvel Treks and Expedition.

All the International flight checks and airfares.

Marvel Treks and Expedition won't be responsible for alcoholic/ non-alcoholic liquors.

Additional porter fees along with tips for guides and porters.

Electronic gadgets like chargers, and headphones.

Individual costs like a hot shower, phone calls, laundry, and souvenirs.

Travel coverage and emergency evacuations.

Tips for our staff's drivers.
annapurna-base-camp-trek
$495.00,