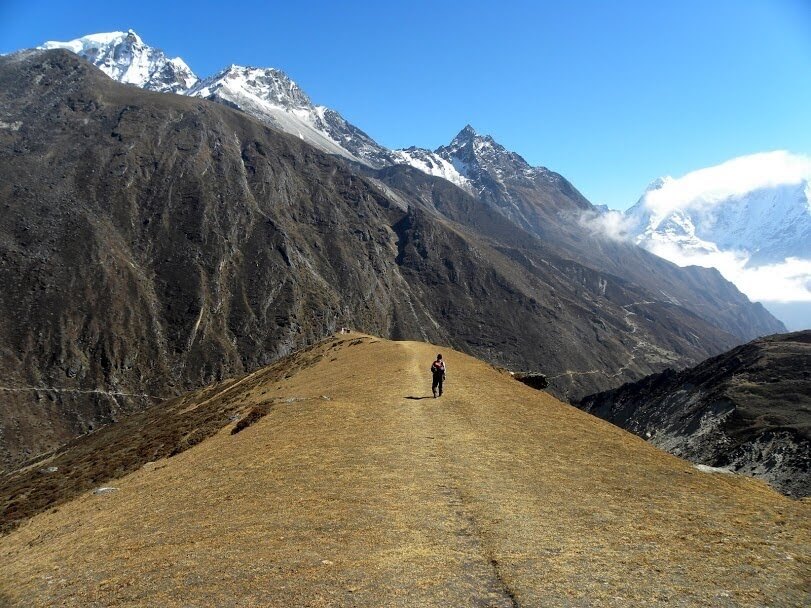 Ama Lapcha Pass Trek
Ama Lapcha Pass Trek Overview
Ama Lapcha is one of the adventurous passes which lies at the elevation of 6416m, in the Makalu region, in between Mera peak and Everest trekking region. The trail to Ama Lapcha connects Makalu and Everest region passing through the scenic view of Mt Everest, Mt Makalu, Island peak, Lhotse, Kanchenjunga, and many other snow-capped mountains. Ama Lapcha is one of the difficult and challenging passes which is very less explored by people. Past experience and mountaineering skills are a must for this trek. The route also passes through two higher passes, Mera and Amphu Lapcha pass.
This route takes around 20/21 days with proper rest and few days off. It cost you around 1600$ including travel insurance, permits, clothing, camping stuff etc.
Highlights of Ama Lapcha Pass Trek
Cross one of the challenging Ama Lapcha pass along with Mera La pass and Amphu Lapcha
Stunning view of mountains like Everest, Makalu, Kanchenjunga
Walkthrough less crowded area
Best season to go
Spring, (March to May) and autumn (September to November) mark the best time to trek the Ama Lapcha pass. With its best climatic condition and bearable temperature especially at low altitudes, this season is perfect for trekking. This season offers you an astonishing view of mountain ranges with clear blue skies and sunny days. You can also see wildflowers along with blooming Rhododendrons on your trails.
Other requirements
Travel insurance- you always need travel insurance especially when you are traveling to this kind of risky, high place. If ever you need any medical emergencies your travel insurance will be bearing it for you. It is important to mention all the places and altitudes you will be reaching, to your insurance company so that you do not have any problems later.
Visa/ passport- it is mandatory for every foreigner to have a visa and valid passport to enter Nepal. Only Indian citizens are not required to have a visa for visiting Nepal. You can get your Nepalese visa at Tribhuwan International airport, Kathmandu.
Packing List
Clothing and equipment
| | |
| --- | --- |
| Woolen t shirts/shirts | Backpack |
| Thermal top/bottoms | Passport |
| Fleece jacket | Passport size photographs |
| Down jacket | Permit and travel insurance |
| Raincoat | Suns cream and lip balm |
| Underwear | Travel towel |
| Trekking trousers | Wash kit |
| Sleeping trousers | Safety kit |
| Hiking shorts | Power bank |
| Water proof pants | Summer/winter hat |
| Daypack | Buff/bandana |
| Sleeping bag | Water bottles and water purifier |
| Hiking boots | Trekking poles |
| Hiking shocks | Charger/adapter |
| Flip flops | Money/cash |
| Altitude sickness medicines | Zip lock bag |
| Gloves and beanies | Camera |
| Bowl, cups, spoons | Sleeping mattresses  |
| Cooking gas | Camping food |
Group Discount Prices
No. of Persons
Price per Person
Frequently Asked Questions
Food and accommodation
Ama Lapcha pass is a really off-beaten place which is also a very remote part of Nepal. It's quite impossible to get fancy lodges and food. In fact, you need to prepare yourself for camping and make your own food in some places to Ama Lapcha pass. There are no teahouses available in between Mera La pass and Chukung or as you climb higher altitude it is hard to find any teahouses to stay. During your entire trek, you have to eat Nepali traditional food Dal, Bhat. As transportation facility is really difficult foods must be carried by men or mules. It's enough reason to have expensive food. Non-vegetarian food can be really expensive and found only in a few teahouses. The camping stuff like tents, sleeping bags, cooking utensils, mattresses are highly recommended for this trek.
Transportation
Bus- bus facility is available for you to reach up to Num. however you need to change bus time to time. You have a direct bus from Kathmandu to Hile. And from Hile to Khandbari you need to take a four-wheeler again which will take you around 5 hours. From Khandbari you have to take a bus again to Num. from Num you need to walk to reach your destination. Also a bus is available from Kathmandu to Paiya and you need to walk further to reach Ama Lapcha pass
Electronics and communication
There is electricity and telephone service in teahouses to charge your phones and electronics. In higher altitudes, satellite phones are used to communicate. During your camping days, it is not possible to get these facilities so extra batteries and power banks are highly recommended.
Permits and fees
Makalu Barun National Park conservation area entry permit- everyone traveling through this national park is required to have this permit with them. It cost 30 $(3000NRS) to other foreigners meanwhile they have discount and cost 15$, (1500 NRS) to SAARC countries. The permit is free to Nepalese. TIMS- TIM's card is always necessary for trekking any place in Nepal. The card includes all the details about the traveler. It might cost you 20$ per person.
Guides and porters
Having an experienced guide with you is mandatory. There is no doubt, Ama Lapcha pass is a very difficult trekking route. A guide with enough knowledge, experience, patience, and friendly nature is a must in this trek. It is better to trek through a travel agency. Local guides are not so experienced and professional. Similarly, porters are the next important part of this trek. Since you will be carrying all the stuff for camping, you cannot possibly carry all those by yourself and walk around. Porters are more than happy to help you with your belongings. They usually charge 25-30$ per day.
Safety and fitness
Ama Lapcha pass trek can be very challenging and difficult. Camping in high altitudes, crossing high passes, and walking for 5-6 hours per day is certainly something serious to think about. You need experience, patience, focus, and concentration for this trek. Knee and muscle strength are important factors to be considered. You need to prepare yourself by running, jogging, light exercises, etc. since you will be crossing some high passes like Mera pass and Amphu Lapcha, there is also a risk of altitude sickness. You need to stay hydrated, eat nutritional food throughout the way. If you ever feel breathing difficulties, nausea, weakness, fast heartbeats, which are symptoms of altitude sickness, you need to talk to your guide immediately.