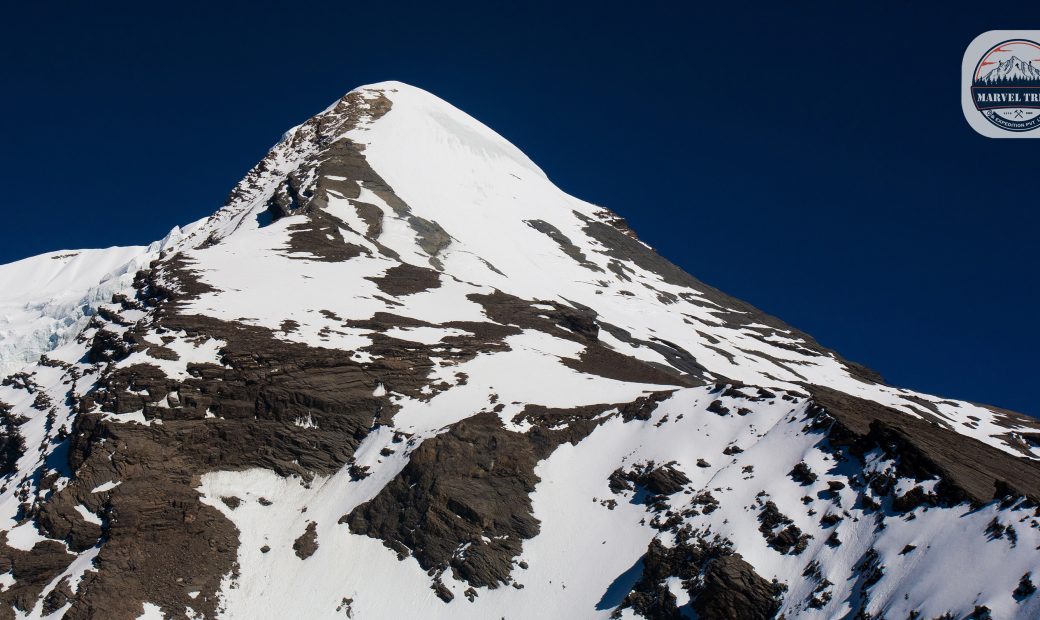 Pisang Peak Climbing – 4 Days
Pisang Peak Climbing – 4 Days Overview
Pisang Peak Climbing is the most popular peak to climb in the Annapurna region and is located in the northern part of Nepal in Manang district. This peak is almost a perfect pyramid of ice and snow and was first climbed by the German expedition in 1955. The peak lies at the elevation of 6091m and the base camp itself lies at the height of 4200m. On your way to Pisang peak, you can witness beautiful cultural villages of Manang, mustang, holy temple Muktinath along with one of the highest mountain pass Thorang La. This place also offers us beautiful views of Lamjung Himal and Mt Manaslu along with distinct wildlife and vegetation. Pisang peak is an easy trek and climb. However once you start climbing up from base camp the trails are rocky, and increasingly barren landscapes. After the high base camp, the temperature is extremely cold and filled with snow.
This 4 days Pisang peak package take you around 4-5 days when started from Pisang. This trek cost you around 2000$, however the cost usually depends on mode of transportation, foods and accommodation and number of days you take.
Highlights of Pisang Peak Climbing – 4 Days
Climbing over 6000m expedition.
Explore two beautiful Manang and Mustang valleys.
Visit the holy and sacred Muktinath Temple.
Diverse flora and fauna of Annapurna Conservation Area
Walk through the Annapurna circuit.
Best time to visit
Pisang peak can be climbed at any time of the year. However spring and autumn are the best seasons to trek Pisang peak. The temperature is bearable, the trails are in the best condition and nature blooms beautifully. The atmosphere is very clear and you can see an astonishing view of mountains and hills. You can still trek in winter and monsoon season but have to be more careful. These seasons are a season of rainfall and snowfall. The trails can be slippery and muddy making it a little difficult to trek.
Other requirements
Travel insurance- you can always purchase your own travel insurance. It usually costs around 150$(15000 NRS) good for 30 days. It is important to mention or cover high altitudes since trekkers sometimes really need to be evacuated from a helicopter. Travel Insurance depends on the details you have provided that's why it's important to notify them earlier about the altitudes you will be reaching.
Visas/passports – foreigners other than Indians need to have valid visas and passports prior to visiting Nepal. The passport must hold a minimum of 6 months of visa validity from their date of arrival. They can have the Nepalese visa at Kathmandu airport
Packing List
Clothing and equipment
| | |
| --- | --- |
| Trekking trousers | Money/cash |
| Trekking shocks | Torch lights |
| Trekking boots | Medicines |
| Water proof pants | Sunglasses |
| Water proof jackets | Beanies and gloves |
| Warm shirts and t shirts | Medicines |
| Thermal tops and bottoms | Toiletries |
| Underwear | Wash kit |
| Fleece jacket | Safety kit |
| Down jacket | Hand sanitizers |
| Trekking pole | Water bottles and water purifier |
| Raincoats | Trashbag and tissue papers |
| Sleeping bags | Charger/adapters |
| Duffel bags | Power banks |
| Backpack | Camera |
| Hammer | Crampons |
| Climbing rope | Ice axe |
| Mountaineering boots  | Harness |
Group Discount Prices
No. of Persons
Price per Person
Frequently Asked Questions
Food and accommodation
Accommodation- Trek to Pisang peak is more of a teahouse trek at least when you are in lower altitudes. If you are willing to climb the peak or go across the base camp you should also be ready for camping. You may not find enough teahouses in such higher altitudes. The available teahouses are small and run by local people there. They have a small room with twin beds, clean blankets, and pillows. You need to share toilets, bathrooms, and also a dining hall with other trekkers. Food- food is not much of a problem in Pisang peak. You can get enough options like Traditional Dal, Bhat, and vegetables, noodles, pasta, coffee, tea, porridge, cheese, milk, juices, eggs, etc. however in higher altitudes if you do the camping you need to prepare food for yourself. If you belong to any travel agencies they manage it for you.
Transportation
Airplane- airway transportation is a quite easy and comfortable mode of transportation. But sadly there is no direct connection between Kathmandu and Pisang peak. You need to fly to Pokhara first which costs 3000-4000 NRS (30-40$) and around 30 minutes time. From Pokhara, you can travel and trek further to reach Pisang peak Bus- we also have Bus facility to reach Pisang peak. However, there is again no direct connection from Kathmandu to Pisang peak. You can take a ride from Kathmandu to Pokhara and Jomsom and start your trek.
Guides/porters
You definitely need a guide and porters. Since the place is really high, those willing to climb the peak need to carry all the equipment and food with them. Porters are happy to help you and may charge you around 25-30 $ per day. Guides are very important in this trek since they have proper knowledge about the directions and camping ideas. They might charge you around 35-40$ per day.
Safety/fitness
Trek to Pisang Peak is moderately difficult and doesn't need much experience. The walking hour is 5-6 hours per day. Still, you need to be physically and mentally fit to travel or trek anywhere. If you have some serious sickness of the heart or lungs this trek is not recommended. It is likely to have mountain sickness so you must be hydrated throughout the way and eat nutritional foods. If you ever experience any kind of difficulties you can talk to your guides, Friends or anyone near you.
Communication and electronic
Many places in Pisang peak have access to electricity or solar power so you can charge your phones or other electronics in tea houses. Most of the areas have local VHF phones and satellite phones. You can ask the owner to use it by paying some extra money. When you reach higher altitudes these facilities get very limited.
Permits/fees
For Pisang peak trekking you need to get 3 permits Pisang Peak climbing permit- this permit actually depends on which season you are there. Spring season- cost 250$ Autumn season- 125$ Winter- 70$ Summer- 70 $ Annapurna Conservation area permit- this permit is mandatory to everyone trekking to Pisang peak. It cost 3000 NRS (30$) TIMs- TIMs are required for everyone trekking to Pisang peak. This permit cost you 1000 NRS (10$)