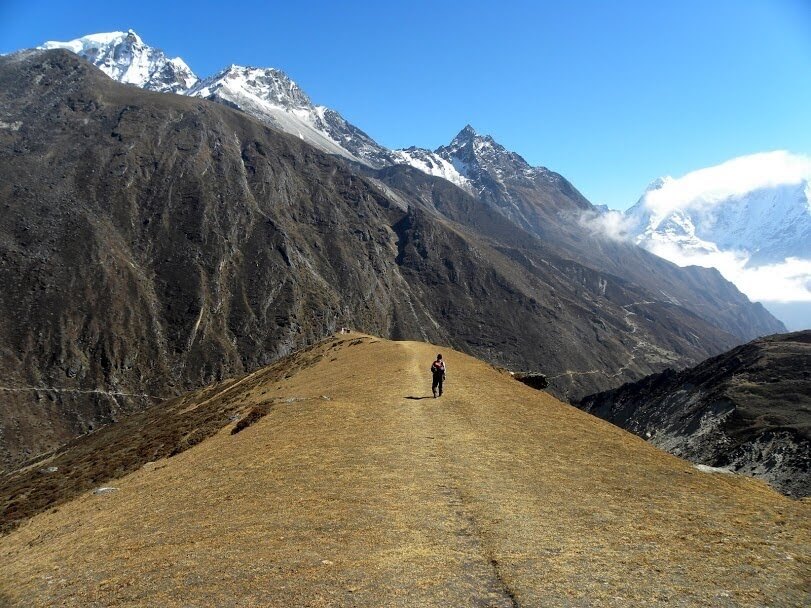 Jumla via Kangmara Pass Trek
Jumla via Kangmara Pass Trek Overview
Jumla to Dolpo is one of the challenging, demanding, and technical treks which lies in the western part of Nepal. This trek takes two remote areas Jumla and Dolpo where people have their own different lifestyles. This trek offers the perfect blend of nature and culture from high passes to arid landscapes to carefully preserved Bon culture. The trail passes through small villages in Jumla leading you to the higher trail from Hurikot to Kangmara La Pass (5115m). You get to see a beautiful view of the kanjirowa Himal range and other snowcapped mountains from the top of Kangmara La pass. On your way, you cross two more passes, Baga La (5182m), and Numa La (5190m).
This route takes around 23/24 days with proper rest and few days off. It may cost you approx. 1500$ including insurance, permits, transportation, clothing, etc.
Highlights of Jumla via Kangmara Pass Trek
Explore two of the remotest part of Nepal.
Expereince the Bon Po culture
Stunning view of Kanjirowa Himal
Cross two more passes, Baga La and Numa La.
Best season to visit
Like many parts of Nepal, the best time to do Jumla to Dolpo trek is spring (March-May) and autumn (September- November). Being a rain shadow region, Dolpo receives very less or no rain at all which makes monsoon season also one of the best times to visit. Winter is very cold and filled with snow. However, if you have proper equipment and experience in trekking in winter you can still trek.
Other requirements-
Travel Insurance – high altitudes places are not the kind of places you want to travel to without an insurance policy. Travel insurance has become part of trekking requirements. If you ever have some medical emergencies your travel insurance will have to bear it and that is why you need to mention the details about the places you are going to and the altitudes you will be reaching.
Valid visas/passports – all foreigners except Indians are required to have valid visas and passports to enter Nepal. The visa application will need the passport having a minimum of 6 months of validation along with your passport size photo. You will receive your visa upon your arrival at Tribhuvan international airport.
Packing List
Clothing and equipment
| | |
| --- | --- |
| Woolen t shirts/shirts | Backpack |
| Thermal top/bottoms | Passport |
| Fleece jacket | Passport size photographs |
| Down jacket | Permit and travel insurance |
| Raincoat | Suns cream and lip balm |
| Underwear | Travel towel |
| Trekking trousers | Wash kit |
| Sleeping trousers | Safety kit |
| Hiking shorts | Power bank |
| Water proof pants | Summer/winter hat |
| Daypack | Buff/bandana |
| Sleeping bag | Water bottles and water purifier |
| Hiking boots | Trekking poles |
| Hiking shocks | Charger/adapter |
| Camp shoes | Money/cash |
| Gloves and beanies | Camera |
Group Discount Prices
No. of Persons
Price per Person
Frequently Asked Questions
Food and accommodation
In Kathmandu, there are a lot of options for accommodation whereas, during the trek you have to stay in small yet comfortable teahouses. Teahouses are small lodges run by local people. They provide a small room with twin sharing beds, blankets, and bedsheets. Toilets and bathrooms have to be shared with other trekkers as well. Food- enough options for food are available in this trek. Traditional Dal, Bhat, and vegetables are most commonly served. Besides this, fried rice, bread, eggs, momos, Italian, Thai, Tibetan food are available.
Transportation
Bus- the bus is available from Kathmandu to Nepalgunj which takes around 8-9 hours and costs 1200-1400 NRS (12-14$). You can also take a bus from Kathmandu to Jumla via Surkhet and you need to trek from Jumla to Dolpo. Or you can also take a private jeep from Kathmandu to Jumla. If you want a long journey then you can take a bus from Kathmandu to Jajarkot and a jeep from Jajarkot to Jhupal. Or you can go from Kathmandu to Nepalgunj and again take flight from Nepalgunj and trek further. Airplane- airway transportation is available from Kathmandu- Nepalgunj which takes 55 minutes. From Nepalgunj you can take another flight to Dolpo airport Jhupal) which takes 35 minutes. Or you can also take a flight from Nepalgunj to Jumla which takes 35 minutes and trek from Jumla to enter Dolpo.
Electronics and communication
Dolpo and Jumla both being very remote parts of Nepal, there is no electricity provided in many parts. However, you can luckily get electricity in very few places to charge your electronics. Wi-Fi service is available in the Shey Phoksundo area only and in some parts of Jumla recently. That is why you need to take extra batteries and power banks with you.
Permits and fees
Every trekker entering the Dolpo district needs a special permit of 500$ since the entire Dolpo is a regulated zone. Shey Phoksundo National Park entry Permit- this permit will cost you 27-30 $ (3000NRS). Lower Dolpo Restricted area permit- it is required for everyone traveling to the Dolpo district. It cost you 20$ (2000 NRS)
Guides and porters
Being restricted areas, hiring guides are most in this trek. It is better if you travel through travel agencies. They have more educated guides than local ones. However, if you hire a guide they may charge you around 30-35$ per day. Porters are needed to carry your belongings. They may charge you around 15-20 $ per day.
Safety and fitness
Jumla to Dolpo trek is certainly among the difficult ones. However, it depends on which route you take and how long it is. You have to walk for 6-7 hours per day at least for 23-24 days. It is mandatory to have a high level of fitness so that you can enjoy your journey without any difficulties. You need to practice light exercise, running, jogging, and build your muscle strength before your journey starts. Most of the areas in Upper Dolpo lies at an elevation of over 5000m, which increases the risk of altitude sickness. You have to be more careful than ever, stay hydrated throughout your journey, eat nutritional food, and check your oxygen level from time to time and walk slowly so that you can adjust with increasing heights. If you ever feel any symptoms of altitude sickness like nausea, increased heart rates, breathing difficulties, etc. you need to talk to your guide, your friends, or anyone near