Bardiya National Park Tour – 4N 5D
Trip Duration
4 Nights 5 Days
Accommodation
Hotel/Lodge
Transportation
Private Vehicle/Tourist Bus
Best Season
All Year Round
Bardiya National Park Tour – 4N 5D Overview
The Bardiya National Park Tour package is designed for tourists keen to explore the unspoiled natural beauty of Bardiya National Park. Travelers will witness the rich and varied wildlife, historical sites, and cultural attractions.
The authorities established Bardiya National Park in 1988 as a Royal Bardiya National Park. It covers a surface area of 968 sq Km (374 sq mi) and is the largest National Park in Terai. The National Park adjoins the eastern bank of the Karnali River, bisecting the Babai River in the Bardiya district. The neighboring national park to Bardiya is Banke National Park, with a surface area of 1,437 km.
The authorities established this park with the objective of protecting the ecosystem and conserving the habitat of many wild animals. Green vegetation covers about 70% of the park. There are 839 species of flora which includes 173 vascular plant species.
Moreover, there are 642 faunal species in Bardiya National Park which includes 125 species of fish, 23 species of reptiles, and 53 mammals. This park is home to one-horned rhinos, Indian leopards, Bengal tigers, rusty-spotted cats, etc. There are 407 species of birds including Bengal florican, white-rumped vulture, bar-headed geese, etc.
Things to do during the Bardiya National Park Tour
Jungle walk
The jungle walk is one of the adventurous and thrilling activities to do during the Bardiya National Park tour. During this walk, you can pass through the dense forest towards the bank of the Karnali River and around the natural habitats of wild animals. However, you need at least one other trekker and a licensed guide.
Weapons or any kind of harmful stuff are not allowed during the walk. Guides take the tourist for a 5 to 10 km walk where trekkers can encounter many elephants, rhinos, birds, and deer. You can't make unnecessary noises during the jungle walk. A jungle walk might cost you 1500-4000 depending on the half or full-day tour.
Jeep safari
Jeep safari is one the best way to explore the jungle and witness many animals and plants. During this safari, you will be sitting on the back of the open jeep and the driver will be showing you different spots and animals.
There is also a guide provided who will guide you with directions, give information about the plants and animals, and try to spot as many animals as they can. There are basically two options available for a Jeep safari. One is a half-day tour which is 4 hours long.
You will be sitting with 7 other people in a jeep and exploring the jungle. And the other option is a full-day tour that is 10 hours long. Here, you will have more comfortable cars and seats. In this full-day tour, you will go more deeply into the jungle and probably witness tigers. You can't leave the jeep and walk around during the jeep safari tour.
Also, you need to show your national park permit in different places so it is best to keep it safe. A half-day jeep safari tour costs 180$+ National Park permit. And a full-day jeep safari tour costs 240$+National Park permit.
Bird watching
Bardiya National Park is home to more than 400 species of birds. Many people visit Bardiya National Park just for bird watching. The best time for bird watching is during the jungle walk.
Exploring Tharu museum
Tharus are indigenous people of Bardiya National Park. The Tharu museum offers us the chance to witness some traditional houses and lifestyles of the Tharu people. Their unique culture, languages, dresses, and small houses, are something you do not want to miss during this tour.
Besides these, there are also many breeding centers, villages, and river boating available in Bardiya National Park. Basically, it is one of the most explored destinations of Nepal which combines, nature, diverse culture, religious values, wildlife, and adventurous features.
Marvel Trek's Bardiya National Park Tour will take you on an adventure of a lifetime. Discover the park's beautiful scenery and encounter captivating wildlife.
Highlights of Bardiya National Park Tour – 4N 5D
A less crowded area as compared to other National Parks
Hospitality and great culture of Tharu people.
Hundreds of flora and fauna of Bardiya National Park
Fishing and rafting in Karnali River (optional)
Activities like Bird watching, jungle walking, elephant safari
Witness many wild animals including rhinos, tigers, and deer
Trip Map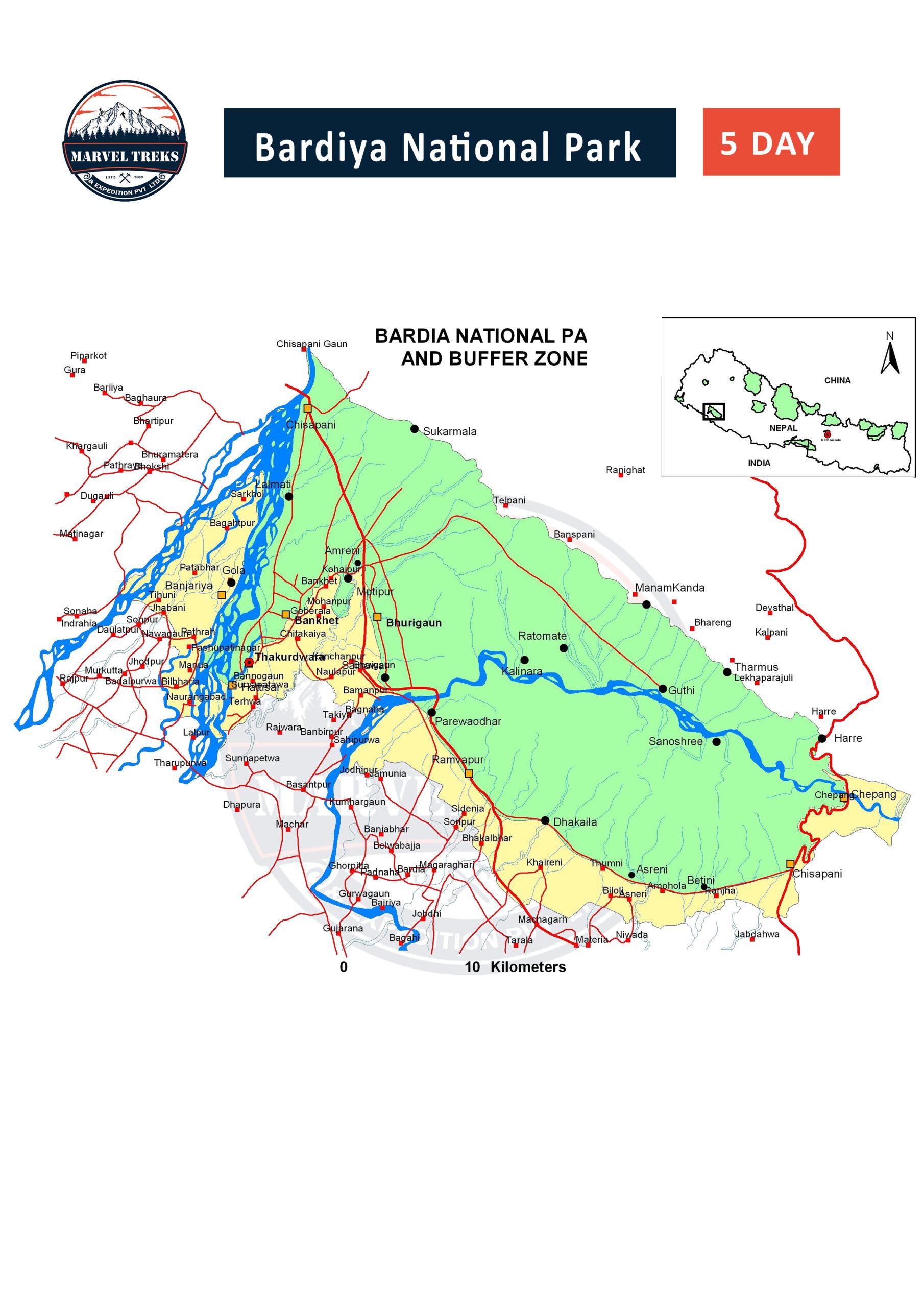 Payment and Cancellation
Policy regarding Payment and Cancellation Payment:
Payment:
1) A deposit equal to 30% of the total price is required to confirm a reservation.
2) If the payment is made online, the remaining balance is due 10 days before the Tour, Trekking, Peak Climbing, or Expedition begins. If the payment is made in cash, it can be made after arrival.
3) If the booking is made within 30 days of the expedition beginning, full payment must be made at the time of booking.
Cancellation:
1) A full refund of the deposit will be given if a Tour, Trek, Peak Climbing, or Expedition is canceled more than 60 days before the start date.
2) The deposit will not be refunded if a Tour, Trek, Peak Climbing, or Expedition is canceled within 30 days of its start date.
3) A tour, trek, peak climbing, or expedition will not be refunded if it is canceled prior to or on the start date.
4) All participants should strongly consider purchasing travel insurance to cover any unforeseen cancellations or other occurrences.
Note: We reserve the right to modify or cancel any trek in the event of a natural disaster, political unrest, or any other unforeseen circumstances beyond our control. A full refund or an alternative option will be provided in such cases.
Group Discount Prices
No. of Persons
Price per Person
Frequently Asked Questions
Temperature and weather
The average temperature in Bardiya National Park in summer (June-August) during the daytime ranges from 33-37⁰C and can fall slightly to 24-26⁰C. In the spring season (March-May) the average daytime temperature can range from 31-39⁰C and the nighttime is around 15-20⁰C. In the autumn season (September-November) the average daytime temperature is around 28-33⁰C and the nighttime is around 13-24⁰C. In the winter season (December- February) the daytime temperature is around 22-25⁰C and that of the night is around 8-10⁰C . Bardiya National Park is basically hot and dry throughout the year. May is the hottest month while January is the coldest of all. The best time to visit Bardiya National park is in summer. Since the weather is very hot, many wild animals roam outside to seek water and you get to witness them.
Food and accommodation
there are a number of teahouses or big-budget hotels and lodges in Bardiya. However, any kind of accommodation is not allowed and not available inside the park area. The lodges provide every kind of facilities like internet, hygienic food, 24-hour electricity, and running water. The rooms are nice with attached bathrooms. Varieties of food are available in the restaurant of the lodges like Dal, Bhat, vegetables, pizza, pasta, momo, and other western food along with tea, coffee, and other drinks. The average price for lodges there is 4-5$.
Permit
Permits for Bardiya National Park entry NON-SAARC countries- 1500 NRS (15$) SAARC countries- 750 NRS (7.5$) Nepalese- 100 NRS.
Guides and porters
guides are not only necessary but a mandatory thing for this tour. There is no entry without a licensed guide. Guides have enough knowledge about the animals, spots, and plants with their importance and specialty.
Safety and security
it is important to remember that Bardiya National Park is very rich in wild animals. There is always a risk involved in this tour. Few number attacks have been recorded in this national park. During your tour, you need to remain silent and avoid unnecessary noises. Also, wearing bright clothes is not suggested as they scare the animals. Frequent short breaks, walking alone, off-beat routes, and bathing in the rivers, are not allowed in this tour. Harmful equipment like guns, knives are strictly prohibited and given severe punishment if found so.