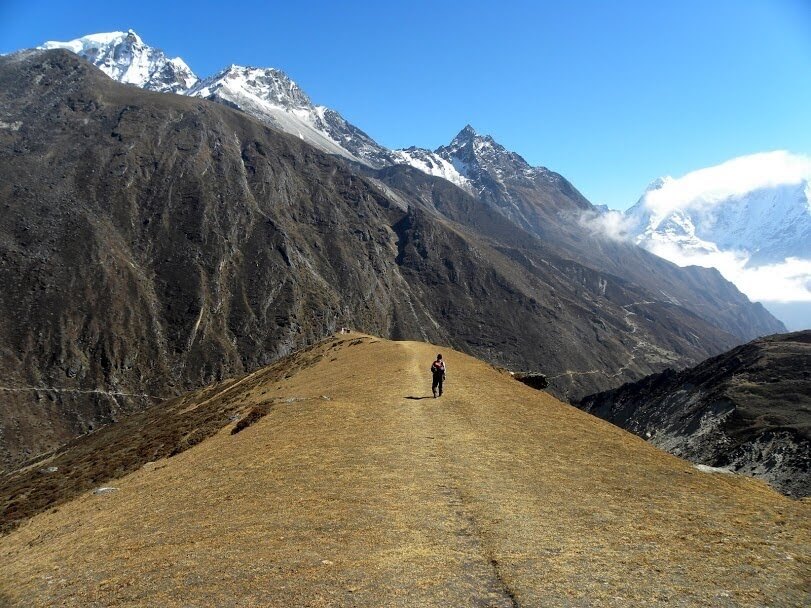 Yala Peak Climbing
Accommodation
Teahouse/Lodge
Best Season
Autumn, Spring
Yala Peak Climbing Overview
Yala peak is a beautiful mountain in the Langtang region of Nepal which lies at the altitude of 5500m. Yala Peak Climbing is a non-technical, and perfect peak for beginners. However, a basic mountaineering idea is required. According to Nepal Mountaineering Association, Yala Peak is categorized as a simple trekking peak. The climbing consists of simple scrambling with 25 degrees slope, 180m of snow climbing on a 35-40 degree slope, and 650m of climbing on the summit day.
The base camp for Yala peak lies at the height of 4500m, from where you can see a stunning view of Langtang Lirung, Lenpo Gang, Dorje Lakpa, and the great Shishapangma which lies on the Tibetan side. Yala peak falls under the protection of Langtang National Park where you can witness a lot of rare flora and fauna. Rare animals like snow leopard, red panda, Himalayan Tahr, etc. The trail of Yala Peak Climbing also passes through the lush forest of Rhododendron, and pines, beautiful landscapes, and the Langtang River. Langtang valley is a relatively short trek and it is perfect for those who are under limited time.
This is a standard and most common route which takes around 2 weeks with proper rest and some days off. It cost around 1600-2000$. The price depends on the types of vehicles, food and accommodations, and number of days you take to finish the journey. This also includes all the travel permits, insurance, clothing and equipment, gears, etc.
Yala Peak Climbing with Marvel Trek
Marvel Trek is a licensed expedition company. It has been providing best facilities and services to its climbers since 1998 along with some great experiences. We not only keep your safety as the priority. But also guide you to fulfill your wish of experiencing the thrill of climbing a mountain. The entire team of Marvel Trek is full of professionals who will be there to support and guide you.
Highlights of Yala Peak Climbing
Explore beautiful Langtang valley
See diverse flora and endangered animals found in Langtang National Park
Stunning views of mountains like Dorje Lakpa and Shishapangma.
Get to see the Tamang people of Langtang valley and their lifestyles
Safety and Fitness
The road to Yala peak base camp is rough, steep, and can be snowy. The trail above the base camp is more challenging. Luckily, Yala peak is an easy peak and anyone with basic mountaineering ideas can do this. However, the extreme temperature and altitude can be serious problems if you don't apply the necessary precaution. Any peak climbing requires concentration, focus, patience, and knowledge. Physical and mental stability is the most important factor. Physical fitness can be built by running, jogging, and doing some light exercise before starting your trek. The average walking hour of 5-6 per day, and overnight camping, risk of altitude sickness, combining all these facts, the trek and climb to Yala peak can be moderately difficult.
Symptoms of Mountain sickness
Headache
Dizziness
Loss of appetite
Shortness of breath
Fast heartbeats
Preventing mountain sickness
Walk slow
Stay hydrated
Have nutritional food
Have enough rest
Avoid smoking and alcohol
Medicines for mountain sickness
Acetazolamide
Ibuprofen, paracetamol (for headache)
Promethazine (for nausea)
Packing List
Clothing and equipment
| | |
| --- | --- |
| Travel wallet | Climbing shocks |
| Backpack | Thermals tops/bottoms |
| Duffel bag | Synthetic underwear |
| Trekking boots | Synthetic climbing/trekking pants |
| Trekking shocks | Insulated pants |
| Light weight sneakers | Shell pants(water proof) |
| Medium weight Gaiters(water proof) | Medium weight long john tops |
| Foot powder | Synthetic pile jacket |
| Down booties | Down jacket |
| Double insulated climbing boots | Shell jacket (light weight waterproof) |
| Heavy gaiters | Down parka |
| Buff neck gaiters | Face mask |
| Fleece gloves | Winter/summer hat |
| Climbing gloves | Glacier glasses |
| Chemical hand warmers and foot warmers | Dark goggles |
| Climbing pack | Double lenth and single length sling |
| Lightweight harness | Climbing ascender |
| Locking/non-locking carabiners | Prusik cord |
| Helmet | Alpine ice axe |
| Point crampons | Figure 8 and Rappel device |
| Trekking poles | Backpack cover |
| Down sleeping bag | Sleeping pads |
| Batteries | Headlamps |
| Water bottles | Camera |
| Thermos | Charger/adapter |
| Water purification tablets | Power banks |
| Travel towel | Safety kit |
| Hand sanitizer | Suns cream and lip balm |
| Altitude sickness medicine | Wash kit |
| Cup, bowl, spoon | Trash bags and tissue papers |
Other requirements
Travel insurance- Trekking to high altitudes can always be risky. Travel Insurance is something you might want to do before trekking anywhere. Sometimes in emergency cases, people need to be evacuated through a helicopter and get medical service. So, in such cases, your travel insurance will be bearing the cost for you.
Seeing all these benefits, the government of Nepal has made travel insurance mandatory thing before trekking. However, it is very important to mention the heights and all the places you will be reaching during your trek. Your insurance entirely depends on the details you have provided earlier. Travel insurance costs you around 150$ which is good for 1 month.
Visas/passports- If you are not a Nepalese or Indian citizen, then a visa and a passport are mandatory. You can get your Nepalese Visa at Tribhuvan airport in Kathmandu. The passport must hold a visa of a minimum of 6 months.
Group Discount Prices
No. of Persons
Price per Person
Frequently Asked Questions
Temperature and weather
In the Langtang valley or lower altitudes, it is relatively warmer. In the spring season (March-May) the average daytime temperature can be around 10-20⁰C. The autumn season has a similar temperature. The winter season is the coldest of all with a temperature of 6-9⁰C. The minimum temperature in the winter season can be around -3⁰C. During the summer season, the temperature rises over 30⁰C in lower altitudes. In higher altitudes, the temperature is always below the freezing point. The spring season still receives snowfall. The winter season is very harsh and extremely cold. Considering all the temperature, weather, and warmth the best or peak season to trek and climb Yala peak is in spring and autumn. The bearable temperature, the clear skies, and atmosphere, stunning views of Rhododendrons and mountains, the best condition of the trails, these all features make these seasons best for climbing.
Food and accommodation
There are enough teahouses available in Langtang valley which provides basic facilities like warm rooms, blankets, and pillows. But they have to be shared with other trekkers as well. Private rooms are available but sometimes only. Also, the washroom and toilets have to be shared. They provide home-cooked meals like Dal, Bhat, vegetables, noodles, pasta, soup, etc. However, these facilities are limited to Kyanjin Gompa. No teahouses are available once you cross Kyanjin Gompa and the only solution is to camp. You have to prepare food by yourself. All the equipment like tents, sleeping bags, mats, cooking gas, utensils are very much important in this trek. If you choose to travel through the agencies they will hire a cook for you and also manage the camping for nights.
Transportation
The gateway of Yala peak is Syabrubesi to which a bus is available from Kathmandu. It might take around 8-9 hours to reach Shyabrubesi from Kathmandu and cost you 1200-1400 NRS. After your arrival at Shyabrubesi, you need to walk further to Yala Base camp.
Guides and porters
When it comes to peak climbing, professional, licensed, well-educated, and experienced guides are everything you need. They lead you, they have great knowledge about directions, people, villages, camping sites, etc. Since you will be carrying all the stuff for camping you will definitely need a porter to help you. Guides usually charge up to 35-40$ per day and porters charge around 25-30$ per day. However, if you choose to travel through agencies they will hire a guide and a porter for you
Permits and fees
Langtang National Park entry permit NON SAARC countries- 3000 (excluding VAT) SAARC countries- 1500 (excluding VAT) TIMS- 1000NRS
Communication and electronics
There are facilities for electricity and telephones in most of the teahouses. Mobile coverage of NTC and NCEll are available. You can be connected with your friends and families. There is also no problem in charging the electronics. However, you need to pay few extra money to the owner to use these facilities. Internet is available in a few places like Shyabrubesi, Dunche, and the Langtang valley itself.