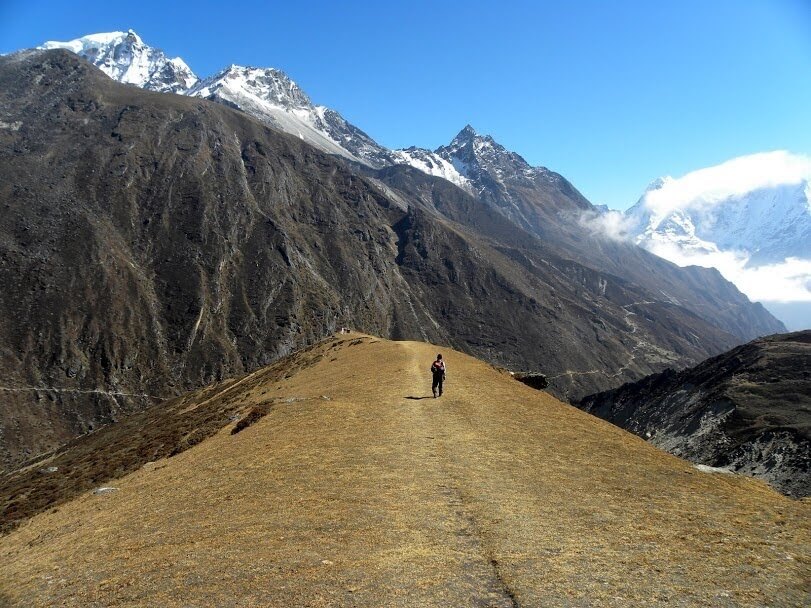 Khumbu Rolwaling trek
Khumbu Rolwaling trek Overview
Rolwaling is the deep Himalayan Valley which lies in northeast of Kathmandu and west of Everest/Khumbu region. Rolwaling valley is all Tucked under the giant snow peak of Gaurishankar (7134m) and considered one of the holy sanctuary by the local Buddhist inhabitants. Rolwaling is named after Mount Rolwaling which beautifully lies between Everest trekking region and Langtang region. The valley itself lies at the altitude of 3690m. Rolwaling Valley is protected by Gaurishankar conservation area. Highlighting the unique and old cultures of Sherpa and Tamang, the route to Rolwaling is also filled with diverse Flora and fauna. This place consist of 16 different vegetation types, 235 different birds and 34 species of mammal. Rolwaling valley is also known by "the grave" since it is very deeply buried between all those mountains. Rolwaling valley is visited by very less people yet the place is very deserving. The valley has this mysterious story of snowman called "yeti". The route from Rolwaling valley to Khumbu region is really tough, climbing across Tashi Lapsta La(5755m) and providing astonishing view of Everest and other mountains in Khumbu region.
Best time to go
The best time to trek Khumbu Rolwaling is autumn. The monsoon is just over and washed skies. This season provides clear atmosphere. The next best time is spring season from March to May which provides green vegetation and trails are filled with blooming Rhododendrons. Winter season and Monsoon season is not ideal to trek this place, there is lot of rainfall and snowfall at this time.
Safety/fitness
Rolwaling Khumbu trek is certainly among the difficult one, however it depends on which route you take and how long it is. You have to walk for 6-7 hours per day. It is mandatory to have high level of fitness so that you can enjoy your journey without any difficulties. You need to practice light exercise, running, jogging and build your muscle strength before your journey starts. The Rolwaling valley lies at high altitude of 3690 which increases the risk of altitude sickness. You have to stay hydrated throughout your journey, eat nutritional food, and check your oxygen level time to time and walk slowly so that you can adjust with increasing heights. If you ever feel any symptoms of altitude sickness like nausea, increased heart rates, breathing difficulties etc. you need to talk to your guide, your friends or anyone near
Other requirements
Insurance policy– high mountains are not the kind of places you want to travel without insurance policy. Travel insurance has become the part of trekking requirements. If you ever have some medical emergencies your travel insurance will have to bear it and that is why you need to mention the details about the places you are going and altitudes you will be reaching.
Valid visas/passports – all foreigners except Indians are required to have valid visa and passports to enter Nepal. The visa application will need the passport having minimum 6 months of validation along with your passport size photo. You will receive your visa upon your arrival at tribhuwan international airport.
Packing List
Clothing and equipment
| | |
| --- | --- |
| Sleeping bag | Summer/winter hats |
| Safety kit | Torchlights |
| Duffel bag | Suns cream and lip balm |
| Backpack | Travel towel |
| Woolen shirts and sweaters | Wash kit |
| Down jacket | Tissue papers and trash bags |
| Fleece jackets | Water bottles and purifier |
| Long sleeves shirt and T shirts | Camera |
| Water proof pants | Charger/adapter |
| Water proof jackets | Money/cash |
| Thermal tops and bottoms | Passport/photocopy of passport |
| Trekking trousers | Few passport size photograph |
| Trekking shorts | Medicines |
| Raincoat | Trekking pole |
| Hiking boots | Scarfs/buff |
| Hiking long and short shocks | Pads/tampons |
| Normal thin shocks | Slippers or normal track shoes |
| Gloves and beanies | Climbing Ropes |
| Underwear | Crampons |
| Sunglasses | |
Group Discount Prices
No. of Persons
Price per Person
Frequently Asked Questions
Temperature and weather
The average temperature of Rolwaling valley in spring season can range from 28- 32 degree Celsius in day time, while the night time temperature can be 15-20 degree Celsius. At high altitudes above 5000m the temperature can be around 15-16 degree Celsius and fall to -5 degree Celsius at night time. In October and November the temperature is usually warmer ranging from 25-26 degree Celsius at day time and around 12-15 degree Celsius at night time.
Foods and accommodation
Accommodation- being one of the remote area of Nepal , Rolwaling valley doesn't have much of the facilities. This trek is more of a camping trek. You need to include tents, sleeping bags, foods and all other stuff in your packing list needed for camping. However if you find any teahouses which Is very rare in Rolwaling valley you will get minimum facilities. There are two beds in one room, shared toilets and shared dining room. Foods- if you are camping you need to prepare all the foods for your journey by yourself. If you belong to any travel agencies they can prepare food like eggs, breads, porridge, and simple rice and vegetables for you. If you are in teahouses or home stay you can get traditional Nepali food dal Bhat and vegetables.
Transportation
Bus- road transport facility is available but not up to Rolwaling valley. You will definitely need to walk to reach your destination. However if you want to start your journey from Pokhara you can take a ride from Kathmandu to Pokhara. Or you can also drive from Kathmandu to Jagat for 7-8 hours. Alternatively, you can also get a direct bus from Kathmandu to Chettchett, Dolakha which takes 8-10 hours. Airplane- the only flight available is from Kathmandu to Lukla and you need to trek further to reach your destination.
Permits/fees
Gaurishankar Conservation Area entry permit (GCAP)- this permit is required to everyone willing to go Rolwaling valley. This permit cost 3000 NRS (30$) TIMs- TIMs card is mandatory to every trekkers. This card includes all the details about the trekkers and can be used in case of emergencies. This cost you 1000 NRS (10$)
Communication and electronics
Being less explored area and remote part facilities like internet is not available in every areas of Rolwaling valley. However in few teahouses you can get internet access and be updated. Electricity is available and you can charge your electronics and phone but always carry extra batteries and power bank with you. For the communication you can use telephones available at teahouses and also you can ask your guide for emergency cases. You will need to pay extra money to the owner for all these facilities.
Guides/porters
Guides and porters are very important part of this trek. Rolwaling is very less explored area and to know the direction and necessary information is quite difficult. Guides can lead you through all of this. They might charge you around 30- 35$ per day. Porters are available to help you carry your belongings however they must not exceed 20 kilos. So you can share one porter for two people. They might charge you around 25-30$ per day.
Booking Details
Price W/O Addons: US$ 94035.38 /pax
A detailed certificate from Marvel Treks and Expedition (after accomplishment)

Trendy Sunhat and t-shirt as souvenirs on behalf of Marvel Treks and Expedition.

A complimentary raincoat to shed you during the rainy season.

A Complimentary Duffel Bag throughout the trek from our company. (returnable)

A warm complimentary Down Jacket during the entire trek on behalf of Marvel Treks. (returnable)

A complimentary sleeping bag for your icy trek. (returnable)

Breakfast, Lunch and Dinner throughout the trek.

The essential climbing gears like mountain axe, trekking sticks etc, for your need throughout the trek. (returnable)

Delightful complimentary Authentic Nepali cuisine as dinner to embark on your arrival and departure

Critical complimentary First Aid Service (in times of need)

An informative trekking map for you to cherish on behalf of our company

All the crucial services about airport transfer to and from the hotel via a private tourist vehicle ($40)

The Garbage Disposal System will be accommodated by our company.($500)

Climbing Permit for Peak Climbing ($250)

TIMS (Trekkers' Information Management Systems )($10)

National park entry fees / ACAP permits / Conservation entry fees. ( $30)

All essential local tax and Gov tax ($130 )

All the required office service charges. ($200)

Essential Medical supplies and first aid equipment will be provided.

Miscellaneous ($20)
Marvel Treks and Expedition won't be responsible for all the Lunch and dinner in Kathmandu.

Extra nights in any city that's not accommodated in the itinerary of Marvel Treks and Expedition.

Summit bonus (250 USD)

All the International flight checks and airfares.

Marvel Treks and Expedition won't be responsible for alcoholic/ non-alcoholic liquors.

Additional porter fees along with tips of guides and porters.

Tips for Climbing Sherpa (200 USD)

Electronic gadgets like chargers, headphones.

Individual costs like a hot shower, phone calls, laundry, souvenirs.

Travel coverage and emergency evacuations.

Tips for our staff's drivers.
Khumbu Rolwaling trek
₹94,035.38,