Gosaikunda trekking via Melamchi
Accommodation
Teahouse/Lodges
Best Season
Autumn, Spring
Gosaikunda trekking via Melamchi Overview
Gosaikunda Lake is a beautiful Lake laying at the height of 4380m. It is a freshwater lake that lies in the Langtang region, Rasuwa district. The origin of Goisaikunda defines the Hindu mythology involving Hindu deities Shiva and Gauri. Therefore legends consider it as the holiest lake in Nepal. The surface area of Gosaikunda Lake is 40 square km, and there are 108 other lakes nearby. It falls under Langtang National Park which was established in 1976 BS in order to protect all the rare animals and plants. The Gosaikunda trekking via Melamchi is one of the most interesting and adventurous treks. This trek takes us through the lush green forest of Langtang National Park, colorful Rhododendrons flowers, and finally to the holy lake along with small beautiful villages of Tamang people in Helambu. Along with amazing beauty, both Melamchi-Helambu and Gosaikunda hold great religious value.
According to Hindu myth, bathing in the holy water of Gosaikunda washes all the sins and blesses with good fortune. Many people visit Gosaikunda on several occasions, especially in Janai Purnima. Once you reach Gosaikunda the trek continues to Helambu by crossing the Lauribina pass. Helambu is a beautiful place where Sherpa and Tamang people are there mostly. From Helambu, you reach the beautiful Melamchi Bazar.
Gosaikunda trekking via Melamchi takes around 16/17 days with proper rest and days off. It might cost you around 300-400$ including the transportation, food, accommodation, and permits.
Highlights of Gosaikunda trekking via Melamchi
Explore the glorious and holy Gosaikunda Lake.
Stunning views of Ganesh Himal, Langtang Himalayas, Manaslu, and Annapurna range.
Tradition and culture of Tamang people.
Walk through the beautiful Rhododendron and oak forest.
Trip Map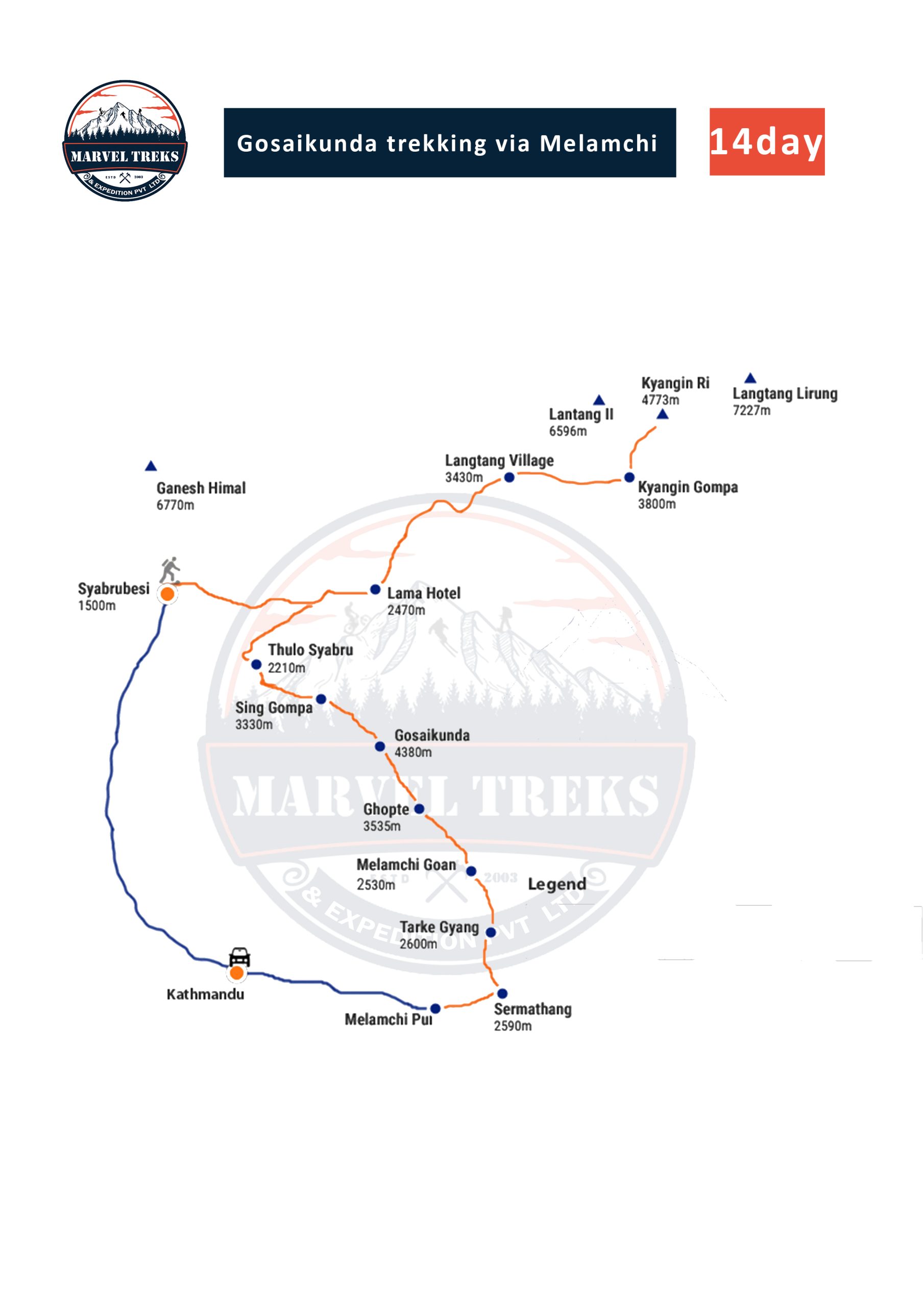 Safety and difficulties of EBC
Gosaikunda via Melamchi trek is relatively an easy and short trek. However, the level of difficulty entirely depends on your physical and mental fitness. But you can build your muscle strength, make your body flexible by practicing some light exercise, running, and jogging. The trek to Gosaikunda is all about walking 5-6 hours per day for at least 15 days. This reason alone is enough to make this trek slightly difficult. The trails somewhere are rugged, steep, maybe snowy in off-seasons. The maximum height in this trek is 4380m, of the Lake itself. There is also a risk of mountain sickness. The primary cause of altitude sickness is a decrease in the amount of oxygen in the atmosphere. It's important to carry handheld oximetry. Oxygen saturation below 75% may be a risk.
Symptoms of Mountain sickness
Headache
Dizziness
Loss of appetite
Shortness of breath
Fast heartbeats
Preventing mountain sickness
Walk slow
Stay hydrated
Have nutritional food
Have enough rest
Avoid smoking and alcohol
Medicines for mountain sickness
Acetazolamide
Ibuprofen, paracetamol (for headache)
Promethazine (for nausea)
Trekking Equipment List
| | |
| --- | --- |
| Woolen t shirts/shirts/thick sweaters. | Backpack/Duffle bag |
| Thermal top/bottoms | Passport |
| Jackets (Fiber or down) | Passport size photographs |
| Raincoat | Permit and travel insurance |
| Pair of sandals | Suns cream and lip balm |
| Underwear | Travel towel |
| Trekking trousers | Wash kit |
| Sleeping trousers | First aid kit |
| Hiking shorts | Power bank |
| Water proof pants | Summer/winter hat |
| Daypack | Buff/bandana |
| Sleeping bag/Sleeping bag liner | Water bottles and water purifier |
| Hiking boots | Trekking poles |
| Hiking shocks | Charger/adapter |
| Camp shoes | Money/cash |
| Gloves and beanies | Camera |
| Snow glasses and sunglasses | trekking map |
| Down jacket/Gore-Tex | Toiletries |
| Neck gaiter | Water purification |
| Sun hat/woolen hat | Water bottles |
Other requirements
Travel insurance– trekking to high altitudes can always be risky. Travel Insurance is something you might want to do before trekking anywhere. Sometimes in emergency cases, people need to be evacuated through a helicopter and get medical service. So, in such cases, your travel insurance will be bearing the cost for you. Seeing all these benefits,
The government of Nepal has made travel insurance mandatory thing before trekking. However, it is very important to mention the heights and all the places you will be reaching during your trek. Your insurance entirely depends on the details you have provided earlier. Travel insurance costs you around 150$ which is good for 1 month.
Visas/passports– if you are not a Nepalese or Indian citizen, then a visa and a passport are mandatory. You can get your Nepalese Visa at Tribhuvan airport in Kathmandu. The passport must hold a visa of a minimum of 6 months.
Dates of Trip
14
October 2, 2023 - October 16, 2023
Group Discount Prices
No. of Persons
Price per Person
Frequently Asked Questions
Temperature and weather-
The temperature in the spring season (March-May) ranges from 18-30 and can fall around 18-6⁰C during the nighttime. During the summer/monsoon season (June-August) on a non-rainy day, the temperature can range from 22-30⁰C while it can still fall to 17-21⁰C. The temperature during the autumn season (September-November) can range from 20-28⁰C while it can fall to 6-10. Winter is the coldest of all with a temperature of 18-22 during the daytime and falls around 2 to -6⁰C during nighttime. Autumn (September-November) and spring (March-May) season mark the best season for you to trek Gosaikunda Lake. With all the blossoms and greenery you will definitely enjoy your journey. There is stable weather and moderate temperature and the trails are in their best condition. However, you can find some mosquitoes and leeches in this season. The monsoon season receives a lot of rainfall hence the trails are very slippery and muddy. The winter season can be extremely cold and the lake is frozen.
Food and accommodation
Gosaikunda is a very popular destination in Nepal and it has been successful to attract many national and international tourists. Therefore, the place has enough teahouses for you to stay. Even though they might not be very fancy, they certainly meet your basic necessities. They have a single room with twin sharing beds, common bathrooms, toilets, and a common dining hall. Generally the accommodation cost 12-15$ (1200-1500 NRS. Per night. There are enough home-cooked meals available. Dal, bhat, vegetables, fried rice, noodles, eggs, bread, tea, coffee, soft drinks are available in the teahouses. The price of food at a lower altitude will cost you 2-3$(200-300 NRS) but as you go up the price of food might increase and cost you 5-6$. (500-600 NRS). The water bottles may cost 1-3$ (100-300 NRS). It's better to carry some snacks, fruits and water bottles with you to save some money.
Electronics and communication
the main source of electricity in Gosaikunda is the Trishuli River. There is no big problem with electricity or charging your electronics. Telephones, as well as full mobile coverage, are available in both Helambu and Gosaikunda area.
Transportation
The gateway for this trek is Shyabrubesi. There is a direct bus available from Kathmandu to Shyabrubesi which takes around 8 hours. From Shyabrubesi you need to trek to Langtang valley and further to reach Gosaikunda Lake.
Permits and fees
Langtang National Park SAARC countries- 3000 NRS (30$), excluding VAT NON-SAARC countries- 1500 NRS (15$), excluding VAT TIMS- 1000 NRS (10$)
Guides and porters
Gosaikunda via Melamchi is not really far from Kathmandu. You can meet enough people on your way who can help you with directions, teahouses, or villages. However, you can hire a guide if you want your journey to be more interesting and informative. They usually charge 35-40$ per day. You will find friendly porters to carry your belongings to your destination and back. You need to pay around 15-20$ per day (1500-2000).
Booking Details
Price W/O Addons: US$ 410 per person
A detailed certificate from Marvel Treks and Expedition (after accomplishment)

Trendy Sunhat and t-shirt as souvenirs on behalf of Marvel Treks and Expedition.

A complimentary raincoat to shed you during the rainy season.

A Complimentary Duffel Bag throughout the trek from our company. (returnable)

A warm complimentary Down Jacket during the entire trek on behalf of Marvel Treks. (returnable)

A complimentary sleeping bag for your icy trek. (returnable)

Breakfast, Lunch and Dinner throughout the trek.

The essential climbing gears like mountain axe, trekking sticks etc, for your need throughout the trek. (returnable)

Delightful complimentary Authentic Nepali cuisine as dinner to embark on your arrival and departure

Critical complimentary First Aid Service (in times of need)

An informative trekking map for you to cherish on behalf of our company

All the crucial services about airport transfer to and from the hotel via a private tourist vehicle ($40)

TIMS (Trekkers' Information Management Systems )($10)

National park entry fees / ACAP permits / Conservation entry fees. ( $30)

All essential local tax and Gov tax ($130 )

All the required office service charges. ($200)

Essential Medical supplies and first aid equipment will be provided.

Porter Guide ($325)
Marvel Treks and Expedition won't be responsible for all the Lunch and dinner in Kathmandu.

Extra nights in any city that's not accommodated in the itinerary of Marvel Treks and Expedition.

All the International flight checks and airfares.

Marvel Treks and Expedition won't be responsible for alcoholic/ non-alcoholic liquors.

Additional porter fees along with tips of guides and porters.

Electronic gadgets like chargers, headphones.

Individual costs like a hot shower, phone calls, laundry, souvenirs.

Travel coverage and emergency evacuations.

Tips for our staff's drivers.
Gosaikunda trekking via Melamchi
$410.00,