Annapurna circuit trek with Tilicho Lake
Annapurna circuit trek with Tilicho Lake Overview
Annapurna circuit with Tilicho Lake is a beautiful and most explored destination of Nepal. This trek takes us through one of the highest Lakes along with the highest mountain pass. Tilicho Lake is the world's highest lake which lies at an altitude of 4919m and is formed by the glacial melt of the Northern slope of Annapurna Mountain and Thorung peak. Similarly, Thorang La pass is the highest altitude of this trek situated at 5416m. The trail passes through deep gorges, high mountain passes like Thorang La pass, Buddhist and Hindu temples, Rhododendron forests, and beautiful villages. Annapurna circuit itself offers a panoramic view of Mount Annapurna, Dhaulagiri, Macchapuchre, Manaslu, and Tukuche. Being highly protected by Annapurna Conservation Area, you get to witness some rare animals like snow leopard, Jackal, Himalayan Tahr, blue sheep, birds, etc along with many flora. This trek starts with a scenic drive from Kathmandu to Besishahar and all the way through Manag valley, you reach the beautiful Tilicho Lake. Again, passing through Yak Kharka, and Thorang phedi you reach the Thorang La pass. Crossing Thorang La pass is the difficult part of this trek.
This is the standard route of the Annapurna circuit trek with Tilicho Lake and might take 18-20 days if you take proper rest and days off. This trek might cost you around 1000$ including your Flight tickets, food, and accommodation, mode of transportation, permits, insurance, and the number of days.
Highlights of Annapurna circuit trek with Tilicho Lake
Cross one of the highest passes, Thorang La pass.
Explore the world's highest lake, Tilicho Lake
Experience the local culture and lifestyle of Tibetan people.
Explore several monasteries, Gompa, and Temples.
Amazing view of mountains like Annapurna, Dhaulagiri, Tukuche peak, and Manaslu
Diverse flora and fauna of Annapurna Conservation Area.
Trip Map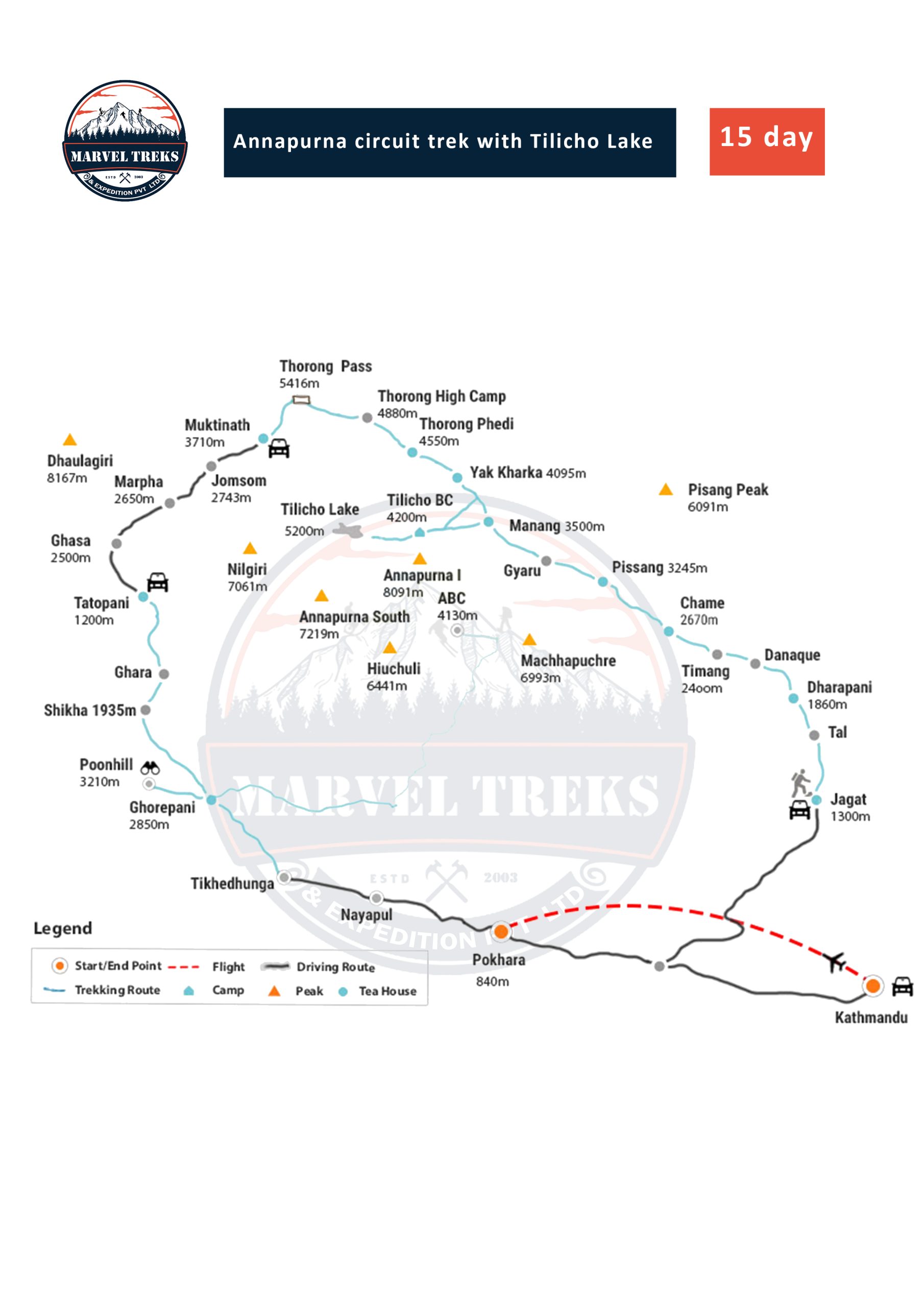 Difficulties and safety 
Annapurna circuit with Tilicho Lake is a slightly challenging trek. This is a moderately difficult trek. However, the level of difficulty entirely depends on your physical and mental fitness. But you can build your muscle strength, make your body flexible by practicing some light exercise, running, and jogging. The trek to the Annapurna Circuit with Tilicho Lake is all about walking 5-6 hours per day for at least 17 days. This reason solely is enough to make this trek challenging. The trails are rugged, steep, maybe snowy in off-seasons. The maximum height in this trek is Thorang La pass, 5416m with other high passes on the way. Crossing Thorang La pass is the most difficult part of this trek. There is a high risk of mountain sickness. You need proper acclimatization and itinerary for this trek.
Symptoms of Mountain sickness
Headache
Dizziness
Loss of appetite
Shortness of breath
Fast heartbeats
Preventing mountain sickness
Walk slow
Stay hydrated
Have nutritional food
Have enough rest
Avoid smoking and alcohol
Medicines for mountain sickness
Acetazolamide
Ibuprofen, paracetamol (for headache)
Promethazine (for nausea)
Other requirements
Travel insurance
Trekking to high altitudes can always be risky. Travel Insurance is something you might want to do before trekking anywhere. Sometimes in emergency cases, people need to be evacuated through a helicopter and get medical service. So, in such cases, your travel insurance will be bearing the cost for you.
Seeing all these benefits, the government of Nepal has made travel insurance mandatory thing before trekking. However, it is very important to mention the heights and all the places you will be reaching during your trek. Your insurance entirely depends on the details you have provided earlier. Travel insurance costs you around 150$ which is good for 1 month.
Visas/passports
If you are not a Nepalese or Indian citizen, then a visa and a passport are mandatory. You can get your Nepalese Visa at Tribhuvan airport in Kathmandu. The passport must hold a visa of a minimum of 6 months.
Packing List
Clothing and equipment
Trekking trousers
Money/cash
Trekking shocks
Torch lights
Trekking boots
Medicines
Water proof pants
Sunglasses
Water proof jackets
Beanies and gloves
Warm shirts and t shirts
Medicines
Thermal tops and bottoms
Toiletries
Underwear
Wash kit
Fleece jacket
Safety kit
Down jacket
Hand sanitizers
Trekking pole
Water bottles and water purifier
Raincoats
Trashbag and tissue papers
Sleeping bags
Charger/adapters
Duffel bags
Power banks
Backpack
Camera
Group Discount Prices
No. of Persons
Price per Person
Frequently Asked Questions
Temperature and weather
During the autumn season (September-November), the average daytime temperature is around 15⁰C while it can fall to 7-8⁰C at night. Spring season (March–May) has anaverage temperature of 20⁰C during the daytime but nights can be cooler. During the summer/monsoon (June- August) the average temperature in this region is 15-25⁰C making the days warmer. The winter season is certainly the coldest month and temperature in lower altitudes in the Annapurna circuit remains around 5-10⁰C. The average temperature in higher altitudes might get as low as -20⁰C                        The temperature in Tilicho Lake is quite moderately cold. In summer the night temperature on upper altitudes ranges from 0-5⁰C and in winter it can be around -5 to -20⁰C. There is warmer in lower altitudes. The temperature ranges from 25-10⁰C in summer whereas it can be around 5 to -5⁰C in winter. 
Food and accommodation
This trek is a complete teahouse trek. No camping is necessary unless you want to experience it. Enough teahouses are available throughout the way to the Tilicho Lake and Thorang La pass. In fact, you can also find a teahouse very near to the lake area itself. The teahouses are very basic with a single room but twin sharing beds. The toilets and bathroom have to be shared. They have facilities of electricity, telephones, or internet in teahouses. You might have to pay extra for those facilities.                                            Traditional food Dal, Bhat, and vegetables are available in every teahouse. Besides this, in the Annapurna circuit, you will also get Garlic soup which is said to be very healthy for altitude sickness, spaghetti, fried potatoes, soft drinks, and Annapurna's famous apple pie. It is a dessert made of the apple due to apple orchards growing in many villages 
Transportation
The gateway of this trek is Besishahar, to which a bus is available from Kathmandu. It takes around 7 hours to reach Besishahar. From there, you need to change a bus to Jagat and hike to Dharapani, Chame, and further. 
Electronics and communication
There is a very good facility for electricity, and phone coverages along with the internet. There is no problem with charging your phones or other electronics. You can also talk to your family and friends. Even though not very speed, the internet certainly helps you to be connected and updated. Both the Tilicho Lake area and Thorang La have all kinds of facilities. 
Permits and fees
Annapurna Conservation Area  NON-SAARC countries- 3000 NRS (30$), excluding VAT.  SAARC countries- 1500 NRS (15$), excluding VAT   TIMS-2000 NRS (10$) You can get these permits in advance from the Nepal Tourism Board in Kathmandu or Pokhara. 
Guides and porters
Being a very popular destination you can meet many people on the way who can help you with the journey. You don't really need a guide unless you start traveling offbeat and chose alternative ways. However, if you have any medical conditions and feel like you need someone to talk to, you can always hire a guide. Guides usually charge 12-15 $ per day. Porters are more than happy to serve you by carrying all your belongings. They may charge you 10-12 $ per day. If you don't have many belongings you will not need a porter or you can share your porter with someone. 
Booking Details
Price W/O Addons: US$ 450 per person
A detailed certificate from Marvel Treks and Expedition (after accomplishment)

Trendy Sunhat and t-shirt as souvenirs on behalf of Marvel Treks and Expedition.

A complimentary raincoat to shed you during the rainy season.

A Complimentary Duffel Bag throughout the trek from our company. (returnable)

A warm complimentary Down Jacket during the entire trek on behalf of Marvel Treks. (returnable)

A complimentary sleeping bag for your icy trek. (returnable)

The essential climbing gears like mountain axe, trekking sticks etc, for your need throughout the trek. (returnable)

Delightful complimentary Authentic Nepali cuisine as dinner to embark on your arrival and departure

Critical complimentary First Aid Service (in times of need)

An informative trekking map for you to cherish on behalf of our company

All the crucial services about airport transfer to and from the hotel via a private tourist vehicle ($40)

TIMS (Trekkers' Information Management Systems )($10)

National park entry fees / ACAP permits / Conservation entry fees. ( $30)

All essential local tax and Gov tax ($130 )

All the required office service charges. ($200)

Miscellaneous ($40)
Porter Guide ($375)
Marvel Treks and Expedition won't be responsible for all the Lunch and dinner in Kathmandu.

Extra nights in any city that's not accommodated in the itinerary of Marvel Treks and Expedition.

All the International flight checks and airfares.

Marvel Treks and Expedition won't be responsible for alcoholic/ non-alcoholic liquors.

Additional porter fees along with tips of guides and porters.

Electronic gadgets like chargers, headphones.

Individual costs like a hot shower, phone calls, laundry, souvenirs.

Travel coverage and emergency evacuations.

Tips for our staff's drivers.
Annapurna circuit trek with Tilicho Lake
$450.00,