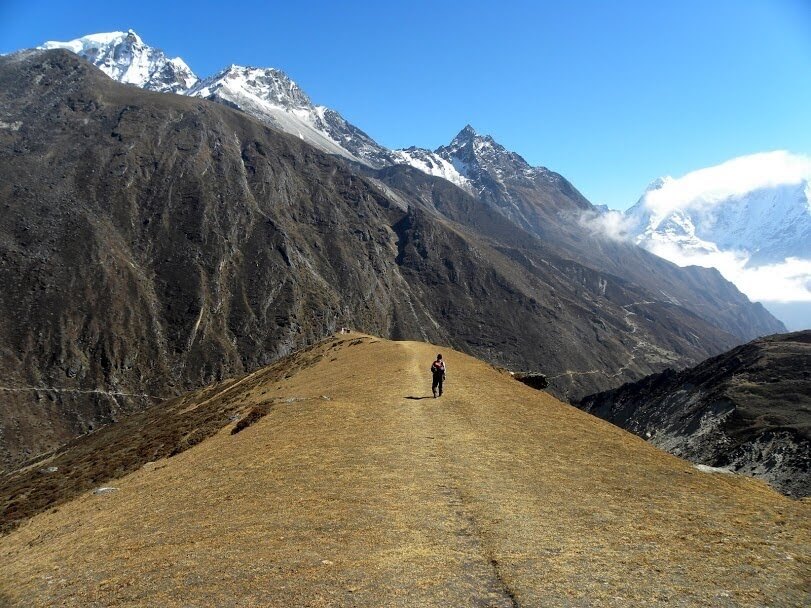 Upper Mustang Trek
Accommodation
Teahouse/Lodge
Best Season
Autumn, Spring
Upper Mustang Trek Overview
"The HIDDEN KINGDOM" which is commonly known as upper mustang is certainly an upper part of mustang compromising the northern two-thirds of the Mustang district of Gandaki Province. Thak is the name of the southern third (lower mustang) of the district. It is a homeland of the Thakali language combining Nepali and Tibetan cultures. Mustang has been publicly open to foreign visitors since 1992. However, there is still high restriction to the upper mustang and requires a separate permit to enter. Geographically being a part of the Tibetan Plateau, the Upper Mustang Trek is quite similar to trekking in Tibet.
Upper Mustang Trek is a real privilege. If you want to experience the lifestyle of true mountain people, who for hundreds of years had very little contact with the outside world, yes this place is for you.
Marvel Trek is a licensed expedition company. It has been providing best facilities and services to its climbers since 1998 along with some great experiences. We not only keep your safety as the priority. But also guide you to fulfill your wish of experiencing the thrill of climbing a mountain. The entire team of Marvel Trek is full of professionals who will be there to support and guide you throughout your mountaineering adventures.
Safety/security
The average upper mustang trek takes 17/18 days in which your walking hours will be 6-7. Walking for such long hours can be quite challenging, especially for beginners. It is always better to prepare yourself by doing some running, jogging, and light exercises. As for the level of altitude sickness, it depends on the maximum height you will be reaching. There are a few places you want to go like Marang La at 4230m, chooser at 3900m, or Lo Manthang at 3810m. However, they all are quite high so it's likely to have altitude sickness. You need to take some precautions like being hydrated throughout the whole journey, avoiding alcoholic beverages for a few days, and walking slowly so that you can adjust to the height.
Symptoms of Mountain sickness
Headache
Dizziness
Loss of appetite
Shortness of breath
Fast heartbeats
Preventing mountain sickness
Walk slow
Stay hydrated
Have nutritional food
Have enough rest
Avoid smoking and alcohol
Medicines for mountain sickness
Acetazolamide
Ibuprofen, paracetamol (for headache)
Promethazine (for nausea)
Packing List
Clothing and equipment
| | |
| --- | --- |
| Travel wallet | Climbing shocks |
| Backpack | Thermals tops/bottoms |
| Duffel bag | Synthetic underwear |
| Trekking boots | Synthetic climbing/trekking pants |
| Trekking shocks | Insulated pants |
| Light weight sneakers | Shell pants(water proof) |
| Medium weight Gaiters(water proof) | Medium weight long john tops |
| Foot powder | Synthetic pile jacket |
| Down booties | Down jacket |
| Double insulated climbing boots | Shell jacket (light weight waterproof) |
| Heavy gaiters | Down parka |
| Buff neck gaiters | Face mask |
| Fleece gloves | Winter/summer hat |
| Climbing gloves | Glacier glasses |
| Chemical hand warmers and foot warmers | Dark goggles |
| Climbing pack | Double lenth and single length sling |
| Lightweight harness | Climbing ascender |
| Locking/non-locking carabiners | Prusik cord |
| Helmet | Alpine ice axe |
| Point crampons | Figure 8 and Rappel device |
| Trekking poles | Backpack cover |
| Down sleeping bag | Sleeping pads |
| Batteries | Headlamps |
| Water bottles | Camera |
| Thermos | Charger/adapter |
| Water purification tablets | Power banks |
| Travel towel | Safety kit |
| Hand sanitizer | Suns cream and lip balm |
| Altitude sickness medicine | Wash kit |
| Cup, bowl, spoon | Trash bags and tissue papers |
Other requirements
Travel insurance- Trekking to high altitudes can always be risky. Travel Insurance is something you might want to do before trekking anywhere. Sometimes in emergency cases, people need to be evacuated through a helicopter and get medical service. So, in such cases, your travel insurance will be bearing the cost for you.
Seeing all these benefits, the government of Nepal has made travel insurance mandatory thing before trekking. However, it is very important to mention the heights and all the places you will be reaching during your trek. Your insurance entirely depends on the details you have provided earlier. Travel insurance costs you around 150$ which is good for 1 month.
Visas/passports- If you are not a Nepalese or Indian citizen, then a visa and a passport are mandatory. You can get your Nepalese Visa at Tribhuvan airport in Kathmandu. The passport must hold a visa of a minimum of 6 months.
Group Discount Prices
No. of Persons
Price per Person
Frequently Asked Questions
Temperature and weather
The temperature in the Upper mustang is quite fair and bearable. From March- June the temperature of the upper mustang reaches to16-22 degrees Celsius at day time while it can be around-2to-6degree Celsius at night time. From July to September the average temperature here is around 20-33 degrees Celsius at day time and 0 to -3 degrees Celsius at night time. From October to November, the temperature is around 12-20 degrees Celsius but can fall to-4to -8 degrees Celsius at night.
Best season to visit
Generally, the best time to travel upper mustang is March to early November. Since the temperature is quite bearable you will not have many difficulties traveling. Lying in the rainshadow of the Himalayas makes it great Monsoon trek winter treks are mostly avoided because of their harsh weather. People usually leave the capital to avoid extreme cold and snow.
Accommodation and food
Here, you can get small teahouses throughout the way. Even if they are really small they meet your basic necessities. These teahouses are run by local people of the mustang. A room with two single beds is available. Clean blankets, pillows, and bedsheets are provided. A teahouse costs you around 5-15$ per night. Foods- being a very popular tourist destination upper mustang or mustang has been able to serve very well and variety of food to their guest. You will have more than enough options for food. Pizzas, pasta, sandwich, noodles, bread, eggs, traditional food and Tibetan foods, potatoes item, soups, drinks, etc. everything are provided on this route. The food price can be around 3-6% per meal.
Transportation
Bus- Bus is always the cheaper yet very entertaining means to travel. Here, you can drive from Kathmandu to Pokhara which will take around 4-5 hours and may cost you 400-600NRS(4-5$).From Pokhara, you can take a ride to Beni which will takearound2 hours. From Beni, you can take a bus to Jomsom which will take around 5-7 hours. Besides this, there is also a direct bus from Kathmandu to Muktinath which will cost you around 3500-4000 NRS (35-40$) for two-way. You can take a jeep ride from Jomsom to Lo Manthang which takes 3 days. Airplane- First after landing in Kathmandu you can take another flight to Pokhara. From Pokhara, it is again an easy flight to Jomsom which will only take 30 minutes. From Jomsom, you can trek or take a jeep ride.
Communication and electronic
Mobile coverage or cellular reception is available all along the way up to upper mustang so you can talk to anyone at any time. Internet facility is available up to Kagbeni and Lo Manthang so you can be always updated about the places and directions. Places like Samar, Ghimi, and Ghiling have electricity but not so reliable, still, you will get enough chance to charge your electronics. However, you need to carry extra batteries and chargers/adapters for your easiness.
Permits/fee
Trek to upper mustang can be quite expensive. All the trekkers heading towards the upper mustang are strictly required to purchase a permit which cost 500$ (50,000 NRS) and is valid for only 10 days. if you are staying more than 10 days you need to add 50$ per day. Another permit you will require is the Annapurna Conservation Area permit which will cost you 20$ (2000NRS)per person. Note- You must always be careful with your permit, this permit is asked during your both way in and way out of upper mustang.
Guides/porters
Guides are mandatory in this kind of restricted area. Independent guides are not recommended for this trek since they cannot issue permits directly. It is required to have a reputed travel company issue the permit. If you hire a guide from Kathmandu or Pokhara it will cost you 35$ per day. They know the directions, places, and villages and have good knowledge about food and accommodation. Local porters if hired from Jomsom may charge you around 30$ per day but if you hire your porter from Kathmandu or Pokhara it might cost you 25$ per day.
Booking Details
Price W/O Addons: US$ /pax
private transfers for your international flight x 2 (arrival/ departure)
private transfers for your domestic flights x 2
Sagarmatha National Park Entry Park and Local Entry Permits
Guide for 12 days
Porter for 11 days
3 nights accommodation in a Kathmandu
11 nights accommodation in mountain teahouses
Staff insurance and necessary ground transport for support staff
Lodge accommodation in trekking twin sharing
Hotel in Kathmandu with breakfast twin sharing
Welcome and farewell dinner
3 meals in trekking (B, L & D) with a cup of tea/coffee
Guide, porters (Luggage mix. 13 kg per person 1 porter share by 2 people)
Sleeping bag, and luggage bag (Return after the trip)
Company T-shirts on the arrival day
Certificate after trip complete & shawl or Nepali cap as a memory
All local permit, tax, and VAT
Staff meals, lodge, equipment, insurance, Salary, etc.
First aid service
Upper Mustang Trek