nar-phu-valley-trek
nar-phu-valley-trek Overview
Nar Phu Valley trek is the remote area trekking in Manang district of Nepal and is accessed only with the special permit in this area. Nar Phu valley mainly consists of two remote areas near which consist of more than 300 permanent residents called near-ten and Phu which consist of more than 200 called Phu. This remote village is situated above the alpine forest with snow in winter seasons. These villages are settled by Tibetan and are migrating from south of Tibetan. Lots of lamas called monk are living in mountain region they eat barley, potato, and another vegetable. They have lots of sheep's and yak in remote areas.
Nar Phu valley trek is one of the normally lovely towns which one will be one of the tourists spots since it is concealed town and here's way of life are adequately regular just as normally likewise different to see the same number of sort of wild and residential creatures, such a large number of wonderful white mountains, waterway, lakes, snow panther, deer, mountain goats, blue sheep's monkey and so on we could see remarkable mountain sees as Annapurna Himalayan wraths, Tilicho Peak, Manaslu extend and Pisang Peak. Most Yaks and Sheep are their local creatures. Normally exceptional scenes where guest can say the bit of heaven.
Highlights of nar-phu-valley-trek
Explore restricted Annapurna's eco-tourism destination,
Dramatic view of snowcapped Annapurna massif,
Ancient monasteries, Tibetan platinum, Nar and Phu villages
Kang La Pass, Alpine forests, chortens, Monasteries
Tibetan Platinum
Detailed Itinerary
Day 01: Arrival at Tribhuvan International Airport, Kathmandu
When you will land in Tribhuvan International Airport Kathmandu, you should check your handbag and go to the immigration office to make visa for your trip. Now you can get your suitcase and duffle bag, where outside our represented member shows you the board of our Company and your Name, transfer to the hotel. Our director meets you in the hotel and discusses your whole trip. In the evening you will participate to experience typical Nepali food with cultural dance show.
Day 02: Kathmandu Cultural Tour & Permit Arrangement
Kathmandu is the historical and cultural heart of Nepal and has been a popular destination for tourists ever since Nepal opened its doors to visitors. The city presents a wonderful mix of Hinduism, Tibetan Buddhism and Western influence in the Valley. Patan and Bhaktapur, its two major neighboring cities bear immense historical, cultural and religious significance. There will be a full day guided tour to the famous and biggest Hindu shrine of Pashupatinath, the largest Buddhist stupa in Nepal Bouddhanath, Old Kathmanu city as well as Swyambhunath.
Day 03: Kathmandu - Chamje (1100m 8 hrs drive)
With high level of physical fitness, adequate acclimatization and good logistic support, we begin our Annapurna trekking. Driving along the Kathmandu-Pokhara Highway to Dumre and then following the rough route by the Marsyangdi River, we pass through the low-lying villages and rice fields. After 8 hours long drive, we finally reach Chamje village. As we walk northwards up the Marsyangdi Valley, we get to see the magnificent Annapurna mountain ranges.
Day 04: Chamje- Dharapani (1960m 7 hrs walk)
Your trekking trail begins through a suspension bridge and follows offering breathtaking view of Himalayas. The trail from chamje descends until it reaches the river and then continues through a lush forest. Further ascent leads to sharp-edged cliff facing the riverbank. After crossing a suspension bridge, we climb steeply towards the slippery and physically challenging path to Tal. On treading along a succession of rock-strewn trails, we descend to a grassy riverbank that leads to Tal. As we walk away from Tal, the path becomes rugged and winding. Then we approach steep forested village of Karte. Meandering along the waterfalls and cliffs, we finally reach Dharapani after crossing a suspension bridge again.
Day 05: Dharapani to Koto (2600m, 5 hrs walk)
We skirt through a narrow field from the village. The DudhKhola, which originates from the south face of Manaslu and then Marshyangdi veers to the left. Sinuous trails of the. Annapurna II becomes visible as we arrive at Bagarchhap, a Bhotia village with colorful prayer flags fluttering in the breeze. As we continue ascending through forests of pine and oak, we pass through Dhanakyu before coming to a thundering waterfall. Further on, the Marshyangdiriver enters a gorge and the trails follows rock-strewn path.
We can pause for a while and take in the splendor of the picturesque Manaslu. When the steep incline ends, we follow a path amid magnificent rhododendrons and continue on a gently rising path. We cross a stream before entering a pine forest. We then enter the pristine hamlet of Kotho from where we leave path of Annapurna circuit and go to Nar Phu village. Today, we sleep in tea house of Koto.
Day 06: Koto to Meta (3250m, 7-8 hrs walk)
Early morning, after breakfast, your special permit is checked by Annapurna Conservation Area Project. Then, we will cross a loose hillside to the hamlet of Koto (2600m) from where we can look straight up at the magnificent Annapurna II. This is also where we leave the Annapurna Circuit; we cross the Marshyangdi River and enter the Nar Phu valley. From the bank of Nar Phu Khola we start climbing to our first camping site, which we reach about two hours from Koto.
The beginning part of Nar Phu valley trail occupies forest camp which is quite a change from the bigger trail around Annapurna. Today we walk both forest land as well as rock land to Meta. The rock carved path now becomes very exciting, both because of danger, but also because there are some big waterfalls. We climb to a two storied hut at Sinhenge Dharamsala, where we set camp for the night. There are not any tea houses from Koto to Meta so; your lunch will be pack. It is quite long day today.
Meta village is an ancient Chorten and marvellous views of Kang Guru. Further on we pass the abandoned Methang village (3560m), from the village there is a path to Kang Guru BC. The path to the next village Junan is easy and flat, Junan is also abandoned.
Day 07: Meta to Phu Village (4050m, 7-8 hrs walk)
This day begins with a hard steep ascent to the abandoned Kyang village Vhaku, where there is a nice long mani wall. We continue on an amazing tunnel carved rocky path 70 meters above the river and then decent to the riverbed, we follow the riverbed and pass some Mani Chrotens. We then climb up from the riverbed to the Phu valley entrance door (Phuohi Yalgoe). About an hour from the valley entrance we cross the Phu Khola and begin climbing up to the village. Phu village consists of about 30 houses, which are home to 100-150 people. The tea houses are very small and few. So, you should adjust with food and accommodation here.
Day 08: Excursion around Phu Village and Monastery
We rest here for a day, have a look at the village and might go exploring a little further up in the valley. Today, your guide takes you to visit Old Buddhist Monsatery where female monks pray together and read holy books.
Day 09: Phu Village to Mahendra Pul/Nar Phedi (3690m 5 hrs walk)
To get to Naar we have to go back down the valley, we pass Chaku and walk on for a couple of hours before we cross the Phu Khola at Naar Phedi (two bridges to Naar). From here we climb up to a very nice grassy campsite. Here, you live in monastery.
Day 10: Mahendra Pul to Nar Village (4200m 4 hrs walk)
Today, we ascend all the way to Nar village. Nar is very beautiful and typical Gurung village. You will experience the realistic existence of mountain life in Nar village.
Day11: Excursion around Nar Village
Today is rest day for acclimatization or you can walk around Nar village.
Day 12: Nar village to Kang La phedi (4540m 4 hrs walk)
Today you could not find tea house/lodge in kang la phedi. So, we will live here in camping tent. Today you have to adjust with food and accommodation. From Nar village we continue gentle ascent through the lateral moraine of Temdenzon Khola, on a nice path. At the bottom of Kang La, we camp on a nice grassy spot. Only today we camp the tent.
Day 13: Kang La Phedi to Kang La Pass (5280) to Nawal (3660m, 8-9hrs walk)
Today we have a long and hard day ahead of us, however it is very rewarding. We have to cross the big Kang La pass (5280m). It is a very steep ascent to the top of the pass where there is a chorten and some great views of the Annapurna massif. Just before reaching the pass, there is a small lake where we take a rest before making the last effort to reach the top. From the top of the pass it is a very steep decent, but after an hour we take a grassy path that leads to Nawal. There are restaurants and lodges in Nawal. During the period of descending Kang La Top, we can see Humde airport and panoramic view of Annapurna range.
Day 14: Nawal to Manang (3550m, 4 hrs walk)
From Nawal descend all the way to down to Munji and straight walk to Manang. Cultivated fields appear on both sides of the path and off to the right, below a craggy mountain, we can see the village of Braga with its splendid monastery. Large chortens and mani walls abound and the tall peaks of the Himalaya spread out before us – Annapurna II, Annapurna III, Annapurna IV, Gangapurna 7455m, and, to the rear, Tilicho Peak.7134m. After a short steep climb we reach Manang, which is a surprisingly large village for this remote mountain region. We sleep in lodge in Manang which is best than Nar/Phu lodge.
Day 15: Rest day in Manang (3550m)
After reaching Manang, we take a day off for complete rest and adequate acclimatization before crossing the Thorung La. We can spend this day strolling down the river to see the tremendous ice-fall cascading down from the glaciated mountain peaks or by simply take in the panoramic beauty of the Annapurna mountain range and the Manang Valley. A short visit to Himalayan Rescue Association [HRA] aid post makes for an interesting visit.
Day 16: Manang to Yak Kharka (4110m 5 hrs walk)
From Manang, we climb to the next village of Tengi. We are surrounded by magnificent peaks of the Annapurna Himal, Peak 29 and Himalchuli. The vegetation consists of alpine grasses and scrub juniper. Climbing the path past the summer village of Gunsang, we cross the Gundon Khola via a wooden bridge. From here we can see ahead the mountains surrounding the Thorung La which we will cross tomorrow. The trail is up and down as the elevation gradually increases and we soon enter an alluvial delta where there are yak pastures. Today, we sleep in Yak Kharka.
Day 17: Yak kharka to Phedi (4450m 4 hrs walk)
Leaving Yak Kharka, we climb gradually to a ridge before descending to the headwaters of the Marshyangdi and crossing via a covered wooden bridge. After a short ascent up the mountain path on the right bank, we follow a narrow trail across an unstable steep slope and then descend to Thorong Phedi.
Day 18: Phedi to Thorong-La Cross (5416M)-Muktinath (3850m 9 hrs walk)
We have an early start today for the crossing of Thorung La [5416m]. The trail becomes steep immediately on leaving camp, but as local people have used this trail for hundreds of years, the path is well defined. The gradient then eases and after around 4 hours of steady climbing, we reach the chorten and prayer flags of the pass. From the snow-covered mountains above, to the head of the Kali Gandaki valley below and the brown and purple hills of Mustang, which spread out before us, we are presented with a dramatic tableau. The descent to Muktinath is a 1600m trek. But the excellent views of Dhaulagiri, more than makes up for the tiring journey. Eventually the moraines give way to grassy slopes before a pleasant walk along the JhongKhola Valley to Muktinath, with its shrines and temple.
Day 19: Muktinath to Jomsom 3800m 9 hrs walk
We now begin the descent down the dramatic Kali Gandaki Gorge. After passing through Jharkot and Khingar, villages with typical Tibetan architecture, we follow the valley floor most of the way to Jomsom. Jomsom is sprawled along both banks of the Kali Gandaki and from here we get fine views of the Nilgiri peaks. This is the last day of your trek where you will do relax having last night party with your guide and porters.
Day 20: Jomsom to Pokhara
Early morning you will fly from Jomsom to Pokhara. You will fly in Twin Otter plane where 2o people can sit, takes 2o minute to reach Pokhara.
Day 21: Pokhara to Kathmandu
You will drive 6 hrs from Pokhara to Kathmandu by private car/Hiace/Bus or Tourist bus according to group and group size.
Day 22: Free day /shopping day in Kathmandu
On touchdown, the rest of your day is free to do your own things. You could do some shopping and packing, or send a few post cards home or even go down for a stroll to Thamel, an internationally known hub for tourists in Asia.
Day 23: Departure to respective destination
Our represented member from Marvel Treks and Expedition helps you for your departure to respective destination at Tribhuvan International Airport Kathmandu Nepal.
Trip Map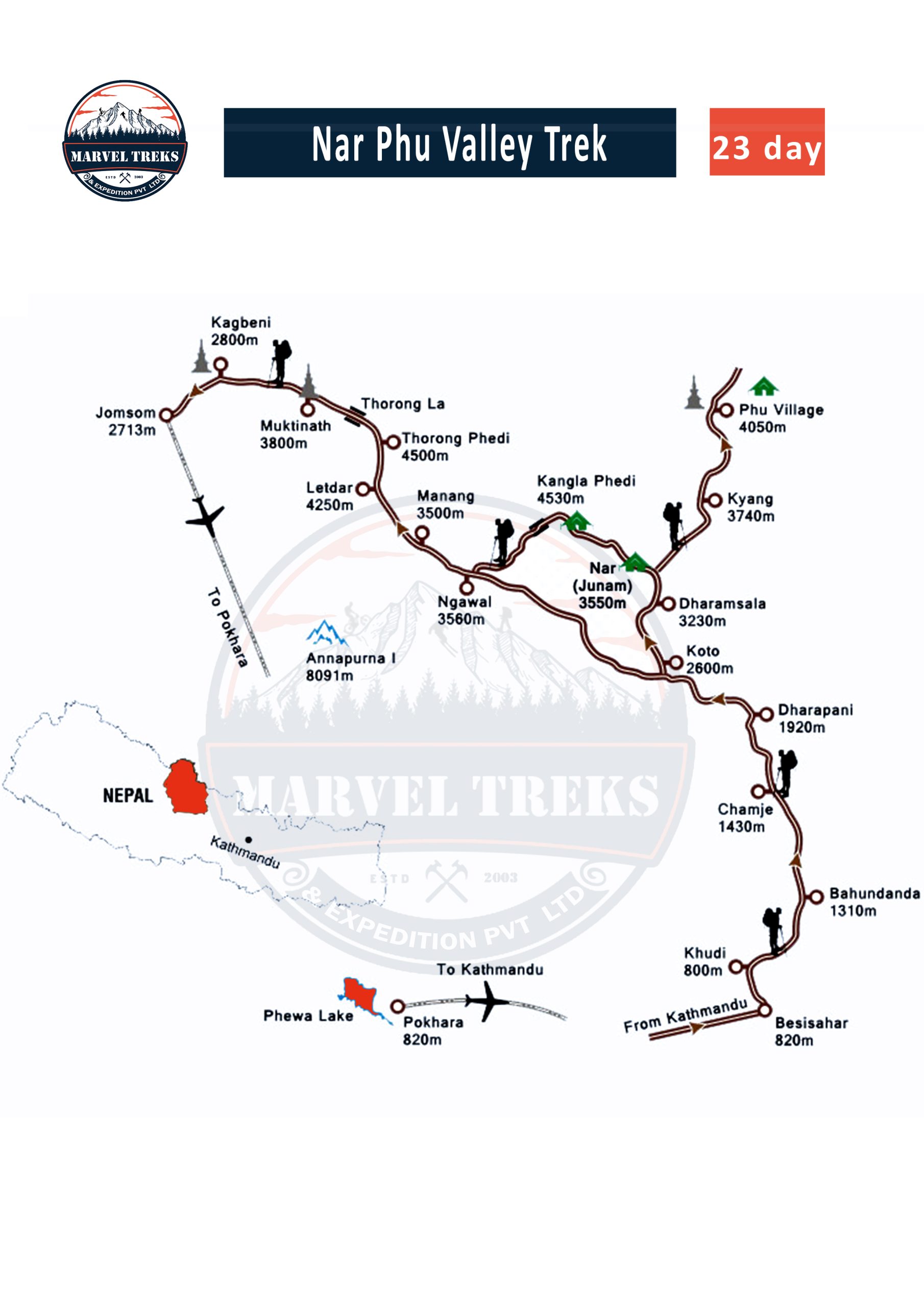 Group Discount Prices
No. of Persons
Price per Person
Booking Details
Price W/O Addons: US$ 440 per person
A detailed certificate from Marvel Treks and Expedition (after accomplishment)

A complimentary raincoat to shed you during the rainy season.(returnable)

A Complimentary Duffel Bag throughout the trek from our company. (returnable)

A warm complimentary Down Jacket during the entire trek on behalf of Marvel Treks. (returnable)

A complimentary sleeping bag for your icy trek. (returnable)

The essential climbing gear like mountain axe, trekking sticks, etc, for your need throughout the trek. (returnable)

Delightful complimentary Authentic Nepali cuisine as dinner to embark on your arrival and departure

Critical complimentary First Aid Service (in times of need)

An informative trekking map for you to cherish on behalf of our company

Trendy Sunhat and t-shirt as souvenirs on behalf of Marvel Treks and Expedition.

All the crucial services about airport transfer to and from the hotel via a private tourist vehicle ($40)

The Garbage Disposal System will be accommodated by our company. ($500)

Climbing Permit for Peak Climbing ($250)

TIMS (Trekkers' Information Management Systems )($10)

National park entry fees / ACAP permits / Conservation entry fees. ( $30)

All essential local tax office service charges Gov tax ($100 )

2 nights accommodation in a Kathmandu (Kathmandu hotel or similar) ($40)
Miscellaneous ($30)
porter Guide ($500)
Marvel Treks and Expedition won't be responsible for all the Lunch and dinner in Kathmandu.

Extra nights in any city that's not accommodated in the itinerary of Marvel Treks and Expedition.

All the International flight checks and airfares.

Marvel Treks and Expedition won't be responsible for alcoholic/ non-alcoholic liquors.

Additional porter fees along with tips of guides and porters.

Electronic gadgets like chargers, headphones.

Individual costs like a hot shower, phone calls, laundry, souvenirs.

Travel coverage and emergency evacuations.

Tips for our staff's drivers.
nar-phu-valley-trek
$440.00,