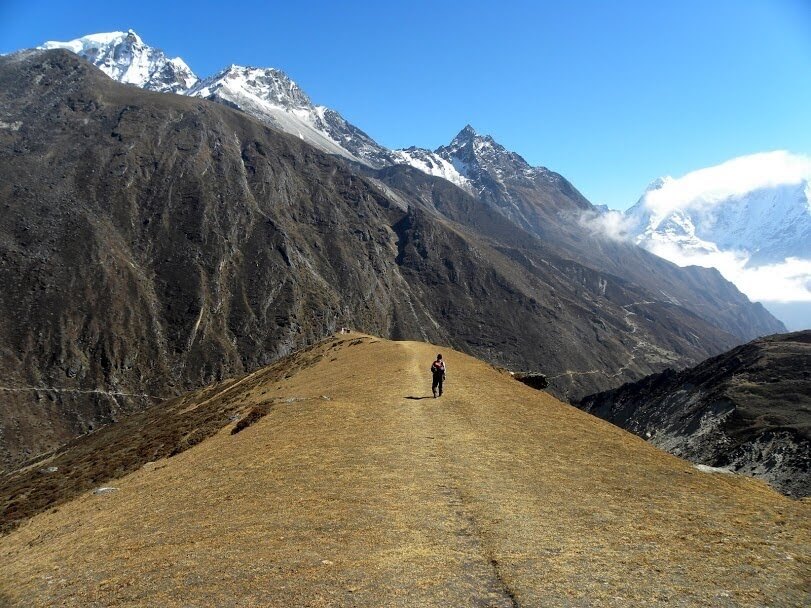 Manaslu Base Camp Trek – 14 Days
Accommodation
Teahouse/Lodge
Best Season
Autumn, Spring
Manaslu Base Camp Trek – 14 Days Overview
Manaslu Base Camp Trek is really a thrilling and adventurous journey that takes us through the trail of Mount Manaslu. "Mountain Of Soul" also known as mount Manaslu lies at the height of 8163m. Mount Manaslu is the 8th highest mountain peak in the world. It is really an adventurous spot that lies in the mid-western part of Nepal, in between the Ganesh Himal and Annapurna Himalayan ranges. Mount Manaslu basically lies between Nepal and Tibet. Japanese mountaineer Tosio Lmanishi along with Nepalese Gyalzen Norbu was the first person to climb Mount Manaslu. Trekking to Manaslu base camp was publicly opened in 1992, and since then people have been great discovering this place.
The base camp of Manaslu lies at 4800m. It gives us the scenic view and insights of rudimental rural civilization that typically represents the Tibetan lifestyle. The trail to Manaslu base camp is enthralling with Tibetan villages, monasteries, and Gompa including the oldest one called "Sama Gompa". We also get a view of 3 other peaks of Manaslu which goes by the name "Japanese peaks". The trail is also covered with green vegetation, flora, and fauna of the Manaslu Conservation Area along with a close-up view of Mount Manaslu and Himlung Himal. You also get to witness many Tibetan people who still have a very unique lifestyle, follow their own tradition, and have their own different language. The trek to Manaslu base camp can be challenging but adventurous. You need to be physically and mentally strong for this trek.
This route takes around 17/18 days with proper rest and few days off. It cost around 1800$ for this trek including transportation, food, accommodation, clothing, insurance etc.
Highlights of Manaslu Base Camp Trek – 14 Days
Experience the Tibetan Buddhism culture and lifestyles
Diverse flora and fauna of Manaslu Conservation Area
Comparatively less explored area with natural un-spoilt trails.
Close-up view of Mt Manaslu, Himlung Himal etc.
Difficulties and safety
Manaslu base camp being a remote area, trekking to this place can be slightly challenging. This is a moderately difficult trek. However, the level of difficulty entirely depends on your physical and mental fitness. But you can build your muscle strength, make your body flexible by practicing some light exercise, running, and jogging. The trek to Manaslu base camp is all about walking 5-6 hours per day for at least 17 days. This reason solely is enough to make this trek challenging. The trails are rugged, steep, may be snowy in off-seasons. The maximum height in this trek is the base camp (4800m) with other high passes on the way. There is a high risk of mountain sickness. You need proper acclimatization and itinerary for this trek.
Symptoms of Mountain sickness
Headache
Dizziness
Loss of appetite
Shortness of breath
Fast heartbeats
Preventing mountain sickness
Walk slow
Stay hydrated
Have nutritional food
Have enough rest
Avoid smoking and alcohol
Medicines for mountain sickness
Acetazolamide
Ibuprofen, paracetamol (for headache)
Promethazine (for nausea)
Packing List
Clothing and equipment
| | |
| --- | --- |
| Trekking trousers | Money/cash |
| Trekking shocks | Torch lights |
| Trekking boots | medicines |
| Water proof pants | sunglasses |
| Water proof jackets | Beanies and gloves |
| Warm shirts and t shirts | medicines |
| Thermal tops and bottoms | toiletries |
| Underwear | Wash kit |
| Fleece jacket | Safety kit |
| Down jacket | Hand sanitizers |
| Trekking pole | Water bottles and water purifier |
| Raincoats | Trashbag and tissue papers |
| Sleeping bags | Charger/adapters |
| Duffel bags | Power banks |
| Backpack | camera |
Travel insurance- Trekking to high altitudes can always be risky. Travel Insurance is something you might want to do before trekking anywhere. Sometimes in emergency cases, people need to be evacuated through a helicopter and get medical service. So, in such cases, your travel insurance will be bearing the cost for you. Seeing all these benefits,
the government of Nepal has made travel insurance mandatory thing before trekking. However, it is very important to mention the heights and all the places you will be reaching during your trek. Your insurance entirely depends on the details you have provided earlier. Travel insurance costs you around 150$ which is good for 1 month. 
Visas/passports- If you are not a Nepalese or Indian citizen, then a visa and a passport are mandatory. You can get your Nepalese Visa at Tribhuvan airport in Kathmandu. The passport must hold a visa of a minimum of 6 months.      
Group Discount Prices
No. of Persons
Price per Person
Frequently Asked Questions
Temperature and weather
The average temperature in the spring season (March-May) can range from 6-22⁰C while it may fall to -6⁰C sometimes. The average temperature in summer/monsoon (June-August) is 25⁰C during the daytime while it may fall to 10⁰C at night. Autumn (September-November) has the best moderate temperature which is around 21⁰C at low altitudes and 7⁰C at high altitudes. In December the temperature can range from 8-12⁰C and can be the lowest of -8⁰C. January has a temperature of 6-8⁰C while it may greatly fall at -6 to -10⁰C Summer (June, July, and August) offers the clearest and pristine views of mountains and landscapes. Summer also known as the Monsoon season in Nepal has rainy and muddy days. You must be careful about the trails since they can be slippery due to rain. The winter season definitely being the coldest season, may affect your journey somehow with heavy snowfall blocking your ways. Most of the teahouses in Manaslu Base camp are closed during the winter season due to extreme cold. Spring and autumn seasons are the best for trekking. They have favorable temperatures, warm days, and a clear atmosphere. These seasons offer a great view of mountains and green vegetation with crystal blue sky.
Food and accommodation
You might not get fancy lodges but there are teahouses available throughout the route. Teahouses have very basic facilities. You might have to share your room with other trekkers. Toilets and bathrooms have to be shared as well. During the peak season, the teahouses are usually packed, especially in Dharmsala. You need to book earlier or might have to camp. Foods in the teahouses are very healthy and hygienic. They use the fresh crops grown by themselves. Home-cooked meals like Dal, Bhat, vegetables, noodles, fried rice, eggs, pasta, etc are available in the teahouses.
Transportation
The gateway for this trek is Sotikhola and unfortunately there is no direct connection between Kathmandu and Sotikhola. You can take a bus up to Aarughat which might take around 8 hours. From Aarughat you can get a bus to Sotikhola. Sometimes the road from Aarughat to Sotikhola is really muddy and slippery due to heavy rainfall. In such cases, you need to walk from Aarughat. Or else, you can always get a bus, mini-bus, or a jeep from Aarughat to Sotikhola. You can also hire a private vehicle to Sotikhola so you don't have to take transit to Aarughat. The other option you can visit Manaslu Base camp is by helicopter. A Helicopter tour is available to people who are bound by time but still want to visit this beautiful place. The tour starts from Tribhuwan airport Kathmandu and flies to Sama Gaon, Barpak, and eventually to Manaslu base camp and back to Kathmandu. This helicopter tour provides an astonishing view of green vegetation, Himalayan ranges, sacred lakes, and many more. The ride may take a maximum of 5 hours. The price of the tour may depend on the travel agencies you have booked. They provide a package tour at costs of around 34900$. Including food, accommodations, charges, permits, and everything, you need for a tour.
Guide and porters
Since the Manaslu falls under the restricted area, a professional guide is required to obtain the permit from the government. They have more than enough knowledge about the directions, villages, places, accommodations, etc. They usually charge 35-40 $ per day. If you are physically able to carry your belonging then there is no need for a porter. If you want to walk freely without any burden you can hire a guide. They usually charge 25-30$ per day.
Communication and electronics
In the teahouses of lower altitudes, especially in Sotikhola, you have proper facilities of electricity, internet, and phone coverage. Once you approach the higher altitudes it might get difficult to have these facilities. There are satellite phones for emergency use. Extra batteries and power banks are recommended.
Permits and fees
Manaslu Conservation Area SAARC countries- 1500 NRS (15$), excluding VAT NON-SAARC countries- 3000 NRS (30$), excluding VAT Manaslu Trek Permit-70$ for 1st week and an additional 10$ per day. Annapurna Conservation Area SAARC countries- 1000 NRS (10$), excluding VAT NON-SAARC countries- 2000 NRS, excluding VAT. Note- you can take these permits from the Nepal tourism board. If you want to take the permit from the entry point itself you will have to pay the additional charge