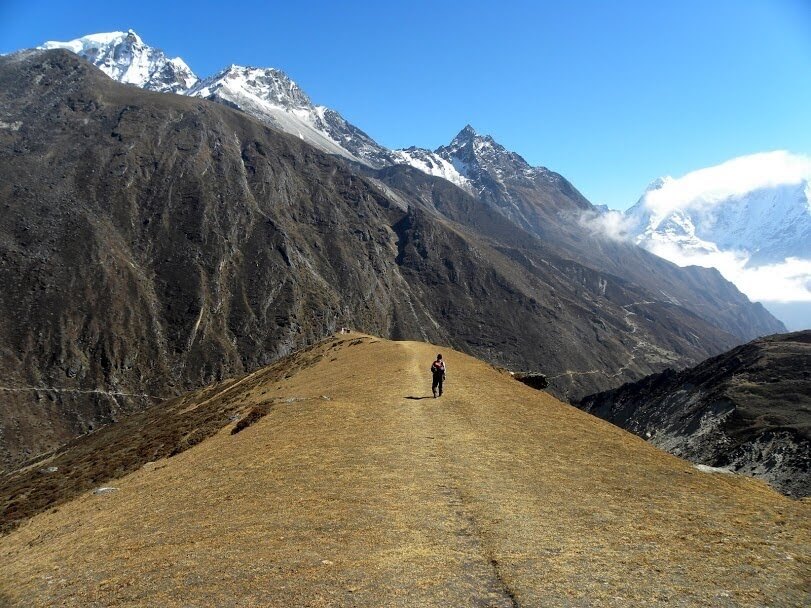 Makalu Base Camp Trek
Makalu Base Camp Trek Overview
5th highest mountain peak in the world, Mount Makalu steadily lies at the height of 8463m. Mount Makalu is beautifully situated in the Makalu Barun National Park which covers a surface area of 2330 sq.km. Mount Makalu was first climbed by French National Jean Couzy and Lionel Terray on 1955 may 15. The placed was not opened officially until Eric Shipton in 1950 made first trek to this place. Barun river valley in Makalu Barun national park, unique cultural heritages and incredible view of mountain like Mount Everest, Mount Lhotse and Mount Chamlang, collectively makes your trail to Makalu Base camp more alluring. Mount Makalu lies in Solukhumbu and Shankhuwasabha districts of Nepal offering you very different tradition and culture of Gurung, Rai and Sherpa. Trek to Makalu Base camp can be fairly challenging yet most adventurous and beautiful journey to nature lovers.
Best time to trek Makalu base camp
Spring, (March to May) and autumn (September to November) marks the best time to trek Makalu Base camp. With its best climatic condition and bearable temperature especially at low altitudes this season is perfect for trekking. This season offers you astonishing view of mountain ranges with clear blue skies and sunny days. You can also see wild flowers along with blooming Rhododendrons on your trails.
Clothing and equipment
It's important to know about the climatic condition and to know what to wear and what to pack for your journey. Here is a small guide for you.
Day pack flip-flops
Backpack camera
Sleeping bag medicines
Down jacket beanies
Fleece jacket gloves
Woolen shirts buffs
Sweaters safety kit
Tracksuit wash kit
Water proof jacket travel towel
Waterproof pants sunglasses
Thermal tops/bottoms trekking poles Trekking trousers tissue papers and trash bags Underwear reusable water bottles Trekking boots water purifier tablets Hiking shocks torchlights Long sleeve shirts/T shirts charger/adapters/power bank Lose fitting trousers. Money/cash Passports passport size photographs
Safety/security/fitness
This trek is quite challenging and can be very difficult to some people. It is best suited to experienced mountain trekkers. You need to have very good muscle strength. This trek is all about walking for 6-7 hours per day which can be very hard for those who doesn't have any experience of trekking. Additionally being the 5th tallest mountain peak, you can experience some serious altitude sickness on your way. It is Important to stay hydrated and have nutritional food throughout the journey. If you experience any kind of difficulties in your health you need to talk to your friend or travel guide immediately.
Other requirement
Travel insurance– you always need a travel insurance especially when you are traveling to this kind of risky, high places. If ever you need any medical emergencies your travel insurance will be bearing it for you. It is important to mention all the places and altitudes you will be reaching, to your insurance company so that you do not have any problem later.
Visa/ passport– it is mandatory for every foreigners to have visa and valid passport to enter Nepal. Only Indian citizen are not required to have visa for visiting Nepal. You can get your Nepalese visa at Tribhuwan International airport, Kathmandu.
Group Discount Prices
No. of Persons
Price per Person
Frequently Asked Questions
Temperature/weather
Below 3000m the temperature can be around 5 degree Celsius in average. During day time the temperature usually rises to 20 degree Celsius. At higher altitudes the temperature ranges from 15 degree Celsius and falls around -15 degree Celsius. Spring and autumn seasons are comparatively warmer here. During monsoon, due to heavy rainfall there is high risk of landslides and floods which makes the season not so ideal to trek. It is also possible to trek in winter seasons but there might be some drawbacks due to heavy snow. Most of the lodges are closed in this season due to extreme cold.
Food and accommodation
You need to remember Makalu Base camp is really off beaten place which is very remote part of Nepal. It's quite impossible to expect fancy lodges and foods. In fact, you need to prepare yourself for camping and making your own food in some places to Makalu base camp. As you climb higher altitude it is hard to find any teahouses to stay. During your entire trek you have to eat Nepali traditional food Dal, Bhat and Dhido. As transportation facility is really difficult foods must be carried by men or mules. It's an enough reason to have expensive food. Non vegetarian food can be really expensive and found only in few teahouses.
Guides/porters
Guides are definitely needed in this trek. Since it is really far and remote you may not find much people on your way. The only way to know right directions are guides. They make your journey more memorable. They might charge you 25-30 $ per day. Porters are more than happy to serve you by carrying your belongings. They carry up to 15 kilos of weight and charge you 15-20 $ per day. You can always give some tip to your guide and porters.
Transportation
Bus- bus facility is available for you to reach up to Num. however you need to change bus time to time. You have a direct bus from Kathmandu to Hile. And from Hile to Khandbari you need to take a four wheeler again which will take you around 5 hours. From Khandbari you have to take bus again to Num. from Num you need to walk to reach your destination. Airplane- airplane facility is available but only up to Tumlingtar from Kathmandu. Which will take you around 30 minutes. However once you land to Tumlingtar you need to drive up to Khandbari. Once you reach Num from Khandbari you can take a walk for further journey. Helicopter- yes, to those who want to have luxurious tour and have limited time they can take a helicopter tour to Makalu base camp. Helicopter tour to Makalu base camp definitely provides you amazing beauty of mountain ranges, small villages and green forest. It is obvious to cost you high price for helicopter tour, which is around 3000 $ if you have group of 4 people.
Permit/fees
Makalu Barun National Park conservation area entry permit- everyone traveling through this national park is required to have this permit with them. It cost 30 $(3000NRS) to other foreigners meanwhile they have discount and cost 15$, (1500 NRS) to SAARC countries. The permit is free to Nepalese. TIMS- TIM's card is always necessary for travelling any places in Nepal. The card includes all the details about the traveler. It might cost you 20$ per person.