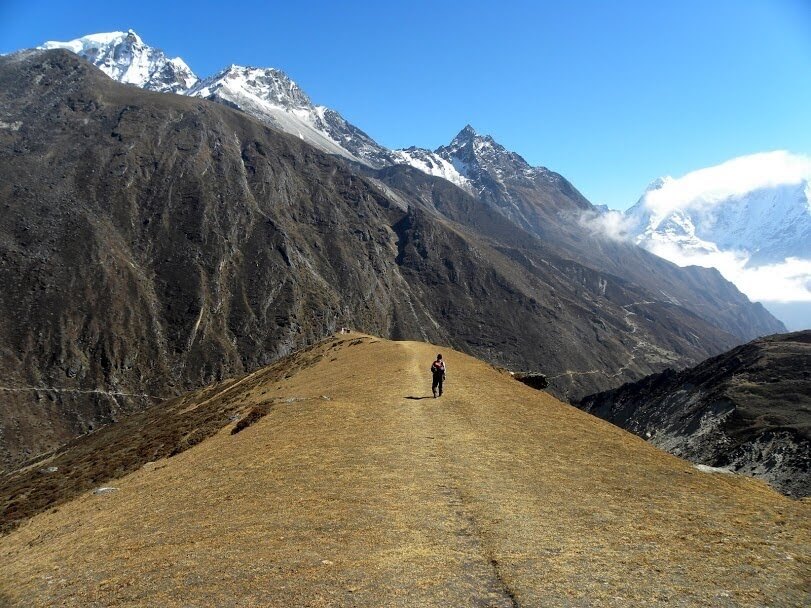 Lumba Sumba Pass Trek
Lumba Sumba Pass Trek Overview
Lumba Sumba pass (5160m) is one of the less explored areas which opened publicly in 2012. Here, the trail passing through the Kanchenjunga Conservation Area and Makalu Barun National park in the Eastern part of the country connects both regions and you can explore both the base camp in a single trek.
This pass falls under the Great Himalayan Trail (GMT). Some major attractions in this trek are different ethnic groups like Sherpa, Rai, Gurung, Magar, Newar, and Tamang, beautiful landscapes, diverse flora and faunas, Kanchenjunga Base Camp, and Mt Makalu, and Lumba Sumba peak (5200m) itself.
Endangered animals like snow leopards, red panda, and different species of birds are available here. Apart from this, you can also see cultural heritages, monasteries, stupas, temples, and prayer walls. Lumba Sumba pass is bordered by the Arun River in the east and Sagarmatha National Park in its west.
This trek is quite challenging and adventurous providing a unique opportunity to travel through a remote and unfrequented part of Nepal. Moreover, anyone with good fitness and keen to explore new areas can do this trek, which doesn't require any experience.
This trek takes around 20/21 days with proper rest and a few days off. It cost approximately 2100-2500$ including the airway and ground transportation, permits, insurance, clothing, food, accommodations etc.
Highlights of Lumba Sumba Pass Trek
Explore the connecting pass of the Kanchenjunga and Makalu region
Get to enjoy the hospitality of Rai, Sherpa, Tamang, Newar, and Gurung people.
Explore different historical monasteries, stupas, temples, and prayer walls.
Explore the diverse flora and fauna of both Kanchenjunga Conservation Area and Makalu Barun National Park.
Explore the Kanchenjunga and Makalu Base camp (optional)
Best season to go
The best season to trek the Lumba Subba pass is spring (March-May) and autumn (September- November).
In this season the temperature is very favorable. In the spring season, you can see a green forest, Rhododendrons, and beautiful mountain views. This season doesn't receive much rainfall and the trails are in the best condition. There is a slight chance of snowfall which doesn't make the trek difficult rather makes it more beautiful.
ALSO: Lauribina Pass Trek
In the autumn season, the views are very clear with crystal blue sky and also the dark, mossy forest. The atmosphere is very clear. It is still possible to trek in the Monsoon season and winter season but due to heavy rainfall and snowfall, you have to be more careful with the trails since they are muddy and slippery.
Other requirements
Travel insurance – Travel insurance is kind of a mandatory thing before traveling anywhere. You can always purchase your travel insurance from your travel agencies. It usually costs around 150$(15000 NRS) good for 30 days. You need to give them complete details about the places and altitudes you will be reaching because your insurance depends on details you have given earlier.
Nepal visas/passports – foreigners other than Indians need to have valid visas and passports before visiting Nepal. The passport must hold a minimum of 6 months of visa validity from their date of arrival. They can have a Nepalese visa at Kathmandu Tribhuwan International airport.
Packing List
Clothing and equipment
| | |
| --- | --- |
| Trekking trousers | Money/cash |
| Trekking shocks | Torch lights |
| Trekking boots | Medicines |
| Water proof pants | Sunglasses |
| Water proof jackets | Beanies and gloves |
| Warm shirts and t shirts | Medicines |
| Thermal tops and bottoms | Toiletries |
| Underwear | Wash kit |
| Fleece jacket | Safety kit |
| Down jacket | Hand sanitizers |
| Trekking pole | Water bottles and water purifier |
| Raincoats | Trash bag and tissue papers |
| Sleeping bags(optional) | Charger/adapters |
| Duffel bags | Power banks |
| Backpack | Camera |
| Flip-flops | Passports/ passport size photographs |
Group Discount Prices
No. of Persons
Price per Person
Frequently Asked Questions
Food and accommodation
Teahouses are available throughout the way unless you want to explore the base camp and do the camping. Teahouses are basically small lodges run by local people. They provide a comfortable room with twin sharing beds, bed sheets, and pillows. However, toilets and washrooms have to be shared with other trekkers as well. Some teahouses also offer hot water for the shower but at an extra cost. However, if you are doing a camping trek, you need to carry all the stuff and equipment required for camping. Food- there are enough options available for food in this trek, traditional Dal, Bhat, and vegetables being the most common. Besides this, noodles pasta, bread, eggs, bars, etc are available. Soft drinks, tea, coffee, are also available throughout the way. If you want to experience the base camp trek, then you need to prepare food by yourself or even hire a cook.
Transportation
Airplane- there is a direct flight from Kathmandu to Taplejung provided by Sita air twice a week which takes almost 1 hour. Besides, you can fly to Bhadrapur and travel to Taplejung by bus. It takes around 8-10 hours from Bhadrapur to Taplejung Bus- there is also a bus available from Kathmandu to Taplejung which takes almost 19 hours and costs you around 2300-2500 NRS. You can also take a bus to Bhadrapur and take a ride again to Taplejung. It takes several hours traveling from the bus and that is why airway is much popular among people.
Communication and electronics
Electricity and internet facilities are available in most of the teahouses. You can charge your phones and other electronics in the teahouses at an extra cost. Telephones are available, or you can take a local sim card to communicate with your friends and families.
Guides and porters
Guides and porters are a very important part of this trek. Since this is a long and also newly discovered area, many people may not know about this pass. Guides have proper knowledge about the directions, accommodations, camping sites (if needed), and many more. They usually charge you 30-40$ per day. Porters carry all your belongings and help you to enjoy the trek without any burden. They usually charge you around 20-30$ per day. They carry a maximum of 25 kilos, so you can also share your porter with other trekkers.
Permits and fees
Kanchenjunga Special permit- this permit costs 10$ per person per week. Kanchenjunga Conservation Area- this permit costs 3000NRS (30$) per person and 1500 (15$) for SAARC countries. Makalu Barun National Park- this permit cost 3000NRS (30$) per person and 1500 NRS (15$) for SAARC countries. TIMS- this permit costs 1000 NRS (10$) per person and is mandatory for everyone.
Safety and fitness
Lumba Subba Pass is definitely not a highly difficult pass to trek. It is perfect for young walkers looking for something new and adventurous. You do not have to be perfectly healthy and have extra fitness or past experiences to do this trek. Anyone with stable fitness who can walk 5-6 hours per day can do this trek. However, you need to practice some running, jogging, and light exercises before the journey start. This helps you with your journey and makes it easier. There is a low risk of altitude sickness, still, you need to be hydrated throughout the journey and have nutritional food. It is better to avoid meat and alcoholic item throughout the journey.
Booking Details
Price W/O Addons: US$ 43830.05 /pax
A detailed certificate from Marvel Treks and Expedition (after accomplishment)
Trendy Sunhat and t-shirt as souvenirs on behalf of Marvel Treks and Expedition.
A complimentary raincoat to shed you during the rainy season.
A Complimentary Duffel Bag throughout the trek from our company. (returnable)
A warm complimentary Down Jacket during the entire trek on behalf of Marvel Treks. (returnable)
A complimentary sleeping bag for your icy trek. (returnable)
Breakfast, Lunch and Dinner throughout the trek.
The essential climbing gears like mountain axe, trekking sticks etc, for your need throughout the trek. (returnable)
Delightful complimentary Authentic Nepali cuisine as dinner to embark on your arrival and departure
Critical complimentary First Aid Service (in times of need)
An informative trekking map for you to cherish on behalf of our company
All the crucial services about airport transfer to and from the hotel via a private tourist vehicle ($20)
TIMS (Trekkers' Information Management Systems )($10)
National park entry fees / ACAP permits / Conservation entry fees. ( $30)
Special Permits and All the necessary Conservation Area and National Park tax ($100)
All essential local tax and Gov tax ($130 )
All the required office service charges. ($200)
Marvel Treks and Expedition won't be responsible for all the Lunch and dinner in Kathmandu.
Extra nights in any city that's not accommodated in the itinerary of Marvel Treks and Expedition.
Summit bonus (250 USD)
All the International flight checks and airfares.
Marvel Treks and Expedition won't be responsible for alcoholic/ non-alcoholic liquors.
Additional porter fees along with tips of guides and porters.
Tips for Climbing Sherpa (200 USD)
Electronic gadgets like chargers, headphones.
Individual costs like a hot shower, phone calls, laundry, souvenirs.
Travel coverage and emergency evacuations.
Tips for our staff's drivers.
Lumba Sumba Pass Trek
₹43,830.05,