Lower Dolpo circuit trek
Lower Dolpo circuit trek Overview
Lower Dolpo is situated in remote western region of Dolpo where you can see more Tibetan people than Nepalese. Lower Dolpo was officially opened to people in 1982. It lies at the altitude of 5200m. Lower Dolpo falls under Shey Phoksundo National park which makes trail to Lower Dolpo Circuit filled with rare animals like snow leopard, goral, Tahr, Himalayan black bear, rhesus monkey etc. along with many isolated villages of people who are very closely related to Tibetans and ancient Monasteries. This place is one of the few remaining place where pre Buddhist religion, Bon Po is practiced. Bon PO religion is quite similar to Buddhism, the only difference is this religion walk anti clockwise around stupas and shrines. Lower Dolpo Circuit trek is one of the most adventurous journey which takes us through bright Shey Phoksundo Lake, Panoramic Himalayan mountains, Thrilling Terrain, and hidden traditional villages.
Highlights of Lower Dolpo circuit trek
The Lower Dolpo Circuit Trek is a popular trek in the Dolpo region of Nepal that takes hikers on a loop through the remote and isolated region of Lower Dolpo. Here are some highlights of the Lower Dolpo Circuit Trek:
Stunning mountain scenery: The trek offers breathtaking views of the Himalayas, including peaks such as Dhaulagiri, Annapurna, and Manaslu.
Cultural experiences: The trek passes through several traditional Tibetan Buddhist villages, giving hikers the opportunity to learn about local culture and way of life.
Unique flora and fauna: The Dolpo region is home to a wide variety of plants and animals, including rhododendron forests, bamboo groves, and many species of birds and mammals.
Physical challenge: The Lower Dolpo Circuit Trek is a challenging trek, with several steep ascents and descents. It is suitable for fit and experienced hikers.
Scenic views: The trek offers stunning views of the surrounding landscape, including snow-capped peaks, glaciers, lakes, and terraced fields.
Relaxation and rejuvenation: The trek provides an opportunity to escape the hustle and bustle of daily life and connect with nature in a peaceful and serene setting.
Unique experience: The Lower Dolpo Circuit Trek is a less crowded and less frequently visited trek compared to other popular treks in Nepal, making it a unique and off-the-beaten-path experience.
Trip Map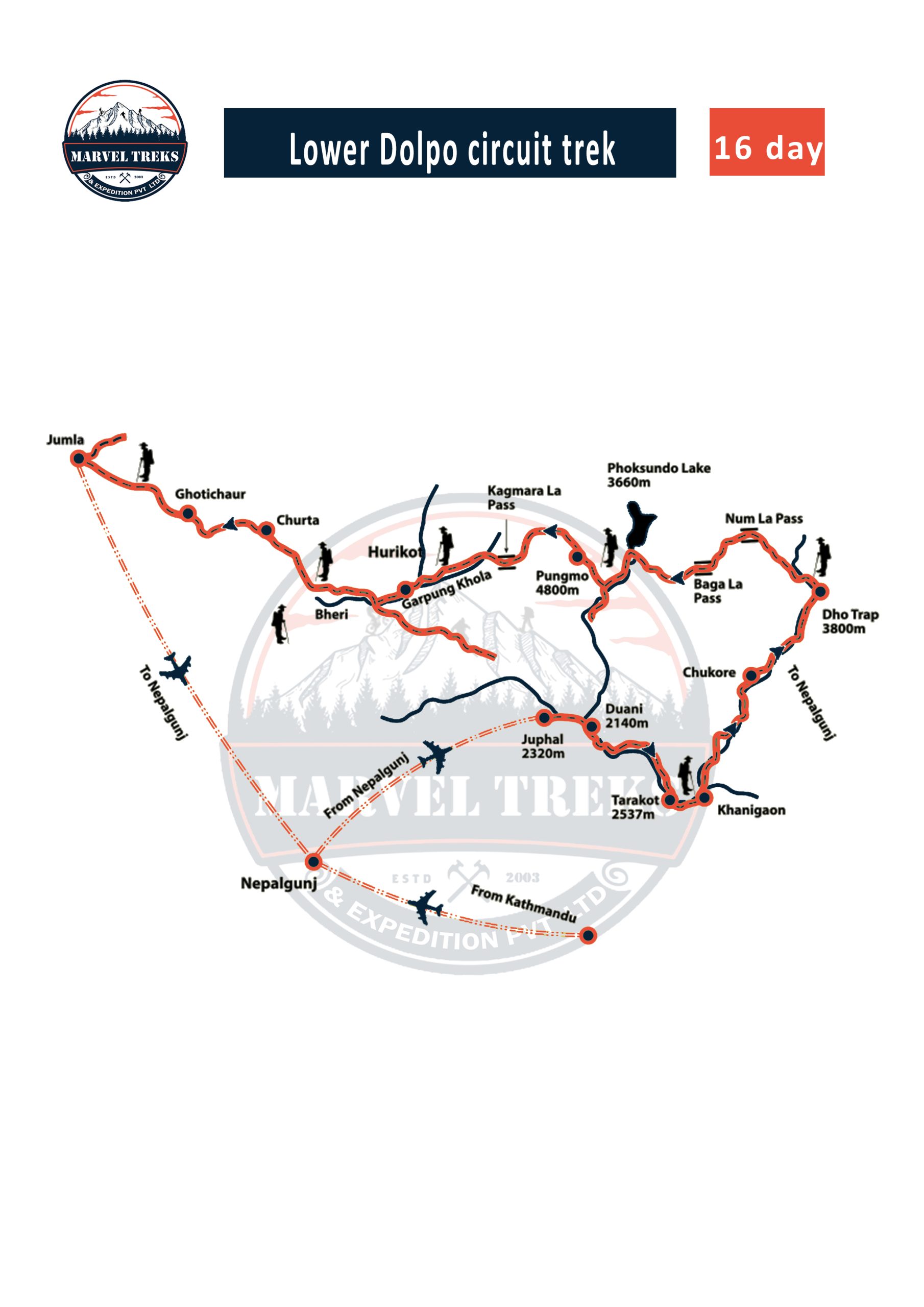 Best season to visit
Dolpo Region entirely lies in Rain shadow area which makes Monsoon season (June- September) best time to trek Dolpo. Its favorable temperature and especially a festival called Tiji is celebrated during this time which makes it more ideal season. Moreover, spring and autumn is also one of the best time to trek Dolpo. You can see clear atmosphere, blue sky during this time.
Packing List
Clothing and equipment 
| | |
| --- | --- |
| Woolen t shirts/shirts  | Backpack |
| Thermal top/bottoms  | Passport |
| Fleece jacket  | Passport size photographs |
| Down jacket  | Permit and travel insurance |
| Raincoat  | Suns cream and lip balm |
| Underwear  | Travel towel |
| Trekking trousers  | Wash kit |
| Sleeping trousers  | Safety kit |
| Hiking shorts  | Power bank |
| Water proof pants  | Summer/winter hat |
| Daypack  | Buff/bandana |
| Sleeping bag  | Water bottles and water purifier |
| Hiking boots  | Trekking poles |
| Hiking shocks  | Charger/adapter |
| Camp shoes  | Money/cash |
| Gloves and beanies  | Camera |
Group Discount Prices
No. of Persons
Price per Person
Frequently Asked Questions
Temperature and weather
The average temperature in Lower Dolpo ranges from 14-20 degree Celsius. In winter the temperature rises from -3 to -11 degree Celsius. Winter season can be extremely cold and receive lots of snowfall. However, it is comparatively warmer in summer.
Food and accommodation
Accommodation - Lower Dolpo is one of the most remote part of Nepal. There is no proper facilities of transportation and communications along with lodges and hotels. In only few places you can luckily find teahouses run by local people there. Lower Dolpo Circuit trek is more of a camping trek. You need to be ready to camp overnight if you don't find any teahouses. Food- it is quite similar with foods also. Not much varieties are available. Being highly influenced by Tibet, you can find some Tibetan dishes along with Nepali traditional food Dal, Bhat, and vegetables.
Transportation
Bus- you can take a bus from Kathmandu to jumla via Surkhet and you need to trek from jumla to Dolpo. Or you can also take a private jeep from Kathmandu to jumla. Or you can go from Kathmandu to Nepalgunj and again take flight from Nepalgunj. Airplane- airway transportation is available from Kathmandu- Nepalgunj which takes 55 minutes. From Nepalgunj you can take another flight to Dolpo airport Jhupal) which takes 35 minutes. Or you can also take a flight from Nepalgunj to Jumla which takes 35 minutes and trek from jumla to enter Dolpo.
Communication and electronics
Dolpo being very remote part of Nepal, there is no electricity provided in many parts. However you can luckily get electricity in very few places to charge your electronics. Wi-Fi service is available in Shey Phoksundo area only. That is why, you need to take extra batteries and power banks with you.
Permits/fee
Every trekkers entering Dolpo district needs a special permit since the entire Dolpo is a regulated zone. Shey Phoksundo National Park entry Permit- this permit will cost you 27-30 $ (3000NRS). Lower Dolpo Restricted area permit- it is required to everyone travelling to Dolpo district. It cost you 20$ (2000 NRS) Upper Dolpo restricted area permit- this permit takes 40$ to those who needs lower Dolpo permit.
Guides/porters
Guides and porters are very important part of this trek. Dolpo region is very remote place, only handful of people visit this place. You may not have enough idea and knowledge about the directions, villages and tourist spots. Guides can lead you through all of this. They might charge you around 30- 35$ per day. Porters are available to help you carry your belongings however they must not exceed 20 kilos. So you can share one porter for two people. They might charge you around 25-30$ per day.
Safety/fitness
Lower Dolpo Circuit trek is certainly among the difficult one, however it depends on which route you take and how long it is. You have to walk for 6-7 hours per day at least for 25-27 days. It is mandatory to have high level of fitness so that you can enjoy your journey without any difficulties. You need to practice light exercise, running, jogging and build your muscle strength before your journey starts. Even though it is lower Dolpo it lies at the elevation of 5200m, which increases the risk of altitude sickness. You have to more careful than ever, stay hydrated throughout your journey, eat nutritional food, and check your oxygen level time to time and walk slowly so that you can adjust with increasing heights. If you ever feel any symptoms of altitude sickness like nausea, increased heart rates, breathing difficulties etc. you need to talk to your guide, your friends or anyone near you.
Other requirements
Insurance policy- high mountains are not the kind of places you want to travel without insurance policy. Travel insurance has become the part of trekking requirements. If you ever have some medical emergencies your travel insurance will have to bear it and that is why you need to mention the details about the places you are going and altitudes you will be reaching. Valid visas/passports – all foreigners except Indians are required to have valid visa and passports to enter Nepal. The visa application will need the passport having minimum 6 months of validation along with your passport size photo. You will receive your visa upon your arrival at tribhuwan international airport
Booking Details
Price W/O Addons: US$ 450 per person
A detailed certificate from Marvel Treks and Expedition (after accomplishment)

A complimentary raincoat to shed you during the rainy season. (returnable)

A Complimentary Duffel Bag throughout the trek from our company. (returnable)

A warm complimentary Down Jacket during the entire trek on behalf of Marvel Treks. (returnable)

A complimentary sleeping bag for your icy trek. (returnable)

Breakfast, Lunch, and Dinner throughout the trek.

The essential climbing gear like mountain axe, trekking sticks, etc, for your need throughout the trek. (returnable)

Delightful complimentary Authentic Nepali cuisine as dinner to embark on your arrival and departure

Critical complimentary First Aid Service (in times of need)

An informative trekking map for you to cherish on behalf of our company

Trendy Sunhat and t-shirt as souvenirs on behalf of Marvel Treks and Expedition.

All the crucial services about airport transfer to and from the hotel via a private tourist vehicle ($40)

TIMS (Trekkers' Information Management Systems )($10)

National park entry fees / ACAP permits / Conservation entry fees. ( $30)

All essential local tax and, office service charges Gov tax ($100 )

 Lower Dolpo Special Permit ($20)
2 nights accommodation in a Kathmandu (Kathmandu hotel or similar) ($40)
Miscellaneous ($20)
Porter Guide ($600)
Marvel Treks and Expedition won't be responsible for all the Lunch and dinner in Kathmandu.

Extra nights in any city that's not accommodated in the itinerary of Marvel Treks and Expedition.

All the International flight checks and airfares.

Marvel Treks and Expedition won't be responsible for alcoholic/ non-alcoholic liquors.

Additional porter fees along with tips of guides and porters.

Electronic gadgets like chargers, headphones.

Individual costs like a hot shower, phone calls, laundry, souvenirs.

Travel coverage and emergency evacuations.

Tips for our staff's drivers.
Lower Dolpo circuit trek
$450.00,