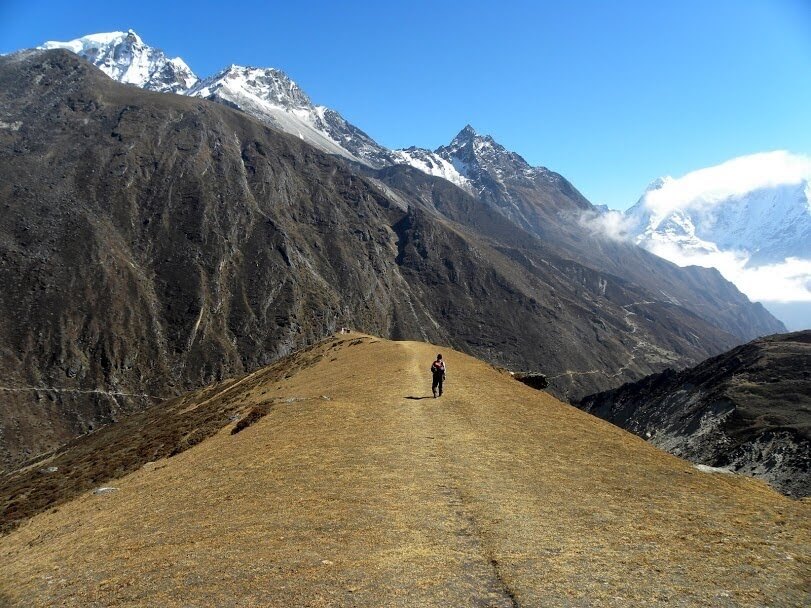 Lobuche Peak – 13 Days
Lobuche Peak – 13 Days Overview
Lobuche peak is a stunning peak standing at the elevation of 6119m, close to Khumbu glacier and the settlement of Lobuche. This peak is highly protected by Sagarmatha National Park which also takes us through all the green vegetation, birds and animals and pristine settlements, culture and great hospitality of Sherpa. There are actually two main peaks, Lobuche east (6119m) and Lobuche west (6145m). According to National mountaineering Association of Nepal, Lobuche east is classified as Trekking peak and Lobuche west as Expedition Peak. These two peaks are separated by deep long notched ridge, and considerable distance which makes approaching the west peak impossible from east peak. The first climb to the Lobuche east was done by Laurence Nielson and Sherpa Ang Gyalzen in April 25, 1984. Similarly, Lobuche west was first climbed in 1955 via the south shoulder. Lobuche east is one of the most popular trekking destination in Nepal. It is usually attempted by people who wants to see spectacular view of Everest and Khumbu valley from its summit. Lobuche peak is an excellent introduction to Himalayan high altitude mountaineering which requires mountaineering skills,
This route takes around 16-18 days if you take proper rest and take some days off. This trek is quite expensive because it includes flights, trekking gears and clothes and accommodations. The average price can range from 1500-2000$.
Best season to visit
Spring (March to May), autumn (September- November) are the best season to trek Lobuche peak. This season offers you beautiful views of Rhododendrons forest and views of mountains. The temperature is very favorable. The atmosphere is clear and unpolluted. However due to some rain in monsoon the trails are slippery and muddy and it is a little risky to climb Lobuche peak.
Safety/fitness
Lobuche peak trek is certainly among the difficult one. Peak climbing experiences is a benefit in this trek. You have to walk for 6-7 hours per day. It is mandatory to have high level of fitness so that you can enjoy your journey without any difficulties. You need to practice light exercise, running, jogging and build your muscle strength before your journey starts. This place is one of the remote area of Nepal and the roads are steep and difficult. The maximum height in this trek is 6119m, which increases the risk of altitude sickness. You have to stay hydrated throughout your journey, eat nutritional food, and check your oxygen level time to time and walk slowly so that you can adjust with increasing heights. If you ever feel any symptoms of altitude sickness like nausea, increased heart rates, breathing difficulties etc. you need to talk to your guide, your friends or anyone near
Other requirements
Insurance- travel insurance is kind of a mandatory thing before traveling anywhere. You can always purchase your own travel insurance from your travel agencies. It usually cost around 150$(15000 NRS) good for 30 days. You need to give them complete details about the places and altitudes you will be reaching because your insurance depends on details you have given earlier.
Nepal visas/passports – foreigners other than Indians need to have valid visas and passports prior to visiting Nepal. The passport must hold minimum 6 months of visa validity from their date of arrival. They can have the Nepalese visa at Kathmandu Tribhuwan International airport.
Packing List
Clothing and equipment
| | |
| --- | --- |
| Travel wallet | Climbing shocks |
| Backpack | Thermals tops/bottoms |
| Duffel bag | Synthetic underwear |
| Trekking boots | Synthetic climbing/trekking pants |
| Trekking shocks | Insulated pants |
| Light weight sneakers | Shell pants(water proof) |
| Medium weight Gaiters(water proof) | Medium weight long john tops |
| Foot powder | Synthetic pile jacket |
| Down booties | Down jacket |
| Double insulated climbing boots | Shell jacket (light weight waterproof) |
| Heavy gaiters  | Down parka |
| Buff neck gaiters | Face mask |
| Fleece gloves | Winter/summer hat |
| Climbing gloves | Glacier glasses  |
| Chemical hand warmers and foot warmers | Dark goggles |
| Climbing pack | Double lenth and single length sling |
| Lightweight harness | Climbing ascender  |
| Locking/non-locking carabiners | Prusik cord |
| Helmet | Alpine ice axe |
| Point crampons | Figure 8 and Rappel device |
| Trekking poles | Backpack cover |
| Down sleeping bag | Sleeping pads |
| Batteries | Headlamps |
| Water bottles | Camera |
| Thermos | Charger/adapter  |
| Water purification tablets  | Power banks |
| Travel towel | Safety kit  |
| Hand sanitizer | Suns cream and lip balm |
| Altitude sickness medicine  | Wash kit |
| Cup, bowl, spoon  | Trash bags and tissue papers |
Group Discount Prices
No. of Persons
Price per Person
Frequently Asked Questions
Temperature and weather
Spring (March-May) is quite warmer here due to combination of humidity and temperature. The average temperature ranges from 17- 27 degree Celsius in spring. Summer have pretty high temperatures and is very warm for trekkers that is why summer is the busiest months here. During autumn (September- November) the average temperature is around 17-26 degree Celsius. Autumn is second busiest month in this place so the price of everything can be expensive. Winter is cold in this place and temperature ranges from 14-18 degree Celsius.
Food and accommodation
Lobuche peak trek is both teahouse and camping trek. You can get few teahouses which are basically small lodges run by local people. They provide small rooms with twin sharing bed, blankets, and pillows. You might have to use common toilets and bathrooms. However, camping is also done at high altitudes where there is difficulty in finding teahouses. You must always be ready for camping during this trek and carry all the necessary stuff for camping. Foods- if you are in teahouses you will get limited options for food like Dal, Bhat, Lentils and vegetables, Tibetan foods etc. If you are camping then you need to prepare all your foods by yourself or if you belong to any travel agencies they will manage it for you. Drinking water is available everywhere you can just fill up your reusable bottle.
Transportation
Airplane- after your arrival to Kathmandu you can take a flight to Lukla which is a gateway to Khumbu. It takes around 45 minutes to reach Lukla. From Lukla you need to trek to Phakding and further to reach your destination. Bus- there is no road transportation available from Kathmandu to Lukla which is basically the starting point of this trek.
Guides/porters
Being one of the mountain area, trekking all by yourself is quite difficult. Hiring a guide could help you a lot. They have proper knowledge of directions, accommodations, camping sites and many more. Guide usually charge you around 30-35$ per day. Porters are really important part of this trek. If you are planning on camping trek you need them to carry all your gears and equipment. They charge you around 20-25$ per day.
Permits/fees
Sagarmatha national Park permit- this permit cost you 3000 NRS (30$) excluding 13% VAT. For SAARC countries it only cost 1500 NRS (15$) excluding 13 % VAT. Everest region entry permit- this permit too cost you 3000 NRS excluding 13% VAT to every trekkers and cost 1500 NRS (15$) to SAARC countries excluding 13% VAT. TIMs- this card permit is required to everyone and cost you 1000 NRS (10$). All the permits can be obtained from Nepal Tourism Board, Kathmandu.
Communication and electronics
There is electricity almost in every lodges. You can charge your phone and other electronics by paying extra money (extra batteries are recommended). Since this is one of the remote and mountain area internet facility might not work everywhere. However, Everest link Wi-Fi is available in few lodges to help you connect with your friends and families.