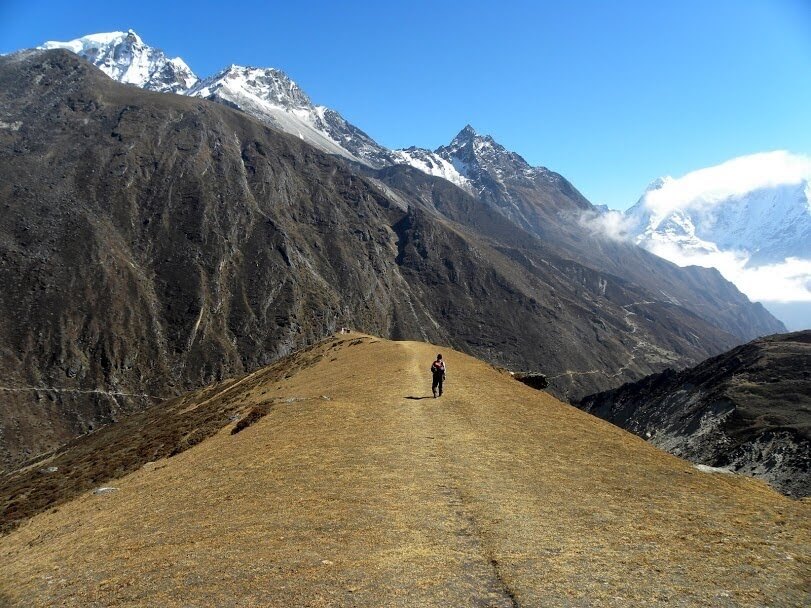 Kanchenjunga South Base Camp
Kanchenjunga South Base Camp Overview
Mount Kanchenjunga, which is a 3rd highest mountain peak of the world proudly lies at the elevation of 8586m, in Taplejung district, Nepal. The base camp itself lies at the elevation of 4610m, in Ramche. The route to south base camp takes us through Yalung Glacier, cultural villages of Rai, limbu, and Sherpa people residing in Eastern Nepal. The trail also passes through Kanchenjunga conservation Area where you can find hundreds of flora and fauna. You can witness different rare animals like Himalayan Tahr, snow leopard, red panda, musk deer etc. As Kanchenjunga is a restricted area you need to have special permit to visit this place, for which it needs at least 2 people and one special guide. Walking through all the subtropical lowlands, alpine forest, and Rhododendron Forest, is really a blessing. Kanchenjunga trek is not famous as other base camp in Nepal but is definitely one of the best peaceful and deserving place.
Best season to visit
Basically it is possible to trek Kanchenjunga south base camp in any time of the year if you are careful enough. However, the best time to trek is autumn (September-November), this season have bearable temperature, clear atmosphere and roads are in best condition. The next best time to
visit is spring (March- May), you can see green grasslands and forest and Rhododendrons blooming everywhere.
In Monsoon season the trails are very slippery and muddy due to heavy rainfall, during winter season there is extreme cold and the trails are covered with snow which makes the trek a little difficult to travel.
Other requirements
Insurance policy- high mountains are not the kind of places you want to travel without insurance policy. Travel insurance has become the part of trekking requirements. If you ever have some medical emergencies your travel insurance will have to bear it and that is why you need to mention the details about the places you are going and altitudes you will be reaching.
Valid visas/passports – all foreigners except Indians are required to have valid visa and passports to enter Nepal. The visa application will need the passport having minimum 6 months of validation along with your passport size photo. You will receive your visa upon your arrival at tribhuwan international airport
Packing List
Clothing and equipment
| | |
| --- | --- |
| Sleeping bag | Summer/winter hats |
| Safety kit | Torchlights |
| Duffel bag | Suns cream and lip balm |
| Backpack | Travel towel |
| Woolen shirts and sweaters | Wash kit |
| Down jacket | Tissue papers and trash bags |
| Fleece jackets | Water bottles and purifier |
| Long sleeves shirt and T shirts | Camera |
| Water proof pants | Charger/adapter |
| Water proof jackets | Money/cash |
| Thermal tops and bottoms | Passport/photocopy of passport |
| Trekking trousers | Few passport size photograph |
| Trekking shorts | Medicines |
| Raincoat | Trekking pole |
| Hiking boots | Scarfs/buff |
| Hiking long and short shocks | Pads/tampons |
| Normal thin shocks | Slippers or normal track shoes |
| Gloves and beanies | Climbing Ropes |
| Underwear | Crampons |
| Sunglasses | |
Group Discount Prices
No. of Persons
Price per Person
Frequently Asked Questions
Temperature and weather
The weather above 4500m is extremely cold and unstable. In March to May the average temperature at day time is 8 degree Celsius while nights are about 3-4 degree Celsius. This time is very pleasant month of the year. June- August being a Monsoon season receives lot of rainfall. The nights without rainfall is quite warmer in this season. In September, the average temperature is 10 degree Celsius but November and December can be cold. In winter the temperature of Kanchenjunga South base camp can drop up to -7 degree Celsius.
Food and accommodation
Kanchenjunga South base camp can be both teahouse and camping trek. Teahouses are available on your way which are basically small lodges. They provide single rooms with twin sharing bed, pillows and blankets. Even though not fancy the teahouses are quite comforting. If you want that thrill of mountain trekking than you can also camp, but you have to pack all the necessary things for camping including your food and cook. If you belong to any travel agencies they will manage it for you. Foods- you will have limited options for food being Dal, Bhat, and vegetables the most common one. Beside this you will also get some options for western and Tibetan foods.
Transportation
Bus- for those traveling through bus you can take a ride from Kathmandu to Biratnagar and Drive to Lalikharka. Or you can also drive to Taplejung and take a short jeep ride to the starting point of trek. Airplane- even though the cheapest, drive for such long hours can be tiring and hectic. Flights are available from Kathmandu- Biratnagar which only takes 30-35 minutes and cost you 3500-4000 NRS. From Biratnagar you can then drive to Lalikharka. There is also a regular flight from Kathmandu to suketar. Or you can fly from Kathmandu to Bhadrapur and drive for 7-8 hours to Taplejung. Helicopter- some travel agencies also provides helicopter tour to base of Mount Kanchenjunga.
Communication and electronics
There is electricity available in few areas on the teahouses. You can charge your phone and electronics by paying extra money. There is no internet facility in Kanchenjunga trek. In some areas, teahouses have telephone so you can use it by paying extra money to owner. It is better to carry extra batteries and power banks.
Guide/porters
If you are a beginner trekker, guides are very helpful especially in such restricted area. Since they have proper knowledge about the directions, villages, foods and accommodation Guides make your journey very memorable. They usually charge you around 30-35$. Porters are really helpful and happy to serve you by carrying all your belongings but it must not exceed 15 kilos. If you are planning a camp trek then you definitely need a porter. However the porters cost you 22-25$.
Safety/fitness
Kanchenjunga south base camp trek is certainly among the difficult one, however it depends on which route you take and how long it is. You have to walk for 6-7 hours per day. It is important to have high level of fitness so that you can enjoy your journey without any difficulties. You need to practice light exercise, running, jogging and build your muscle strength before your journey starts. The Kanchenjunga south lies at high altitude of 4610m, which certainly increases the risk of altitude sickness. You have to stay hydrated throughout your journey, eat nutritional food, and check your oxygen level time to time and walk slowly so that you can adjust with increasing heights. If you ever feel any symptoms of altitude sickness like nausea, increased heart rates, breathing difficulties etc. you need to talk to your guide, your friends or anyone near
Permit/fees
Kanchenjunga conservation area entry permit- this permit cost you 2000 NRS (20 $) Restricted area permit- Kanchenjunga falls under restricted area and that is why you will need this permit to your further journey. This permit cost you 10-50$ per week depending on time of the year you are visiting. TIMs- this permit is mandatory for every trekkers coming to Kanchenjunga and cost you 1000 NRS (10$)