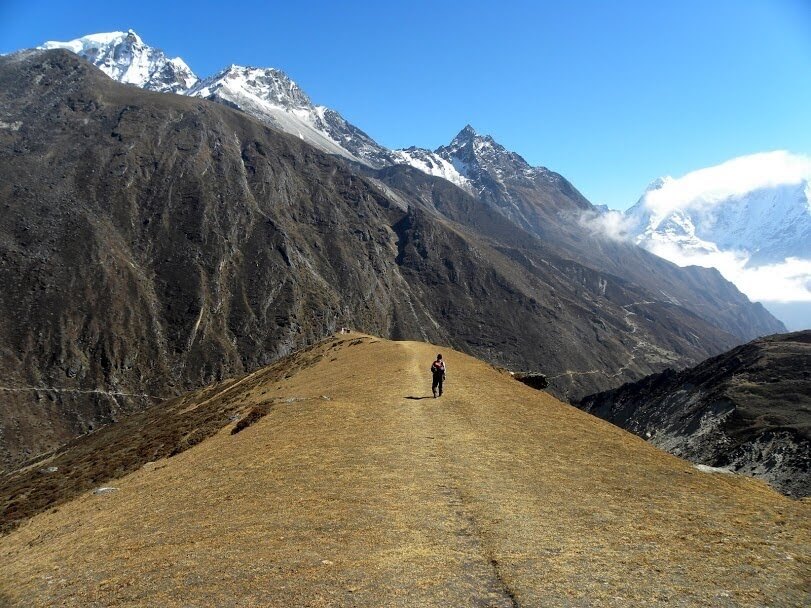 Island Peak
Accommodation
Teahouse/Lodge
Best Season
Autumn, Spring
Island Peak Overview
Island Peak is a mountain that lies in the eastern part of Nepal, on the border of Nepal and Tibet. It lies at the head of Imja Khola valley and therefore it has the name Imja Tse. The area is highly protected by Sagarmatha National Park which includes diverse flora and fauna. In 1953, the British Mount Everest expedition named this peak an Island peak. This was due to the fact that the peak actually appears as an Island in a sea of ice when viewed from Dingboche.
The Island peak is the continuation of the South Ridge of Lhotse Shar separated by a col. The southwest of this peak was first climbed by Tenzing Norgay, Charles Evans, Alfred Gregory, Charles Wylie, and 7 other sherpa in 1953. It was done before just as a part of a training exercise by a British expedition that went on to Summit Mount Everest. Hans-Rudolf Von Gunten with two other Sherpas as members of the Swiss team however remains first to climb the summit that went on to make the second ascent to Mount Everest and first ascent of Lhotse.
The climb to the Island peak is technically challenging and risky, especially from the base camp. The low base camp of Island peak lies at an altitude of 5087m, and the high camp at 5600m. It is more likely to suffer mountain sickness from the base camp. The trail to the summit is heavily covered with steep snow, frozen glaciers, and ice slopes. It is very important to have strong physical and mental fitness along with the skills to use mountaineering gear.
This route takes around 20-22 days with proper rest and days off. It cost you around 900-1100$ including all your flight tickets, travel insurance, permits, food, accommodations, etc.
Highlights of Island Peak
Glacial walk and climbing to Island peak.

Experience the tented night camps.

Diverse flora and fauna of Sagarmatha National Park.

Spectacular view of Everest, Lhotse, and Makalu. 
Safety and fitness
The first important thing to understand is that Island peak is not categorized as a trekking peak. Not anyone with basic ideas can just go and start climbing. It is mandatory to have high mountaineering skills, experience, focus, and patience. Second Important thing is to choose a perfect itinerary that gives proper acclimatization to the low level of oxygen. Or else, you are going to have a huge problem of altitude sickness. And finally, great fitness, mental stability, and strength are very important. The average walking hour is 6-7 per day and the use of crampons, ice harness, ice ropes, etc are required during the climb. The way to the summit is very difficult and the summit ridge is quite airy with steep drops off to the sides. The highest altitude here is 6189m, hence, there is always a risk of mountain sickness. 
Symptoms of Mountain sickness
Headache

Dizziness

Loss of appetite

Shortness of breath

Fast heartbeats
Preventing mountain sickness 
Walk slow

Stay hydrated

Have nutritional food 

Have enough rest

Avoid smoking and alcohol 
Medicines for mountain sickness 
Acetazolamide 

Ibuprofen, paracetamol (for headache)

Promethazine (for nausea) 
Packing List
Clothing and equipment
| | |
| --- | --- |
| Travel wallet | Climbing shocks |
| Backpack | Thermals tops/bottoms |
| Duffel bag | Synthetic underwear |
| Trekking boots | Synthetic climbing/trekking pants |
| Trekking shocks | Insulated pants |
| Light weight sneakers | Shell pants(water proof) |
| Medium weight Gaiters(water proof) | Medium weight long john tops |
| Foot powder | Synthetic pile jacket |
| Down booties | Down jacket |
| Double insulated climbing boots | Shell jacket (light weight waterproof) |
| Heavy gaiters | Down parka |
| Buff neck gaiters | Face mask |
| Fleece gloves | Winter/summer hat |
| Climbing gloves | Glacier glasses |
| Chemical hand warmers and foot warmers | Dark goggles |
| Climbing pack | Double lenth and single length sling |
| Lightweight harness | Climbing ascender |
| Locking/non-locking carabiners | Prusik cord |
| Helmet | Alpine ice axe |
| Point crampons | Figure 8 and Rappel device |
| Trekking poles | Backpack cover |
| Down sleeping bag | Sleeping pads |
| Batteries | Headlamps |
| Water bottles | Camera |
| Thermos | Charger/adapter |
| Water purification tablets | Power banks |
| Travel towel | Safety kit |
| Hand sanitizer | Suns cream and lip balm |
| Altitude sickness medicine | Wash kit |
| Cup, bowl, spoon | Trash bags and tissue papers |
Other requirements
Travel insurance– Trekking to high altitudes can always be risky. Travel Insurance is something you might want to do before trekking anywhere. Sometimes in emergency cases, people need to be evacuated through a helicopter and get medical service. So, in such cases, your travel insurance will be bearing the cost for you. Seeing all these benefits, the government of Nepal has made travel insurance mandatory thing before trekking. However, it is very important to mention the heights and all the places you will be reaching during your trek. Your insurance entirely depends on the details you have provided earlier. Travel insurance costs you around 150$ which is good for 1 month. 
Visas/passports– if you are not a Nepalese or Indian citizen, then a visa and a passport are mandatory. You can get your Nepalese Visa at Tribhuvan airport in Kathmandu. The passport must hold a visa of a minimum of 6 months. 
Group Discount Prices
No. of Persons
Price per Person
Frequently Asked Questions
Temperature and weather
Climbing Island peak is possible throughout the year, beside Monsoon. However, not without its own challenges. During the spring season (March-May), the average temperature over 4000m ranges from 17 ⁰C- 25⁰C in the daytime and the minimum temperature it can have especially in the morning and night is around -15⁰C. During the autumn season (September-November), the average temperature above 4000m is around 15-20⁰C, and the minimum temperature is around -10⁰C especially in the morning and night. During the winter season (December- February), the average temperature above 4000m is around 8⁰C in the daytime and the minimum temperature is around -15⁰C. Below 4000m is quite warmer with an average temperature of 12⁰C maximum and the minimum is -5⁰C. During the monsoon season (June-August), the average temperature over 4000m is 10⁰C in daytime and -2⁰C in the nighttime. However, below 4000m is warmer with an average temperature of 18⁰C in the daytime and 2⁰C in the nighttime. Considering all the temperature, weather, and warmth the best or peak season to trek and climb Island peak is in spring and autumn. The bearable temperature, the clear skies, and atmosphere, stunning views of Rhododendrons and mountains, the best condition of the trails, all features make these seasons best for climbing.
Food and Accommodation
There are enough teahouses from Lukla which provide basic facilities like a warm room, blankets, and pillows. But they have to be shared with other trekkers as well. Also, the washroom and toilets have to be shared. They also provide home-cooked meals like Dal, Bhat, vegetables, noodles, pasta, soup, etc. However, once you arrive at the base camp, no teahouses are available and the only solution is to camp. You have to prepare food by yourself. All the equipment like tents, sleeping bags, mats, cooking gas, utensils are very much important in this trek. If you choose to travel through the agencies they will hire a cook for you and also manage the camping for nights.
Electronics and communication
When you are in the teahouses, all kinds of facilities like electricity, internet, mobile coverage, are available. There will be no problem with charging your electronics or talking to your family. Once you arrive at the base camp, all these facilities are not available. You will be camping those days and only satellite phones are used for communication. Extra batteries and power banks are highly recommended.
Permits and fees
1) Sagarmatha National Park Entry Permit · NON-SAARC countries- 3000 (excluding VAT) · SAARC countries- 1500 (excluding VAT) 2) Pasang Lhamu VDC permit – 2000 NRS 3) Island peak climbing permit - Spring (March-May)-250$ - Autumn (September- November)-125$ - Winter (December- February)-70$ - Summer (June-August)-70$
Guides and porters
When it comes to peak climbing, professional, licensed, well-educated, and experienced guides are everything you need. They lead you, they have great knowledge about directions, people, villages, camping sites, etc. Since you will be carrying all the stuff for camping you will definitely need a porter to help you. Guides usually charge up to 35-40$ per day and porters charge around 25-30$ per day. However, if you choose to travel through agencies they will hire a guide and a porter for you.
Transportation
The gateway for Island peak is Lukla and the easiest and fastest way to reach Lukla is to take a flight from Kathmandu which only takes 35 minutes. You can also travel by bus but it is certainly a tiring route. There is no direct connection between Kathmandu and Lukla and you need to travel via Jiri.