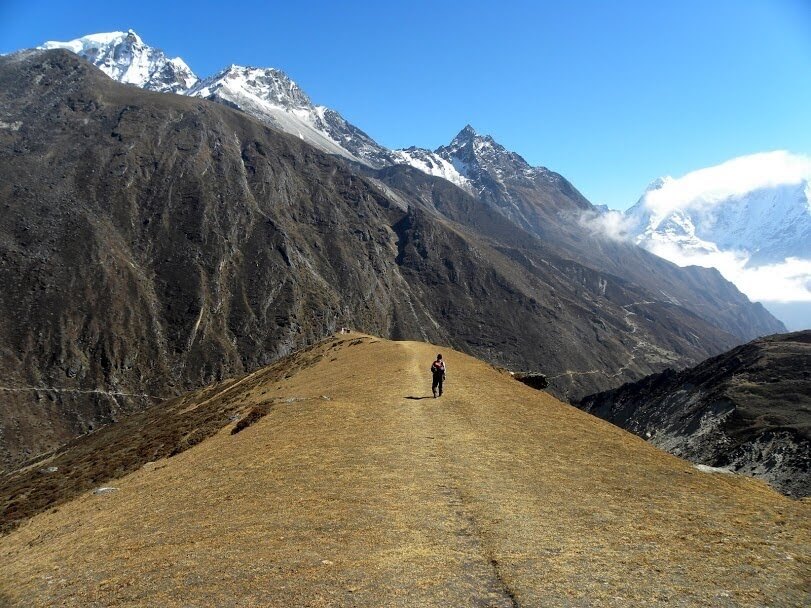 Gokyo Lake Trek
Gokyo Lake Trek Overview
Gokyo Lakes are located at an altitude of 4700-5000m in, Solukhumbu district, Sagarmatha Zone. Comprising the 6 main lakes, these lakes are the world's highest freshwater lake. Gokyo Cho which is also known as Dudh Pokhari is the main lake with an area of 106 acres while Thonak Cho Lake is the largest among all with an area of 160.8 acres. Besides them, the other lakes are Gyazumpa Cho Lake (72 acres), Tanjung Cho (41.9 acres), Ngojumba Cho (35.6 acres), and Kyajumba cho. Gokyo Lakes is highly believed to be a sacred lake for both Hindus and Buddhists. Every year at Janai Purnima Festival, about 500 Hindus take a holy bath in this lake. There is also a temple of Hindu deities Vishnu and Shiva located at the western corner of the lake making this place the holiest. The trail passes through Sagarmatha National park where you can see many endangered animals like red panda, Himalayan Tahr, snow leopard, wild boar, etc. There is no doubt, Gokyo Lakes are a very popular destination leading towards the Sagarmatha base camp. Gokyo village at 4790m, is another major attraction of this trek which includes climbing Gokyo Ri.
Route 2 (via Jiri)
| | |
| --- | --- |
| Day 1- Kathmandu- Jiri | 9-10 hours drive  |
| Day 2- Jiri- Deurali | 6 hours walk |
| Day 3- Deurali- Sete  | 5-6 hours walk |
| Day 4- Sete- Junbesi  | 6-7 hours walk |
| Day 5- Junbesi- Nunthala  | 5-6 hours walk |
| Day 6- Nunthala- Puyan  | 5-6 hours walk |
| Day 7- Puyan- Phakding  | 6 hours walk |
| Day 8- Phakding- Namche Bazar  | 4 hours walk |
| Day 9- Namche Bazar- Dole  | 4 hours walk |
| Day 10- Dole- Macchermo  | 4 hours walk |
| Day 11- Macchermo- Gokyo Lakes  | 4-5 hours walk |
| Day 12- Gokyo Lakes- Na  | |
| Day 13- Na- Phortse  | |
| Day 14- Phortse- Tyangboche | |
| Day 15- Tyangboche-Namche Bazar | |
| Day 16- Namche Bazar-Lukla  | 8-9 hours walk |
| Day 17- Lukla-Kathmandu  | 40 minutes flight |
This is the longer route and takes around 20/21 days. it cost around 1500$ including transportation, insurance, permits, clothing, food and accommodation etc.
Highlights of Gokyo Lake Trek
Climbing Gokyo Ri and crossing the challenging Cho La pass
Walk through the Ngojumba glacier, one of the longest glaciers in the Himalayas.
Diverse flora and fauna of Sagarmatha National park.
Trek through one of the less explored areas with off-beaten trails.
Ancient Buddhist monasteries, monuments, and prayer walls.
Explore the beautiful Gokyo valley.
Best season to visit
The best time to visit Gokyo Lakes is autumn between September and November and in spring between March and May. Monsoon is just over and you can see beautiful greenery and different crops. The skies are very clear and blue and you can enjoy the view of the mountains. During the winter season, there is huge snowfall at Gokyo Lake which might block all your way. During summer, also called the Monsoon season in Nepal the trails are slippery and muddy due to heavy rainfall.
Other requirements
Travel Insurance- trekking to such altitudes can be very risky. Sometimes trekkers need to be evacuated due to some medical emergencies. In such cases, your travel insurance will be bearing the cost for you. Travel insurance has become part of trekking requirements. Since insurance depends on the details you have provided earlier you need to mention the maximum height, places you will be reaching.
Visa/passports – all foreigners except Indians are required to have valid visas and passports to enter Nepal. The visa application will need the passport having a minimum of 6 months of validation along with your passport size photo. You will receive your visa upon your arrival at Tribhuvan international airports
Packing List
Clothing and equipment
| | |
| --- | --- |
| Sleeping bags | Down jackets |
| Duffel bags | Fleece jackets |
| Backpack | Trekking trousers |
| Trekking pole | Raincoats  |
| Money/cash | Trekking shorts |
| Warm shirts and T shirts | Hiking boots |
| Water proof pants  | Hiking shocks |
| Water proof jackets | Slippers |
| Beanies and gloves | Sunglasses |
| Travel towel | Underwear |
| Wash kit | Hand sanitizers |
| Safety kit | Tissue papers and trash bags |
| Water bottles and water purifier | Medicines |
| Camera | Thermal tops and bottoms |
| Charger/adapter | Passports and few passport sized photos |
| Power bank | Torch lights |
| Pads and tampons | Summer winter hats |
Group Discount Prices
No. of Persons
Price per Person
Frequently Asked Questions
Temperature and weather
The average daytime temperature in high altitudes or in Gokyo lakes is 25 degrees Celsius. It reaches -20 degrees Celsius or lowers during the nighttime. In the autumn season (September-November) which is the very peak season for the trek, the average temperature reaches from 4 to 8 degrees Celsius during the daytime and reaches around 2 degrees Celsius at night time.
Food and accommodation
Like other places in the Khumbu region, teahouses in Gokyo lakes are well-developed. They have a room with twin sharing beds, warm blankets, and clean bedsheets. Some teahouses also have electric blankets and also offer hot water for the shower. In some teahouses, toilets and bathrooms have to be shared. Food- there are enough options for food. Traditional dal, Bhat, and vegetables are commonly served. Besides this, noodles, momos, soups, fried rice are available. Tea, coffee, soft drinks are also available in this area.
Transportation
The best way of getting onto the trail is flying to Lukla from Kathmandu. It takes around 40 minutes and costs you approx. 15000NRS. The alternate route is through jiri, which passes beneath Lukla. This route lengthens the journey by adding extra 7 days.
Electronics and communication
Facilities like internet and electricity are available in the teahouses. You can charge your phones or electronics by paying extra money to the owner. Mobile coverage is available throughout the journey. You can also use the telephones in the teahouses.
Permits and fees
Sagarmatha National Park- this permit costs 3000 NRS to every foreigner besides SAARC countries. It only costs 1500 NRS to SAARC countries. TIMs- this permit costs 1000NRS per person and is mandatory for every trekker.
Guides and porters
Gokyo lakes are comparatively less explored and it is not so common to meet many people on the way. This is why hiring a guide is important. Guides usually charge 25-30 $ per day. Porters are more than happy to serve you by carrying all your belongings. They may charge you 20-23 $ per day. If you don't have many belongings you will not need a porter or you can share your porter with someone.
Safety and fitness
Being one of the moderately difficult trek destinations it is very important to be physically and mentally fit before you start your journey. Walking 5-6 hours per day is definitely some serious thing to think of. Doing some preparations by running, jogging and light exercise is always necessary. You have to build your muscle, knee, and ankle strength to be capable of this journey. You can still travel if you are mildly sick with your physician's permission. You need to have previous ideas about trekking and hiking to avoid basic problems. Since it lies at a very high altitude, altitude sickness is another problem for trekkers. You need to carry handheld oximetry and check your oxygen level from time to time. If you ever experience any shortness of breath, nausea, and any weakness in your body you should definitely talk to your travel guide or friends. To avoid these problems you can have some precautions like staying hydrated all the time, eating healthy and nutritional food, and avoiding meat and alcoholic drinks.