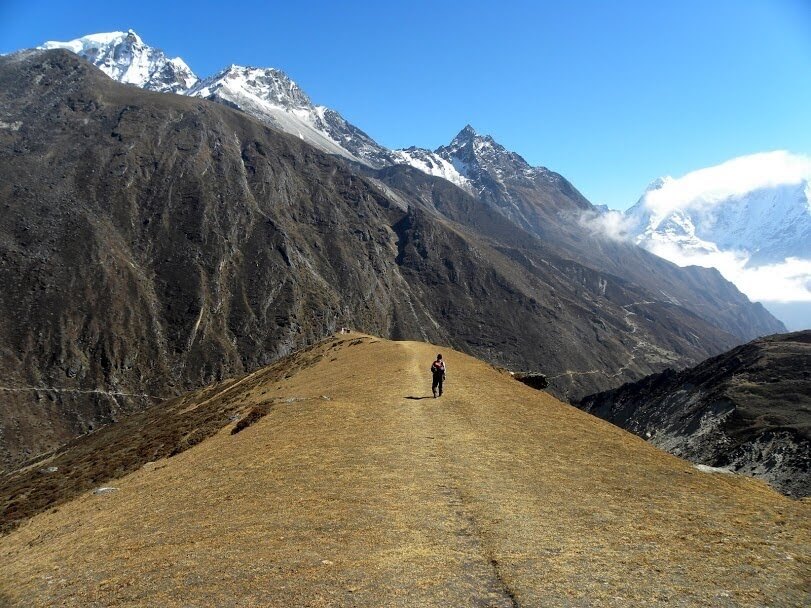 Four days Cholatse Peak
Four days Cholatse Peak Overview
Cholatse peak (6440m) also known as Jobo Lhaptshan, is a mountain peak located between Gokyo and Khumbu valley of Nepal which is connected to Taboche by a long ridge. The base of Mt Cholatse itself lies at the elevation of 4930m. Interestingly, there is also a lake just below this pass to the east. In Tibetan 'Cho' means lake, 'La' means a pass, and 'Tse' means a peak so the literal meaning of 'Cholatse' is a "lake pass peak." Cholatse peak was first climbed by Vern Clevenger, Galen Rowell, John Roskelley, Bill O'Connor, and Peter Hackett on April 22, 1982, via South Ridge. The North face was successfully climbed in 1984. The solo ascent was successfully done on April 15, 2005, by Ueli Steck through the north face. The trail to Mount Cholatse is filled with astonishing views of many mountain peaks like Mt. Everest, Mt. Nuptse, Mt. Cho-Oyu, Mt. Makalu, etc along with the view of Gokyo lakes. The trail here passes through Sagarmatha National Park offering a chance to explore diverse flora and fauna. Rhododendrons, oaks, Himalayan Tahr, musk deer, etc are found here. Mount Cholatse is technically a very difficult peak to climb in comparison to other peaks in Nepal. This requires an experienced and skilled climber with very good physical and mental fitness. Even though difficult the number of climb and climbers has been accelerated these days.
The average cost for this trek is around 2800$. Including all the flight tickets, accommodation, food, equipment, gears, permits etc.
Highlights of Four days Cholatse Peak
Explore beautiful villages of the Khumbu region
Stunning view of Gokyo lakes
Diverse flora and fauna like Rhododendrons, Himalayan Tahr, musk deer, etc.
Get to know the different cultures and traditions of the Sherpa people.
Panoramic view of mountains like Everest, Nuptse, Lobuche, etc.
Best season to visit
Season and climate play a vital role in this trek. Since this is a very demanding and technical climb it is important to have good weather. The best season to climb this peak is spring (March-May) and autumn (September-November). These season comes with fewer challenges as compared to winter and monsoon seasons. The trails are in the best condition and offer a beautiful view with a clear atmosphere and blue skies.
Other requirements
Insurance policy- high mountains are not the kind of places you want to travel without an insurance policy. Travel insurance has become part of trekking requirements. If you ever have some medical emergencies your travel insurance will have to bear it and that is why you need to mention the details about the places you are going to and the altitudes you will be reaching.
Valid visas/passports – all foreigners except Indians are required to have valid visas and passports to enter Nepal. The visa application will need the passport having a minimum of 6 months of validation along with your passport size photo. You will receive your visa upon your arrival at Tribhuvan international airport
Packing List
Clothing and equipment
| | |
| --- | --- |
| Travel wallet | Climbing shocks |
| Backpack | Thermals tops/bottoms |
| Duffel bag | Synthetic underwear |
| Trekking boots | Synthetic climbing/trekking pants |
| Trekking shocks | Insulated pants |
| Light weight sneakers | Shell pants(water proof) |
| Medium weight Gaiters(water proof) | Medium weight long john tops |
| Foot powder | Synthetic pile jacket |
| Down booties | Down jacket |
| Double insulated climbing boots | Shell jacket (light weight waterproof) |
| Heavy gaiters  | Down parka |
| Buff neck gaiters | Face mask |
| Fleece gloves | Winter/summer hat |
| Climbing gloves | Glacier glasses  |
| Chemical hand warmers and foot warmers | Dark goggles |
| Climbing pack | Double length and single length sling |
| Lightweight harness | Climbing ascender  |
| Locking/non-locking carabiners | Prusik cord |
| Helmet | Alpine ice axe |
| Point crampons | Figure 8 and Rappel device |
| Trekking poles | Backpack cover |
Group Discount Prices
No. of Persons
Price per Person
Frequently Asked Questions
Temperature and weather
The average temperature in the summer season (June-August) ranges from 20-25 degrees Celsius which is also the hottest month. Nighttime temperature can be moderately cold from 5 to sometimes -3 degrees Celsius. The average temperature in the autumn season is 12-20 Degrees Celsius in the daytime and can fall to -7 to-15 degrees Celsius at night time. Similarly, the winter season is the coldest one with an average temperature of 8-10 degrees Celsius during the daytime and -10 to -15 degrees Celsius during the nighttime. The spring season has a favorable temperature with 15-20 degrees Celsius during the daytime and around -5 to-8 degrees Celsius at night time.
Food and accommodation
Even though not fancy and luxurious, basic teahouse accommodation is available which is basically small lodges and run by local people there. They certainly meet your basic necessities and provide you with a small room, blankets, and pillows. However, toilets and bathrooms have to be shared with other trekkers. They also provide hot water for a shower but at an extra cost. On your climbing days, you have to do overnight camping. It is better to travel through travel agencies because they will take proper care of these things. You can also rent the tents and equipment in Kathmandu. Food- there are enough options available for food. Traditional Dal, Bhat, and vegetables being the most common ones. Besides this, fried rice, potatoes, noodles, pizza, pasta, momos, vegetarian curries, etc are available. It is recommended to avoid meat items throughout your journey. However, during the climbing days and base camp days, you need to prepare food by yourself or take some frozen packed foods. If you are trekking through any travel agencies they will hire a cook for you and make some easy foods like bread, eggs, noodles, porridge, etc.
Communication and electronics
There is internet access or Wi-Fi available in teahouses. Although it's available only in the main areas it works pretty nicely. However, radios are still the primary means of communication there. Fortunately, there is good network coverage in Khumbu valley and we can communicate and use data as we wish. Electricity is available to charge your phones and other electronics. Extra batteries are recommended for your climbing days. At higher altitudes, these facilities might not be available.
Guides and porters
Guides and porters are definitely one of the most important parts of this trek. Since Cholatse peak is one of the tough destinations, you will need a proper guide to lead you. It is better if you trek through agencies. They hire well-educated, English-speaking guides for you. If not you can also hire a local guide. They help you with directions, trails, accommodations, and many more. Guides usually charge 30-40$ per day. Porters are more than necessary in this trek. You will be carrying all the equipment for climbing, tents, food, etc. It is quite impossible to carry all this stuff by yourself and walk. Porters charge you 20-25 $ per day for carrying all your belongings but they must not exceed 20 kilos. You can share one porter for two trekkers if you don't have many belongings.
Safety and fitness
Peak climbing is always difficult and requires physical and mental preparations. Mount Cholatse is one of the tough trekking and climbing destination. You need to have extra fitness, experience in climbing, skills to use all the equipment, and be mentally strong. Even though the trails to base camp are easy the peak climbing itself requires a lot of effort. There is altitude or mountain sickness on other hand. Yes, there is a very high chance of getting mountain sickness. You need to be prepared for that too. Some symptoms of altitude sickness are shortness of breath, nausea, fast heartbeat, headache, dizziness, extra tiredness, etc. Staying hydrated throughout the journey, having nutritional food, avoiding alcohol, meats, and taking the journey slow so that you can adjust with increasing heights, are some of the solutions or precautions for altitude sickness. However, if you ever start experiencing these symptoms you need to immediately talk to your travel guide. There are also some medicines available for altitude sickness. If you decide not to climb the peak you can also enjoy your trek by staying in base camp.
Permits and fees
TIMS- this permit cost 1000 NRS (10$) per person to every trekker Sagarmatha National Park permit- this permit costs 3000 NRS (30$) per person to every trekker beside SAARC countries. It only costs 1500 (15$) to SAARC countries. Khumbu region Government Permit- this permit costs 2000 NRS (20$) per person. Nepal Mountaineering Association permit- this permit depends on, on and off-seasons. Spring (March-May)- 250 $ per person Autumn (September-November)- 125$ per person Winter (December-February)- 70$ per person Summer (June-August)- 70$ per person