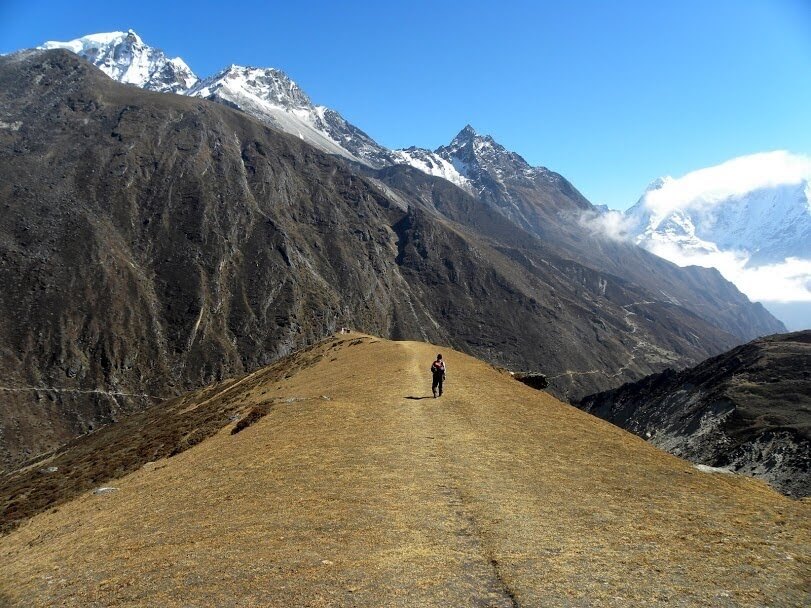 Dhaulagiri Circuit Trek – 17 Days
Dhaulagiri Circuit Trek – 17 Days Overview
The world's 7th highest mountain peak which steadily and proudly stands at the elevation of 8167m,and lies in the west central side of Nepal spreading from Kaligandaki to Bheri. This mountain is 34 km away and lies on east side of Mount Annapurna which is another beautiful mountain. The first group to ascend Mount Dhaulagiri was Swiss expedition group in 1960 May 13. Dhaulagiri circuit trek is not only famous for its mountain views but also for its diverse culture, rich vegetation like pine, oak, ferns etc. and cultivated lands with small isolated villages. But of course, dramatic view of mountain is always there, you can witness astonishing views of Dhaulagiri I, Tukuche Peak, Annapurna I, and many more. Some highlights of this circuit is Italy base camp, Glacier Lake, Dhampus peak and Dhaulagiri base camp itself.
Highlights of Dhaulagiri Circuit Trek – 17 Days
Pass through high places like French Pass and Dhampus Pass
Camp in the base of the 7th highest mountain peak in the world which is Mt. Dhaulagiri
Panoramic view of Dhaulagiri massif
Explore the hidden valleys of Manang.
Best season to visit
Autumn (September- November) and spring (March to May) is the best time to trek Dhaulagiri Circuit. Spring season is well known for its green vegetation, forest and flowers. Autumn season is the most peak season
for this trek. This season provides clear view of mountains, favorable temperature, best trail condition and clear atmosphere. Monsoon season is rainy Season that is why this is not an ideal season for trekking Dhaulagiri Circuit. The trails are slippery and muddy increasing the risk of landslide and floods. Winter Season is definitely the coldest one. The trails
are sometime blocked due to heavy snowfall. It is extremely cold which is below freezing point and is off season for this trek.
Safety/fitness
Yes Dhaulagiri Circuit trek is one of the difficult trek for everyone especially for some beginners. You need to be physically and mentally stable and fit to do this trek. It is better if you have past experiences and have very good muscle strength. This trek is all about walking for 6-7 hours per day which can be very hard. It is better to prepare yourself by normal exercise, running, jogging to build your muscle strength. Since it lies at very high altitude it is very likely to suffer from mountain sickness. It is Important to stay hydrated and have nutritional food throughout the journey. If you experience any kind of difficulties in your health you need to talk to your friend or travel guide immediately.
Other requirements
Travel insurance – travel insurance is really very important part of trekking. You always need a travel insurance especially when you are traveling to this kind of risky, high places. If ever you need any medical emergencies your travel insurance will be bearing it for you. It is important to mention all the places and altitudes you will be reaching, to your insurance company so that you do not have any problem later.
Visa/ passport- it is mandatory for every foreigners to have visa and valid passport to enter Nepal. Only Indian citizen are not required to have visa for visiting Nepal. You can get your Nepalese visa at Tribhuwan International airport, Kathmandu
Packing List
Clothing and equipment
Woolen t shirts/shirts
Backpack
Thermal top/bottoms
Passport
Fleece jacket
Passport size photographs
Down jacket
Permit and travel insurance
Raincoat
Suns cream and lip balm
Underwear
Travel towel
Trekking trousers
Wash kit
Sleeping trousers
Safety kit
Hiking shorts
Power bank
Water proof pants
Summer/winter hat
Daypack
Buff/bandana
Sleeping bag
Water bottles and water purifier
Hiking boots
Trekking poles
Hiking shocks
Charger/adapter
Camp shoes
Money/cash
Crampons
Ice axe
Gloves and beanies
Camera
Group Discount Prices
No. of Persons
Price per Person
Frequently Asked Questions
Temperature and weather
The average temperature in spring season (March- May) is 2-7 degree Celsius. Similarly the average temperature in autumn season (September- November) is 7 to – 2 degree Celsius. December- March can be quite cold and the average temperature can range from -2 to – 6 degree Celsius.
Food and accommodation
Dhaulagiri Circuit trek is one of the longest trek and if you are planning for this adventurous trek you must be ready for camping nights. This place is not really known for its tea houses. However if you find any then you have to share your rooms, toilets and dining room with other trekkers as well. The teahouses in Dhaulagiri circuit is quite expensive and cost you around 800-1100 NRS (8-11$) per night. Food- if you are in tea house you can get typical Nepali food Dal, Bhat and vegetables, meat is not really easy to get. If you are in camping trek you need to prepare food for yourself like eggs, breads, porridge, and some easy foods. If you belong to any travel agencies they will take a proper care for all of this.
Transportation
Bus- bus is one of the cheap yet comfortable options for those who are under budget and wants to enjoy the journey as much as the destination. You can get a bus or small jeeps from Kathmandu to Pokhara which takes around 4-5 hours and cost you 400-500 NRS (4-5$). From Pokhara you can again drive to Darbang which takes roughly 5-6 hours. However from Darbang you need to start trekking. Airplane- similarly, you can take a flight from Kathmandu to Pokhara which only takes 35-40 minutes and cost you around 3500-4000 NRS (30- 40$). From Pokhara there is not any flight and you need to take a drive or start your trekking
Permits/fees
Annapurna conservation Area Permit (ACAP)- you will be needing this permit to trek Dhaulagiri circuit. This takes 3000 NRS (30$) to every trekkers. TIMs- this card is required for every trekkers. It has the details of trekkers in case for any emergencies. It cost 1000 NRS (10$) You can get these permits from Nepal Tourism Board in Kathmandu or Pokhara.
Guides/porters
Being one of the most challenging trek destination it is very important to hire a guide. They have enough knowledge about the directions, accommodation and foods and villages. Guides may charge you 30-50$ per day. Porters are more than happy to serve you by carrying your belongings. They may charge you around 20-25$ per day. You can share your porter if you don't have much belongings.
Communication and electronics
Since Dhaulagiri circuit trek is more of a camping trek all the facilities like internet, electricity, and communication is very limited. However few teahouses have satellite phone and internet service at lower altitudes. You can use them by paying extra money to the owner. As you move towards higher altitudes you have to completely depend on power banks and torch lights with extra batteries.